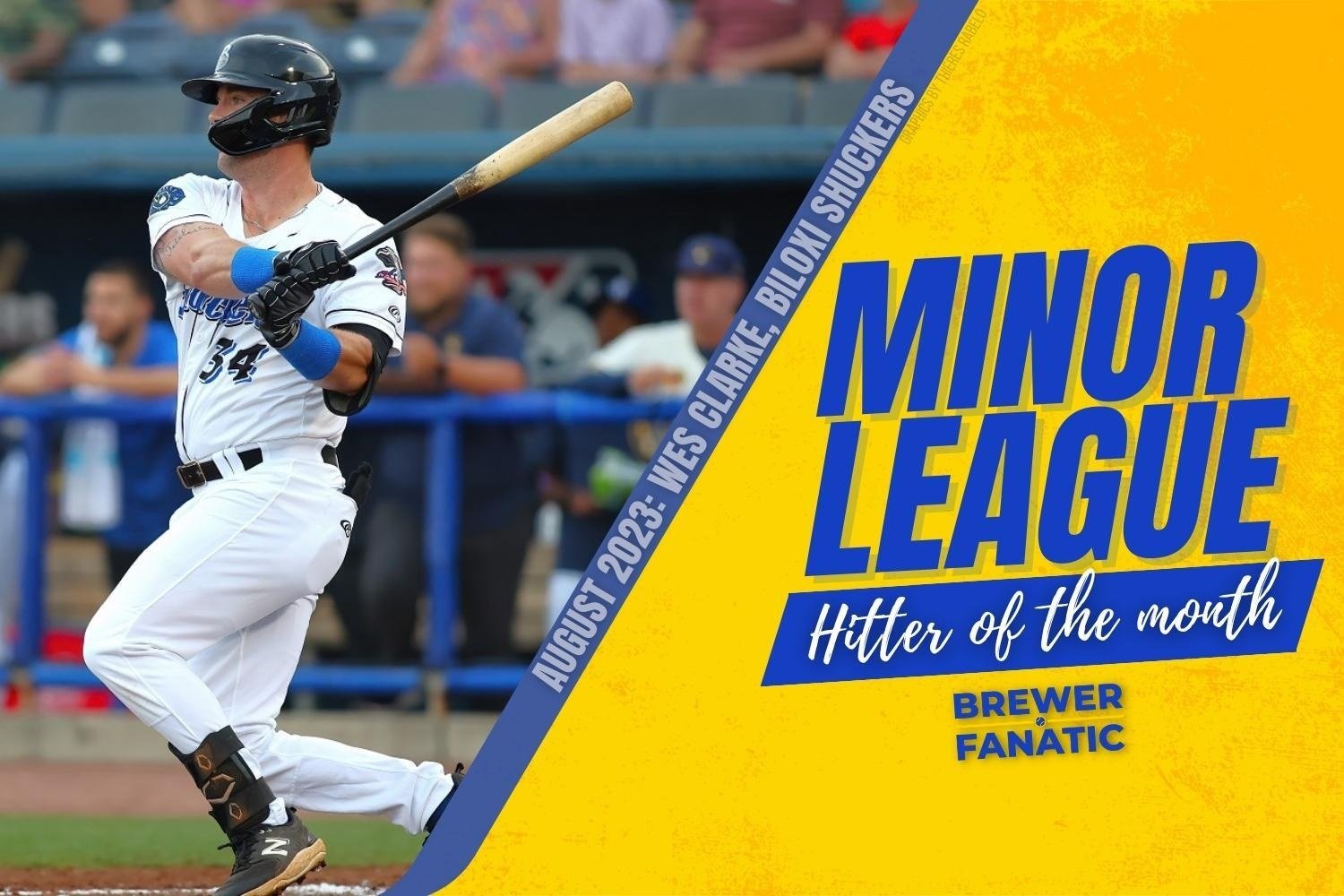 Image courtesy of Mike Krebs, Biloxi Shuckers
While July was a fantastic month for the Brewers top prospects, August's top performances came from some of the lesser-known names, and those that are scrapping for a Major League spot. We will take a look at a couple of honorable mentions for the month, as well as our top five hitters for August.
Honorable Mentions
UTIL Cam Devanney - Nashville Sounds - 24 H, .333/.400/.569 (.969 OPS), 140 wRC+, with 6 doubles, 1 triple, 3 home runs, 12 R, 14 RBI, 8 BB, 12 K.

IF Pedro Ibarguen - DSL Brewers 2 - 15 H, .341/.436/.659 (1.096.OPS), 172 wRC+, with 3 doubles, 1 triple, 3 home runs, 12 R, 14 RBI, 7 BB, 5 K, 2 SB, 3 CS
THE TOP FIVE AUGUST HITTERS

#5  1B Keston Hiura - Nashville Sounds - 26 H, .344/.400/.622 (1.022 OPS), 148 wRC+, with 4 doubles, 7 home runs, 12 R, 24 RBI, 5 BB, 25 K

Unranked by all publications

Unfortunately for Keston Hiura, it seems very unlikely that he will be donning a Brewers uniform in 2023, for a myriad of reasons that aren't important to this particular article. To his credit, he just continues to hit at the Triple-A level. He still isn't walking much, and the strikeouts are about where they were last year at the Triple-A level, but the production is consistent and very strong. 
In August Hiura posted a .344 batting average and showed off the power we have all seen from him at the major league level, hitting seven home runs on his way to driving in 24.
data:image/gif;base64,R0lGODlhAQABAPABAP///wAAACH5BAEKAAAALAAAAAABAAEAAAICRAEAOw==
Barring a horrific bout with bad injury luck at the major league level, Hiura will likely continue to grind away in Triple-A the rest of the season. The Brewers have him under minor league control for one more season, so expect to see him back next year as well, in what will truly be his last shot to show the club what they're looking to see from him.
#4 2B Jadher Areinamo - Carolina Mudcats - 33 H, .359/.388/.544 (.931 OPS), 159 wRC+, with 14 doubles, 1 home run, 15 R, 14 RBI, 4 BB, 16 K, 4 SB, 2 CS
A member of the Brewers 2021 International signing class, Areinamo will be 19 years old until the end of November. Equipped with really strong bat to ball skills, Areinamo is much more of a hit over power type player at the moment. He does not draw many walks, but he is also only striking out at a 12% rate for the season. Many of the players possessing the bat to ball skills that Areinamo has are heavy ground ball hitters. Areinamo has a very reasonable ground ball rate of 39%. Instead, he hits the ball on a line pretty often, checking in at a strong 24.6% rate on the season.
In August Areinamo tapped into a bit more power than in other months. Not in the form of home runs, but in the form of 14 doubles. The next highest double total for the month amongst all the players in the Brewers system was eight, so Areinamo nearly lapped the field in that stat. While his above average speed hasn't quite shown up in huge stolen base numbers for the season (though 13 for 18 is a decent success rate) he does use it in order to turn singles into doubles and to go from first to third or second to home.
While his bat landed him on this list for the month of August, Areinamo's glove will likely be his calling card as he climbs the ranks, while he could use some polish at times he shows a lot of the traits that elite defenders do. He also loves to add some flash to his highlights defensively and is a joy to watch every time he's out there.
data:image/gif;base64,R0lGODlhAQABAPABAP///wAAACH5BAEKAAAALAAAAAABAAEAAAICRAEAOw==
Areinamo will be 20 years old for all of next season. He probably deserves to start 2024 in High-A, but with the amount of prospects that could potentially end up at that level, it will be interesting to see if there's enough room in the middle infield to make that happen.
#3  1B Jesus Chirinos - Carolina Mudcats - 22 H, .319/.484/.565 (1.049 OPS), 195 wRC+, with 5 doubles, 4 Home Runs, 11 R, 9 RBI, 19 BB, 15 K

Unranked by all publications

Signed as a 16 year old in 2018, Chirinos has been in the Brewers organization for quite some time. Which means, despite this being his sixth year in the organization, he actually only turned 22 years old in July and is basically playing at the league average age for Low-A. After some struggles at the High-A level to start this season, Chirinos returned to Low-A Carolina and has been tearing the cover off of the ball. He really went off in July and August was a continuation of that. Chirinos is a large human being, and he possesses quite a bit of raw power, but he has struggled to get to it in games at times. He is not fleet of foot, and his defense can be a little underwhelming at first base. He does, however, tend to hit the ball hard when he makes contact and he has been making more and more contact lately.
Chirinos followed up his two homer month of July with a four home run month in August, which matched his total before the month. With his bat carrying the profile, tapping into his power more consistently is going to be important for him moving forward, and the last couple of months are a step in the right direction. 
Chirinos' month was highlighted by his August 23 appearance when he had three hits in three at bats, including a home run. He also drew two walks, reaching base in all five of his plate appearances.
data:image/gif;base64,R0lGODlhAQABAPABAP///wAAACH5BAEKAAAALAAAAAABAAEAAAICRAEAOw==
Chirinos likely doesn't have much more to prove at Low-A, but despite the promotion of Ernesto Martinez Jr to Double-A, the Timber Rattlers are still pretty full in their infield and have used a number of players at first base. While Chirinos has likely earned another shot at that level, he may not get it in 2023.
#2  OF Jace Avina - Carolina Mudcats - 24 H, .333/.484/.611 (1.095 OPS), 204 wRC+, with 8 doubles, 4 home runs, 15 R, 15 RBI, 16 BB, 20 K, 1 SB, 2 CS

Unranked by all publications

Drafted in the 14th round of the 2021 draft out of Spanish Springs in Nevada, Avina has had a great start to his professional career. Including forcing his way to full season ball last season as a young 19 year old. Equipped with a smooth looking swing and very quick hands, Avina packs a punch you might not expect from any player that just turned 20 years old in June. Especially someone who is 5'11 and weighs around 180 pounds. Defensively, Avina can handle any outfield spot with his strong arm and he uses his consistently good jumps and routes to cover for what is a bit less speed than most center fielders. That lack of speed, mixed with the depth of the system in center field, will likely keep Avina on a corner, but he can handle center if needed.
Avina put all of his tools on display in August, showing his extra base hit power, as well as making some outstanding plays in the outfield. At the plate he had 12 extra base hits, including 4 home runs. His strikeout rate has always been a bit of a concern, as it was 35% his first two seasons. In August he limited his strikeout rate to 21.5%, which brought him down to 30.1% for the full season. That isn't a great number overall, though it's important to note that over the last three months it is at a very reasonable 25.9%. It seems to have taken him some time to get used to the full season level, but after adjusting he has been doing very well at the plate and August may have been the pinnacle. Defensively he made a number of good plays, but nothing tops the play shown below where he robbed a potential walk-off home run, even after a bobble.
Avina had skyrocketed up prospect lists last season, but after struggling with strikeouts and a tough start to begin this season in general, he fell off of all of the main lists. Given that he has started to lower the strikeout rate and is now carrying a 132 wRC+ for the season, while being younger than the league average, he is likely putting himself squarely back into the conversation for all of those lists. Assuming he continues to finish strong, it wouldn't be a complete shock to see Avina get a cup of coffee at High-A to end the season. 
#1 C/1B Wes Clarke  - Biloxi Shuckers -  25 H, .284/.442/.659 (1.101 OPS), 185 wRC+, with 6 doubles, 9 home runs, 20 R, 20 RBI, 22 BB, 30 K, 1 SB, 1 CS 

Unranked by all publications

Similar to Avina, Clarke was not an early round selection. The Brewers 10th round selection in 2021, Clarke has done nothing but hit since entering the system. Disregarding his 8 plate appearances in complex ball, he has never posted a wRC+ lower than 115 at any level as he has moved up the ladder. Known for having huge raw power, Clarke was originally drafted as a catcher. Despite making 28 starts at catcher in 2023, he is very unlikely to stick there. His most likely landing spot in the longer term will be first base where he has pretty good hands, but limited range. Wherever he ends up playing in the field, his bat is going to be the driving factor toward playing time and toward a potential MLB roster spot in the future.
While Clarke was drafted as a known power commodity, he had not been getting to it in games as much as you might expect. Through his first 508 career plate appearances, Clarke had hit 19 home runs which is a home run every 26.7 PA's. Certainly nothing to scoff at, but also not as many as you might expect from someone who is said to have 70 grade raw power. That has improved in 2023 where he has hit a home run every 19.7 PA's and especially in his extraordinary August when he hit a home run every 12.6 PA's. That 70 grade raw power showed up quite a bit, as the homers he hit were not wall scrapers and included a 115 MPH exit velocity, which is higher than any player on the Major League roster has hit this season. 
data:image/gif;base64,R0lGODlhAQABAPABAP///wAAACH5BAEKAAAALAAAAAABAAEAAAICRAEAOw==
While Clarke hit the most home runs of any Brewers minor leaguer this past month, and did it at a very impressive rate, it was more than just his power that landed him the number one spot. Always willing to take his walks, Clarke was able to post an on base percentage of .442, largely thanks to free passes. As has been brought up with some of the past winners (namely Luke Adams), Clarke will have to be able to walk the narrow path between patient and passive. 30 strikeouts in the month is a pretty high mark, and while his bat to ball skills aren't the best, he seems to take a lot of hittable strikes as well. Finding that right balance between attacking pitches to hit, and still being patient, is a battle that every hitter faces. Those that can strike that balance with regularity are often the ones that will be able to stick at the Major League level. 
Only 23 years old, Clarke is age appropriate for the Double-A level. It wouldn't be too big of a surprise to see him finish the year in Triple-A, but if not, he's very likely to begin the 2024 season there. If one were to speculate, he could be a candidate for the Arizona Fall League as well. Though the Brewers will have a lot of interesting candidates this season. Regardless, Clarke's consistent production offensively is very hard to overlook, and he could be a bit of a sleeper candidate to impact the Brewers MLB roster next year.
1