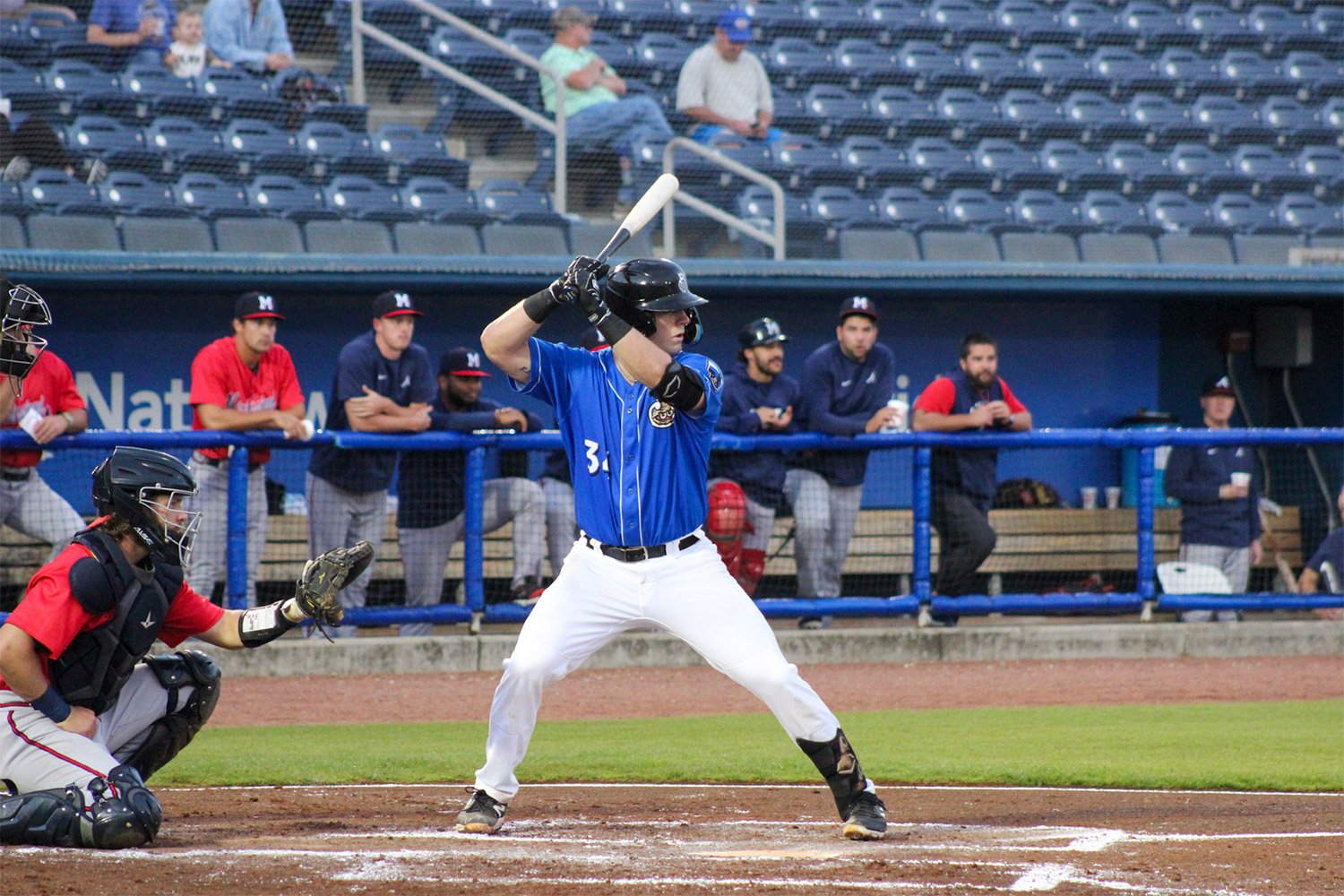 Image courtesy of Biloxi Shuckers
Game Balls:
RHP Cameron Wagoner really struggled his last time on the hill. He's been inconsistent as all get out in 2023 but he has pitched two of his best outings of his season in the past month. Tonight's gem at South Bend was his best: 6 IP, 3 H, 1 BB, 1 ER, 0 HR, 7 K. Stellar work much deserving of recognition. Keep it up, Mr. Wagoner!
C Payton Henry drove in the entirety of the five runs by the sixth frame pulling the Sounds within 6-5 on his second HR - a three-run jack just over the wall in left center. It was very odd seeing C Alex Jackson manning the Bulls' backstop but Henry's sublime offensive performance made it quite a bit easier: 2-for-4, 2 HR, 4 R, 5 RBI. Included in the stunning performance was a ripping oppo taco to RF: 

Not to be outdone, by any measure, Biloxi's C Wes Clarke smacked two long balls himself and his third homer in just two games. His season total elevated to 16 HR, Clarke ripped a grand salami and a mammoth 455 foot two-run blast in the ninth that had me dreaming of another Shuckers comeback. Just check out this absolute moon shot: 

INF Cooper Pratt debuted in the desert for the ACL Crew and he certainly did not disappoint. The tantalizing draft pick who defied the industry sentiments and signed with the Crew, showed out as a teenager in a very big way: 3-for-3, 1 2B, 2R, 1 RBI. He was pulled late in a substitution and defensive shift. I would imagine this was simply a pre-planned ordeal. Here's some footage of Pratt's first two knocks: 

INF Juan Baez once again showed out at the dish. He has been hotter than an Arizona heatwave this entire season. Not only did he smash another long ball (his 4th of the summer) but he also smacked a key two-run double in the 7th and final inning and stole his 13th base of the summer. The two-run 2B padded the ACL Crew's lead to 6-3. And, that remained the final score. 
Transactions:
RHP Bradley Blalock was assigned to the Wisconsin Timber Rattlers from the Carolina Mudcats
C Jesus Garcia was assigned to the Nashville Sounds (and activated) from the ACL Brewers

SS's Eric Bitoni and Cooper Pratt were assigned to the ACL Brewers

Milwaukee Brewers INF/OF Owen Miller has been optioned to the Nashville Sounds 

RHP Carlos Canales has been assigned to the DSL Brewers #1

C Kegnnales Seijas

 

has been assigned to the DSL Brewers # 1
---
Final:  Durham (Rays) 9, Nashville 6 
Box Score / Game Log 

Game Notes 

Via the Sounds' site, game details, please visit and review: 

Henry Homers Twice as Sounds Fall to Bulls

In an odd twist of fate, the Rays scheduled starter RHP Evan McKendry is now a Sound. Deadline madness, I say! RHP Caleb Boushley still took his scheduled work atop the hill hoping to give Nashville a 2-0 series lead. Boushley wasn't magnificent tonight but he certainly wasn't as bad as his final line indicated - 5 IP, 3 H, 2 BB, 5 ER, 2 HR. The homers were solo shots - the first of which came off the bat of his old backstop C Alex Jackson (hey, that's not fair!). He was largely done in by a double steal in the fourth where the Bulls then adeptly took advantage. The rest went South the way of the suddenly somewhat shaky Sounds bullpen - I honestly never thought I'd write that in 2023. But, alas, here we are.

The Sounds loss dropped them to 15-13 in the second half. They will look to rebound in game three tomorrow night.

Three Quick Strikes:
1) He's pitched less than 1/3 the innings he did in 2022, but LHP Ethan Small has now given up half the number of home runs (4-to-8). His opportunities have been limited since his return from the 7-Day IL in mid-July, but, Small has now given up 5 H, 1 HB, 3 HR, 4 ER in his last 4 IP over two outings. 
2) This was not a good baseball game from 2B Josh Van Meter. He's been solid for a good bit for the Sounds. Tonight was not a part of this solid lineage. An 0-for-5, 2 K performance is one thing - all players are prone to such nights. However, when you toss in the high throw to 1B (not charged an error, fascinatingly) that immediately came back to bite his team in the form of a two-out two-run HR blast over the LF wall, that 0-for-5 night is suddenly mentioned in my report. What a thunderous gavel of baseball reporting injustice! Perhaps. Regardless, with Urias and Alvarez long gone from the Sounds clubhouse they're going to need better nights from Mr. Van Meter.
3) And now, our much needed INF Cam Devanney moment of Zen. It's been a bit, folks, but the Devanney zealots are always waiting - meditating, dare I see - for his next moment: 
Nice calm and easy swing here. He's refined this batting approach this season. We see that in his slowly improving BB:K ratio. This season started on the wrong foot - injured and all. But, Devanney continues to battle. I remain a devotee. ?
---
Final:  Pensacola (Marlins) 12, Biloxi  9
Box Score / Game Log 

Via the Shuckers' site, game details, please visit and review:

Shuckers Drop Slugfest to Blue Wahoos, 12-9

After taking game 1 in 10 innings, the Shuckers were back at it in beautiful Pensacola trying to take game 2 while extending their winning streak to eight games. So, how did they fare? Well, they scored nine runs on 11 hits! The pitching? Well, they conceded 21 hits and 12 runs in return. Check please! It wasn't all Blue (Wahoos), however, LHP Russ Smith pitched his second consecutive scoreless inning since his return - always a pleasant outcome. Let's see what else can be gleaned from my viewings. 

Three Quick Strikes:
1) The Shuckers offense was largely driven by the fantastic output of their middle of the order men. 2B Isaac Collins, 3B C Wes Clarke, and 3B Zavier Warren went a combined 7-of-12, 7 R, 7 RBI, 3 BB, 2 K, 1 2B, 2 HR. Goodness gracious could the desert-dry Brewers lineup use some of that action. The usual culprits atop the order (Black and Chourio) also got aboard four times, but, the ongoing Shuckers offensive explosion is coming at teams from all parts of the lineup. It has been a sight to behold.
2)  OK, I shared Clarke's mammoth 455 foot blast in the ninth inning. Well, his grand slam blast over the left field wall was no cheap shot either: 
I sincerely hope Brewers Fanatics don't take Clarke for granted. He's the consummate steady as it goes player - never too high and never too low. He's nearly always available at two crucial positions - catcher and first base. He's steady. And, he's fast approaching a 20 plus HR campaign in Double-A. He currently has 57 RBI to boot. At still just 23 years old, there's a lot to work with here. If he can start to flip the script in his K:BB ratio (he's still striking out 32% of his PA) we're really going to start taking notice.
3) I've made brief mention of this in the past, but it's fair to say RHP Robbie Baker is in dire straits. After tonight's 3 IP, 9 H, 4 ER, 3 K, 2 HR outing, Baker has now given up 13 HR over his last 13 outings dating back to May 31st. That's 13 HR given up over a 24 inning span. I don't know what the organization does from here, but I sincerely hope Baker can somehow turn the tides. He was very good in May. Hopefully he revisits that tape and somehow re-discovers what makes him effective. It's never easy when you're in a rut. Baker is clearly in one. Let's root for him to turn it around.
---
Final:  Wisconsin 4, South Bend (Cubs) 2
Box Score / Game Log 

Game Notes 

Via the T-Rats' site, game details, please visit and review:

Wagoner Show His Quality to Beat the Cubs

The T-Rats tried to turn the tides of their woeful game one performance and sent the roller coaster that has been 2023 RHP Cameron Wagoner to the hill. Was it a peak or a valley in the second game of this six game series for Wagoner? Definitely a peak even after the small adventurous valley of the second frame. It was a very important statement outing for the young hurler - he faced some adversity and he battled through it early and went on to pitch a career high six frames. You love to see it. Let's hope this outing is a portent of things to come as Wagoner helps solidify the T-Rats playoff push. Wisconsin moved to 17-15 in the second half. They remain tied with the Peoria Chiefs who improbably walked off Quad Cities with a six run ninth inning. Yuck! ?

Three Quick Strikes:
1) RHP Shane Smith has been stellar since his promotion to Wisconsin. But, this shouldn't take away from the extremely impressive ongoing work from RHP Tanner Shears who picked up his 5th Save of his 2023 High-A season. Shears came aboard in the ninth frame after RHP Sam Gardener ran into trouble (2 IP, 1 H, 2 BB, 1 ER, 3K) giving up a lead-off single followed by a walk. Shears certainly didn't make it stress-free - 2 WP's and a BB - but, it remains easy to love his stuff. His throwing action is so violent on the mound and his curveball so nasty I'm surprised he doesn't have more than 12 WP's on the season. But, it's a little bit of a case of you take the good with the bad given how impactful the good currently is: 59 K: 28 BB in 38 IP. That's a over 1.50 K's per inning pitched! That filthy curve pairs incredibly well with his 95-96 mph gas and that's how he ended this one: a stellar 96 mph heater ripped to the top of the zone. 
2) The T-Rats, like the Mudcats below, made things quite a bit harder on themselves then they needed to be with their 1-for-10 effort with RISP. The combined 0-for-12 output from DH Matt Wood, CF Joe Gray Jr. (3 K), and RF Hendry Mendez (back below the Mendoza Line) certainly didn't do any favors from those pivotal 2-through-4 spots in the batting order. Thankfully, the team received key contributions from the bottom of their order - none more important than INF Eduardo Garcia's RBI 3B and INF Jose Acosta's sac fly for the 3-1 lead in the top of the fourth inning. 
3) Let's get back to the bullpen and close by discussing RHP Sam Gardner's ongoing fantastic work as a key set-up man late in games. The bullpen has been the strength of this Timber Rattlers team all season long and Gardner's ascent after a couple shaky inaugural outings has been key to stabilizing high-leverage set-up innings. Like RHP James Meeker in 2022, Garner is an older High-A arm (26 yo) having signed out of the Pioneer League in late May of this year. With that age, you hope to see calmness and control on the mound. We are seeing that consistently since the calendar flipped to July - 16 1/3 IP, 9 H, 8 BB, 20 K, 2 ER. He's been absolutely huge for this second half turnaround. 
---
Final:  Carolina 5, Fayetteville (Astros) 2  
Box Score / Game Log 

Via the Mudcats' site, game details, please visit and review:

Castillo Drives in Two Runs as Carolina Evens the Series with a 5-2 Game 2 Win

Having split the opening doubleheader, the Mudcats were back at it versus the pesky Fayetteville Woodpeckers. Taking the mound for the first place Mudcats was RHP Quinton Low. And, thankfully, we got the good version of Low. When he's mostly in and around the zone his stuff is extremely challenging for Low-A hitters - hitting upper 90's velocity with a very tight sweeping slider leads his intriguing mix. It was a much needed rebound outing from the young fireballer - 4 IP, 3 H, 2 BB, 7 K, 2 ER. 77 total pitches isn't ideal but the end results and the advantageous K:BB ratio really pop. And, we would be remiss if we didn't point out Low got some very very good help in RF from Kaylan Nicasia: 
The Mudcats moved to 20-12 in the second half with a 3.0 G lead over the Lynchburg Hillcats.

Three Quick Strikes:
1) As the article above alludes, the Mudcats were far from perfect in this one. They left the sacks dripping in each of the fifth and seventh frames. They were a meager 4-for-18 with RISP even though they outhit the Woodpeckers 11-to-5 and were walked five times but also struck out 17 times. Yikes. In other words, they did enough to win but they'll likely come away wanting to tweak some things in their collective approaches. 
2) Even though we've been frequently discussing the intriguing toolkits we see when RHP's Quinton Low and RHP Jesus Rivero take the hill, RHP Yerlin Rodriguez is undeniably hitting his stride as the most imposing reliever out of the Mudcats bullpen. He is now 7-of-7 in SVO's and has only conceded one single run when attempting to shut things down in a Save situation. He grabbed the extended Save tonight with 1 1/3 IP, 1 H, 0 BB, and 1 K. That lack of free runners really sticks out here. In the 10 IP during SVO, Rodriguez has now only allowed 3 BB to 10 K. The future is very bright for this young man.
3) 3B Luke Adams was hit by a pitch in the top of the seventh frame and it was not a pretty moment. It was a scorching inside heater that beelined directly to his elbow and forearm area of his lead left arm. He was writhing in pain from the get go and ultimately fell back to the dirt for a good minute or so. After removing his elbow pad and both batting gloves he ultimately managed to rise to his feet and take first base. BUT, he was pulled in the bottom half of the inning for defensive replacement, INF Jadher Areinamo. We'll have to stay tuned to discover whether this was a precautionary move or if he will need some time to heal. 
---
ACL Brewers 6, ACL Royals 3
Box Score  / Game Log

As alluded to above, we had a INF Cooper Pratt debut. We also had an INF Eric Bitoni debut (DH in his debut - 0-for-3, 1 K). 3B Brock Wilken was not in the lineup, however - we'll have to stay tuned if this is related to a well-deserved promotion elsewhere. 2B Mike Boeve was definitely still in the lineup (1-for-4) which, well, is interesting and not something I'd expect to last all that long. On base juggernaut, INF Dylan O'Rae was doing his thing getting on base - 1-for-2, 2 R, 2 BB, 1 CS (only his second CS in his summer campaign). INF Juan Baez was again scorching hot in the desert as alluded to in the 'Game Balls' above so not needed to repeat here. Beyond these key points, any other tidbits you'll want to glean are within that new and fresh look Box Score interface. I am still getting familiarized with it and so should you. This was a nice win against a formidable ACL Royals squad. Let's hope the young Crew can build on this and chase first place. With the victory, the ACL Crew move back to 22-20 and only 1.0 GB their division leading ACL Reds. 
 
---
RHP Jacob Misiorowski is back on the hill for the Biloxi Shuckers in Pensacola - a tough ask for the young man. Lets hope he rediscovers his control and limits the free passes. RHP Alexander Cornielle will look to help the T-Rats jump to a 2-1 series lead in South Bend. The DSL Cerveceros Uno y Dos will be back in the fold for the morning tilts but we'll be all evening for the remaining five contests. 

As always thanks for reading and thanks for supporting Brewers Minor League baseball. I'll see you in the ongoing Game Threads and will be back writing early next week. Go Brewers!
Organizational Scoreboard including starting pitcher info, game times, MiLB TV links, and box scores

Current Milwaukee Brewers Organization Batting Stats and Depth

Current Milwaukee Brewers Organization Pitching Stats and Depth