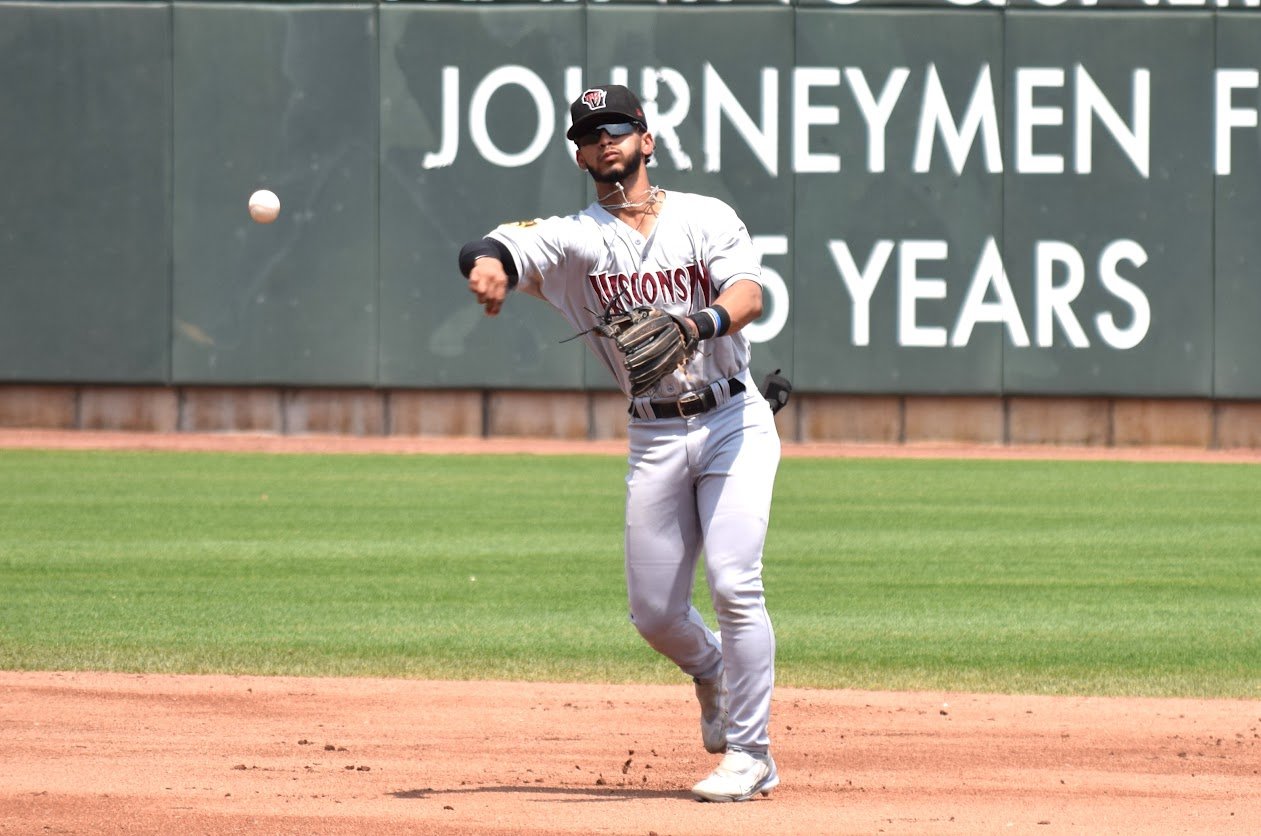 Image courtesy of Steve Buhr, Twins Daily (photo of Eric Brown, Jr.)
On Monday, the Arizona Fall League will begin their 2023 season. Prospects from around Major League Baseball will play games about six days a week over the next six weeks with the league's championship game on November 11th. 
The Brewers prospects will be playing for the Surprise Saguaros this season. Eight Brewers players will team with minor leaguers from the Toronto Blue Jays, Texas Rangers, Cincinnati Reds, and Kansas City Royals. 
While the Arizona Fall League is often touted as a high-level of competition, teams don't always send their top prospects. In fact, this year, just 10 players on MLB Pipeline's Top 100 prospect rankings will participate. Of the eight players that the Brewers are sending, only shortstop Eric Brown, Jr. ranks in their Top 20 Twins prospects (#10 by MLB Pipeline, #13 by Brewer Fanatic). 
Often, the players who participate in the Fall League are players who missed time during the regular season due to injury. Teams don't often want to send their starting pitchers because they have already thrown a lot of innings. So you'll see relievers sent. Those players typically don't rank high on prospect lists, but several of them will make it to the big leagues. 
Let's take a look at the eight players that will be representing the Brewers organization in Arizona starting this week. In addition to discussing the player's background, I had the opportunity to chat with a couple of the players on what they are looking forward to during their time in Arizona and what they hope to work on and improve while they are there.  
We will start with the pitchers. 25-year-old southpaw Justin King grew up in Okotoks, Alberta, in Canada. He played baseball, hockey and basketball. After high school, he spent two years at Indian Hills CC in Iowa. At the time, he was a hitter, one of the best community college hitters in the country. He went to Alabama and played in 24 games in 2019 before the lost 2020 season. In 2021, he went to Louisiana-Monroe where he played in eight games as a hitter and nine games out of the bullpen. Undrafted, King went to Florence in the independent Frontier League. After just a handful of games, he was signed by the Brewers. He pitched in five Arizona Complex League games before ending his 2022 season in Wisconsin. Last offseason, he pitched in the Australian Baseball League. 
King spent the 2023 season at High-A Wisconsin. He worked in 30 2/3 innings over 28 games. He posted a 2.93 ERA despite a 1.57 WHIP. He had an incredible 54 strikeouts (15.8 K/9), but he also walked 25 batters (7.3 BB/9). 
So no surprise that King told Brewer Fanatic recently that he will "be working on my offspeed execution and command." 
King also said, "I'm looking forward to seeing some guys that I used to play with back in high school and playing against some talented players." 
King played for the Okotoks Dawgs, a renowned baseball academy in his hometown. "I played with some guys all over Canada, and a good friend I played against a lot was Erik Sabrowski with the Guardians who is also in the Fall League." 
Shane Smith was one of the best relief pitchers in the Brewers organization in 2023. He began the 2023 season at Low-A Carolina where he had 50 strikeouts and 10 walks in 31 1/3 innings. He moved up to High-A Wisconsin where he had 34 strikeouts and 10 walks in 26 1/3 innings. He ended his season with two games and two scoreless innings at Double-A Biloxi. All told, he went 7-4 with 10 saves. He had a 2.26 ERA and a 0.96 WHIP. In 59 2/3 innings, he had 86 strikeouts (13.0 K/9) and 21 walks (3.2 BB/9). 
Smith is a very intriguing prospect. After high school, he went to Wake Forest. However, he got a medical redshirt in 2019. In 2020, he was the team's closer and was 2-0 with a save in five appearances before the season ended. Then in 2021, he became a weekend starter, but after two starts, his season ended prematurely and needed Tommy John surgery. However, just days after the draft, the Brewers offered him a deal and Smith gave up three remaining years of college eligibility.  
For Smith, the AFL represents an opportunity to learn. He said, "I think the biggest thing is throwing against such good players who have proven themselves over the course of the year. The talent is second-to-none and playing with them will help me learn more about myself as a pitcher and player." 
He has also been working on a pitch and looking forward to using it in the Fall League. "I've been trying to develop a slider over the course of the year which is a brand new pitch to me. I think bullpens only help so much and throwing in game with in-game speed will only benefit me in finding ways to use it and the feel needed to throw it."
Right-hander Joseph Hernandez came to the Brewers from the Mariners organization last offseason in return for reliever Justin Topa. He threw 116 2/3 innings in 2022. This season, he missed nearly 10 weeks on the Injured List before returning in mid-August. In Low A in 2022, he struck out 143 batters (11.0 K/9). This season, he had just 34 strikeouts in his 47 High-A innings (6.5%). 
Adam Seminaris had a similar 2023 story. The lefty came to the Brewers in the trade that sent Hunter Renfroe to the Angels. After throwing 101 2/3 innings last season, he threw just 62 innings this year. He spent nearly three months on the Injured List. He ended the 2022 season with nine Triple-A starts, but because of the injuries, he made just one start with Nashville this season. This will be a good opportunity for Seminaris to make up for some of those lost innings. He was the Angels fifth-round pick in 2020 out of Long Beach State, so the Brewers will have to decide whether to add him to their 40-man roster or not. 
Justin Yeager is a 25-year-old right-hander. He was the 33rd round pick of the Atlanta Braves in 2019 out of Southern Illinois. He came to the Brewers organization with William Contreras in the big three-team deal between the Braves, Brewers and A's that sent Sean Murphy to Atlanta. Yeager pitched in three games for Double-A Biloxi before being put on the Injured List in early May. He didn't pitch again in the regular season. However, he must be good-to-go or else he couldn't be on the AFL roster. 
As you can see with the pitchers, in most cases, they are guys who missed significant innings with injury who are getting an opportunity to grab extra innings. The same can be said for a couple of the hitters heading to Arizona. 
Eric Brown was the Brewers top pick in the 2022 draft, 27th overall out of Coastal Carolina. After signing, he ended up playing 23 games in Carolina. So the 22-year-old began the 2023 season in Wisconsin where he hit .265/.362/.347 (.709) with eight doubles and four home runs in just 63 games. Unfortunately, he missed time twice throughout the season with injuries. One thing that Brown does at an elite level is run. On the season, he had a total of 39 stolen bases and was caught just five times. 
Hendry Mendez will remain a teenager until the final week of the AFL. However, in 62 games for High-A Wisconsin, he hit .236/.307/.326 (.634) with eight doubles, two triples, and three home runs. However, he missed three weeks in late April and then returned for four games before going on the Injured List for nearly two months. That is some pretty inconsistent playing time from April through June. Again, this is a great opportunity for Mendez to make up for some lost time. 
The Brewers liked Wes Clarke so much, they drafted him twice. Alright, the first time was in the 40th round out of high school in 2018. Instead of signing, he went to South Carolina and three years later, they selected him again, this time in the 10th round. Clarke was able to stay healthy and in the Biloxi lineup most every day and earned that time. He hit .241/.392/.498 (.889) with 24 doubles and 26 home runs. The AFL may provide Clarke with time to work on the defensive side of his game. This season, he made 43 starts at first base and 33 starts behind the plate. It may be a chance for him to work on some things behind the plate. 
So there you have it, a quick look at the Brewers contingent which will start play in the Arizona Fall League this week. Who are you most looking forward to watching?