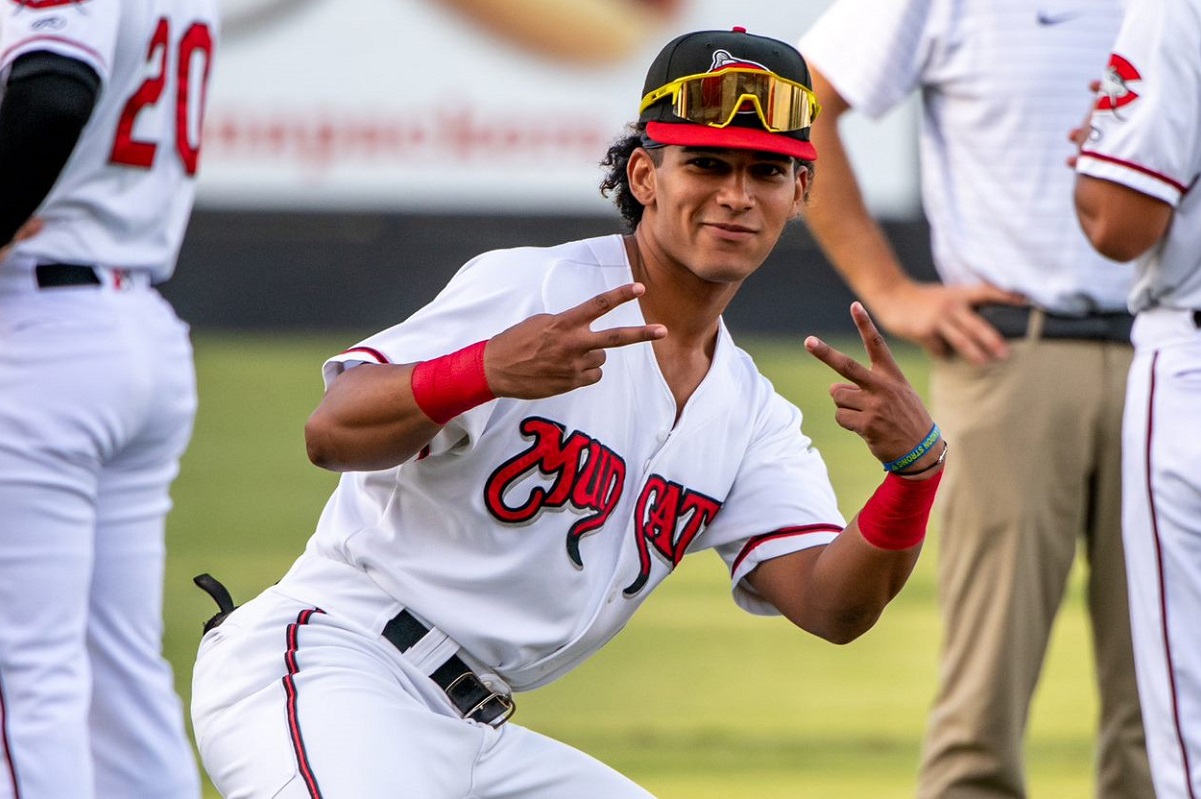 Image courtesy of Neal Hock, Carolina Mudcats
If you missed Part 1 of our Brewers Spotlight interview with Eric Brown, Jr., click here. 
When we ended Part 1, Brown had just gone to a world wood bat tournament and played so well that he came out of it with 17 college offers. Coastal Carolina made it clear that they wanted him. In fact, as soon as Brown's team was out of the tournament, the Brown family drove the five hours from Georgia straight to the campus in Conway, South Carolina. It was already about 9:00 pm, and the baseball coach showed them all around campus, right up until about 1:00 am. 
Dallas Baptist was another school that Brown strongly considered, and with his family's religious beliefs and faith it was another very good option for him. In addition, Dallas was just three hours from the Brown's home. 
Ultimately, Coastal Carolina was the choice for Brown.
He hit just .259 as a freshman, "but it was a struggle to hit .259." He considers the lost Covid season a "blessing in disguise" and took advantage of it. Brown said, "I truly do feel that for me personally, it was. This is God showing me, you can get your feet wet right here, I'm going to show you what you need to work on for next year. You can get your feet wet and you come in next year and you're ready to go." 
Specifically, he worked on his mental approach to the game and felt that was very important for him to develop. But he also learned from the games he did play, and what he needed to work on, and he set out to improve. He also put on 22 pounds between his freshman and his sophomore year as well. 
In 50 games as a sophomore in 2021, he hit .294/.413/.513 (.926) with 12 doubles, a triple, and nine home runs. He spent that summer playing for Cotuit in the Cape Cod League. As a junior in 2022, he was even better. Brown played in 57 games and hit .330/.460/.544 (1.004) with 10 doubles, two triples, and seven home runs. 
Going into the 2022 draft, rankings and draft boards had Brown going anywhere from the middle of the first round to the middle of the second round, so they just weren't sure what was going to happen. 
Brown's father has always been a huge Yankees fan. So when his son's phone rang at the Number 24 pick, Eric Sr. got nervous and said, "Oh no!" The Boston Red Sox had that 24th pick. But I'm sure Mr. Brown was quite happy when the Sox didn't take his son. The Yankees had the 25th pick, but they selected Vanderbilt outfielder Spencer Jones. The White Sox took a high school pitcher at #26. 
With the 27th overall pick in the 2022 MLB Draft, the Milwaukee Brewers selected Eric Brown, Jr. 
"The night that I got drafted… I don't remember that night. Honestly, I don't. I got my name called and the rest of the night was a blur. I was on the phone left and right. I didn't know if I was too happy. I was crying. I can't believe this just happened. It was crazy!" 
Later that week, he had the opportunity to go to Milwaukee where he signed. He met a lot of players including "one of my idols, Christian Yelich." Brown added, "Our swings are somewhat similar from our lower half. If he can do it, I can do it. He was my motivation. It was pretty awesome meeting him."   
From Milwaukee, he flew to Arizona and played four Arizona Complex League games before jumping up to Low-A Carolina where he finished with the Carolina Mudcats. 
Brown notes that he sees himself currently as a four-tool player. One of the things that he is specifically working on this offseason is his speed. Yes, he can get quicker, but if base stealing is any sort of measure of speed (it can be, but so are instincts), stealing 19 bases in 21 attempts in his pro debut is a pretty exciting sign of things to come. 
He has hit for average. He is strong and could turn all those doubles into homers over time. He is a solid defensive shortstop, but he also spent a lot of time in high school at the hot corner, and he's got the strong arm to prove it. Some say there is a sixth 'tool,' plate discipline. In his college career, he walked more than he struck out. 
Eric Brown, Jr., is a very exciting prospect for the Brewers. There are a lot of reasons to be encouraged about his future with the Brewers organization. It will be interesting to see how quickly he is able to work his way up the organization. 
Join me in congratulating Brown on being drafted, and thanking him for taking the time to answer our questions. And if you have more questions for Brown, include them in the Comments below. Either I will try to ask him, or maybe he'll log in and answer himself.
Think you could write a story like this? Brewer Fanatic wants you to develop your voice, find an audience, and we'll pay you to do it. Just fill out this form.
MORE FROM BREWER FANATIC
— Latest Brewers coverage from our writers
— Recent Brewers discussion in our forums
— Follow Brewer Fanatic via Twitter, Facebook or email