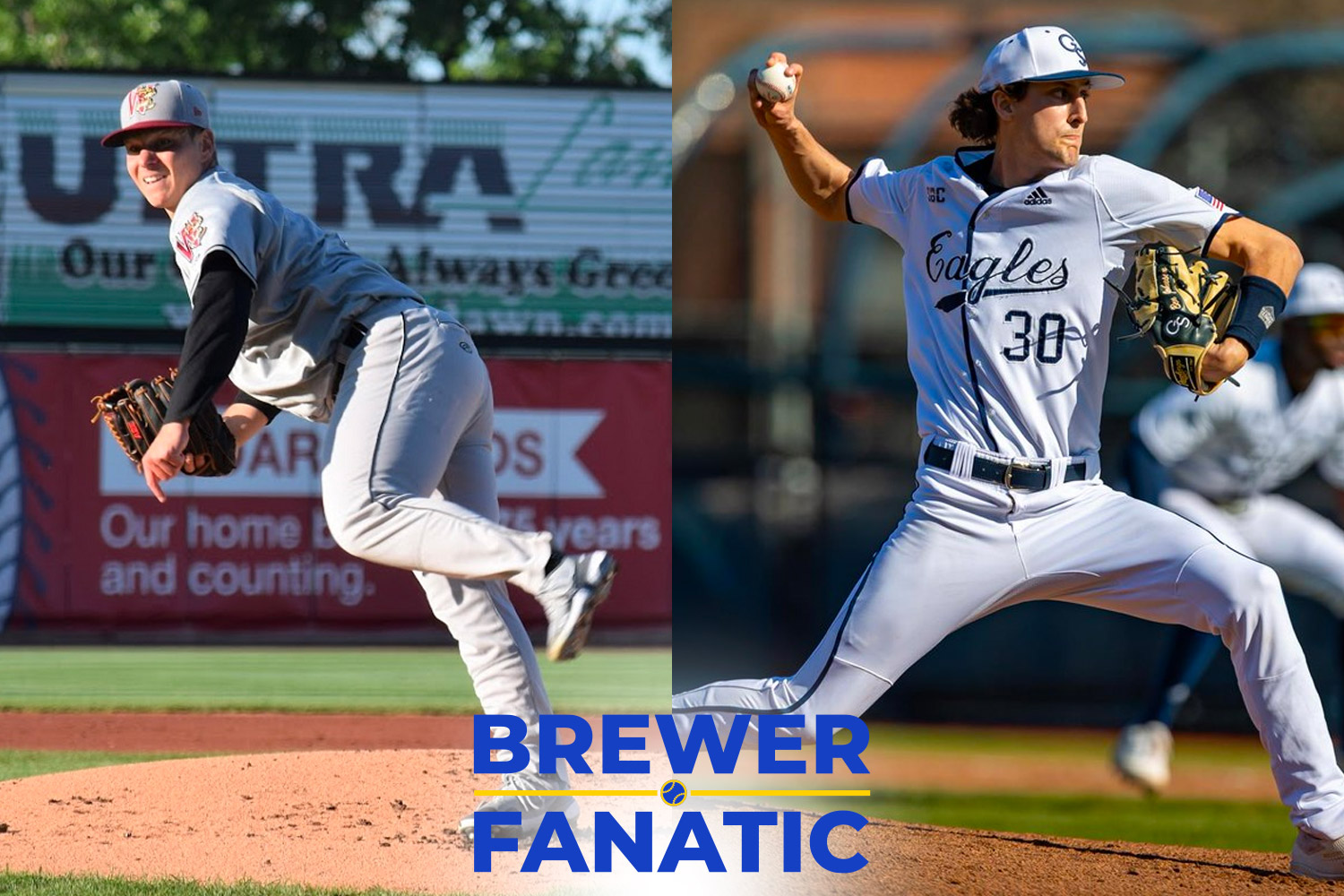 Image courtesy of Brewer Fanatic
So, Brewers fans can justifiably look at some of the top pitching prospects and feel excited. But Woodruff and Suter made their way up under the radar compared to more flashy prospects like Kodi Meideros, Cy Sneed, and Anthony Banda. Could that happen again for the Crew? Some of these pitchers look very promising to do just that.
Right-Handed Starting Pitchers 
Max Lazar, ACL Brewers Blue (R)/Carolina (A)/Wisconsin (A+)
1-1, 3.83 ERA, 40 IP, 12 BB, 26 K
Bats: Right, Throws: Right
Age: 23
Lazar dominated before the pandemic but was set back by missing all 2021 and much of 2022. But when he was on pre-pandemic, he was on. He recovered some of his 2019 form with Brisbane during winter baseball, though, so he could do what Adrian Houser did for the Brewers.
Kevin Briceno, DSL Brewers 1 (FRk)/ACL Brewers Gold (R)
4-3, 2.02 ERA, 49 IP, 14 BB, 48 K
Bats: Right, Throws: Right
Age: 20
Briceno's just kept people off the bases and kept them from scoring. It's a long way from the DSL and ACL to the majors. His adjustment to full-season baseball in 2023 will be crucial.
Cameron Wagoner, ACL Brewers Gold (R)/Carolina (A)
3-0, 1.83 ERA, 19.2 IP, 2 BB, 24 K
Bats: Right, Throws: Right
Age: 21
Like Woodruff and Suter, Wagoner is a later-round pick. That being said, the production in his first pro season and what he's doing down under could rocket him up. He's simply blowing away the competition. This can't be ignored, like Suter's 2015 performance in the notoriously hitter-friendly Colorado Springs.
Overview
While these three pitchers have different backgrounds, all three have, in the past, delivered results or are delivering them now. Lazar's 2023 will be crucial as he returns from two injury-plagued seasons, but Briceno and Waggoner have the challenge of adapting to full-season ball.
Left-Handed Starting Pitchers
Brandon Knarr, Wisconsin (A+)/Biloxi (AA)
11-8 2.83 ERA, 146.1 IP, 47 BB, 152 K
Bats: Left, Throws: Left
Age: 24
A major league team didn't even draft Knarr. But the Brewers picked him up, and so far, he looks like a steal. While his strikeout rate is down, the walks and WHIP also went down, and he was an ace for the Timber Rattlers and solid for Biloxi. Finding a Knarr, a Brent Suter, or someone similar who can fit into the back end of a starting rotation is how the Brewers will be competitive.
Anfernny Reyes , DSL Brewers 2 (FRk)
2-0, 1.54 ERA, 46.2 IP, 24 BB, 48 K
Bats: Left, Throws: Left
Age: 18
Reyes posts some good strikeout numbers. Most impressive – he allowed no home runs in the 46.2 innings he pitched. Now, ten unearned runs were allowed, and he had quite a few walks, but one can't help but think Reyes could be a tremendous asset down the road.
Osbriel Mogollon, DSL Brewers 1 (FRk)
2-3, 2.74 ERA, 46 IP, 24 BB, 57 K
Bats: Left, Throws: Left
Age: 18
Mogollon, like Reyes, did very well in avoiding the home run ball – only one allowed in 46 innings – and he flashed even better strikeout numbers. His WHIP was quite good in his first professional season, though. He faces a long road to the majors, but he could be pretty good if the peripherals hold up. 
Overview
Reyes and Mogollon have a long way to go, but both are flashing excellent tools. Knarr, on the other hand, has an immense value already, either as a replacement for Eric Lauer in the rotation or as a trade chip for a crucial piece.
Think you could write a story like this? Brewer Fanatic wants you to develop your voice, find an audience, and we'll pay you to do it. Just fill out this form.
MORE FROM BREWER FANATIC
— Latest Brewers coverage from our writers
— Recent Brewers discussion in our forums
— Follow Brewer Fanatic via Twitter, Facebook or email