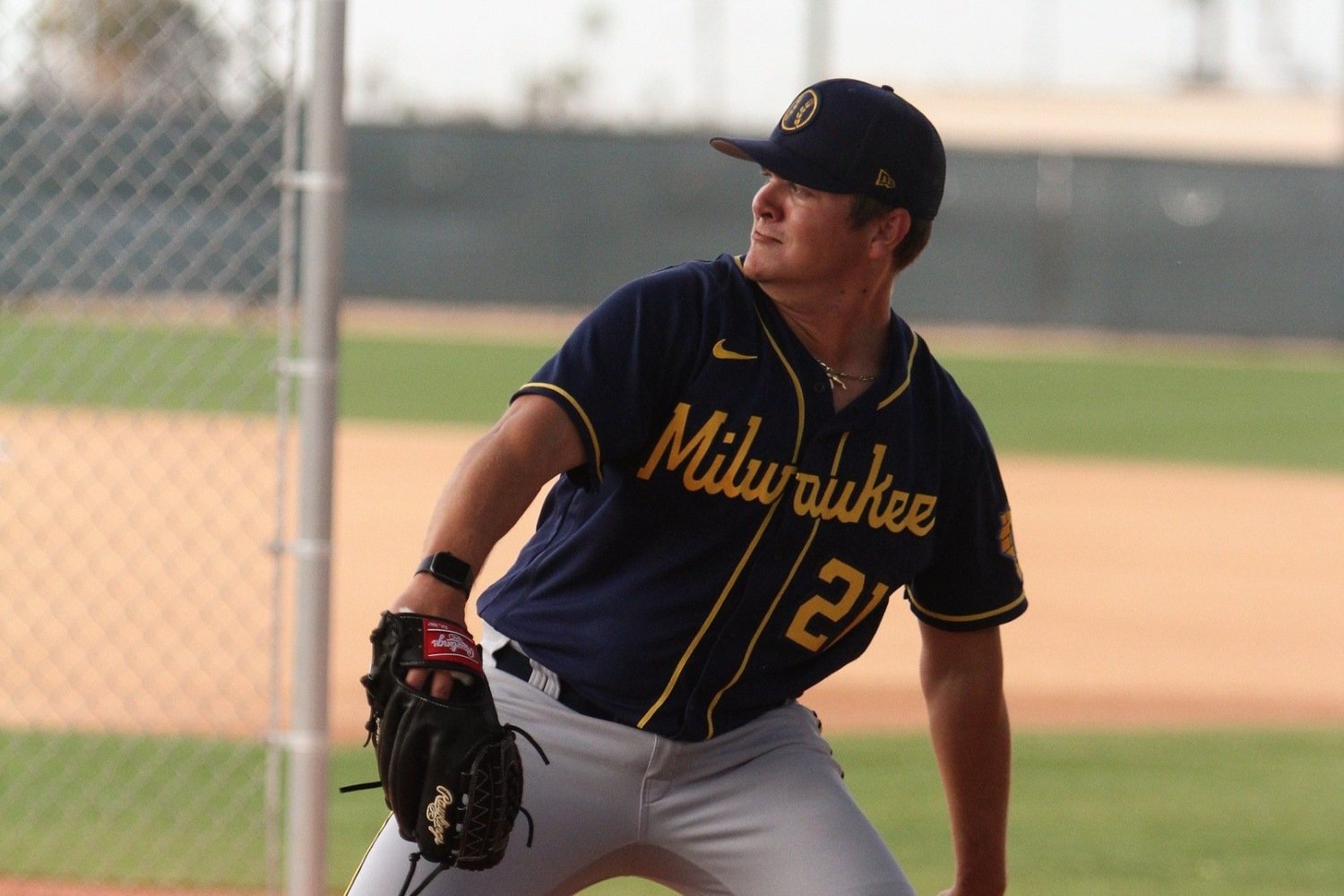 Image courtesy of © Curt Hogg / Milwaukee Journal Sentinel / USA TODAY NETWORK
After Wade Miley declined his option and the team traded Mark Canha right at the outset of the offseason, the Brewers have a wide-open 40-man roster. They have six open spots already, with the possibility of another couple vacancies being created at the end of this week. Before then, though, they have to decide which players to add to that collection in order to protect minor-league veterans from the Rule 5 Draft, which will close out the MLB Winter Meetings in a few weeks.
There are a couple of easy calls, but the team could choose to use their roster flexibility to add others, too. It's an enviable position. Let's run through the names.
Jeferson Quero, C
One of the best prospects in the organization, Quero also seems likely to be called upon by the parent club in 2024, anyway. They're likely to lose erstwhile backup Victor Caratini to free agency, and while there are plenty of other guys they could sign to complement William Contreras, it's unlikely that they'll be as lucky as they were in 2023, when Contreras and Caratini were the only catchers they needed all year. Quero is as easy as these calls get.
Evan McKendry, RHP
When the Brewers shipped Alex Jackson to the Rays in July (rescuing them from an emergency-level lack of catching depth), they got McKendry in return. He has below-average velocity, but on his way up the ladder in the Rays system, he put up good strikeout and walk numbers, and often looked good overall. His changeup is a good weapon. As soon as the Crew got ahold of him, they made a significant change: they had him crank up the usage of his four-seam fastball.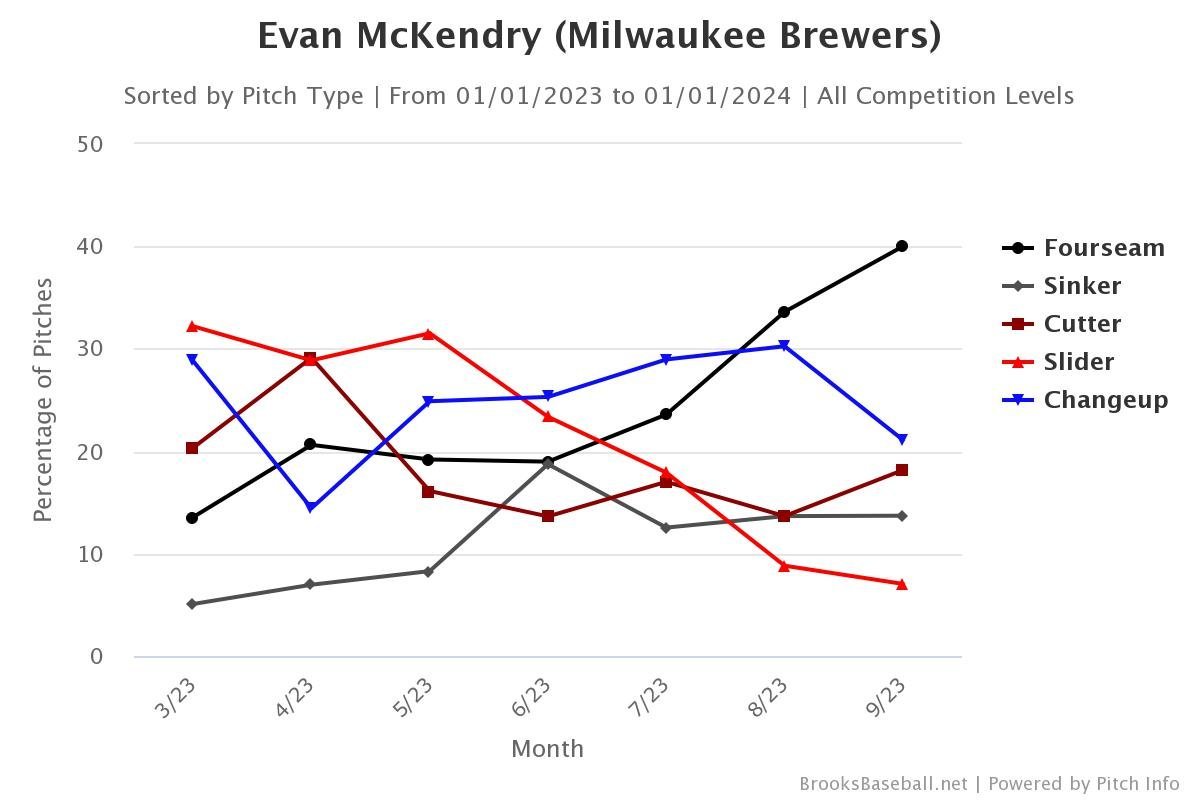 It's not surprising that the Rays were willing to give up McKendry, and it's not surprising that they didn't want him to make use of the four-seamer much. It has more arm-side run and less rising action than does the average four-seamer. The Rays don't like that. They believe firmly in the cut-ride fastball, and want pitchers to achieve glove-side movement or at least backspin the ball at the top of the zone. The Brewers, by contrast, were exactly average in both dimensions of movement on four-seamers last year. They're not dogmatic in the same way.
The Rays might have been right. McKendry's numbers all went backward after he came to the Milwaukee system. It's just as likely, though, that they have a plan to maximize McKendry's stuff that will bear fruit in the long run. Whether they add him to the roster Monday will help us determine which is true.
Carlos D. Rodriguez, CF
He's not even the most notable Brewers prospect with his first and last name, but Rodriguez isn't without utility. As a waterbug, slap-hitting type, he has to do everything except hit for power well. Increasingly, though, it looks like he might be capable of that. He plays plus defense at all three outfield spots, and he runs very well. Most importantly, he maintained his plate discipline and made contact at an excellent rate in the upper minors in 2023. That said, we're talking about a low ceiling here, and there's every chance he'll have the bat knocked out of his hands at the highest level. The Brewers are unlikely to commit to a roster spot for him throughout the offseason, as the rules dictate for a player added under these circumstances. They'll either gamble on him going undrafted, or trade him to a team (like Oakland, perhaps) with a greater appetite for light-hitting speedsters.
Freddy Zamora, IF
There's an argument for keeping Zamora, who would provide depth on the middle infield for a roster that currently feels thin there. With repeated injury issues slowing his development, though, he's yet to demonstrate any skills that meaningfully separate him from freely available alternatives. Only if Willy Adames is on the trade block does Zamora seem to fit into the Brewers' plans. If there wasn't so much open space on the 40-man, this wouldn't even be a conversation.
Adam Seminaris, LHP
Operating mostly as a soft-tossing, four-pitch southpaw starter, Seminaris has still posted fairly impressive strikeout rates in the minors. There's good reason to believe that, if he finds another tick of velocity or moves to a multi-inning relief role and picks up even more, he can be a valuable weapon in the kind of modular pitching staff the Brewers like to build. It's not extraordinarily hard to find similarly promising players, but Seminaris is the type who might well get snatched up if left unprotected, so there's a little extra motivation to protect him for the Brewers.
Bradley Blalock, RHP
Speaking of extra motivation to make an addition, Blalock was the return in the Luis Urias trade this summer. One reason why the Red Sox were willing to give him up was because they knew they would face this decision in a few short months, and it's not a surprise that he's also a fringe case for the Brewers. It's usually best not to hold onto a player just because it might make everyone feel better about a previous transaction, but Blalock isn't without some redeeming skills, either. He has a combination of arsenal and arm slot that should yield a good number of whiffs even in MLB. Again, the openness of the roster makes this a more interesting call than it might be otherwise.
Beyond Quero, none of these guys are clear must-add talents. They (and the several other players in the organization who are eligible to be picked if left off the 40-man Monday) could be left exposed and not taken, and even if one or two of them were taken, they would probably not be missed very much. That the Brewers have so many open spots and so few players urgently demanding to be slotted into them does create an alternative opportunity, though. 
Each year, we see some players traded on the equivalent of this day, as teams who already have nearly full rosters and need to squeeze on a highly-valued prospect or two shuffle their decks. The Brewers are in position to land one of those players whom some team won't be able to load onto their roster, or one that a team needs to get out of the way in order to add someone essential. You have to be careful with moves like these. Two years ago, the Guardians gave up a little-known Dominican teenager in order to acquire pitcher Tobias Meyers, whom the Rays were unable to fit onto their 40-man when needed. That trade chip was Junior Caminero, who is now one of the game's most hyped power prospects. If the Brewers are better at self-scouting than that, though, there's a window here to acquire someone useful and cheap at a low ebb in value.
Whom would you add to the 40-man roster, if you were Matt Arnold? It seems like this is the kind of small but meaningful moment the Brewers need to capitalize on, in order to maintain and improve the depth that made them NL Central champions in 2023. Let's follow along together.
Think you could write a story like this? Brewer Fanatic wants you to develop your voice, find an audience, and we'll pay you to do it. Just fill out this form.
MORE FROM BREWER FANATIC
— Latest Brewers coverage from our writers
— Recent Brewers discussion in our forums
— Follow Brewer Fanatic via Twitter, Facebook or email