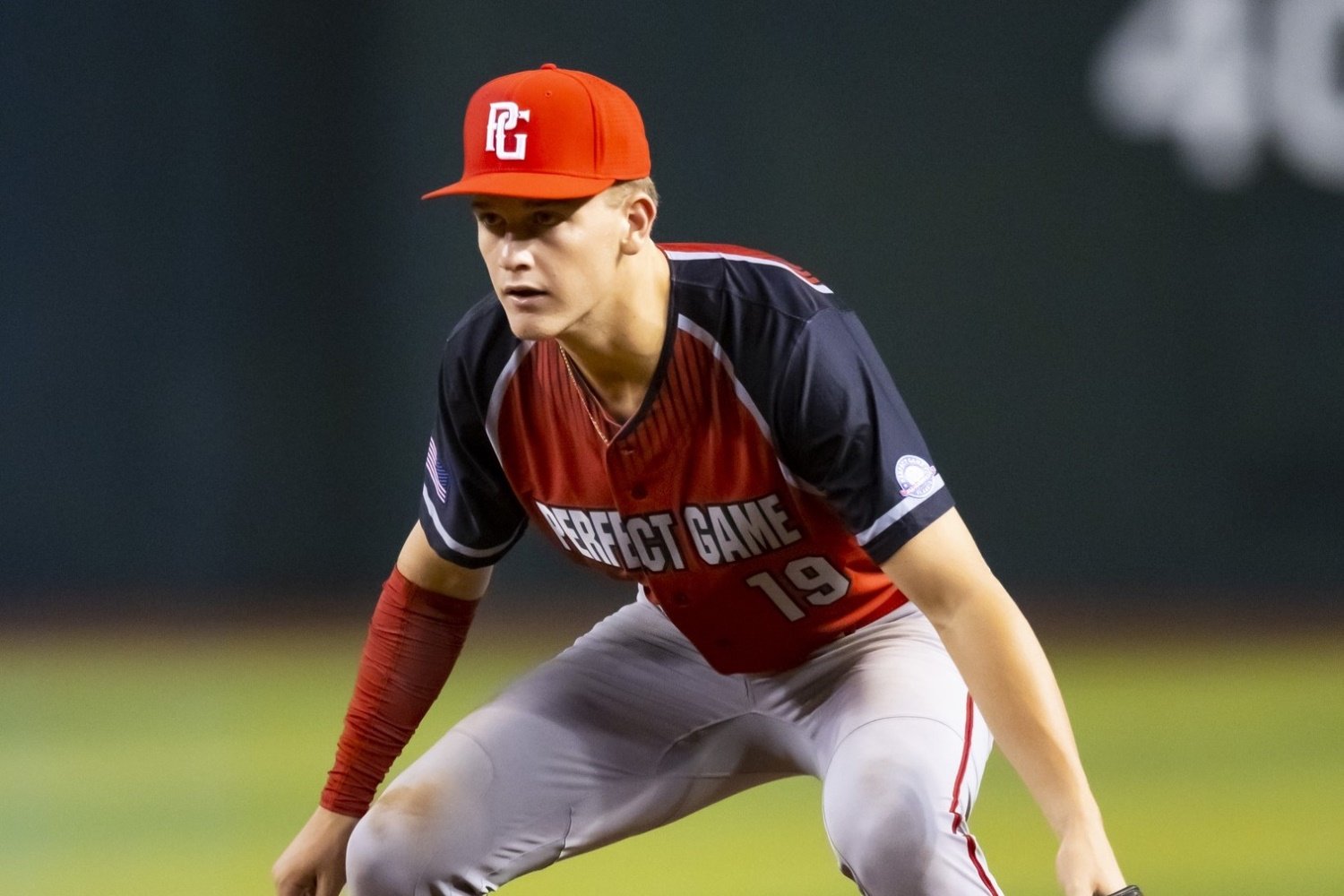 Image courtesy of © Mark J. Rebilas-USA TODAY Sports
Every one of the Brewers affiliates boasts at least one shortstop prospect who could be a solid major-league player, at what is arguably the most important position on the infield. Let's take a look at who they have.
Cam Devanney (AAA Nashville)
.271/.362/.461 with 27 doubles, 11 home runs, 47 RBI, 46 walks, 71 strikeouts in 336 at-bats
As a 15th-round draft pick, Devanney has proven to be a steal so far. He broke out in 2022 after a very rough 2021, following an aggressive promotion to Biloxi. He's flashed a superb bat, and he has not just held down shortstop, but also saw action at third base, second base, first base, and left field during his professional career. Had it not been for early-season injuries, he might have gotten the call-up after Willy Adames had that scary incident in May.
Freddy Zamora (AA Biloxi)
.255/.352/.361 with 17 doubles, 7 home runs, 51 RBI, 53 walks, 89 strikeouts in 377 at-bats
Zamora was selected in the second round of the abbreviated 2020 June draft, and provided a lot of hope in 2021. His injury-riddled 2022 gave Devanney the chance to stage a comeback. In 2023, he initially struggled due to the experimental ball in AA, but emerged with a very solid offensive season. In addition to some pop in his bat, he stole 17 bases. He and Devanney will likely compete for the shortstop job in Nashville, and with it, a shot at making it to Milwaukee.
Ethan Murray (AA Biloxi)
.256/.359/.370 with 16 doubles, 6 home runs, 48 RBI, 53 walks, 93 strikeouts in 351 at-bats
Murray found himself playing a lot at both shortstop and second base, spending a bit more time at the former position. For a player whose big calling card has been defense, Murray actually had a bit of an offensive breakout in Biloxi, posting his highest OPS at the professional level and improving his walk rate over 2022. Murray's development marks a very nice problem for Nashville to have in 2024.
Eric Brown Jr. (A+ Wisconsin/R ACL Brewers/AA Biloxi)
.255/.358/.354 with eight doubles, 6 home runs, 27 RBI, 36 walks, 54 strikeouts in 263 at-bats
Brown had trouble staying healthy in 2023, but when he's on the field, he's generally performed well. Brown's OBP skills and speed (39 steals in 72 games) provide an intriguing top-of-the-order option. He's also performed well in the Arizona Fall League (.801 OPS as of November 3).
Daniel Guilarte (A Carolina/R ACL Brewers)
.284/.387/.325 with 6 doubles, 33 RBI, 36 walks, 68 strikeouts in 266 at-bats
Guilarte's could be called a two-true-outcome profile: he draws a lot of walks and he strikes out a lot. He also has a lot of speed, stealing 31 bases in 63 games. Injuries somewhat derailed Guilarte's 2023 season, but his game looks to be very intriguing. Guilarte just turned 20, so he could fill out and add some pop to go with his OBP/speed/defense package.
Juan Baez (R ACL Brewers/A Carolina)
.351/.377/.527 with 19 doubles, 4 home runs, 48 RBI, 10 walks, 27 strikeouts in 222 at-bats
Arguably, Baez has the most dynamic bat of the Brewers' shortstop prospects. His .557 slugging percentage was the second-highest among all players with 10 or more games with the Maryvale squad (only the traded Jhonny Severino's was higher) and he tied with Severino and Mike Boeve for the team lead in homers. He didn't just flash power, he also had speed (four triples and 19 steals between both stops). Baez's big question mark was defense, with only an .833 fielding percentage at short – but that .904 OPS overall may be worth keeping him at short for the long term despite the defensive struggles. Players who post a .900 OPS are rare. Shortstops that do so are even harder to find.
Cooper Pratt (R ACL Brewers)
.356/.426/.444 with 2 doubles, 8 RBI, 5 walks, 11 strikeouts in 45 at-bats
Pratt was a surprise pick in the sixth round, and it was an even bigger surprise when the Crew paid $1.35 million to get him to pass on college ball. But so far, initial returns make this decision look good. Pratt could stick at shortstop, making no errors in nine games at the position. The scary part is what sort of power could develop from his 6'4", 195-pound frame.
Filippo Di Turi (FRk DSL Brewers 2)
.282/.414/.354 with 9 doubles, 27 RBI, 38 walks, 32 strikeouts in 181 at-bats
Di Turi's plate discipline was perhaps his biggest calling card--his walks exceeded his strikeouts--and he also flashed an ability to make contact, with his .282 average. Di Turi doesn't turn 18 until November 9, and so he is likely to fill out some and could add some power. Combined with his current plate discipline, it could make this switch-hitter some bad news for opposing pitchers.
What do you think about the collection of shortstops Milwaukee has? Who do you think will rocket up the minor-league ladder? Who will take Willy Adames's place? Let us know what you think!
Think you could write a story like this? Brewer Fanatic wants you to develop your voice, find an audience, and we'll pay you to do it. Just fill out this form.
MORE FROM BREWER FANATIC
— Latest Brewers coverage from our writers
— Recent Brewers discussion in our forums
— Follow Brewer Fanatic via Twitter, Facebook or email