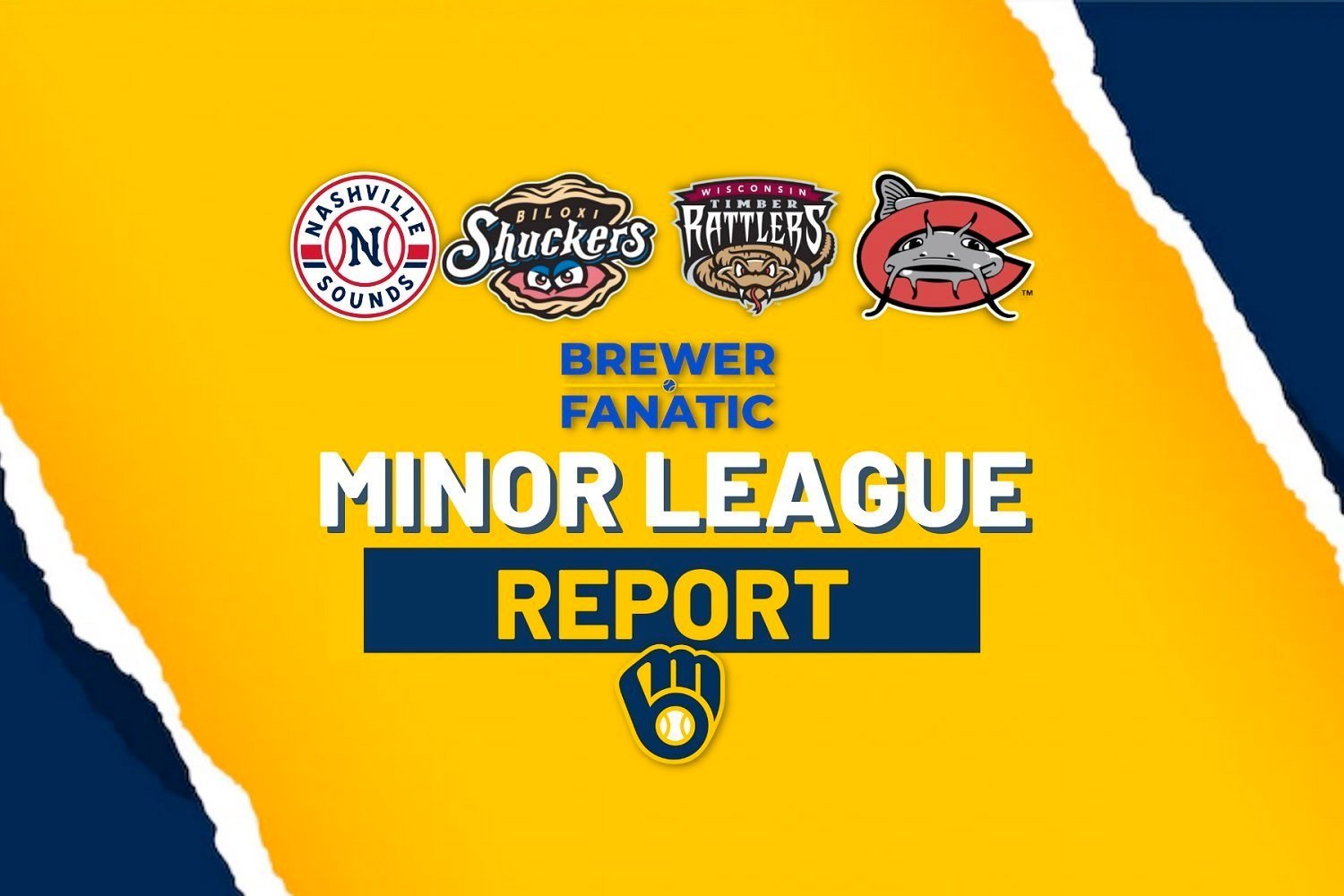 Image courtesy of Brewer Fanatic
If you missed my first two installments in this series, here's a quick link to both Part 1  and Part 2. This is a celebration of the bigger picture within the bevy of prospects who make watching the games throughout each Brewers minor-league season fruitful and enjoyable. I wish I could tell you about all the qualities I see in every one of the young men I watch. Unfortunately, that just isn't possible. I can provide a glimpse, though.
Without further ado, here is my 11-to-15. 
11) 1B/DH Jon Singleton - It was fairly surprising when the Brewers protected Singleton from the Rule 5 draft. After all, he's in his early 30s, and he has been relegated to afterthought status by most baseball fans. However, having watched the vast majority of Sounds games in 2022, I can say quite confidently: this man still has plenty of game and is still an improving player. It's easy to talk about the power, the walks (in 2022, he broke the Sounds' walk record, previously held by Otis Nixon since the 1980s), and the strikeouts, but the things I want to highlight regarding Singleton are his athleticism, defense, and hands. I feel as though he has been inappropriately pigeonholed as a big, brawny slugger, with massive swing-and-miss habits. When you see him play on a regular basis, it is clear Singleton brings quite a bit more to the table. He has really soft, dependable hands at first base, extremely underrated reflexes and overall coordination, and a dependable glove.
Singleton came to play last season in incredible physical condition--owning a gym in California has paid clear dividends--and I see a player who could see time in the Brewers clubhouse in 2023. It's important to remember: he chose to come back to the Brewers and the Sounds after the Rule 5 draft when he lost protection and became a minor-league free agent. He has stated in interviews that he appreciates the city of Nashville as a professional athlete, and it would certainly appear that he's comfortable in the Brewers organization. I think he would surprise quite a few fans with his performance, if he should get the call up to the parent club. I'd share a walk-off home run highlight, or Jon breaking the walks record in 2022, but there's so much more to this well-traveled man that makes him one of my favorite Brewers players. Check out this extremely insightful two minute interview in the Spring Training clubhouse:
12) RHP Lucas Erceg - It's the 2024 season. And, Lucas Erceg is playing third base...for the Dodgers?!? The creators of Playstation's 'MLB The Show 22' must have really missed the memo. Since he switched to the mound in the 2021 season, where he started 13 of his 22 games (often in a modified, shortened version of the role), Erceg has moved to a strictly late-inning bullpen job. It's important to remember that Erceg has truly only pitched 1 2/3 seasons in the upper minors, and last year was his first opportunity to engage a full offseason of preparation for a defined pitching role. The young hurler is still learning situational pitching and how to best mix his arsenal--one that includes a scorching combination of two-seam and four-seam heaters occasionally touching 100 mph while routinely sitting in the 97-to-99 mph range.
As the 2022 season progressed, and even as Erceg experienced the inconsistencies all young pitchers face when trying to find their identity and properly use their tools, he made discernible improvements. As an example, after the promotion to the Triple-A Nashville bullpen, his fading changeup really became a reliable strikeout pitch versus lefties. There was definitively a plan in place, and it was working: he pitched his best and most consistent stretch of baseball at the highest affiliated level in a tight playoff race. If you scratch his rough July with the Sounds (and, let's be honest, 'rough' is almost a euphemism; batters hit .400 against him that month), Erceg was the definition of a shutdown reliever for Rick Sweet's staff: 30 2/3 IP, 18 H, 13 BB, 30 K, 5 ER, sub-.200 opponent batting average. If he can continue to add an improving but developing slider to an already-improved changeup, we are legitimately looking at a late-blooming MLB bullpen arm with a four-pitch mix. There are many miles to go, but given what this young athlete has already overcome personally it's hard to fathom a Lucas Erceg baseball future without hard-earned, if somewhat improbable, MLB success. I'm really rooting for another big step forward in 2023.
13) RHP Alexander Cornielle - I will start with the following: Cornielle struck out 145 batters in 2022...in 119 IP between Low-A Carolina and High-A Wisconsin. That is 1.22 batters mowed down per inning. I simply ask you, Brewers fans: Where is the love? I've watched this young hurler sling it on more than one occasion, and there is quite a bit to like here. Now that he is finding consistent control, it's time to start including him with names like Stiven Cruz and Carlos F. Rodríguez. This young pitcher (turns 22 in late August) is just too good and has too much upside to ignore. Cornielle features a high-spin heater (a pitch he routinely uses high in the zone to get bats chasing) with an effective blend of off-speed stuff to keep batters guessing. He has struggled, from time to time, with control problems, but as 2022 progressed, he really reined that in and became a weapon when he took the mound. I'll look for more consistency from the get-go to start the 2023 season in Wisconsin. But, make no mistake about it, this is a young pitcher who could very easily become an ace in Joe Ayrault's starting pitching staff.
14) OF/DH Tristen Lutz - Lutz's calling cards are three plus tools: his bat, his power, and his arm. Unfortunately, as he's gotten older and gotten stronger, his agility and routes to the ball have really never improved (by my eye) from where they were when he was first drafted by the Brewers. This isn't necessarily a bad thing; all players are different and bring different qualities to a roster. What I want to celebrate about Lutz's game is his bat-to-ball skills. This is a young player who can absolutely crush a baseball. There is always a role, on any baseball team, for players who can mash. I don't know if I saw balls hit as hard, as routinely (when healthy), as Lutz hit baseballs in 2022. It was a rope festival when he took the plate. The sound of his contact and the sight of his graceful line drives finding the outfield grass were enough to raise the hair on the back of a fan's neck. Nothing is cheap off Lutz's bat, and it is worth the price of admission to see if he can continue to fine-tune his immense gifts at the plate. 
15) INF Andruw Monasterio - Monasterio was another successful minor-league free agent picked up by the Brewers after the 2021 season and, thankfully, he's back in the fold in 2023. He consistently hit all year in Triple-A and Double-A, carried that over for Caribes de Anzoategui this Winter, and is really coming into his own in the batters box. With the departure of Pablo Reyes (one of my absolute favorite former Brewers minor leaguers) this offseason, I see a player in Monasterio who has a chance to fill those super-utility shoes, as long as he continues to improve his defensive tools. Whereas Reyes might edge Monasterio in a foot race, overall I see a younger, more agile and athletic player, with a bigger build, who might be even more well-served by further diversifying his positional flexibility. Listed as a third baseman, Monasterio also plays both middle-infield spots, but I'd like to see what he can do with an occasional opportunity in the left- or right-field grass. Granted, this might be a stretch, as his entire minor-league career has been spent on the infield dirt, but it could be beneficial to his chances of someday getting a call-up. Regardless, Monasterio didn't skip a beat when he was shuttled down to Biloxi mid-season, and he showed enough intrigue in 2022 that I'll be paying close attention to see how he starts 2023.
Do you recognize any of these new names? Do you see any surprises? Are there other Brewers minor leaguers you feel I've overlooked? Who are your favorite prospects further down the rankings? Please comment and share - all the players in the lower levels are deserving of celebration. And, please stay tuned as I follow this up with my final five shortly. 
Think you could write a story like this? Brewer Fanatic wants you to develop your voice, find an audience, and we'll pay you to do it. Just fill out this form.
MORE FROM BREWER FANATIC
— Latest Brewers coverage from our writers
— Recent Brewers discussion in our forums
— Follow Brewer Fanatic via Twitter, Facebook or email