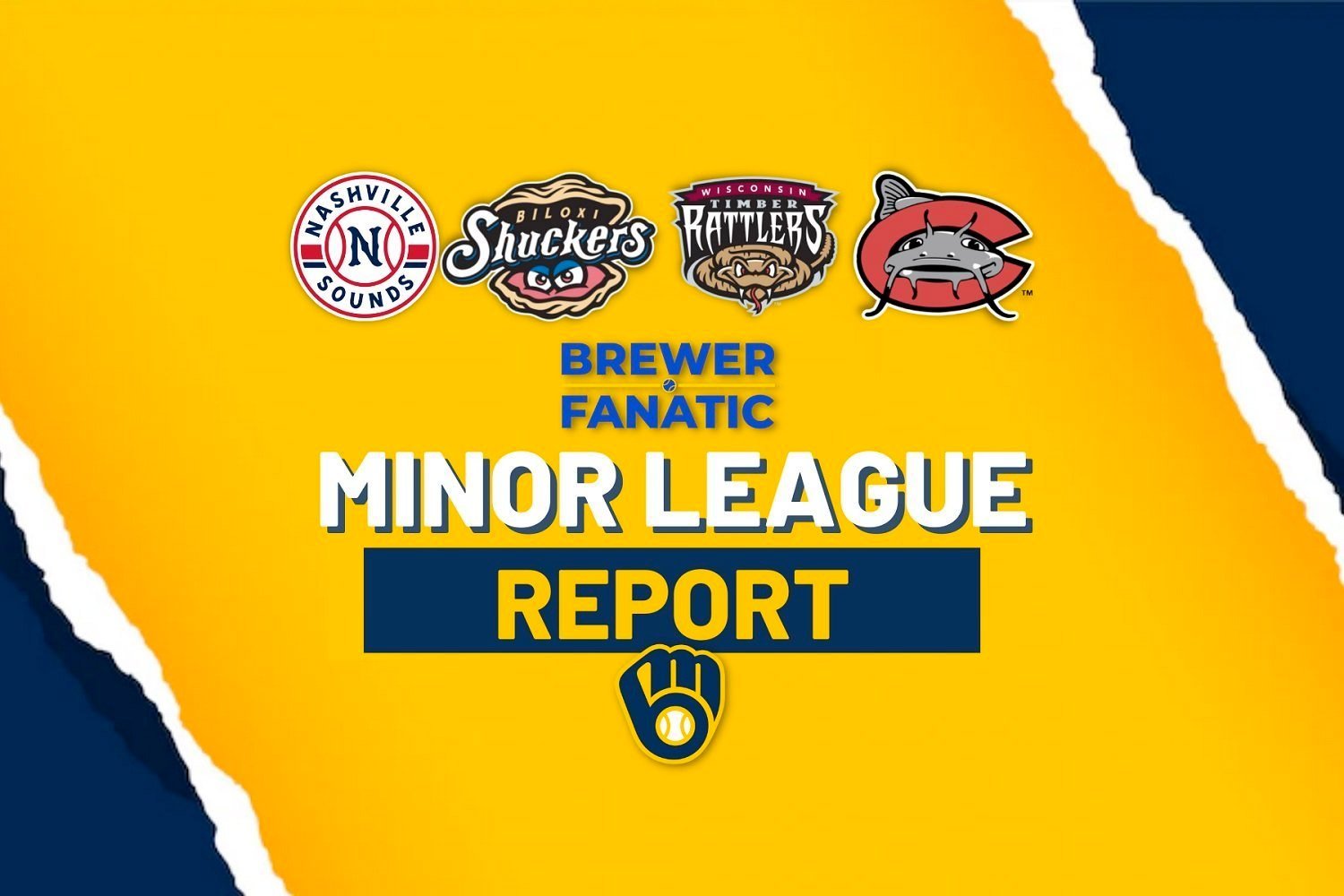 Image courtesy of Brewer Fanatic
If you missed yesterday's post with the first five of my list of underrated Brewers prospects, go back now and catch up. These might not be the stars of tomorrow's Brewers, but they make the daily experience of following the minor leagues more enjoyable and more compelling.
6) 1B/DH/RHP Quinton Low - It would be easy to covet the Brewers' only current two-way player because, well, it's just a fun and unorthodox thing to follow at any level. However, with Low, it's much more than a novelty. He has the size and the frame at age 20  to attract your attention: 6'6", 215 pounds. He was certainly playing first base far more often than he was pitching (30 games to 10), but there's no reason to think this was anything other than the difficulty of juggling relief innings with a steady diet in the batters box and at first base. In his 11 innings, Low gave up virtually nothing, with an opponent batting average of .081 and a 0.73 WHIP. He also sported a 3:1 strikeout-to-walk ratio with 16 punchouts to 5 free passes.
He did all this while putting up decent (if unspectacular) numbers at the plate as a lefty batter. I am very curious to watch his output at Carolina, presumably. It's not often we can watch athletes of this caliber in any sport and at any level. His speed out of the box may not be track-and-field worthy, but that lefty stroke is quite pure. I see a bit more power waiting to be unleashed in those already fluid hips. 
7) LHP Pablo Garabitos - Let's tip one out to the skilled and savvy lefties with low velo! Garabitos was an impactful arm out of the bullpen in 2022. He can give a manager emergency relief: five clean innings to salvage a starter, or high-leverage outs in dangerous situations. One word applies: gamer. Hilariously, I only really started to take notice of this young southpaw in 2022 after an extremely brief outing with the Nashville Sounds in early June. It's hard not to notice when an arm is promoted from Low-A to Triple-A for a single outing. The organization obviously knew what it was doing: Garabitos was as good a reliever as there was in the entire system from that outing until the season's end. After that brief showing with the Sounds, Garabitos ended his season with the following: 41 IP, 5 ER, 43 K, 8 BB, 28 H. That is stellar output.
If there's another Brent Suter in the current Brewers system, it is Garabitos. Last year was a really big leap for the young lefty and, let's remember, even though this is Garabitos's fifth season with the Brewers, he was a high-school draft pick. He will turn just 23 in July. Like many other players in this list, he showed quite a bit to be excited about in 2022, and if the cards fall in the right way, we could see even more dominance in 2023. I'm hoping he gets a chance to shine out of the Timber Rattlers bullpen and really starts getting his rightful recognition.
8) 1B/RF Yeison Perez - If you visited our DSL game threads or read the DSL write-ups in our minor-league reports throughout the summer of 2022, you noticed Yeison Perez quickly become the darling of our DSL summer. The DSL is a tricky cover. You aren't going off live game viewings, but are perusing and analyzing box scores and game logs every day. It's simply a tough task to interpret much of anything, but you start to notice when someone is consistently mashing and standing out among the crowd. Perez was a key player for the DSL Brewers 2. That couldn't have been more obvious than when he was shelved with injury in the DSL second half, and the Brewers Dos began losing with regularity.
The extra-base hits are obviously very intriguing (albeit, with the caveat this is still the DSL), but I would also offer he just turned 19; he has the prototypical slugger's build; and he's a lefty in every sense--batting and throwing. I keep hearing chatter about the potential breakout of Luis Lara, and, that's fine and dandy: he is an exciting young player who had a very hot start playing a premium position. However, Perez is the bat and the field player in the lowest levels I am personally most curious about in the summer of 2023.
9) RHP Kevin Briceno - It's not often we see a DSL player, at any position, promoted stateside in the same season. When Briceno was promoted mid-summer, it gave me pause: this was a young arm I really needed to track and follow. Briceno will pitch this entire season at 20 years old. He has already demonstrated, at a very young age, that he can effectively mix in his heater and changeup, while also sprinkling in a deceptive breaking ball. Is there even more diversity and development in this tank? I hope so, because the early returns are extremely promising. I imagine he'll begin the year in the ACL, with an eye toward a rapid promotion up to Victor Estevez and the Mudcats' staff--after pitching 48 total innings in 2022 between the DSL and ACL. 
10) LHP Brandon Knarr - I honestly feel as though fans and pundits don't take Knarr's excellent 2022 season seriously. I don't know why this is, given that he dominated at High A and acquitted himself admirably after a promotion to Biloxi. The jump from Wisconsin to the Southern League is a tough one. This has been demonstrated time and again, as it just isn't an easy League to pitch in. But, Knarr more than held his own and, in my humble opinion, gave me reason to think 2023 could be better. Our own @Seth Stohsput together a really nice Spotlight piece early in the off-season - Part 1 , Part 2, and Part 3 - and it is definitely worth a read to remind us all what a fine season it was for the young lefty. This is a young man who studies the game, religiously works on his craft, and has the mentality to pave a path for himself into the highest levels of professional baseball. I'm hoping for bigger and better showings in 2023 and, hopefully, more recognition.
Do you recognize any of these names? Do you see any surprises? Who are your top 10 most undervalued Brewers Minor Leaguers? Please comment and share - all the players in the lower levels are deserving of celebration. And, please stay tuned as I follow this up with my 11-to-20 in the days ahead. 
Think you could write a story like this? Brewer Fanatic wants you to develop your voice, find an audience, and we'll pay you to do it. Just fill out this form.
MORE FROM BREWER FANATIC
— Latest Brewers coverage from our writers
— Recent Brewers discussion in our forums
— Follow Brewer Fanatic via Twitter, Facebook or email