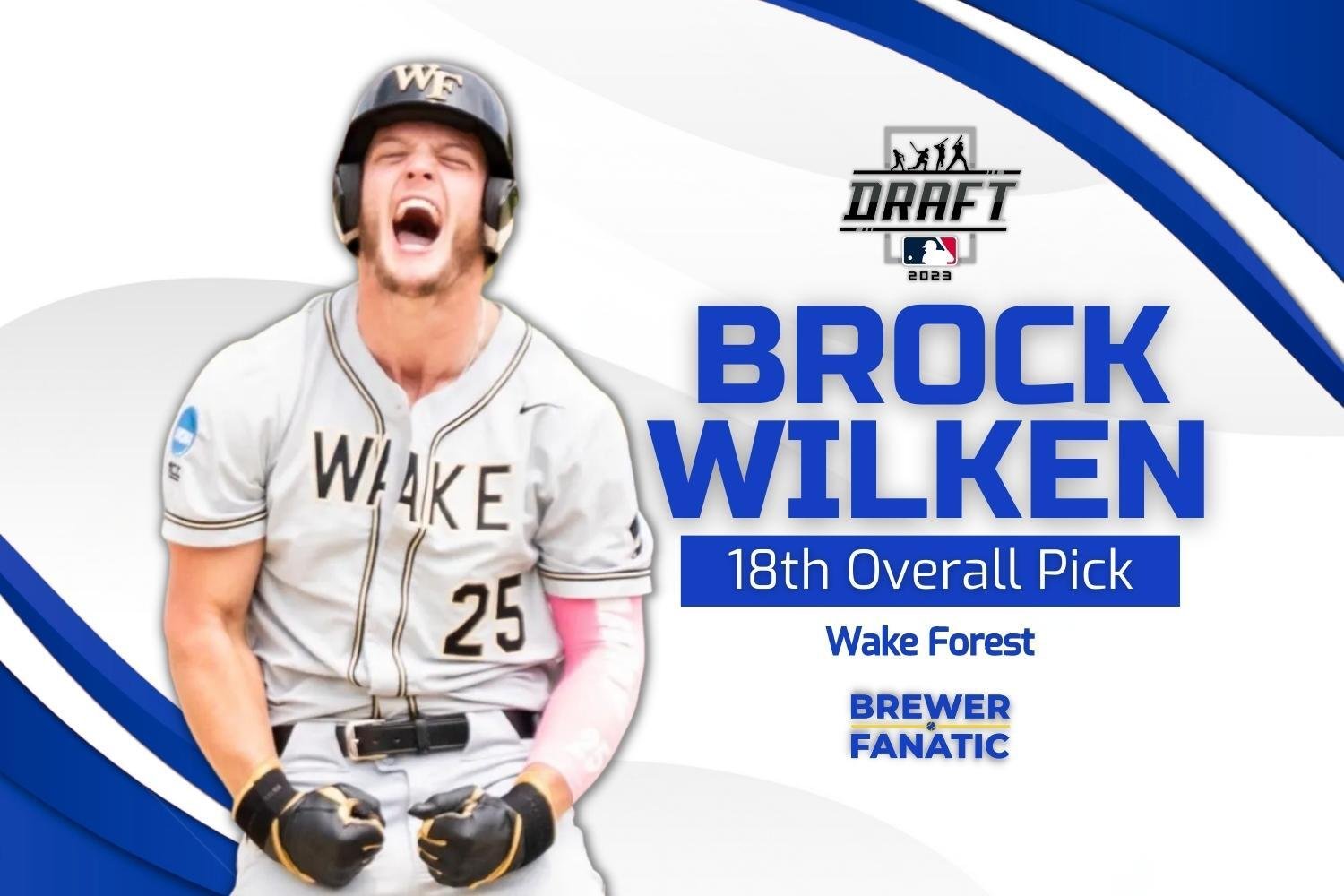 Image courtesy of Brewer Fanatic
An extremely dangerous hitter, Brock Wilken slashed an amazing .345/.506/.807 in his third season at Wake Forest, good enough for an OPS of 1.313. With 31 home runs and 15 doubles, he's definitely earned his 70-grade for power and will join a stacked farm system with some serious bats. With a 6'4, 225 pound frame, who's to say more power isn't to come?
To go along with his excellent slugging ability, he walked more than he struck out over 320 plate appearances (69 BB, 58 SO).
The draft slot associated with the 18th pick is $4,021,400.
Baseball America's scouting report, where he ranked 23rd overall.
Quote

Wilken ranked as the No. 354 prospect in the 2020 class out of high school, when scouts saw him as a power-hitting righthander who had a chance to develop 70-grade power in the future. Those evaluations were prescient, and Wilken made it to Wake Forest where he has become a massive 6-foot-4, 225-pound slugger and one of the preeminent home run hitters in college baseball. Wilken has amassed 71 home runs over three seasons, with a .299/.419/.679 career slash line over 173 games. During his 2023 draft season, he hit over .300 for the first time in his career, set Wake Forest's single-season home run record with 31, became the career home run leader for the program and finished No. 2 in the country for total home runs. Wilken has 70-grade raw power. He can launch a baseball out of any park, from foul pole to foul pole, and in 2023 he posted a 94.6 mph average exit velocity and 108.1 mph 90th percentile exit velocity. That power does come with questions about his pure hitting ability, though Wilken in 2023 attempted to answer those questions by hitting for the highest average of his career, nearly doubling his walk rate from 2022 and significantly improving his contact vs. sliders—which he previously whiffed on at an alarming rate. Wilken has some tools that could play nicely at third base, including fine hands and a 60-grade throwing arm, but his lateral mobility is a question, he struggles to stay low to the ground at times and he's also a well-below average runner. There's plenty of first base-only risk here, though he has more than enough power for that slide down the defensive spectrum.
MLB.com's scouting report, where he ranked 25th overall.
Quote

Wilken burst onto the college baseball scene in 2021, setting a Wake Forest freshman record with 17 homers during the spring and winning Cape Cod League MVP honors during the summer. He encored by slamming 23 homers as a sophomore and breaking the school mark with 31 (second in NCAA Division I) this spring, also setting Demon Deacons and Atlantic Coast Conference records with 71 career blasts while burnishing his reputation for having as much raw power as anyone in his class. He fits the classic third-base profile with his pop and arm strength, giving him the chance to become Wake's first first-round position player since Will Craig in 2016. 

Wilken is geared to crush balls to left field with the strength and leverage in his 6-foot-4 frame and the bat speed and loft in his right-handed stroke. His strikeout rate jumped in 2022, when he struggled with breaking balls in the zone, but he has made more contact this spring. He has shown a more disciplined approach, finishing third in D-I with 69 walks while making better swing decisions that allowed him to make the most of his prodigious power. 

Although Wilken is a well-below-average runner, he moves well enough to provide adequate defense at third base. His hands work fine at the hot corner, and his strong arm draws plus-plus grades from some evaluators. He caught in high school but is too big for the position in pro ball, leaving first base as his only realistic alternative to third.