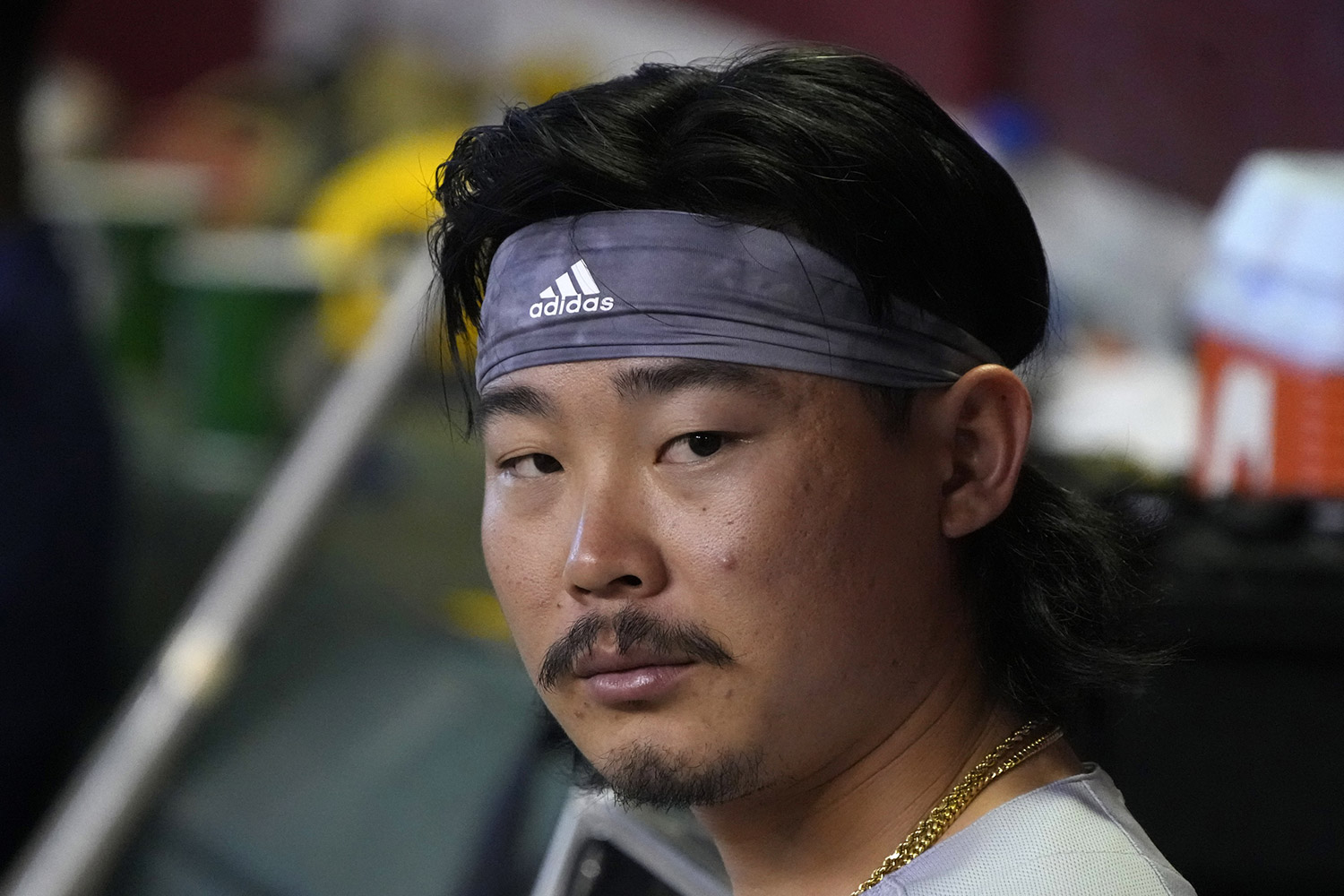 Image courtesy of © Rick Scuteri-USA TODAY Sports
If you're like me, you're perplexed at the number of Optionless Wonders the Brewers have, leaving the bottom of their roster more unsettled than usual. Each of the following six players must make the 26-man Opening Day active roster, be placed on the injured list, or be designated for assignment:
Even if the team wanted to get creative and send players like OF Tyrone Taylor or RHP Adrian Houser down to the minors for a spell or two, they can't. Those players also have no options remaining.
Does this matter? What does it suggest?
It may mean that Matt Arnold is comfortable knowing there will be some roster shuffling at the end of Spring Training, with the Brewers letting guys go and replacing them with releases from other teams. However, any semi-decent players released from other teams are likely also to be Optionless Wonders, so this is unlikely to be the case.
More likely, this means the Brewers intend to add at least one more Optionable AAAA player to the 40-man roster, with the corresponding move being:
a trade of Jon Singleton, Keston Hiura, Javy Guerra, and Joel Payamps; OR

a DFA of Bryse Wilson, hoping he'll scale through waivers so that he can be outrighted to AAA (the Tigers recently outrighted a whopping four players in this manner, including former Brewer catcher Mario Feliciano).
The usual place to find worthy Optionable AAAA players this time of year is via the DFA market, which has seen an impressive 51 players made available for claim or trade from December 18th to January 17th. However, we're really at the tail end of this vibrant market, as free agent signings slow to a trickle, and teams will, at some point, be able to move injured players to the 60-day injured list.
Barring any additional DFAs around the league this week, only three Optionable players remain in DFA limbo. Given the logic outlined above, the Brewers are a good bet to pick up at least one of these players:
RHP Tyler Cyr (Athletics) – 29 years old; reliever; only pitched 13 1/3 MLB innings (2.70 ERA, 1.20 WHIP, 10.8 K/9, .290 BABIP against in 2022); solid MILB results (2.85 ERA in AAA in 2022 with 9.9 K/9, 4.91 ERA in AAA in 2021 with 12.0 K/9, 2.05 ERA in AA in 2019 with 10.6 K/9); MLB fastball averaged 94.4mph in 2022
OF Alberto Rodriguez (Mariners) – 22 years old; LHH right fielder; dipped to a .732 OPS in High-A in 2022 after a .867 OPS in Low-A in 2021, averaging ten homers and 10.5 stolen bases over the two seasons
RHP Manuel Rodriguez (Cubs) – 26 years old; reliever; pitched 13 2/3 MLB innings in 2022 (3.29 ERA) and 17 2/3 MLB innings in 2021 (6.11 ERA), but walked 21 against 24 Ks over the two seasons; terrific 12.9 K/9 rate across five minor league campaigns; MLB fastball/slider average dipped to 95-95.9mph in 2022 after 97-97.2mph in 2021 as he's dealt with injuries in three straight seasons
Of the three aforementioned Optionable players, I'd venture that Tyler Cyr is the most likely pick-up if Milwaukee aims to add a high-floor guy who can contribute immediately if called upon. He has been a consistent performer who can also bring respectable heat, with the main blemish being his limited time in the majors (and perhaps his age). Of course, Manuel Rodriguez appears to have more upside, and that 97mph pace may be tempting to take a flier on.
I should also mention that Cyr has three option years remaining, while Alberto Rodriguez has two, and Manuel Rodriguez has one. Yes, Cyr could seamlessly yo-yo between MLB and AAA from 2023-2025 with no special roster juggling required.
Could the Brewers claim Cyr and not give up any cash or player in return? This is possible, given his age, but two other Optionable pitchers were both nabbed today: RHP Connor Seabold was traded to the Rockies, and the Mariners claimed JB Bukauskas. I'd argue that neither is as attractive a 2023 MLB option as Cyr, so the team may have to give up a relatively minor prospect to the Athletics in return.
On a somewhat related note, while some had urged the Brewers to add OF Kyle Garlick (who went unclaimed and was outrighted by the Twins on Tuesday) to play some right field and pinch hit against southpaws, his 14 BB/80 K ratio over the past two seasons was likely a deterrent.
Of course, I'm more likely wrong, and the Brewers do absolutely nothing. Let's see how this week pans out.
Which of the remaining players in DFA limbo do you think the Brewers will grab, if any: RHP Manuel Rodriguez, OF Alberto Rodriguez, RHP Tyler Cyr, UTIL Matt Reynolds, or RHP Mark Leiter Jr.?
Think you could write a story like this? Brewer Fanatic wants you to develop your voice, find an audience, and we'll pay you to do it. Just fill out this form.
MORE FROM BREWER FANATIC
— Latest Brewers coverage from our writers
— Recent Brewers discussion in our forums
— Follow Brewer Fanatic via Twitter, Facebook or email