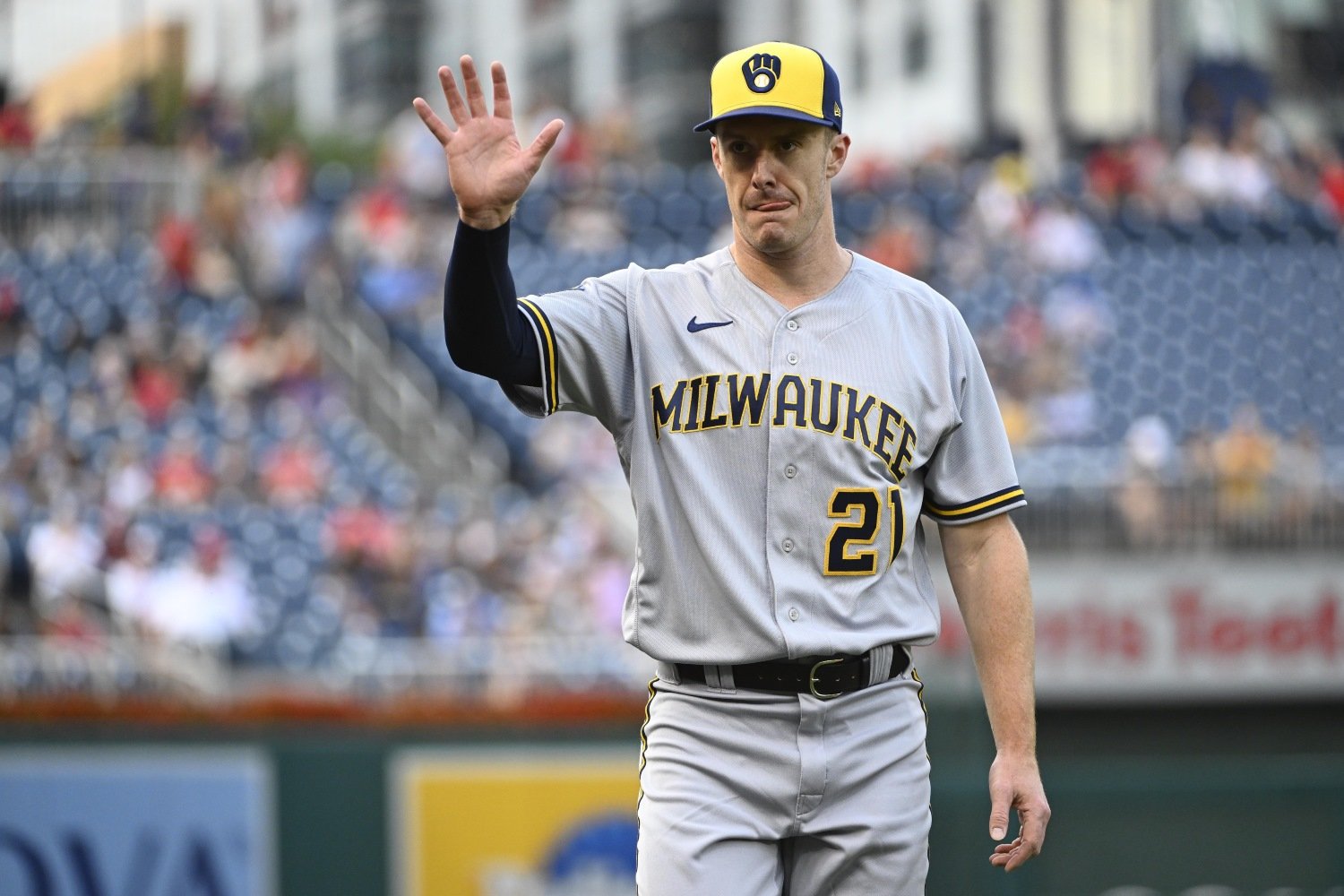 The roster is now set, but while some fans consider the likes of Mark Canha, Carlos Santana and Andrew Chafin smart, sensible upgrades, others are lamenting some bigger ones that might have been. Without further ado, let's see what else they could have obtained;

Jeimer Candelario – 3B
 
Traded to: Chicago Cubs
Cost: SS Kevin Made, LHP DJ Herz
 
DJ Herz was an 8th-round pick in 2019, with a career 3.80 ERA in 66 starts in the minor leagues, with 360 strikeouts over 246 innings. He has a unique delivery, and has held right-handed hitters to a .197 batting average this year in Double A. He's a talented pitcher whose funk and deception could make him a successful future starter at the back end of a rotation, although his walk rate of 15.1% does carry with it some reliever risk, mostly due to losing his release point, and he may never reach the big leagues unless his actions become more repeatable.
Kevin Made is a defense-first shortstop, with a 65-grade arm and 60-grade glove, even as he's added weight and lost a little mobility and range. He puts bat to ball at above-average rates, and has good discipline and a solid walk rate, giving him a high floor and a ceiling of being a league-average shortstop (though that's a best-case scenario).
Candelario has just gone 4-5 in his Cubs debut against the Reds. He's slashing .265/.348/.488 on the season, with 16 home runs, as well as being in the 93rd percentile for outs above average at third base, with great range and a slightly weaker arm for the hot corner. His underlying metrics of a .242 expected batting average and .413 expected slugging do show some regression may be incoming, but he has been one of the best third basemen in baseball and was a hot commodity as a result. He does have some weaknesses, particularly struggling against breaking balls this season, but on the whole, he has a chance to be a needle-mover at third.
Could the Brewers have reasonably topped that? While having a lower ceiling, Justin Jarvis may have been a good trade chip here, along with a defense-first shortstop with a quality hit tool like Daniel Guilarte. Jarvis, of course, was dealt to New York just before this trade happened, so maybe the Nationals had interest in him, but the Brewers felt it better to use him in a 1-for-1 swap for a lower-upside lineup addition in Mark Canha.
With Brian Anderson's defense at third base, and Andrew Monasterio's strong recent performance, the Brewers may have considered third base less of a need than their right field spot, where they've had limited production, and Anderson not covering ground particularly well in the outfield compared to how he defends the hot corner.
Would this be a transaction you would have considered over acquiring Canha?

CJ Cron and Randal Grichuk – 1B and OF
 
Traded to: Los Angeles Angels
Cost: RHP Jake Madden, LHP Mason Albright

As always, the Rockies are looking for starting pitchers that can survive the high altitude and broad outfield expanse of Coors Field, with many free agents reluctant to play there due to the effect it will have on their future values. Both pitchers were at in A ball. Madden is a 6'6" fourth-round pick in 2022 with a 5.46 ERA and 66 strikeouts to 39 walks in 64 1/3 innings as a starter. He has wipeout stuff, but does carry some reliever risk, due to sketchy command of his fastball and subpar movement on the pitch despite its high velocity.
Albright was a late-round pick in 2021 with a $1,250,000 signing bonus, with a 3.62 ERA in 14 starts that went fairly deep, allowing him to rack up 86 strikeouts and just 20 walks in 79 2/3 innings. He shows advanced command of his pitch mix and projects as a starter, with the potential upside of becoming a mid-rotation arm.
Cron and Grichuk would have been exactly the kind of players the Brewers wanted, as evidenced by their pickups of Santana and Canha. However, there can be a fallout from players leaving Coors Field, including taking a little time to adjust. Cron has shown he can hit well away from Coors this year, but Grichuk's production has dwindled a little, with a .946 OPS at home compared to a .782 OPS away from home this year. Both had the potential to be impact bats, but could have been more volatile than the steady production you'll get from Santana and Canha--whose veteran presences are also valuable in a postseason run.
Given both these pitchers were pitching below Double A, a comparable Brewers trade might have been headlined by someone like Logan Henderson, who flashes big potential with a 2.84 ERA this season and 67 strikeouts across 50 2/3 innings. He arguably has a higher ceiling than Albright, and an added lottery ticket arm to go with him may have sealed the deal.
The Brewers likely have high hopes for Henderson, a valuable arm in what is a slightly pitching-deprived system, making this trade less attractive on the whole for the organization. Instead, by giving up a lottery ticket shortstop and Jarvis, they've probably paid less for similar, more consistent production.
However, while being a liability in the field, Grichuk has an OPS of .869, and Cron appears to have been unfortunate, with an xSLG of .513 compared to his actual mark of .468, while still maintaining a .740 OPS on the road.
Would this have been a better, more adventurous trade for the Brewers?
 
Tommy Pham – Outfield
 
Traded to: Arizona Diamondbacks
Cost: Jeremy Rodriguez (Mets Included Cash consideration to increase prospect haul)
 
Rodriguez was the 47th-ranked prospect in the international free-agent pool this year, and has appeared in just 37 games for the Diamondbacks DSL team, with six doubles, two triples and two home runs to go with 12 stolen bases. He's run a .348 OBP and .478 slugging percentage. The ability to hit for extra bases does stand out in the DSL, and he signed for $1.25 million while being one of the youngest players in the league. He's a projectable shortstop, with advanced strike zone discipline and a nice left-handed swing, but it's expected he has a lot of physical development left before there can be more concrete projections on him. He has potential, but is the very definition of a lottery ticket.
Pham, on the other hand, is a proven contributor, with an xBA of .297 and xSlg of .524 this season; an average exit velocity of 92.9 mph and 47% hard hit rate; and a 21% strikeout rate. He's a quality operator at the plate, with considerably more power than Canha has, while also having 11 stolen bases so far this year. A huge bat to add into the lineup, and an adequate defender in the outfield due to a strong throwing arm, albeit he doesn't always get the best jumps on the ball (-1 OAA so far on the year).
The one issue he faces is his personality, which could cause issues in the clubhouse, something the Brewers surr take more seriously after the Hader debacle last year. From infamous T-shirts to promises to fight fans who heckle him during games, as well as poor form during fantasy football leagues, Pham finds controversy everywhere he turns. There's a myriad of reasons he may not fit the Brewers ethos, despite the unbridled quality in his bat, and it's a big reason why his price wasn't considerably higher.
In terms of a comparable trade by the Brewers, potentially someone like Filippo di Turi or Demetrio Nadal could have beaten out the offer from the Diamondbacks. They're each players with potential and strong tools for their age, but are tough to project long-term because of that age and the numerous obstacles that will come as they move through the minor league system.
Would Pham's bat have outweighed his potentially toxic qualities? Should the Brewers have made an effort to steal him away from the Diamondbacks? Let me know in the comments below, or if you have any other trades you think the Brewers could have made before the deadline.
All of these trades seem eminently possible for the Brewers front office to have made, without using any top-10 talent in what is now a system burgeoning with it. The reality is, anyone can get hot for two months, or cold for two months, and only time will tell if the decisions made were the right ones.
Think you could write a story like this? Brewer Fanatic wants you to develop your voice, find an audience, and we'll pay you to do it. Just fill out this form.
MORE FROM BREWER FANATIC
— Latest Brewers coverage from our writers
— Recent Brewers discussion in our forums
— Follow Brewer Fanatic via Twitter, Facebook or email