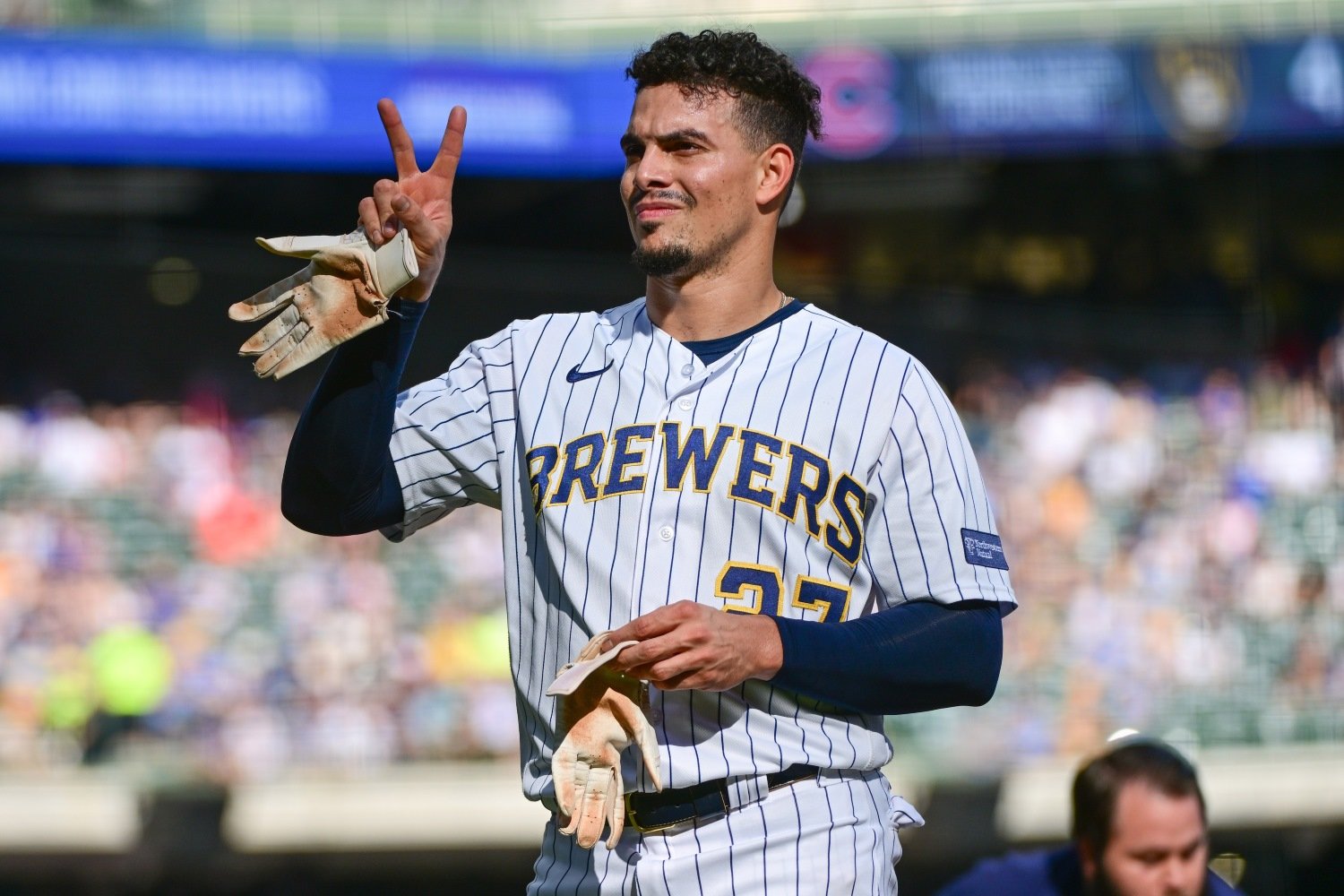 Image courtesy of © Benny Sieu-USA TODAY Sports
The very young offseason has been one disappointment after another, from Brandon Woodruff's surgery to Wade Miley's declined option, and now Craig Counsell is leaving to work for the enemy. The foundation of their 2023 season on which they may have hoped to build has crumbled. Is there any point in trying to compete with the big boys in 2024?
The Absentees
Anyone who denies the impact held by Miley, Woodruff and Counsell on last season has their head in the sand. Woodruff joined Peralta and Burnes in August to provide some of the most dominant pitching in MLB, while Miley covered 120 ⅔ innings at a 3.14 ERA. That just doesn't grow on trees, and it underestimates the impact Miley had off the field, which brings us to the biggest loss perhaps of the lot: Counsell. For the last nine years, Counsell has emerged as one of the best managers in the major leagues, blending the front office with a seamless clubhouse environment that allows players to enjoy playing in Milwaukee while getting the most out of them, particularly in high-pressure situations (playoffs aside).
Adding to this is the possibility of a trade off of Willy Adames, Corbin Burnes, or even both this offseason. Burnes racked up almost 200 innings last year with a 3.39 ERA, has made every start over the last two seasons, and still flashes his Cy Young upside for prolonged periods at times. In total, on the starting rotation side of things, the Brewers will need to replace 381 ⅓ innings at a 3.12 ERA--a monstrous task. To put that in context, it would be akin to finding and acquiring the 2022 Zach Wheeler and Aaron Nola combo, something the Brewers can't afford to buy on the open market. 
Adames, on the other hand, was supposed to have been covered by the emergence of Brice Turang. The eye test said that Turang's defense was Gold Glove-worthy at second base, and that showed in his Defensive Runs Saved total at the end of the season, but Adames is one of the premier defensive shortstops in the league, with a cannon of an arm and incredible range. Turang is capable over there--maybe even above average--but he's no Adames. Add to that a bat that produced a 62 OPS+ in 2023, and it's clear that Turang will need to develop considerably at the plate to be an everyday infielder for the Brewers. This development may come next season, but it's unlikely to occur straight out of the gate in March or April.
The returns from an Adames or Burnes trade could be high enough to obtain a high-upside pitching prospect, or several newish mid-rotation major leaguers, but there are going to be a lot of question marks behind Freddy Peralta next year in this event. Robert Gasser spent all of 2023 in Triple A, and now looks ready for a shot in the rotation. Adrian Houser is as mercurial as they come. Colin Rea may be asked to eat innings, and many expect some regression from last year with him. Aaron Ashby was not the same post-injury in his rehab starts, and a big question mark remains over whether he can reacquire the vicious movements that give him such high potential, or even if he can stay injury-free in 2024. 
If everything goes right for the Brewers--even if they keep Adames and Burnes, Ashby and Gasser perform at or above expectations and Houser and Rea can pitch well enough to keep the Brewers in games--then they'll be very much in contention. However, that's a lot of ifs, buts and maybes on which to stake a season, and a gamble (depending on offers coming in for Adames and Burnes) that may have severe repercussions down the line.
The Rising NL Central
Amid the Brewers' turmoil, some foes are rising on the east. The Cubs have been heavily linked with both Juan Soto and Pete Alonso this offseason, while currently possessing the best defensive infield in baseball, and with some rookies coming through with various levels of hype. Pete Crow-Armstrong is yet to show signs of any hitting ability against major-league pitching, but his defensive capabilities in center field are mind-boggling. They also may get reinforcements later this season in the form of Cade Horton, who's been confounding hitters all of 2023, as well as outfield power in the form of the exciting Owen Caissie and Kevin Alcantara. They may lose Marcus Stroman this winter, but an acquisition of a first baseman and a starting pitcher to go with the Counsell switch puts the Cubs in a great position.
Also in contention will be the Cincinnati Reds, who through promotions during the season found themselves in contention for a playoff spot. Few prospects can do what Elly De La Cruz is capable of, and in addition, they have Spencer Steer, Matt McLain, Christian Encarnacion-Strand, Noelvi Marte and Andrew Abbott (each with several years of team control remaining) to form a devastating lineup. If their cheapskate owners get involved at all this offseason for some pitching reinforcements, they'll be a force to contend with.
The Pittsburgh Pirates felt some hope for the future at the beginning of last year, when they surged to lead the NL Central, but even after their June swoon and second-half slump, they do have bright spots coming into 2024. Henry Davis could develop into a regular at catcher, or even playing a capable right field. The return of Oneil Cruz will lend their lineup new upside and dynamism. If Ke'Bryan Hayes manages to get the ball in the air and access his in-game power more often, they'll have rounded out nicely. They still have holes to fill, with their starting rotation faltering around the struggles of Roansy Contreras, but they have shown themselves perhaps a light at the end of the tunnel.
The St. Louis Cardinals, who struggled mightily in comparison to their expectations last year, will have a final year of Paul Goldshmidt to use, and have some stirring from the depths themselves. Jordan Walker improved significantly as the year went on, although his defense was holier than Swiss cheese, and Masyn Winn provided supreme coverage at shortstop. Victor Scott II has looked electric in the minors so far, but otherwise, their farm system isn't in the same league as the Brewers, Cubs and Reds. However, they do have deep pockets, and a few free-agent signings (particularly to reinforce that starting rotation) will be all they need to get right back into contention. 
In short, all four other teams could contend in the Central this season, with the Cubs in particular looking like they could become a 100-win team if they make the right moves. The Brewers will not be able to scrape into the playoffs next year; they might need as many as 95 wins to claim the division.
Can the Brewers Farm Have the Same Impact?
The Brewers have some developing superstars in their system, in the form of Jacob Misiorowski (if you haven't yet, this video will explain all the hype here) and the phenom that is Jackson Chourio. Neither are going to be up to start next season, with Chourio needing to lower his chase rate and Misiorowski still refining his command, but both could catapult the Brewers forward. That being said, most prospects need an adjustment period at the majors before they find their feet, so it's unlikely that either would be able to contribute fully until perhaps 2025. Add any reservations about Chourio's 2024 to the concerns around Sal Frelick (lack of power), Joey Wiemer (swing and miss), and Garrett Mitchell (injuries and strikeouts), and the Brewers outfield picture may not be as crowded as once thought. It's likely one of these three will also be traded this offseason.
Then there's the next tier of prospects. Tyler Black's bat looks about as major-league-ready as they come, with impeccable plate discipline and contact skills and burgeoning power. The question is whether he can play a solid third base, or if he'll need to move to first. Brock Wilken could come into the picture later in the season, if he can find the right balance of patience and aggression at the plate, while Eric Brown, Jr. may be there or thereabouts, if less of an impact player than Black or Wilken. Also in the wings is Carlos F. Rodriguez, a high-quality pitcher with a strong changeup and developing command.
By the time these prospects are ready, it may already be too late for the Brewers, and as demonstrated last year, expecting them to come up and dominate from the get-go is a tall ask. It's yet another reason why 2025 would suit the Brewers far better in terms of assessing their talent pool at the highest level and knowing where to fill the gaps in their squad.
How would you feel about the team taking a small step backward in 2024 to accomplish a leap ahead the following year? Let's discuss the options for the offseason ahead.
Think you could write a story like this? Brewer Fanatic wants you to develop your voice, find an audience, and we'll pay you to do it. Just fill out this form.
MORE FROM BREWER FANATIC
— Latest Brewers coverage from our writers
— Recent Brewers discussion in our forums
— Follow Brewer Fanatic via Twitter, Facebook or email