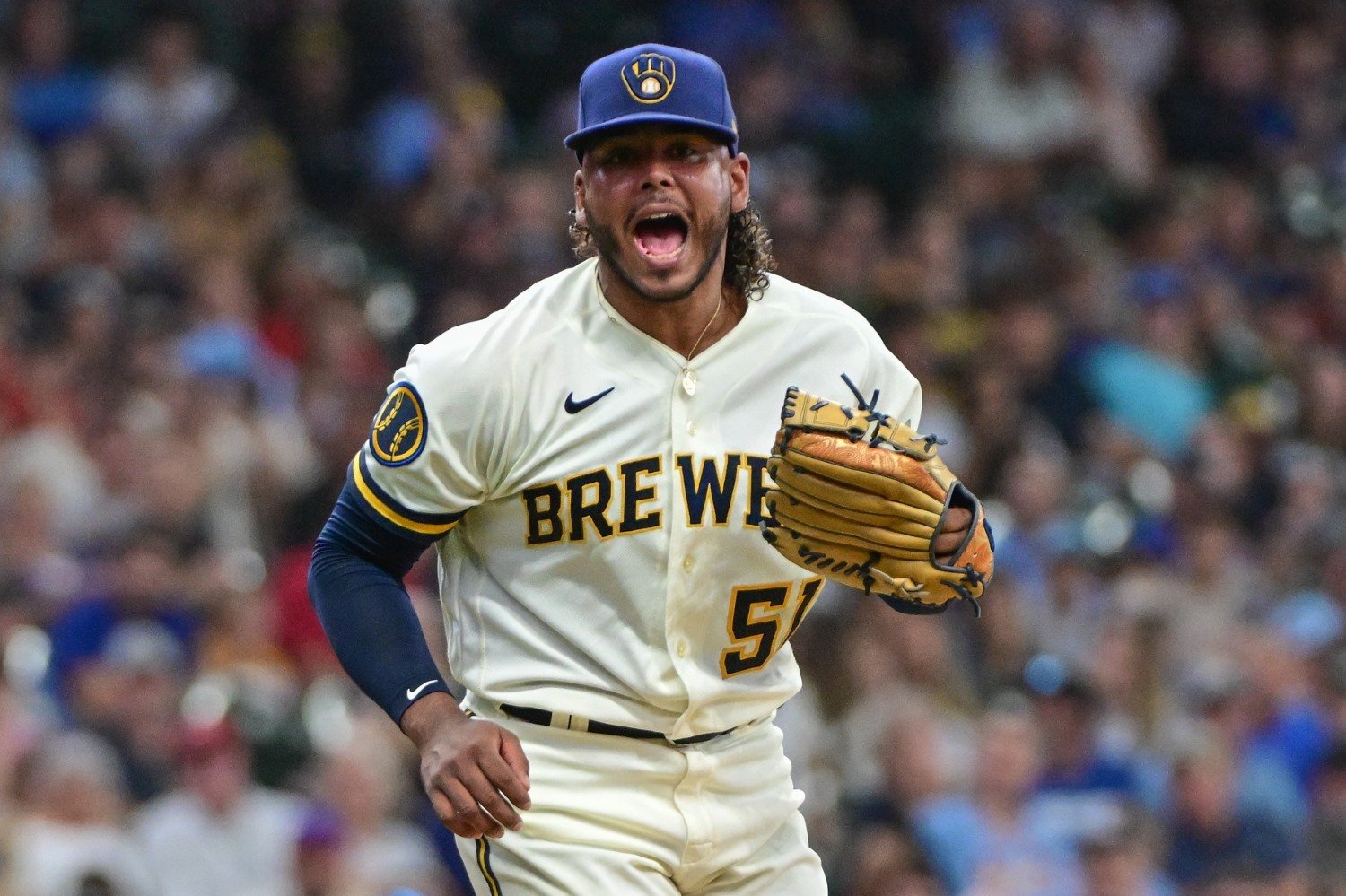 Image courtesy of © Benny Sieu-USA TODAY Sports
Freddy Peralta carried some reliever risk when he signed an extension with the Brewers in 2020, a deal that now looks incredibly fortuitous for the team. He has had a few injury issues, as well as refining his pitch mix to be successful over longer periods of time. Yet, after having surpassed 150 innings pitched for the first time in his career and posted an ERA of 2.81 in the second half of 2023, Peralta is potentially at his peak in terms of trade value. Could the Brewers cash in?
Why might the Brewers trade such a valuable asset?
Peralta's injury history and long stretches of inconsistency make trading Peralta at least conceivable.The shoulder issues that plagued him in 2022 are an especially good example: they're worrisome, but not enough so materially dent his trade value. He bounced back incredibly well, but there is always a worry when it comes to the shoulder joint. If the Brewers are ready to entertain a reset (or even a true rebuild), and if some team believes in the brilliance of Peralta's second half, a trade could catapult them toward a new window of sustained contention.
In short, the decision rests on whether the Brewers expect themselves to remain competitive in 2024 and 2025 against a surging NL Central, and whether or not Peralta's injury-checkered past will come back to haunt him.
What Value Does Peralta Have?
Statistically, Peralta is the most difficult pitcher since 2020 (of pitchers with 300+ innings) to get a hit against, with a paltry batting average of just .190. Over that span, he's recorded 11.6 strikeouts per nine, a 1.05 WHIP, an 8.8% walk rate, and a FIP of 3.35. It's truly elite pitching, and the scary part is that he's still getting better:
His slider had a swing-and-miss rate of 30.2% in 2022; it rose to 45.8% in 2023

His changeup was 3 mph faster in 2023

He passed 210 strikeouts and 150 innings for the first time in 2023

He increased the swing-and-miss on his fastball from 24.9% to 29.2%

That same fastball averaged 2 mph quicker in 2023
In short, Peralta's raw stuff and the ways he uses it are getting better, showing just how dominant he could be from July to September, with seemingly the only blemish being the occasional solo home run allowed.
On top of this talent is his aforementioned contract, with Peralta earning a measly $5.5 million in 2024, and the team options for 2025 and 2026 coming in at just $8 million per year. In total, for three years, he would cost just $21.5 million, making him incredibly valuable to any prospective suitors. You can think along the lines of the Juan Soto trade, which was for a more talented player but also a considerably more expensive one.
Who Could Afford Him?
If Peralta were traded, you can guarantee it would be for a plethora of upper-echelon prospects--the kind of haul only five or six clubs even have to offer. The only relevant options are the Baltimore Orioles, Chicago Cubs, Cincinnati Reds, Los Angeles Dodgers, and Tampa Bay Rays. Given the need for an elite headliner, you can eliminate the Cubs and the Dodgers from the race. Pete Crow-Armstrong is an exciting defender, but they would need more of a bat to justify trading away Peralta, while the Cubs farm system has fewer high-quality infielders. Here are some potential trade pieces around whom deals really could center:
Baltimore Orioles - Jackson Holliday/Gunnar Henderson
Peralta's contract puts exactly this type of prospect into the conversation. Henderson is the 2023 Rookie of the Year, and Holliday is a potential 2024 winner. It's unlikely that either of them are available, even in return for three years of a dominant pitcher. The Orioles' biggest need is an ace, though, with an exciting lineup and some stars in their lineup. They didn't have someone who struck out hitters at a high rate in 2023, and a one-two punch of Peralta and Kyle Bradish would really make that pitching staff look sharp. 
Holliday is the top prospect in baseball, having reached Triple A at age 19. He has a remarkable feel for the strike zone and an incredible hit tool. A consistently plus runner and with strength still to come, he has the range and arm to stay at shortstop, and enough power to hit 20 home runs per season even before further physical development. Henderson's resume speaks for itself. However, the Orioles do have prospect-hugging tendencies and may look for help on the free-agent market, or even cheaper trade options like Corbin Burnes or Tyler Glasnow instead.
Cincinnati Reds - Matt McLain/Graham Ashcraft/Nick Lodolo
McLain was outstanding last season, driving the ball consistently into the gaps and providing above-average defense at both second base and shortstop. Accruing 3.7 WAR on the season while slashing .290/.357/.507, he would be the headline figure in this deal. With Elly de la Cruz and Noelvi Marte around, the Reds would be happy with this deal, while the Brewers can look to either bolster their infield and keep Willy Adames, or trade him and hope Brice Turang's bat comes around. The Brewers may want a pitching prospect, too, but McLain adds a ton of value, and the Reds desperately need quality pitchers. Add in a sweetener for the Brewers with either Ashcraft or Lodolo, each of whom have shown enough to be successful but haven't quite put it together (personally I prefer Ashcraft) and this would suit the Brewers nicely.
Tampa Bay Rays - Junior Caminero, Other (Perhaps SP Kevin Kelly)
The Rays love a low-cost pitcher. They may be loath to trade a top infield prospect until Wander Franco's off-field issues are resolved, but they have a core group that could really be bolstered by Peralta. They also have a top-10 prospect in baseball in Junior Caminero, who is likely to wind up at third base, with average defensive skills at the hot corner bolstered by a remarkable bat. At just 20 years old, Caminero hit .324/.384/.591 on the season, spending over half the year at Double A. At that level, he hit 20 home runs in 81 games, with a strikeout rate of just 17%, Caminero even got a taste of the Majors to finish the season, hitting his first home run. Caminero is a star in the making, and with quality players already in place at the corner-infield spots (Isaac Paredes and Yandy Diaz), they may be more comfortable dealing from a position of strength. (Alternatively, maybe Diaz himself would be a good target in the deal. He's on a similarly team-friendly deal, running through 2026 with a club option.)
Trading Peralta would, undoubtedly, hurt the Brewers. However, this caliber of trade, with these headliners, could make a massive difference on the field to what is currently an area of real weakness in the Brewers farm system on the left side of the infield. It could be a genuine win-win type of trade.
Would you consider trading Peralta for any of the above names? If that level of talent were unattainable, would you be open to moving Peralta for the next tier of young player around the league? Let's entertain some ideas.
Think you could write a story like this? Brewer Fanatic wants you to develop your voice, find an audience, and we'll pay you to do it. Just fill out this form.
MORE FROM BREWER FANATIC
— Latest Brewers coverage from our writers
— Recent Brewers discussion in our forums
— Follow Brewer Fanatic via Twitter, Facebook or email