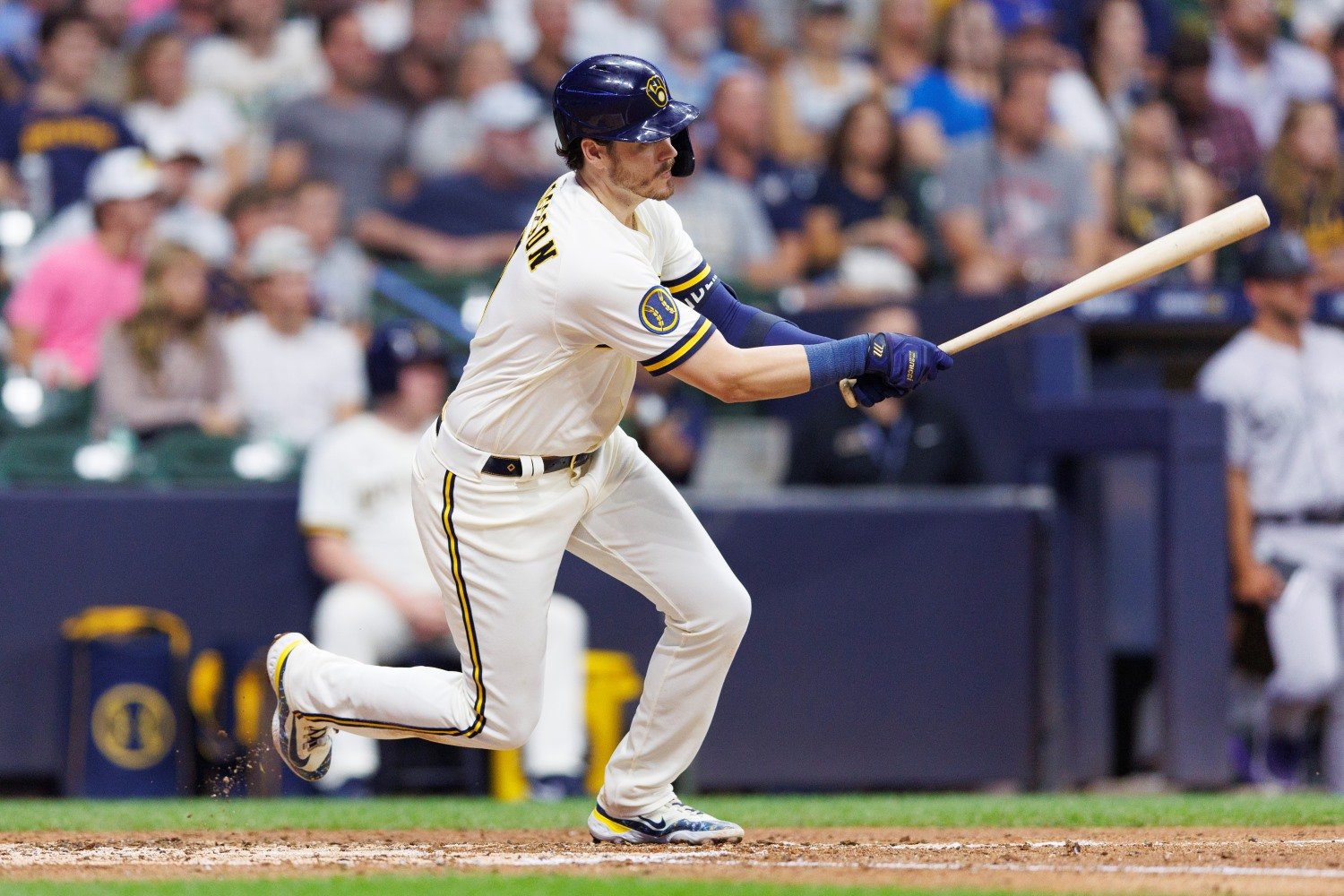 Image courtesy of © Jeff Hanisch-USA TODAY Sports
For as long as there have been baseball teams, there has existed the notion of the defensive replacement. Teams find a way to get good bats into their starting lineup, but late in games (especially close games, and especially those close games in which they have a lead), managers love to remove a bat-first position player and bring in a good fielder--even if it comes at the cost of some late scoring opportunities.
This is how baseball teams always think, really. Because the sport does not allow players who leave the game to re-enter it, teams try to start their best players, and players have come to think of starting as a major privilege. Unlike in, say, the NBA, there is very little honor attached to coming into games off the bench, especially now that pitchers no longer hit and the opportunities for pinch-hitting are drastically reduced.
In that way of thinking, Andruw Monasterio has usurped Brian Anderson, who started the season in a timeshare with Luis Urias as the Brewers' third baseman. Monasterio has been an unexpected but indispensable offensive contributor for the team, and as Anderson has battled both injuries and inconsistency, he's been deprioritized. 
On the other hand, though, Monasterio is a poor defender, on a team that emphasizes defensive excellence as much as any in baseball. The Brewers are second in MLB in Defensive Runs Saved (DRS), at 46, and they're markedly above-average at catcher, first base, second base, shortstop, center field, and right field. The team's pitchers aren't fielding aces, and they've knowingly traded some defense for the much-improved production of Christian Yelich in left field, but otherwise, their weakest defensive link is third base. Even then, they're better than average, but only narrowly.
It's Monasterio costing them a better rating there. He's been a bit better at second base, but his hands aren't soft enough for that spot, and his arm has gotten oddly erratic when he's played third. Anderson, by contrast, has shown really good range at third, and his arm is fine. He hasn't moved well enough to field bunts effectively, but the bunt is such a small part of the modern game that it hasn't hurt him. Anderson is four runs better than Monasterio at third, according to DRS, in about 50 percent more innings there.
Since his scorching start, though, Anderson has collapsed at the plate. He's running a weak 86 wRC+ for the season, and since May 1, it's even uglier. In 239 plate appearances over that span, he's batted just .210/.301/.324. Meanwhile, Monasterio has rescued the anemic offense, stabilizing the bottom of the batting order. He has a 96 wRC+ on the year, and he makes up for his lack of power by bringing a .340 on-base percentage to lineup positions where teams often take a number more like .310.
That's what Monasterio has become the starting third baseman for Craig Counsell. Anderson has entered three of his seven games since coming off the injured list as a late-game substitution, often with an eye toward having him play third base for the final inning or two. It's the traditional usage of players like these.
Let's turn it on its head, though. Imagine that, instead, the Brewers started Anderson, but sought the first opportunity they could get to advantageously swap in Monasterio. Neither guy should be batting in the top five or six lineup spots for this team right now, anyway, thanks to the additions of Mark Canha and Carlos Santana to the mix ahead of the trade deadline. By starting Anderson, Counsell could steal an inning or two of defense before even having to accept the tradeoff of an at-bat from the struggling veteran. 
One edge that this way of thinking gives, in most cases, is that relievers tend to strike out more batters (and thus, induce fewer ground balls) than do starters. In theory, your defense-first player should be the starter, because you can hide them at the bottom of the batting order to minimize their damage there and you maximize the chances that they'll have a defensive impact. The Brewers are no exception to this, though the gap is smaller than for most teams. It's just 0.3 percentage points of difference, with starters allowing ground balls in 29 percent of opponents' plate appearances and relievers allowing them 28.7 percent of the time. 
This little bit of creative roster usage is even more valuable if your bat-first player hits relievers especially well. Unfortunately, that's not the case with Monasterio. Both he (.554 OPS) and Anderson (.582) have dreadful numbers against relievers this year. Still, on balance, it makes sense to start Anderson, and to bring in Monasterio when an opening presents itself. If there's a particular mid-game pitching matchup that Counsell feels would favor Monasterio, that's the moment to make the change. Otherwise, it can just happen if the team falls behind by a run or two, thereby raising the urgency of creating some offense and lessening the impact of team defense.
Teams think about these substitutions from the perspective of minimizing regret and maximizing momentum. They sub in defensive whizzes late to protect leads, because they hate and fear the feeling of blowing a late lead. On balance, however, they'd do better to start with the defense-oriented player and tactically deploy the superior hitter. The Brewers have a good enough manager to entrust him with that kind of roster usage, and they ought to go for it.
Think you could write a story like this? Brewer Fanatic wants you to develop your voice, find an audience, and we'll pay you to do it. Just fill out this form.
MORE FROM BREWER FANATIC
— Latest Brewers coverage from our writers
— Recent Brewers discussion in our forums
— Follow Brewer Fanatic via Twitter, Facebook or email