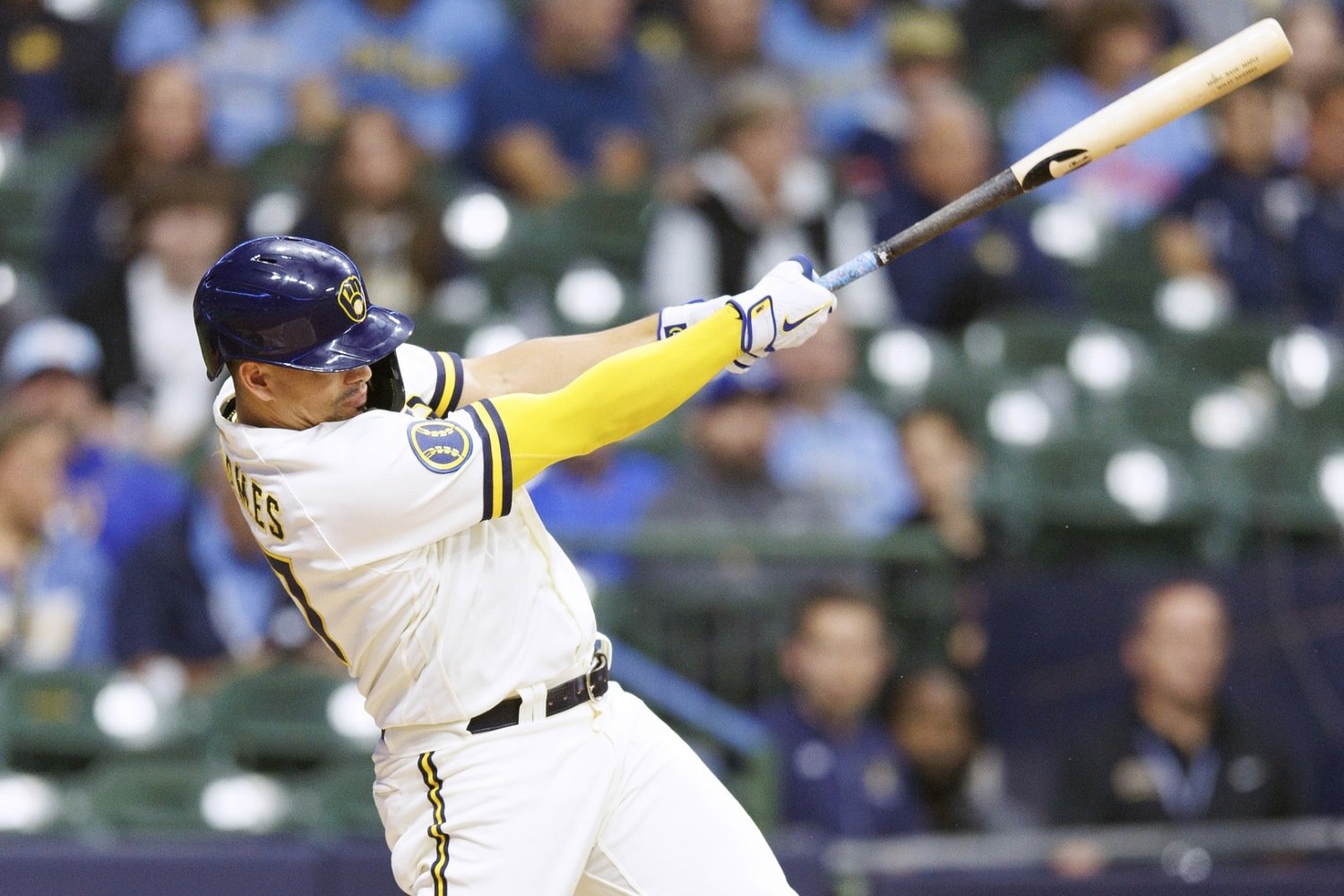 Image courtesy of © Jeff Hanisch-USA TODAY Sports
Since August 15th, Willy Adames is batting .273/.354/.580. In 23 games and 99 plate appearances, he's driven in 25 runs. With that gaudy slugging average and 13 extra-base hits in such a short span, it's tempting to think he's just run into a few lately, but the truth is more complex and more encouraging. Adames has nine walks to go with all that power, because he's dedicated himself to tightening up his strike zone.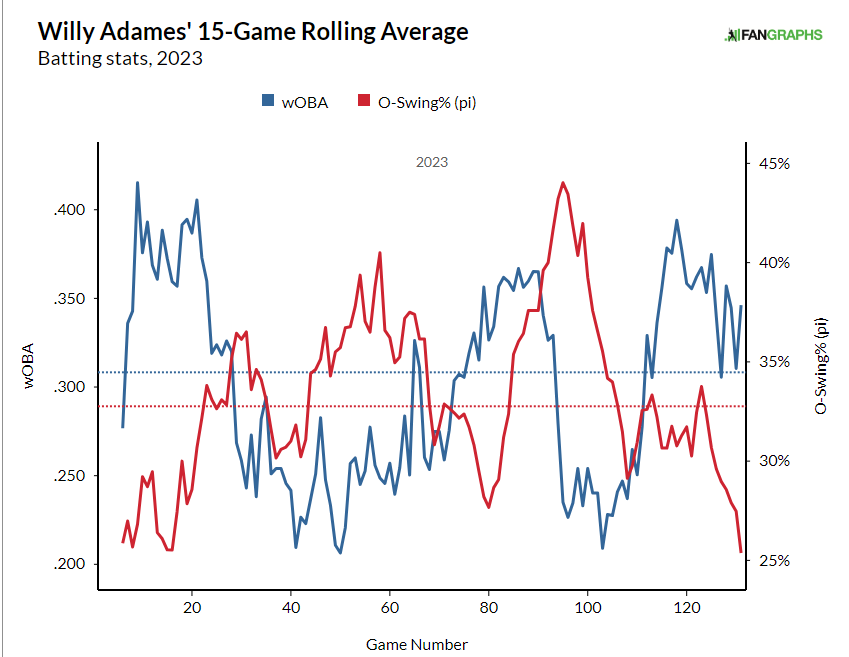 Adames is a naturally aggressive hitter. He does his best work when he's pulling the ball often, which means getting started soon enough to get the bat head out and attack pitches in front of home plate. Still, as you can see, there's a close relationship between his production and his ability to lay off pitches outside the zone. That's true of all hitters, but it tends to be especially true of free swingers with good power. They're the ones who get the most out of making pitchers come into the zone a bit, and out of not flailing away on unreachable sliders.
There remain some red flags here. Adames actually is swinging quite a bit at breaking balls this month, and while he's connected on a pair of home runs when pitchers made mistakes with those offerings, he's also whiffing quite a bit. Sitting on and ambushing slower stuff hasn't yet translated into laying off them as much as would ideal. Still, Adames has gotten his timing and his confidence back, and he's not mishitting or whiffing when he gets his pitch anymore. 
The place where he's done a better job of not expanding the zone, instead, is on high fastballs. Here's a heat map of his swings on fastballs at 90 miles per hour or harder through August 15.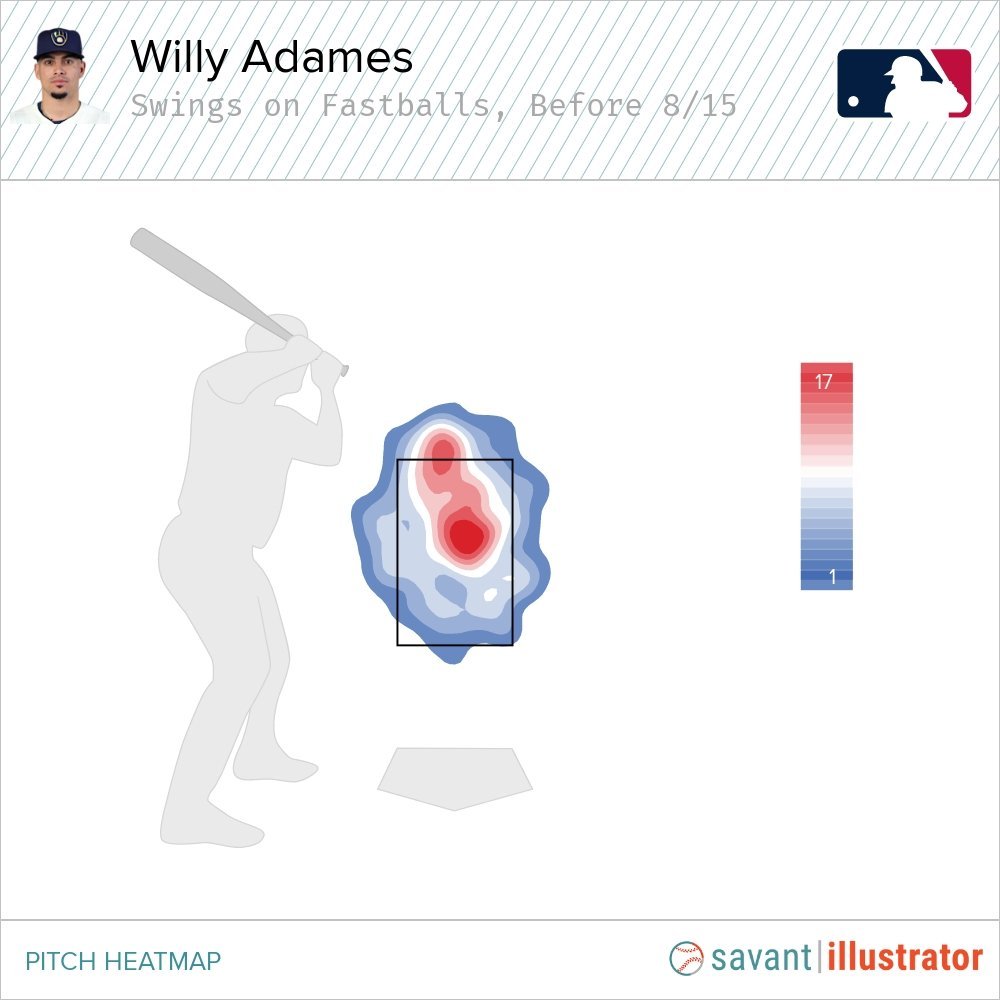 The lower region of deep red is a good thing. Hitters should be aggressive on fastballs in that area, and it should be the place where they swing the most often at them. The upper region is a problem. Swinging at fastballs up there not only often results in a whiff, but leads to more pop-ups and lazy fly balls than hard, valuable contact. When Adames is going poorly, he chases the high fastball a lot.
Since mid-August, he's going well, and he's not chasing the high fastball.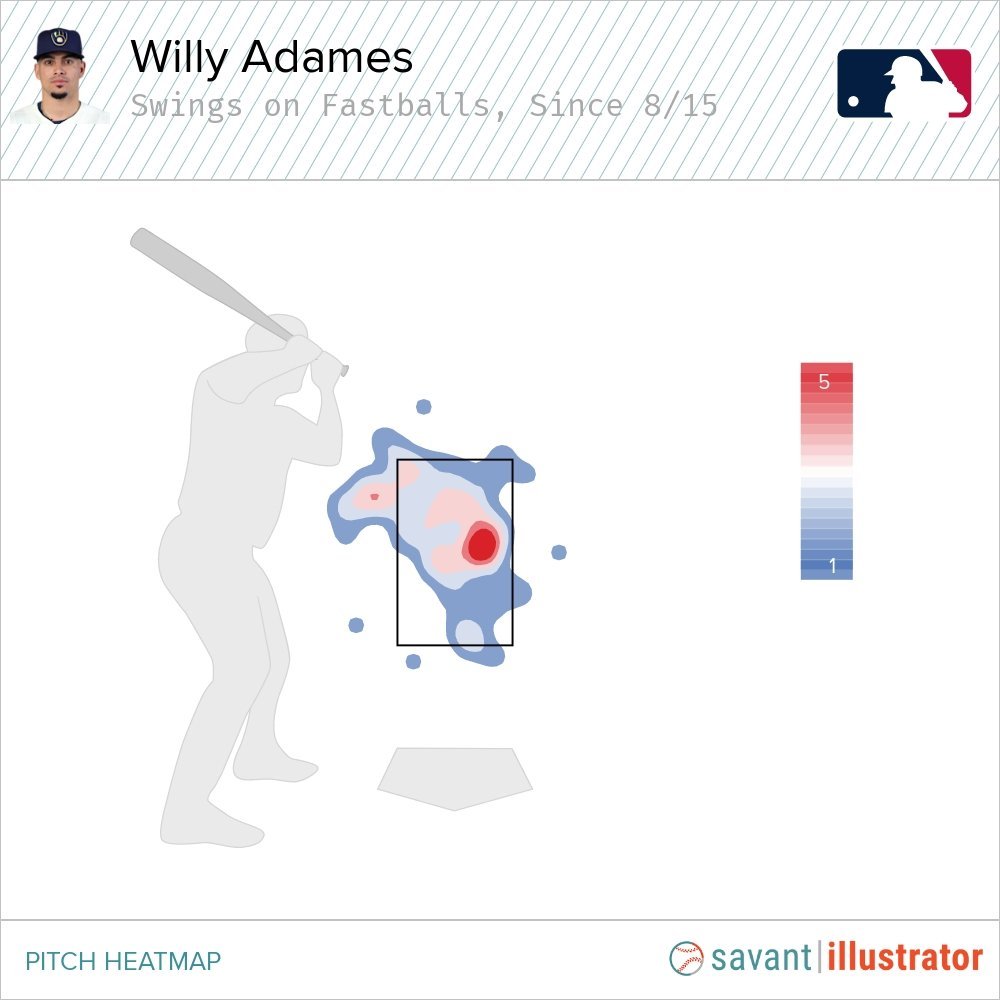 That little bit of plate discipline is enough to make Adames deadly. Pair the clutch hits he can generate in this groove with the defense Brewers fans have come to expect from him, and he's a game-changer. The Crew are in excellent position to win the NL Central, and Adames has been the individual most responsible for keeping them there. Over the final three weeks, with Christian Yelich ailing, this will continue to be Adames's team. After a tumultuous summer in which his profound struggles seemed to throw the future relationship between player and team into question, the last month has ensured that he'll have a secure place in 2024. In the meantime, the team has a chance to end 2023 by making team history. They'll succeed or fail based on Adames's ability to sustain this gorgeously-timed hot streak.
Think you could write a story like this? Brewer Fanatic wants you to develop your voice, find an audience, and we'll pay you to do it. Just fill out this form.
MORE FROM BREWER FANATIC
— Latest Brewers coverage from our writers
— Recent Brewers discussion in our forums
— Follow Brewer Fanatic via Twitter, Facebook or email