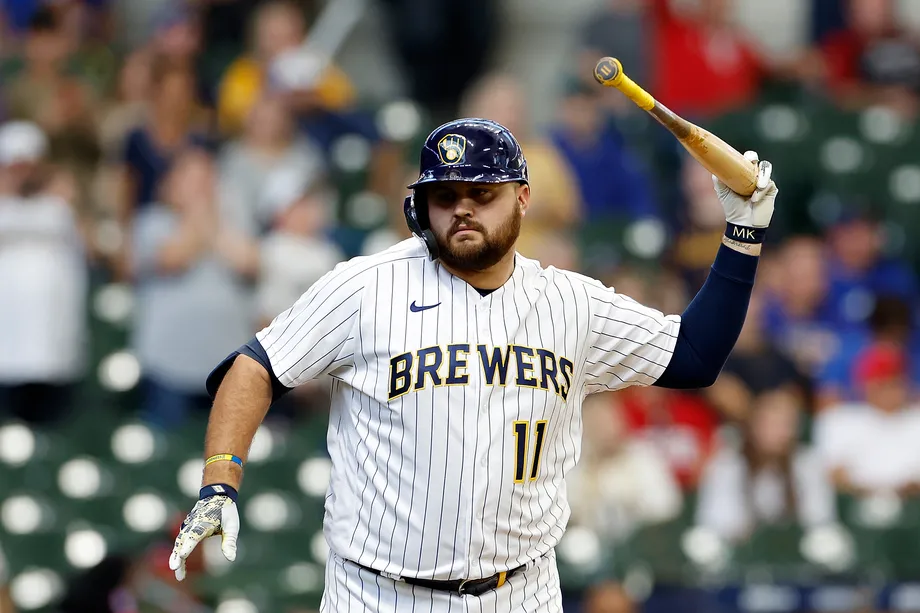 Image courtesy of John Fisher/Getty Images
In the first month of the year, Rowdy Tellez hit .247/.333/.553, with eight home runs and a BABIP of just .236, suggesting some underlying bad luck was also involved. He was the Brewers' standout hitter and looked set for a career season. Since then, injury issues have led to a much more troubled season, but there's reason to believe he's back to that same form he showed early in the season. One thing the Brewers have missed recently is the power bats that can drive runs in with more regularity instead of needing three hits an inning to score a run. As such, should he be getting significantly more playing time?
 
The Key Stat for Tellez
To assess fully whether Tellez is back, let's look at some of the metrics that have predicted his success in recent years. The critical thing for him is his average exit velocity, but more importantly, the consistency with which he hits balls "hard" (95 mph+). In 2021, this figure was 48.1%; in 2022, it was 46%. For 2023, despite the hot start, it's sitting at under 40%. His biggest weakness earlier in the year was against breaking balls, and of speed, he had a real habit of weakly popping them up. Take a look at the progress since then in the number of plate appearances he's had: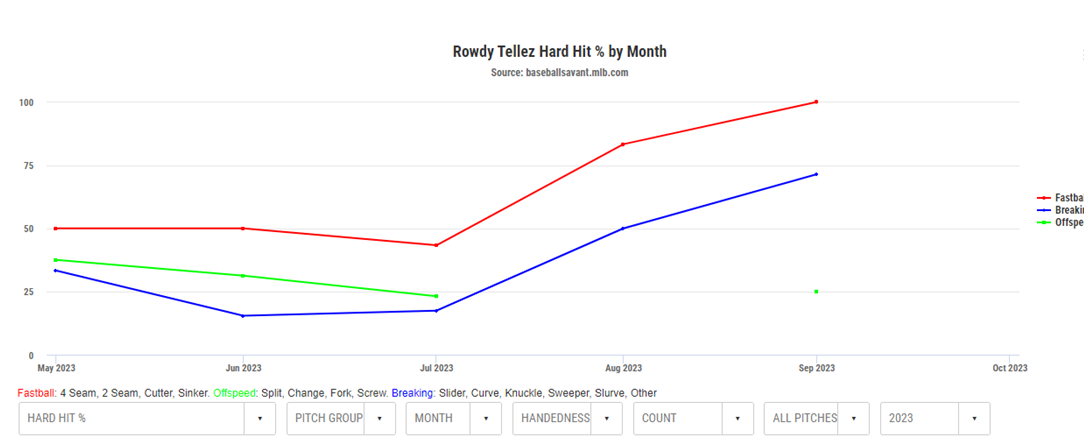 It's hard to deny that Tellez is marmalizing the ball of late, to the point that in August, he had a .358 xBA against both fastballs and breaking balls and an xSLG of .487 and .638, respectively. The Brewers had a lot of solid hitters in August, but one big standout hot streak was missing and could have sealed the division coming into September. With how often they have been getting men on base recently, one power bat can do a profusion of damage.
Why It's Sustainable
While with the way Tellez hits the ball, it would be very interesting to see his fly ball rate go up significantly, he is, in fact, a line drive hitter, and he creates them in all parts of the strike zone: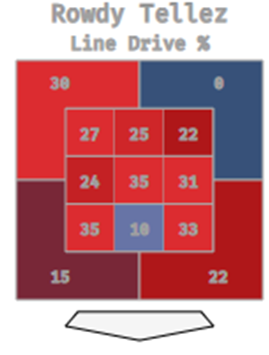 He can have a propensity to occasionally roll over balls in the lower part of the zone, but his line drive rates are exceptional and create the best chance for a hit. You know he can do damage, and with men on third and less than two outs, he's highly likely to find the outfield grass even if he doesn't get a hit. Even if he does hit a ground ball, you have a big chance of getting it through the infield when hitting the ball as hard as he is presently.
How does he fit in?
The DH spot has been filled more often than not by the solid bat of Mark Canha and William Contreras on his days off from catching duty. It's tough to argue against either of these players getting more game time. Still, there is a situation where Canha more regularly patrols the outfield in a rotation with Yelich, Taylor, and Frelick against right-handers to leave this spot open for Tellez and allow Santana a day off now and then. He's averaging just slightly over a plate appearance per game over the last 14 days, and with his bat as hot as this, it needs to be more.
Any Concerns?
In the early part of the season, Tellez was showing an unusual level of passivity at the plate and quite low swing and miss rates as a result. Since returning, this whiff rate has skyrocketed, especially a concerning 44.4% rate on fastballs. It is a very small sample size, but there is an underlying suggestion that he may end up in a cold stretch that drags the team down. When he connects, he's connected brilliantly, but there is just a little worry here.
His average exit velocity in August on fastballs was 112.1 mph, and 95 mph on breaking balls. That's a hitter who is locked in and prepared to do damage. There is a considerable case to see more of Tellez down the stretch, and if he keeps putting up numbers like those, it'll be hard to leave him out.
Power is something that offenses need, and the Brewers have an amalgam of hitters with contact profiles that can get on base but not a whole lot that can clear the bases with any regularity. Tellez has done nothing but fire since coming back into the squad. It's time to let him loose.
Think you could write a story like this? Brewer Fanatic wants you to develop your voice, find an audience, and we'll pay you to do it. Just fill out this form.
MORE FROM BREWER FANATIC
— Latest Brewers coverage from our writers
— Recent Brewers discussion in our forums
— Follow Brewer Fanatic via Twitter, Facebook or email