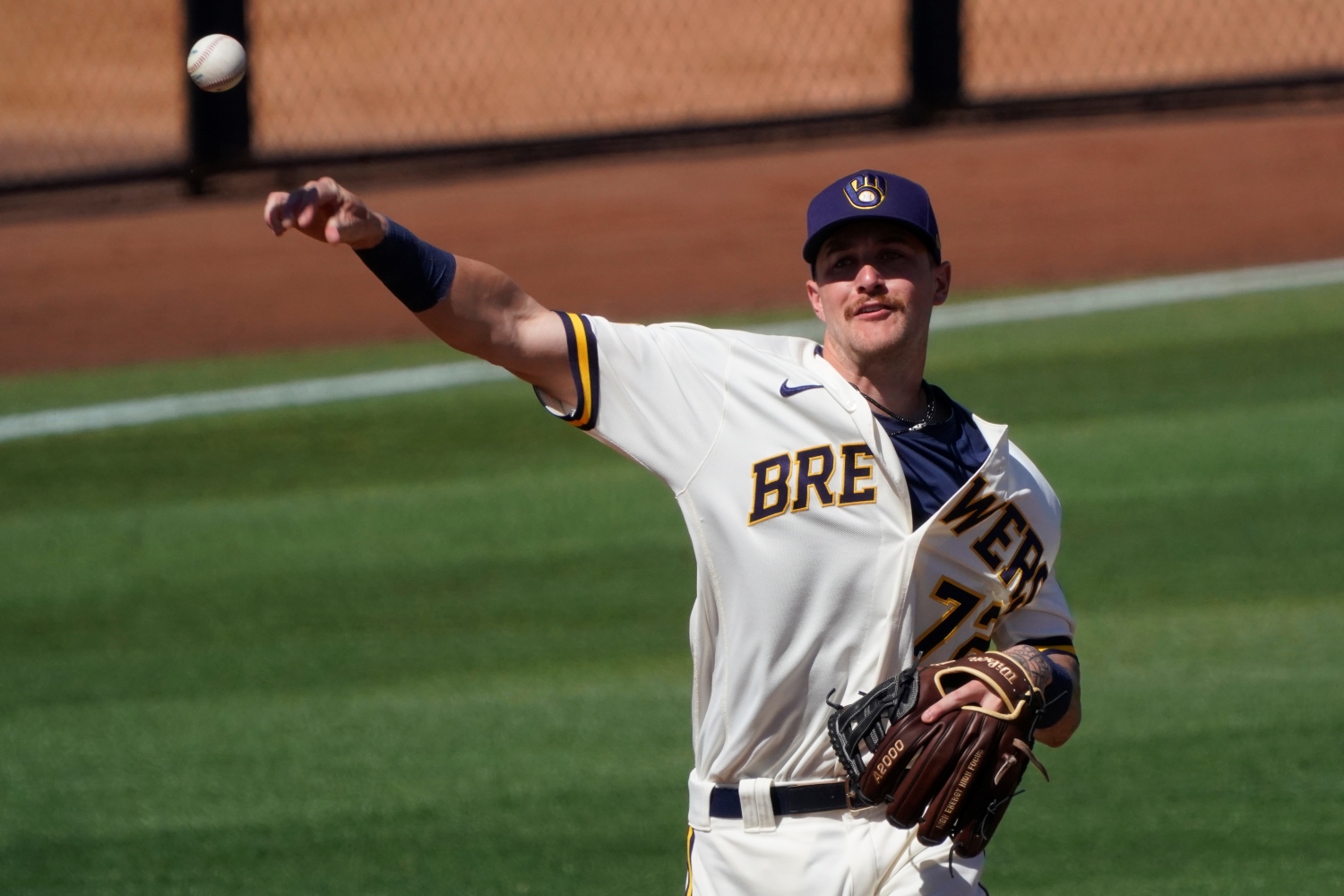 Image courtesy of © Rick Scuteri-USA TODAY Sports
The Milwaukee Brewers have myriad questions at all five infield positions, but there might be an equal number of good answers. They have star-caliber upside and notable depth at the two most important positions on the diamond, and plenty of possible ways to mix and match at the others. Let's break things down based on who's on the 40-man roster, who's in camp as a non-roster invitee, and who lurks even further down on the farm.

40-Man Roster

Catcher has been an interesting position for the Brewers since they traded away Jonathan Lucroy, who might be the best backstop in franchise history. The team hopes there will soon be a new claimant to that crown, though. William Contreras was an All-Star last season, notching an .860 OPS with 20 homers in 97 games. However, he made 31 of his starts at designated hitter. That means solid backup Victor Caratini will likely see a lot of time behind the plate. Payton Henry, acquired by the Brewers from the Marlins, is the third catcher, and will likely wait to be called upon at Triple-A Nashville. Henry has flashed a decent bat in the minors, but has struggled in a small sample in the majors.

This is not a bad situation for 2023. Contreras can hit, and at worst will end up spending a lot of time at DH. Caratini's solid as a complementary catcher, but he could wear down. Henry's past performance in the minors shows some pop and OBP skills, and he could end up being a nice surprise.

At first base, the Crew has the tandem of Rowdy Tellez or Keston Hiura, each of whom posted a 115 OPS+ in 2022. While both fare better against right-handed pitchers, the splits were not as pronounced against starters. In either case, their performances should have Brewers fans feeling okay about first.

At second base, the starter will be either Brice Turang or Luis Urías. The former is a slick defender with OBP skills and speed who flashed some decent hitting in his first full season at Triple A. The latter has mostly played third base, and has a 111 OPS+ with 39 homers since the start of 2021. Abraham Toro and Owen Miller could also figure into the competition there.

Willy Adames, who has posted a 122 OPS+ with 51 home runs since coming over from Tampa, is the shortstop. He's also impressed on defense, so the team will hope to write him into the lineup nearly every day, but Turang and Urías provide insurance.

Who's at third base in the short term depends on how Turang and Toro show at second. Urías will man the hot corner if either of those two claim the keystone, but if not, Brian Anderson and Mike Brosseau might figure prominently.
Non-Roster Invitees

Alex Jackson has had a few cups of coffee in the majors, the longest being alongside Henry in Miami in 2021. He will likely be in Nashville with Henry in 2023. He is probably the fourth catcher on the depth chart. Brian Navaretto had one cup of coffee with the Marlins in 2020, and will likely be in the minors. He spent time at Triple-A Nashville, and could be the third catcher there.

Jeferson Quero is different from Jackson and Navaretto. Splitting time at Carolina (A) and Wisconsin (A+), he posted superb numbers. He went to the Arizona Fall League, where his average dipped, but his OBP skills held up. Quero is a peek into the future in this spring training, and not likely to see time in Milwaukee.

Just how solid are the Brewers feeling about their 40-man options around the horn? They're only bringing in three non-catcher infielders as non-roster invitees. One is Jon Singleton, an all-or-nothing bat whose career major-league batting average is well below the Bob Uecker line.

The other two are Josh VanMeter (a middle infielder who's seen action with three MLB teams in four years and who offers five-position versatility and some decent OBP skills) and Andruw Monasterio, an overlooked prospect who put up solid numbers with Biloxi before struggling at Nashville.

X-Factor/Potential Breakout

One catcher who won't be in big-league camp, but who is worth keeping in mind, is Darrien Miller, who boasts a promising offensive profile and his left-handed bat. Miller has shown awesome OBP skills and power, things that could serve the Brewers very well.

Ernesto Martinez and Jesus Chirinos have evinced upside in the minors, while Wes Clarke also shows promise (and also spent time at catcher). Felix Valerio and Zack Rabbe offer intriguing options at second in the upper minors, while Tyler Black could also move up, and Rob Moore dominated in Brisbane. Shortstops Eduardo Garcia, Eric Brown Jr., and Cam Devanney also could be factors. Xavier Warren looked good in the Arizona Fall League.

Overview

The Brewers have questions about their infield, outside of Adames at short and the Tellez/Hiura duo at first for 2023. But those questions are "Which of the good choices do we select?" as opposed to "Can somebody step up?" In Contreras and Adames, they have anchors they hope will be in place for a long time, and their depth at all five spots stretches even down to minor-league camp. 
Think you could write a story like this? Brewer Fanatic wants you to develop your voice, find an audience, and we'll pay you to do it. Just fill out this form.
MORE FROM BREWER FANATIC
— Latest Brewers coverage from our writers
— Recent Brewers discussion in our forums
— Follow Brewer Fanatic via Twitter, Facebook or email