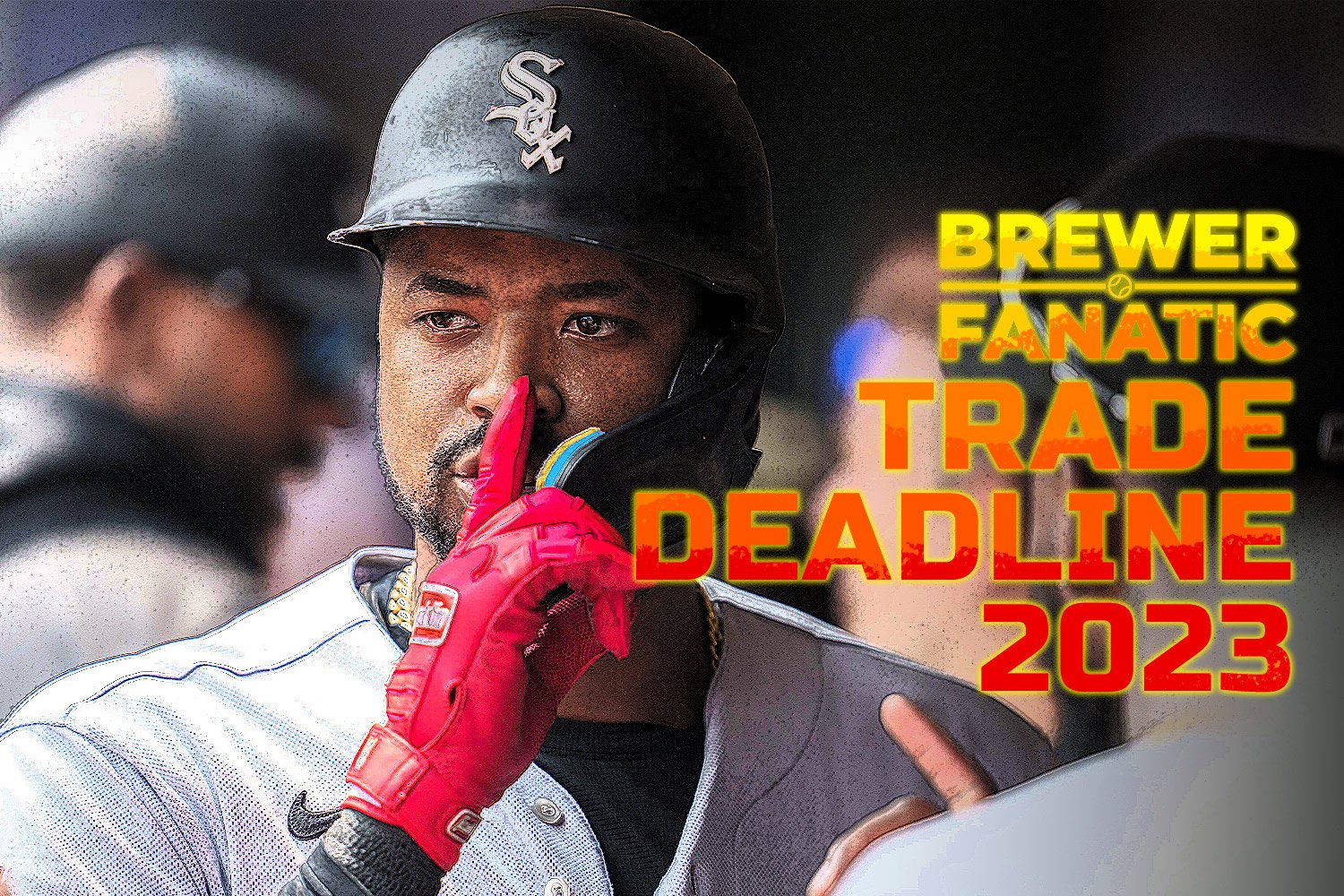 Image courtesy of © Matt Blewett-USA TODAY Sports
With the 41-62 Chicago White Sox trading away Lucas Giolito and Reynaldo Lopez on Wednesday, the Southsiders are open for business. And while the Brewers could target a few of Chicago's relievers at the trade deadline, rolling the dice on the oft-injured Eloy Jimenez is the aggressive move they should explore. According to longtime Chicago baseball reporter Bruce Levine on Thursday, the Brewers have already contacted the White Sox about Jimenez's availability. 
After bursting on the scene in 2019 with 31 home runs in 122 games, Jimenez's problem has been staying on the field. The 26-year-old is hitting .286/.330/.485/.815 (121 OPS+) in 285 plate appearances, playing in just 68 of the club's 103 contests. Last season, Jimenez posted a 141 OPS+ with a .358 OBP and .500 SLG across 84 games. Again, terrific rate stats, but a lot of missed time. But if you're the Brewers, looking at the collective DH "production" should be enough to gamble.
Milwaukee's DH statistics and MLB ranking through July 26:
AVG: .210 (28th)

OBP: .305 (20th)

SLG: .317 (29th)

OPS: .621 (29th)

wRC: 23 (30th)

wOBA: .254 (30th)
The Brewers have also gotten just seven homers from the DH role, better only than the Detroit Tigers (4). Jesse Winker has taken 42 percent of the plate appearances at DH, but it's been a black hole except when Christian Yelich or William Contreras held down the spot.
Jimenez has been healthy and hot since the All-Star break. In his last nine contests, Jimenez owns a .387/.441/.581/1.022 line, though the Sox have lost five in a row. His last IL stint came in early June with nagging leg soreness, the most common reason Jimenez has missed time in his career. Thus, the best thing a team can do is keep him in the DH role. With the Brewers' glutton of outfielders, there's no reason that would be a problem in Milwaukee.
Figuring out what the White Sox would want in return becomes the more significant challenge. Jimenez is a tricky asset to evaluate. When he is healthy, he's a valuable middle-of-the-order run producer. However, he has not played in more than 84 games in a season since 2019, and rarely playing in the field limits his value. His contract creates even more uncertainty. 
Jimenez is set to make about $13.8 million next season, which is hardly noteworthy for one year. But he also has a team option for $16.5 million in 2025 and $18.5 million in 2026, both with a $3 million buyout. So it gives the club plenty of flexibility over the next few years. If Jimenez is healthy and smashing the ball in his age 27-29 seasons, he's easily worth it. If the production dips or the injuries are too much, the team can bail for a drop in the bucket. But again, that causes some problems in determining what the Brewers should give up for his services, which could be for one, two, or three additional seasons.
These are the same reasons Chicago might balk at making a deal unless Milwaukee blows them away. Of course, the Chicago front office says they are looking to compete in 2024, but how can they think they will turn around a team - currently 21 games under .500 - in one season? They're losing multiple veterans, have seen a decline in others, and appear to have their competitive window closing from their recent rebuild. They have some younger guys to build around with Luis Robert Jr. as the centerpiece, but they would be wise to plan a soft, quick reboot over the next two or three seasons.
So what would the White Sox accept? They likely would be interested in middle infielders and pitching (because you always need pitching). Chicago also has very few intriguing outfield prospects do develop over over the next few seasons. Because of Jimenez's injury risk and lack of position, the Brewers probably aren't giving up any of their top guys. And as always, we don't know how Milwaukee's front office views its own players or who the White Sox might desire.
Brewers send:
So, what do you think about making this deal? Are you even interested in Jimenez? Is this too much to give up or too little to entice Chicago? From the Brewers' perspective, the various ways you could handle Jimenez in future years (keep him, buy him out, or trade him again) can limit the risk more than a typical trade.