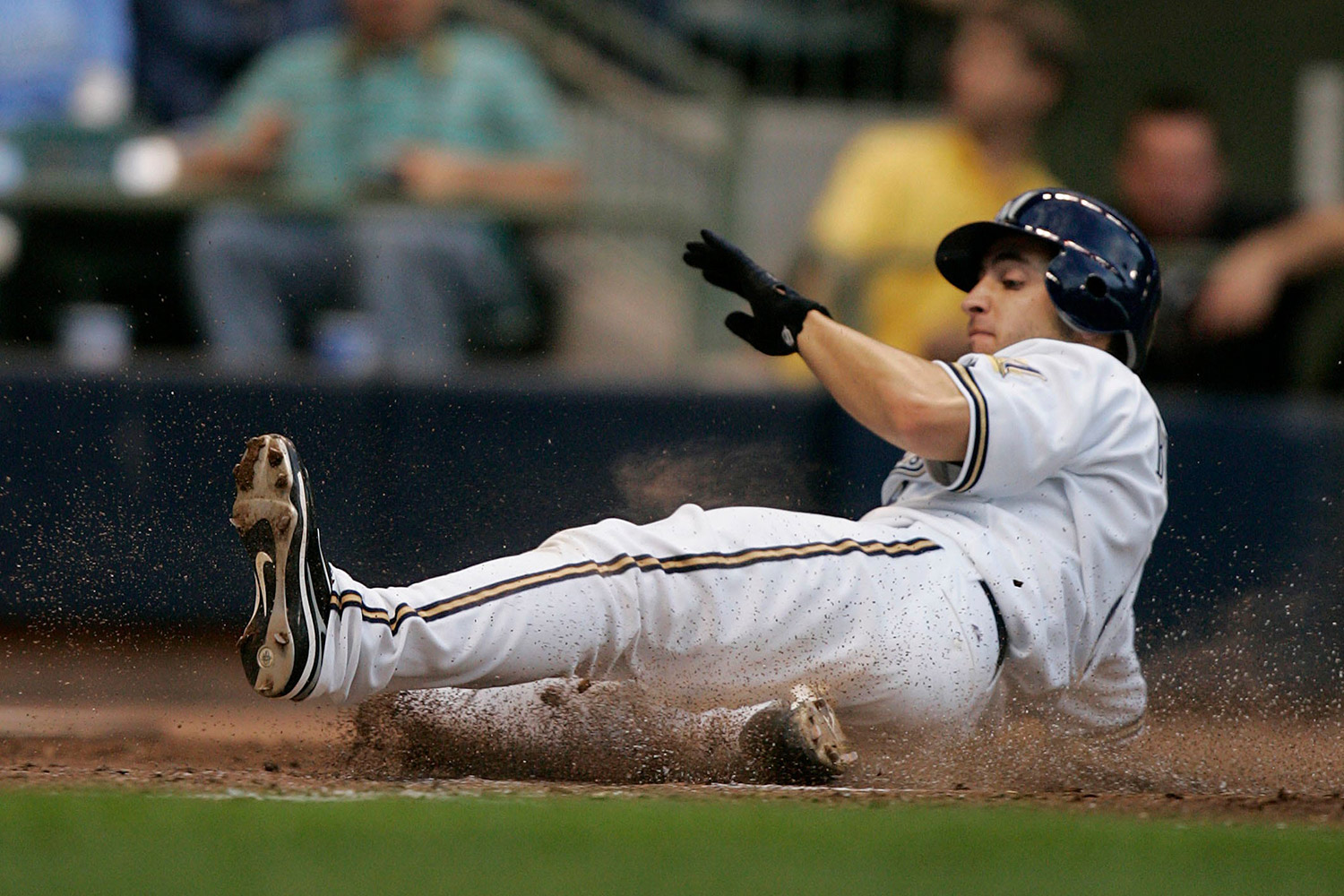 Image courtesy of © Rick Wood via Imagn Content Services, LLC
The top five served as the primary starters for 33 seasons – out of 54 in Brewers franchise history, showing that even in the doldrums, left field was rarely a worry for Brewers fans.
So which left fielders were the best for the Brew Crew? Let's take a look.
5. John Briggs
.258/.358./441 with 80 HR and 259 RBI in 5 seasons with the Brewers
Briggs was the primary starter in left field for three seasons and part of two others with the Crew. He delivered some power from the left side of the plate, saw time at first base, and did so over four decades before Eric Thames did the same. Briggs was traded to Minnesota for Bobby Darwin, who went to Boston for Bernie Carbo, who the Brewers dealt back to Boston with George Scott for Cecil Cooper, who ranked third on the list of best first basemen for the Crew.
4. Greg Vaughn
.246/.333/.459 with 169 HR and 566 RBI in 8 seasons with the Brewers
Greg Vaughn held down left field for six seasons – and lived up to his first-round draft status. He made two All-Star Game appearances as a Brewer but was dealt in 1996 while having one of his best seasons, with the Brewers receiving Bryce Florie, Ron Villone, and Marc Newfield in return. While he spent a lot of time in left field and at DH, Vaughn made occasional appearances in center and right field.
3. Geoff Jenkins
.277/.344/.490 with 221 HR and 733 RBI in 10 seasons.
In the doldrums of the late 1990s and early 2000s, Geoff Jenkins spent eight seasons as the primary left fielder. Injuries cost him a lot of games from 2001-2003, depressing his numbers some, but he and Ben Sheets carried the Brewers during a hard time, and Jenkins made the All-Star Game in 2003. He left as a free agent for the 2008 season and won a World Series with Philadelphia later that year.
2. Ben Oglivie
.277/.345/.461 with 176 HR and 685 RBI in 9 seasons
Acquired in a trade after the 1977 season, Ben Oglivie ended up being a steal for the Brewers (especially after Jim Slaton returned to the Crew as a free agent before 1979). Almost immediately, he forced his way into the lineup and was the primary left fielder for six seasons (but also saw a lot of time as designated hitter and in right field). He also served as the primary DH in 1986, where he was solid. He made three All-Star Game appearances, won a Silver Slugger, and had one top-15 MVP finish.
1. Ryan Braun
.296/.358/.532 with 352 HR and 1154 RBI in 14 seasons
Ryan Braun was the primary starter in left field for ten seasons, the most of any Brewer, but he also held down right field for two seasons, served as the primary DH in 2020, and won Rookie of the Year at third base in 2007. The all-time franchise leader in home runs, he also topped the team in some sabermetric categories, most notably the power-speed number and adjusted batting wins. Braun has some what-ifs (an injury that affected him after 2013, the move to left field instead of sticking at third), but he was a superb player.
Honorable Mentions
Khris Davis delivered offense for two seasons as the primary left fielder before an ill-advised deal to Oakland. Carlos Lee was acquired for Scott Podsednik and held down left for almost two seasons before he was dealt in a deal that flopped for the Crew. Christian Yelich is entering his fourth season as the primary left fielder, and while not at his 2018-2019 offensive performance, he was a Gold Glove finalist in 2022.
Think you could write a story like this? Brewer Fanatic wants you to develop your voice, find an audience, and we'll pay you to do it. Just fill out this form.
MORE FROM BREWER FANATIC
— Latest Brewers coverage from our writers
— Recent Brewers discussion in our forums
— Follow Brewer Fanatic via Twitter, Facebook or email