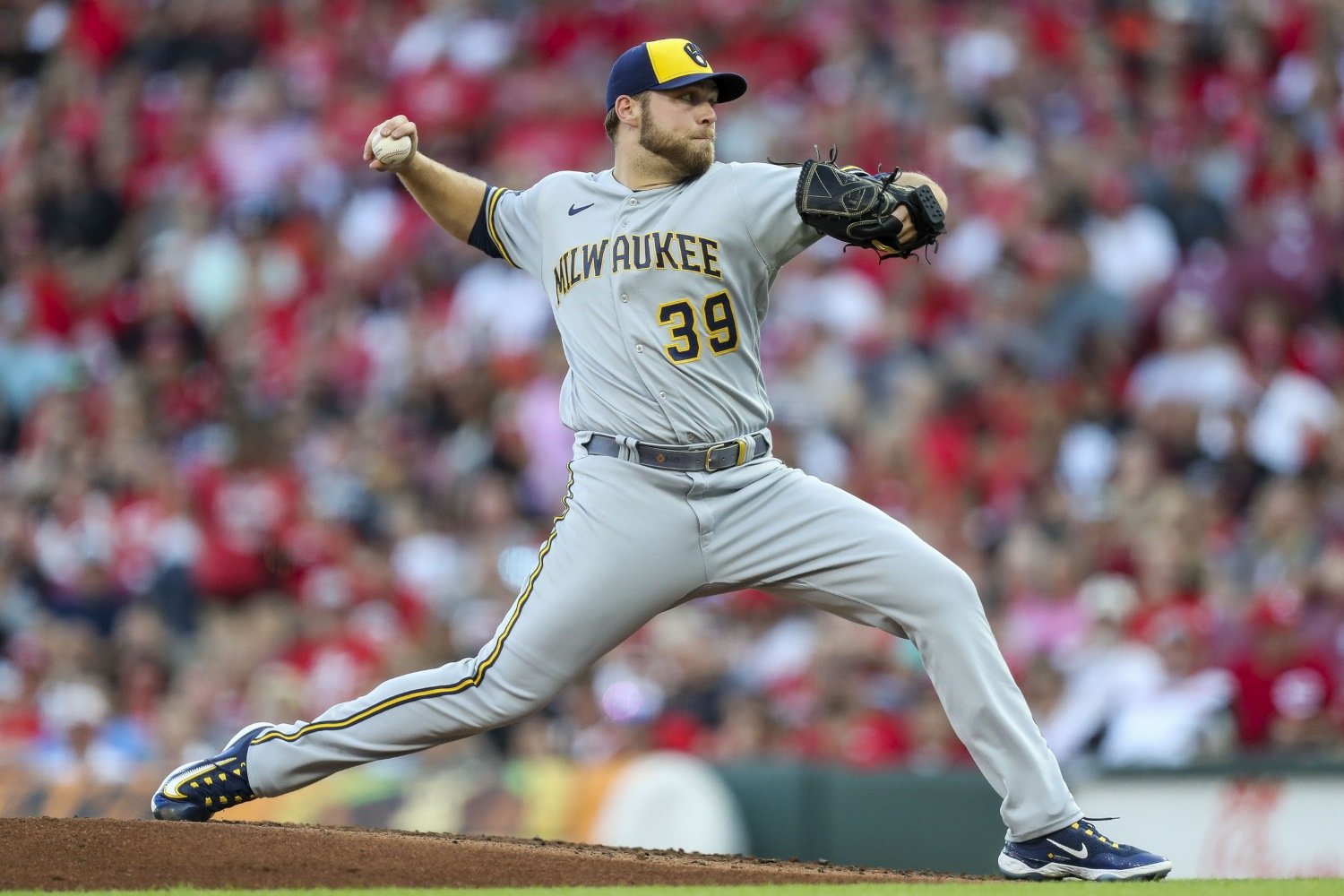 Image courtesy of © Katie Stratman-USA TODAY Sports
Having gone cutter-heavy (over 70%) in his last outing against the Cincinnati Reds, Corbin Burnes used it just 45% of the time on Friday, instead relying more heavily on his curveball (29%) and (the third time through the order) his changeup. The breaking pitch was on form, averaging over 54 inches of vertical break–something I'll come back to in a moment, as it's key to how he's used the pitch this year.
A big change for Burnes was how he used his cutter in this outing, noticeably going much higher in the zone, and getting rewarded for it, with not a single hard-hit ball against his cutter all day. (In fact, the Reds had just one hard-hit ball against any of his pitches.) 
Hitters have been doing a lot of damage when Burnes leaves his cutter over the heart of the plate, and (because they've been sitting on it, and spitting on other offerings that usually dip out of the zone) he's been having real trouble racking up strikeouts. His outs have mostly been generated from ground balls, something with which he did excel in the last two years, due to the prolific movement on his cutter down in the strike zone.
Going very cutter-heavy in his recent starts against the Reds, Guardians and Pirates while using the upper part of the zone is an effort by Burnes to address the predictability of his pitching. This time, however, the crucial ingredient was his curveball, and how he used it off his higher cutter. By playing off the pitch up in the zone, Burnes could keep his curveball in the strike zone for longer, starting higher, and thus forcing hitters to make decisions far later. When playing off the cutter down in the zone, the curveballs looked far less competitive and were out of the zone far more often. Our Tim Muma identified the need for Burnes to use more of the zone way back in early April.
In June and July, Burnes's curve has been in and around the edges of the strike zone 41 percent of the time, up from 32 percent in May. What this has done is made these pitches more relevant to hitters, and as such, improved the chase rates against them massively, allowing Burnes to be more effective at putting away hitters in two strike counts.


 
Looking at the above graphic, it's clear to see the chase rates on the curveball and changeup in two-strike counts have drastically increased in July, and will be key to Burnes's effectiveness moving forward. Even when chasing the changeup, hitters are generally making some form of contact, but look at how the usage of these pitches in two-strike counts has impacted the whiff rate when chasing his other pitches in two-strike counts.


By having a pitch like his curveball, which hitters chase over half the time in two-strike counts, and on which they whiff over 75 percent of the time on those swings, Burnes is able to wreak the kind of havoc we all expect from him. On top of this, you can see how the whiff rate on the cutter has also gone up massively, and by varying his location, he can prevent hitters from getting quite so locked in on his approach and make them a lot more uncertain in the batter's box.
Burnes has been mightily effective when he gets ahead in the count all year, but due to a lack of chase outside the zone, he's been struggling to get ahead as consistently as in the past. Hitters have a .465 on-base percentage when they get ahead in the count, and a .925 OPS. 
Since May, however, he's staying in the zone more often with everything except the curveball, with his zone rates rising by at least 15 percentage points on each of his slider, changeup and cutter. He's being more aggressive, and it's showing results with his cutter, especially in terms of the damage done against it. The expected slugging average against his cutter was .527 in May, but has dropped to .373 in June and .341 in July. 
The variety in his approach caused a called and swinging strike rate (CSW%) of 35%, on top of a 33% whiff rate against the cutter, something we haven't really seen all season long. If this can be maintained, we have Cy Burnes back in business.
Think you could write a story like this? Brewer Fanatic wants you to develop your voice, find an audience, and we'll pay you to do it. Just fill out this form.
MORE FROM BREWER FANATIC
— Latest Brewers coverage from our writers
— Recent Brewers discussion in our forums
— Follow Brewer Fanatic via Twitter, Facebook or email