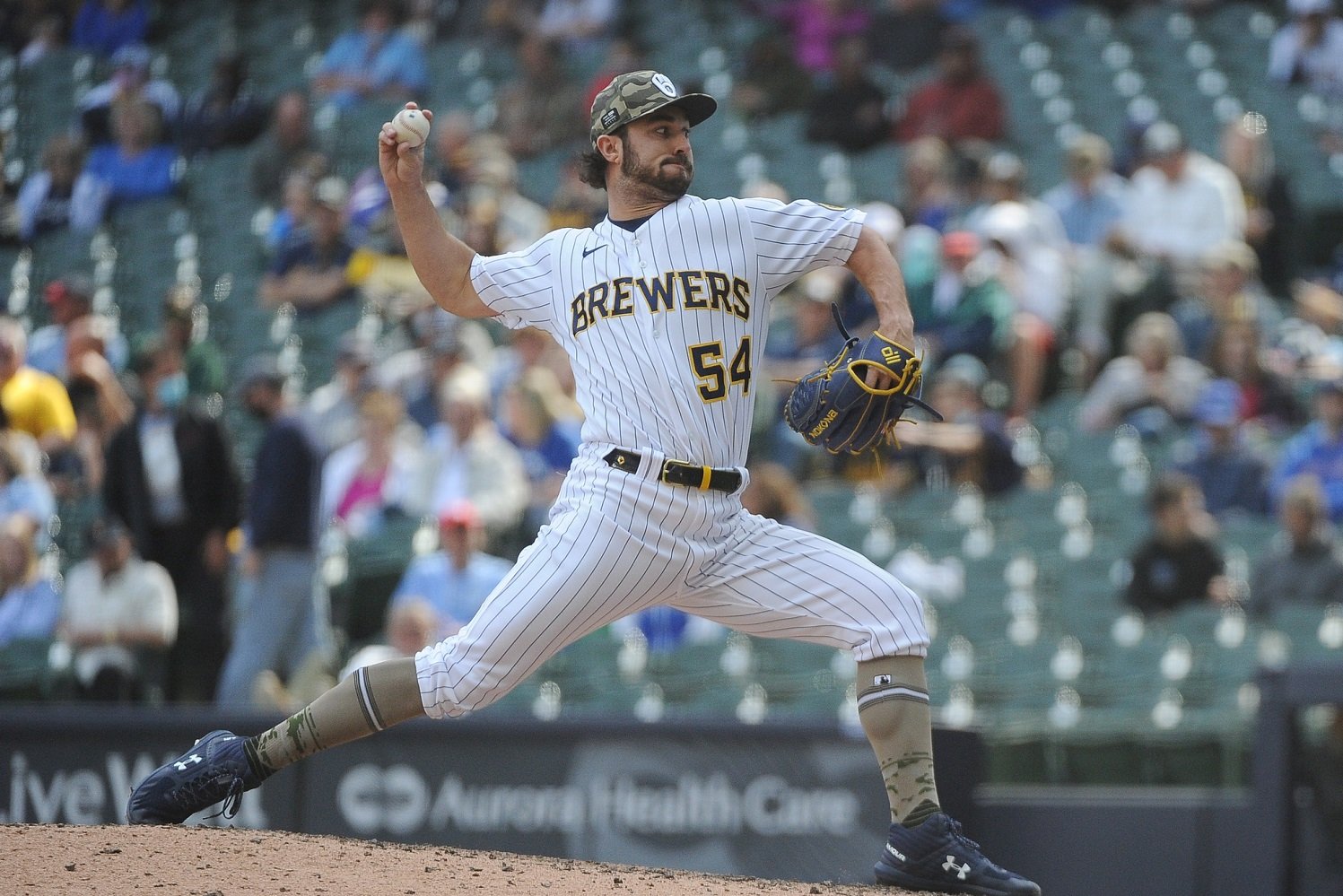 Image courtesy of Michael McLoone, USA TODAY Sports
This morning's daily Cup of Coffee newsletter from Craig Calcaterra contained a fun fact about Monday's Brewers/Orioles game, even if it was a bit of a stretch:
Quote

Bruce Zimmermann got the start and authored four of those shutout innings. He's the first Maryland-born pitcher to start a home opener for the Orioles since 1990.
That's a lot of qualifiers, but still an interesting accomplishment. If the Orioles aren't going to be good, at least they're drawing some local interest by featuring one of the seven Maryland-born pitchers who appeared in an MLB game last season (Josh Hader is one of the others, of course).
The Brewers, for their part, have used a Wisconsin-born starter on Opening Day just once in their franchise history: Jerry Augustine got the ball for the first start of the year in 1978, and the Kewaunee native logged eight strong innings in a game the Crew went on to win 12-3 (more on that contest here).
Augustine pitched in 279 games across ten seasons as a Brewer, including 104 starts, but beyond him the Brewers' history with Wisconsin-born starting pitchers is relatively sparse. Madison native Gene Brabender made 50 starts for the franchise but 29 of them came for the expansion Seattle Pilots before their move to Milwaukee. The only Wisconsin-born pitcher to make a start for the Brewers in the last 39 years was Milwaukee native Paul Wagner, who made nine starts for the Crew in 1998. The last of those nine came on July 24 of that season, and Monday's game was the 3686th the Brewers have played since.
In the intervening years the Brewers have only had a few candidates to step in and snap that streak: Green Bay native Bob Wickman pitched exclusively in relief during his Brewers tenure, which ended when he was traded in 2000, and after that it was nearly 20 years until River Falls native J.P. Feyereisen made his MLB debut as a Brewer in 2020. Auburndale native Jordan Zimmermann's 2021 comeback attempt was probably the closest the Brewers have come to using a Wisconsin-born starter since Wagner, but he opted to retire after two lackluster relief appearances.
In recent years the Brewers also haven't had a deep field of candidates: No Wisconsin-born pitcher started a game for any MLB club in 2021, and the four that did so in 2020 (Zimmermann, Pete Fairbanks of the Rays, Kyle Cody of the Rangers and Jonathan Stiever of the White Sox) combined to make just eleven starts. It's possible the most successful pitcher in the group right now is Neenah native Drew Rucinski, who left for Korea following the 2018 season and has a 3.01 ERA across four seasons since as the ace for the KBO's NC Dinos. From 2019-21 Rucinski led all KBO pitchers in innings (539) and strikeouts (463), and in 2020 his Dinos won the Korean Series.
The relative lack of standout Wisconsin-born pitchers is all the more striking when taken in context of the prep baseball landscape in the state. Scouts are quick to note that Wisconsin is producing more baseball talent recently: In 2018 now-Mariners outfielder Jarred Kelenic, a Waukesha native, became the highest-drafted player in Wisconsin baseball history when he was selected sixth overall by the Mets. Since 2016 the state has produced six players taken in the top 120 picks in the MLB draft, including four (Kelenic, Diamondbacks catcher Daulton Varsho, Dodgers infielder Gavin Lux and Yankees catcher Ben Rortvedt) that have already reached the majors. None of those six picks were pitchers, however, and only one Wisconsin-born pitcher has been selected in the draft's top 300 picks since 2010 (Oshkosh native Josh Uhen).
So, while Wisconsin-born position player prospects continue to emerge around the sport, Brewers fans are likely to continue to wait for their next opportunity to cheer on a local product on the mound at American Family Field.
3