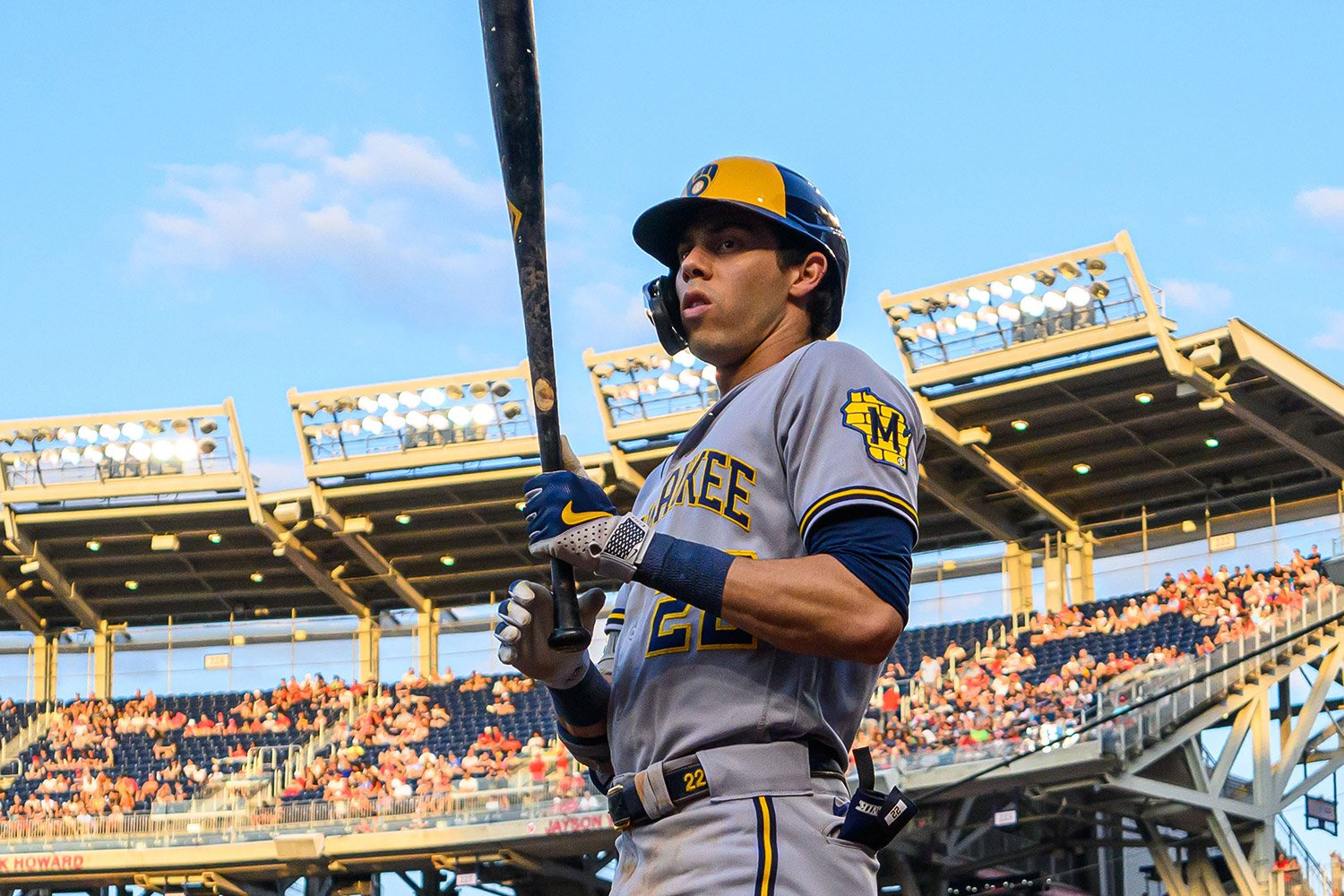 Image courtesy of © Reggie Hildred-USA TODAY Sports
The Dark Ages
After posting an OPS over 1.000 for the second season in a row in 2019, something tragic happened. Yes, there was some sort of pandemic that swept through the world, but more importantly, it seemed that Christian Yelich forgot what had made him great. Over 247 plate appearances in 2020, he slashed just .205/.356/.430 for a measly OPS of .786, only slightly above league average. 
Perhaps this was due to the shortened season or jitters over the public health emergency, but the scary scenes continued through the following two seasons. His hitting slipped even further in 2021 and 2022, posting consistent yet disappointing OPS figures of .736 and .738. His ability to hit cutters and breaking balls seemed to be lost in time, and since his defense wasn't nearly good enough to justify his $215 million contract, it was an unfortunate time to be a Brewers fan.
---
Counterpoint: Why Cody Bellinger is the Comeback Player of the Year
---
The beginning of this season was shaping up to be more of the same, with Yelich posting a somewhat dismal .656 OPS through April. Then he had a great May, posting a .842 OPS. Then he had an even better June, posting a .912 OPS. Then he fully turned back the clock in July, slashing .333/.389/.626 for an OPS of 1.015. It was too late to be an all-star but timely enough to keep the Brewers' playoffs alive in a tight division race. So what changed?
Adjustments to his Approach
One of the primary culprits for his regression was the devastating knee injury he suffered in September 2019. After fouling a slider straight into his knee, it was revealed that Yelich had fully fractured his kneecap and would miss the remainder of the season. Despite returning to competition the following season, it was clear his approach had changed. While subtle, he seemed to take a slightly longer windup, loading more into his back leg. 
Prior to the injury, Yelich had a relatively neutral load, whereas his most recent load is more intense, akin to Bryce Harper's approach.
Parker Hageman (@HagemanParker), cofounder of Twins Daily and overall pretty smart guy, helped me break down why this new swing could have had such negative effects. The two main downsides are a more delayed reaction and a potential reduction in vision as he rotates his center line further away from the pitching mound. Both could be to blame for his increase in swinging strikes and decline in pull rate as a result of being late to pitches more often.
The more general numbers back up this hypothesis, as he never saw a significant decrease in exit velocity, and balls that he did hit were some of the hardest hit in the league. From 2019 to 2021, he took the biggest steps back in xISO (97th percentile in 2019, 27th percentile in 2021), Barrel % (97th percentile in 2019, 42nd percentile in 2021), and Strikeout % (60th percentile in 2019, 32nd percentile in 2021).
This year, those figures are above league average, with his xISO moving to the 61st percentile, his Barrel % to the 57th percentile, and his Strikeout % to the 56th percentile. This year, he seems to be starting his load earlier to compensate for the more drastic coil, allowing him to generate positive run value on all pitches except the sweeper.
The Other Man
Unfortunately for Yelich, there's some stiff competition for this award. One name, in particular, is a familiar foe who happened to beat out Yelich for the NL MVP award in 2019: Cody Bellinger. While Yelich regressed to post average hitting statistics, Bellinger skidded below replacement level in 2021, slashing .165/.240/.302 for an OPS of .542. Two years after his monstrous 2019 season, this saw him post a 1.035 OPS while leading the National League in total bases. 
2022 saw a slight recovery, but Bellinger was still at a .654 OPS, a far cry from his peak. Hoping a change of scenery would revitalize his career, he took his talents to the Chicago Cubs and has found his groove again, slashing .331/.380/.561 and serving as the team's best-qualified hitter. Unfortunately, he's still suffering from injuries and missed a month of action due to a left knee contusion. Furthermore, he missed a few days for the birth of his second child, proving his lack of commitment to the team and the sport. His devotion to his family can only have a detrimental effect on his baseball career in the medium to long term.
While Yelich has a slightly lower OPS, this can be explained by his more pitcher-friendly home ballpark and a larger sample size of ABs. As he is currently childless, his lack of engagements off the field will also allow him to focus purely on baseball and may make a more compelling case for this comeback being more permanent.
Future Outlook
His current slash line of .290/.374/.469 doesn't present the most outstanding figures in the National League, and his August is off to a relatively slow start (.714 OPS over 38 ABs). Still, his red-hot June and July and his overall positive trajectory lead me to think that Yelich might have one of the most compelling quantitative and qualitative cases for being the NL Comeback Player of the Year. He's competing against his old friend Bellinger to make things even more interesting. Could we ask for a more perfect comeback storyline?
Think you could write a story like this? Brewer Fanatic wants you to develop your voice, find an audience, and we'll pay you to do it. Just fill out this form.
MORE FROM BREWER FANATIC
— Latest Brewers coverage from our writers
— Recent Brewers discussion in our forums
— Follow Brewer Fanatic via Twitter, Facebook or email
1