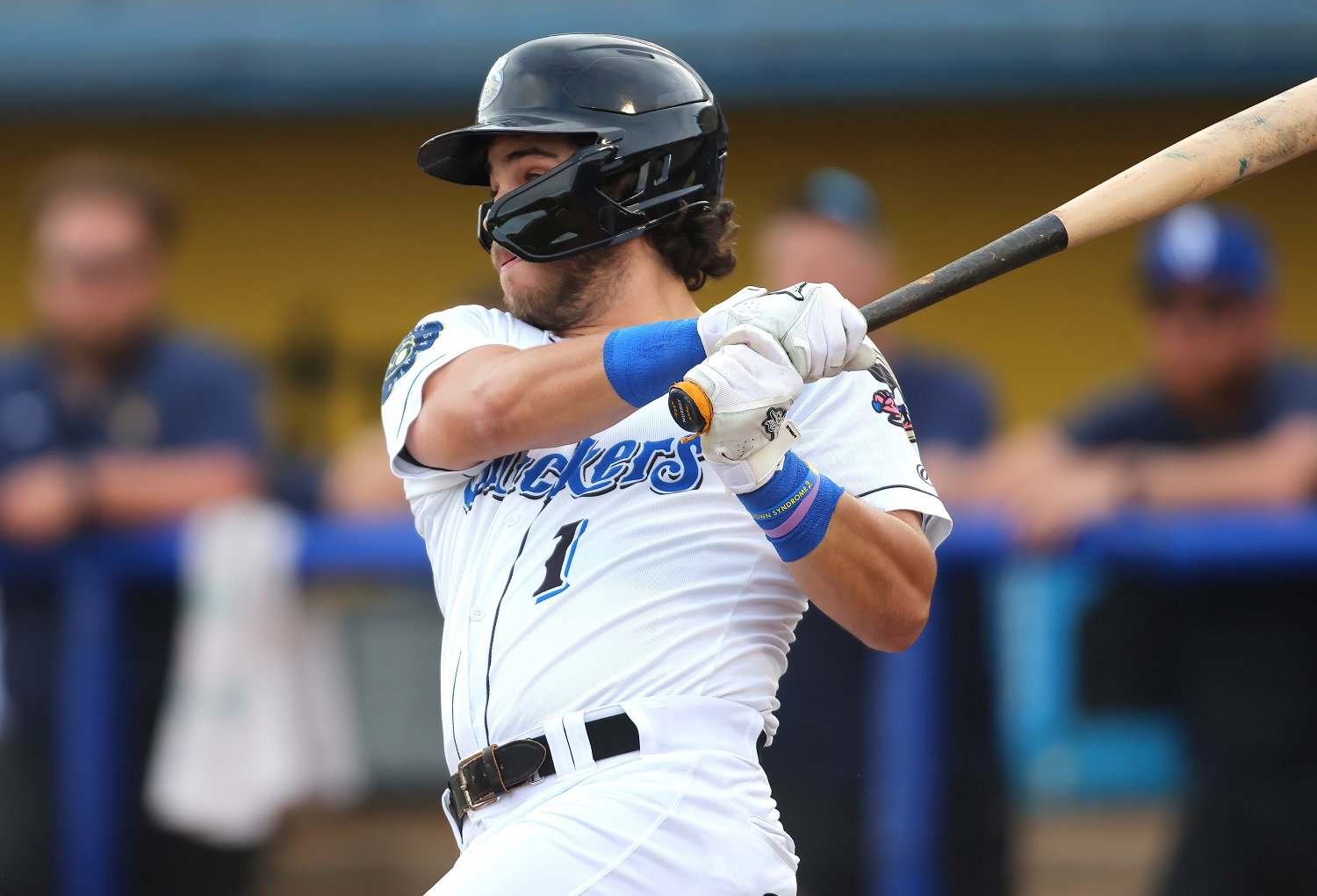 Image courtesy of Mike Krebs, Biloxi Shuckers
After considering some overlooked catchers and first basemen yesterday, today we move around and cover the rest of the infield. Again, the purpose of these articles to to recognize players that are not deemed Top 20 prospects by Brewer Fanatic or MLB Pipeline. Which of these players are under-ranked or underrated? 
Since the last time we looked at this group, there have been several roster changes. Zack Raabe was a surprising pre-season release, and prior to the season, the highly-versatile Weston Wilson signed with the Phillies as a minor-league free agent.
Let's look over the group, with stats as of August 5.
Second Base
Felix Valerio, Biloxi Shuckers (AA)
.224/.289/.314 in 210 at-bats with 6 doubles, 3 home runs, 16 walks and 46 strikeouts

Prior to Double-A, Valerio had been a top prospect with his bat. He's struggled the last two seasons, but he is still only 22, and could turn things around. However, he faces a tough row to hoe as other prospects have entered the system and flashed real potential.
Jadher Areinamo, Carolina Mudcats (A) - New
.295/.320/.370 in 292 at-bats with 13 doubles, 3 home runs, 12 walks and 37 strikeouts

Areinamo has flashed a strong hit-for-average tool in the Carolina League, and added a fair amount of doubles in the process. His on-base skills could use refinement, but he's struck out less than 13 percent of the time.
Dylan O'Rae, Arizona Complex League Brewers (R) - New
.351/.522/.404 in 114 at-bats with 4 doubles, no home runs, 37 walks and 21 strikeouts

O'Rae has emerged as an OBP god in Maryvale, adding some significant speed (25-for27 in stolen bases) in addition to the ability to draw walks and hit for average.
Overview
The emergence of Areinamo and O'Rae in 2023 is a good sign for the Brewers, who have already had some players in the MLB.com Pipeline Top 30 and Brewer Fanatic Top 20 at this position. Valerio will face a big "prove it" season in 2024.
Shortstop
Andruw Monasterio, Nashville Sounds (AAA)/Milwaukee Brewers (MLB)
.280/.395/.394 in 294 at-bats with 15 doubles, 5 home runs, 49 walks and 57 strikeouts

Monasterio could arguably be Milwaukee's rookie of the year – even with the competition from Brice Turang, Joey Wiemer, and now Sal Frelick. While he mostly played shortstop in Nashville, he's handled second base and third base in the majors, and done so well the Brewers dealt Luis Urias. He is a classic example of why one should not just focus on the consensus top prospects list.
Eduardo Garcia, Wisconsin Timber Rattlers (A+)
.196/.270/.309 in 265 at-bats with 10 doubles, 4 home runs, 24 walks and 95 strikeouts

Garcia's on-base skills have improved somewhat, but he's still struggling at the plate. His defense at shortstop remains superb, even as he has spent a lot of time at third base this season – at least when Eric Brown Jr. was healthy.
Ethan Murray, Biloxi Shuckers (AA) - New
.253/.367/.384 in 237 at-bats, with 11 doubles, 6 home runs, 40 walks and 60 strikeouts

Murray has been less-heralded than teammate Freddy Zamora, but his OPS of .751 is actually slightly higher than Zamora's in 2023. Murray's OBP skills are quite strong, and his glovework has not been questioned much.
Daniel Guilarte, Carolina Mudcats (A)/Arizona Complex League Brewers (R) - New
.305/.398/.345 in 197 at-bats, with 4 doubles, no home runs, 28 walks and 50 strikeouts

Guilarte has hit for average, drawn walks, and stolen a bunch of bases in Carolina before an injury threw him off track. Still, he's an intriguing option at shortstop in a system that has a lot of them.
Juan Baez, Arizona Complex League Brewers (R) - New
.393/.411/.620 in 150 at-bats with 14 doubles, 4 home runs, 4 walks, and 18 strikeouts

Baez's offensive profile looks a lot like that of Jackson Chourio, who rocketed from Carolina to Biloxi at age 18 in 2022, only he is a bat-first shortstop. Like Chourio, his OBP skills need refinement, but the low strikeout rate and the power at this age is very tantalizing.
Overview
Beyond the top prospect lists, the Brewers have plenty of very capable players at shortstop, some of whom could arguably eclipse those seen as "top prospects." Monasterio's development into a solid Mark Loretta-esque player may be a preview of what's coming, especially when looking at the exciting Baez.
Third Base
Zavier Warren, Biloxi Shuckers (AA)
.214/.303/.373 in 271 at-bats, with 11 doubles, 10 home runs, 33 walks and 65 strikeouts

Warren has seen some significant time at third base this season, but mostly has played first base due to Tyler Black's emergence at the hot corner. Warren has seen action across the infield in his professional career, though, and given the general struggles players in the Southern League had, is worth a long look in 2024.
Demetrio Nadal, DSL Brewers 2 (FRk) - New
.352/.492/.573 in 82 at-bats with 6 doubles, 2 home runs, 18 walks and 10 strikeouts

Yes, the Brewers added Brock Wilken, Mike Boeve, and Eric Bitonti in the 2023 draft, but Nadal has been making a case that he is the best third-base prospect in the low minors, with some pop, speed, the ability to hit for average, and excellent plate discipline.
Overview
Warren could easily end up a bench player in the majors due to his solid OBP skills, power, and versatility. That said, the relatively unheralded Nadal is likely to be every bit as good as the players the Brewers selected in the high rounds of the draft this year.
Next: Outfielders
Think you could write a story like this? Brewer Fanatic wants you to develop your voice, find an audience, and we'll pay you to do it. Just fill out this form.
MORE FROM BREWER FANATIC
— Latest Brewers coverage from our writers
— Recent Brewers discussion in our forums
— Follow Brewer Fanatic via Twitter, Facebook or email