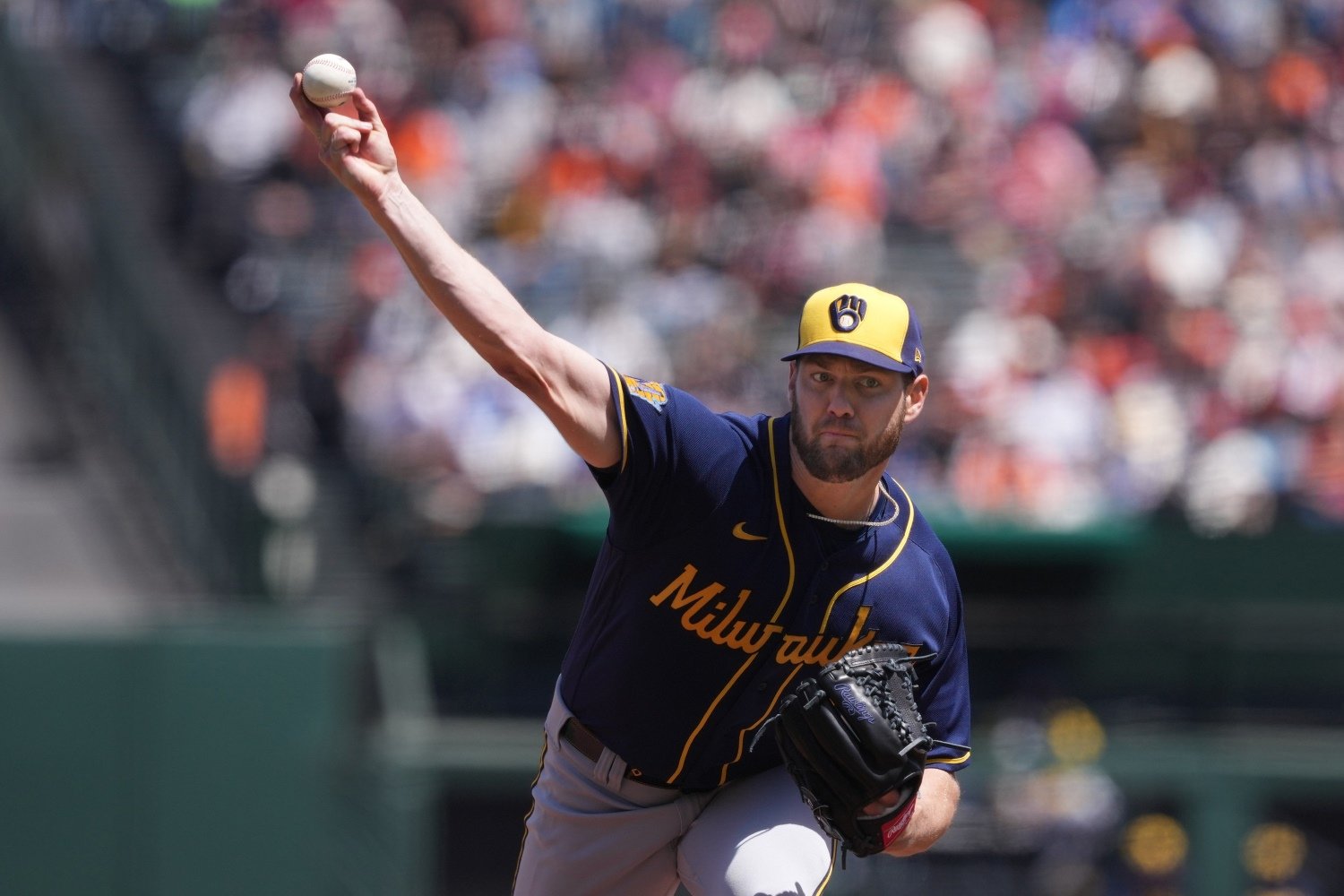 Image courtesy of © Darren Yamashita-USA TODAY Sports
Whatever his warts, Adrian Houser has been reliable for quite some time for the Brewers. They know that they'll get a large number of ground balls from him for their defense to eat up, and that occasionally, he'll get on hot streaks that can shut down even the most prolific offenses. His sinker is one of the best in baseball, but on the other hand, he's historically struggled against left-handed batters, who own an .824 OPS against him in his career. Houser can oscillate in terms of quality throughout a season. What, exactly, should the Brewers do with him in 2024?
What Houser Brings To The Table
Houser has his aforementioned high-quality sinker, but he also showed significant improvement this year against lefthanders in his use of the four seam fastball, which he aimed up and in to prevent them leaning out over the plate to get on his sinker. They had an xBA of .180 and xSlg of .288, vastly better than the .282/.447 numbers on his two-seamer. Behind this, however, his curveball and changeup got destroyed, preventing him from accessing the full benefits of his modified arsenal. The changeup, in particular, saw a big downturn from its 2022 level of effectiveness, and is a worry going into next year. Houser has struggled to get through serious innings over the course of a season, too. He's only pitched over 112 innings once, back in 2021, when he recorded 142. He won't be able to be relied upon to make every start, and his injury-prone nature will affect his value.
The Burnes Dilemma
A potential trade of Corbin Burnes in the offseason has big repercussions for both the Brewers (generally) and Houser (specifically). He instantly becomes more valuable, as starting pitching will be at a premium in his absence, barring a strong Brewers presence in the free-agent starter market. They wanted to have seven or eight competent starters for depth going into 2023, and if they intend on competing, they may well need that same level of depth in 2024. Houser can provide versatility, with the capacity to move between the bullpen and the starting rotation, and allowing other non-optionable starting pitchers onto the 26-man roster.
Burnes will be central to everything the Brewers do this offseason and have a mighty impact on their decisions regarding their goals for the 2024 season. Houser's own role will depend heavily on this, as either someone who can get outs and get through a lineup, or someone that can give flexibility to the starting rotation if he remains in 2024--both of which would be more than worth his current contract should he remain injury-free.
Sign and Trade?
Baseball Trade Values estimates Houser has a surplus value of around $7 million, which could fetch some enticing prospects on the trade market. Up-and-coming players include:
Conor Norby
Second Baseman, Orioles - .290/.359/.483 at Triple A, with 21 home runs
A powerful second baseman with solid fielding skills at the keystone, Norby could be tough to pry away from the tight Orioles front office, but with a packed infield and Jackson Holliday motoring through the minors, he may find himself redundant on a team in dire need of pitching.
Roansy Contreras
Starting Pitcher, Pirates - 6.59 ERA in 68 ⅓ innings 
Contreras struggled mightily last season, but his raw movement on every pitch (save the rarely-used changeup) is above-average, and the Pirates have a history of seeing pitchers go away and become better almost overnight, due to issues with their pitch mix and getting the most out of their spin rate. The Brewers could turn Contreras into a gem controllable for many years after a down year in 2023--but this all assumes the Pirates consider themselves ready to trade up and compete next season. That's probably the most unlikely part of this deal.
Gleyber Torres
Second Baseman, Yankees - .273/.347/.453
The Yankees have spoken openly about their desire for Oswald Peraza and Anthony Volpe to be their middle infield going forward, which could make Torres expendable. His estimated $15-million contract brings that value on the market down somewhat, but this could be a very attractive option for the Brewers if they want to compete next season, particularly if Willy Adames gets traded and Brice Turang moves to shortstop. Torres has hit 49 home runs over the last two seasons, while not quite being as mobile as the Brewers would prefer defensively, but an .800 OPS would massively upgrade what they got from Turang last season. He also struck out at just a 14.6% clip, good enough for the 91st percentile in baseball.
In short, Houser has enough trade value to assist the Brewers in obtaining either several lottery tickets, or some MLB-ready players, which could be something they look into for 2024 should they go down the route of a reset. 
Should The Brewers Pick Up His Contract
Houser's excess value on the trade market, combined with the uncertainty over the Brewers' own rotation needs coming into 2024, picking up this contract is a no-brainer. I would lean toward then trading him away, should a suitable offer come in from some team who needs starting pitching depth, but the Brewers would be okay with rejecting subpar offers and taking a $5.6-million contract into 2024 and hoping for 120 innings of solid work.
What would you do with Houser? How can the Brewers best fill out their rotation, and sustain depth, while addressing their needs this winter?
Think you could write a story like this? Brewer Fanatic wants you to develop your voice, find an audience, and we'll pay you to do it. Just fill out this form.
MORE FROM BREWER FANATIC
— Latest Brewers coverage from our writers
— Recent Brewers discussion in our forums
— Follow Brewer Fanatic via Twitter, Facebook or email