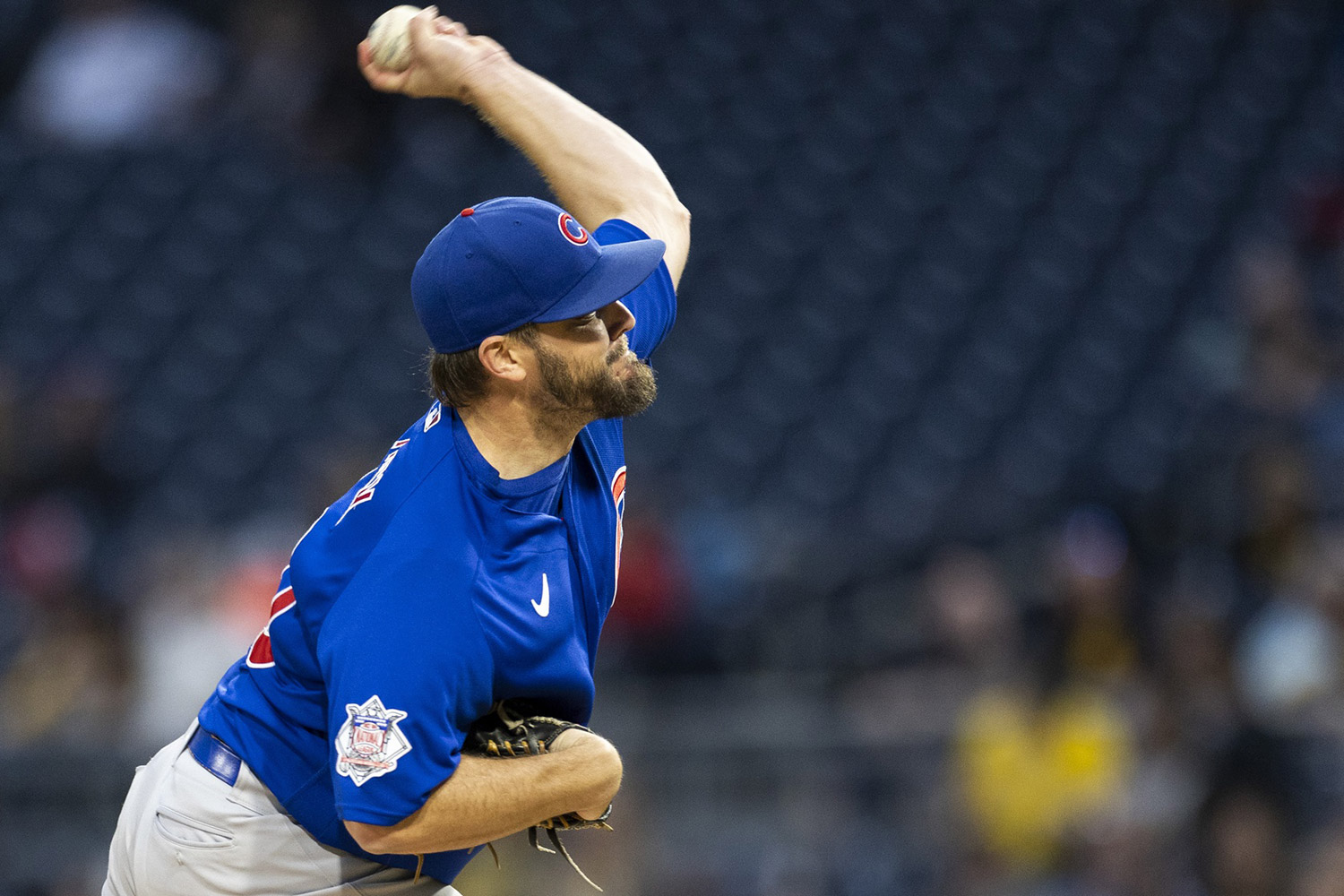 Image courtesy of © Scott Galvin-USA TODAY Sports
Assuming Wade Miley can stay relatively healthy, the Milwaukee Brewers view him as a reliable out-getter at the back of the rotation. He threw just 37 innings last season, but his 2021 campaign in Cincinnati was impressive, with a 3.37 ERA (139 ERA+) in 163 innings. With Miley in the fold (pending a physical), the Brewers have multiple routes depending on their player evaluations, strategic plans, and potential outside interest or opportunity.
Option 1: Move a starting pitcher or two to the bullpen
Miley didn't sign with Milwaukee to pitch in relief, while Corbin Burnes and Brandon Woodruff are your co-aces. That would leave two rotation spots among Freddy Peralta, Eric Lauer, Aaron Ashby, and Adrian Houser (at minimum). Assuming health, Peralta should be the third starter. Only if manager Craig Counsell and his staff are concerned about his shoulder would they consider Peralta for the pen long-term.
That leaves two more starters who need to sit beyond the outfield fence. Houser seems like an easy call. The Brewers could control who he faces, minimizing his issues against lefties, and he's had some success as a reliever. Lauer and Ashby would be intriguing arms to throw multiple innings out of the pen. Both have a K/9 over 12 in relief, but Lauer has just 17 frames under his belt with below-average results. 
Considering the Brewers' commitment to him, Ashby is likely seen as a future rotation arm for the Crew. However, for the 2023 pitching staff, he might be best suited in relief - at least to start the season - if the Brewers stick with a traditional rotation. He's had more success there, it would limit mileage on his arm, and Counsell can pick the best spots for him to dominate.
Option 2: Utilize a six-man rotation as they did in 2021
The Brewers' starting pitchers stayed remarkably healthy in 2021, partly due to their decision to primarily use a six-man rotation. As pitchers threw few innings in 2020 due to the COVID-shortened season, Milwaukee went conservative in 2021 to spare their hurlers from big jumps in their innings. It worked.
Last season, the Brewers returned to a five-person option and saw Woodruff, Peralta, Ashby, and Lauer all missed time with injury. Was it bad luck, or did the strain of pitching every fourth day play a role? It's something I'm sure the Brewers' brass is exploring. Implementing a six-man starting staff could prevent injuries and keep arms fresher late into the season. And if you're getting typical results from the likely candidates, the drop-off would be minimal. 
The Brewers can also use off days to give Burnes and Woodruff additional starts. Plus, it might encourage Milwaukee to let their starters go deeper into some contests, ultimately saving the relievers from overuse.
Option 3: Trade a starting pitcher for a quality bat
This option would be the biggest risk-reward decision, either paying off hugely or biting the Brewers in the butt. But the risk might not be as significant as one would think. GM Matt Arnold has stockpiled arms this offseason, including guys with starting experience and arsenals the staff could cultivate.
To go with the seven previously mentioned starters, Milwaukee also has Janson Junk and Bryse Wilson on the 40-man roster, with minor leaguers Robert Gasser and Ethan Small looking for a shot. Even if you don't trust Small, you're talking about nine starting pitchers if you dealt one away. That is the type of coverage the Brewers lacked in 2022.
Lauer would be the piece most likely moved for a strong return. He has produced at a high level the past two seasons (116 ERA+), makes relatively little money, and has two remaining control seasons. Some people, myself included, are wary he will continue pitching nearly 20% better than the league when looking at some of his stats. However, if the right team believes in his talent and recent success, it makes some sense.
The Brewers could use a right-handed power bat as a right field option or on the infield to cover second or third base and even backup Rowdy Tellez at first base. A team like the Baltimore Orioles is still a great fit. The O's need starting pitching and more time to push their top prospects into full-time MLB roles in 2023. Two years of Lauer would improve their rotation and open a spot for a youngster when they are ready.
Meanwhile, Anthony Santander is an Oriole I have brought up a couple of times as a fit for the Brewers. The 28-year-old switch-hitter blasted 33 HR last season while mostly playing corner outfield positions. Baltimore has a couple of talented outfield prospects close to the big leagues, and rumors had Santander on the trading block around last season's trade deadline. 
As for other Brewers' starters who could be traded, it seems less likely. Houser likely has little value across the league, and there's almost no reason to entertain a deal involving Ashby or Peralta, who have loads of potential and have been under team control for many years. Milwaukee would need a guaranteed stud in return (and maybe more). They could also entertain a Burnes trade, but I need to get the sense that it is being discussed.
Any one of those options could be the "right" way to go. It all depends on how the front office values certain players and how they view the club's strengths and weaknesses. Of course, they could go way outside the box with something completely different. It could use three traditional starting pitchers (Burnes, Woodruff, and Peralta) plus two-man pairs who piggyback their starts each outing. I wouldn't put it past the Brewers to find a way to win on the margins.
So which option do you like best for the Brewers?
Think you could write a story like this? Brewer Fanatic wants you to develop your voice, find an audience, and we'll pay you to do it. Just fill out this form.
MORE FROM BREWER FANATIC
— Latest Brewers coverage from our writers
— Recent Brewers discussion in our forums
— Follow Brewer Fanatic via Twitter, Facebook or email