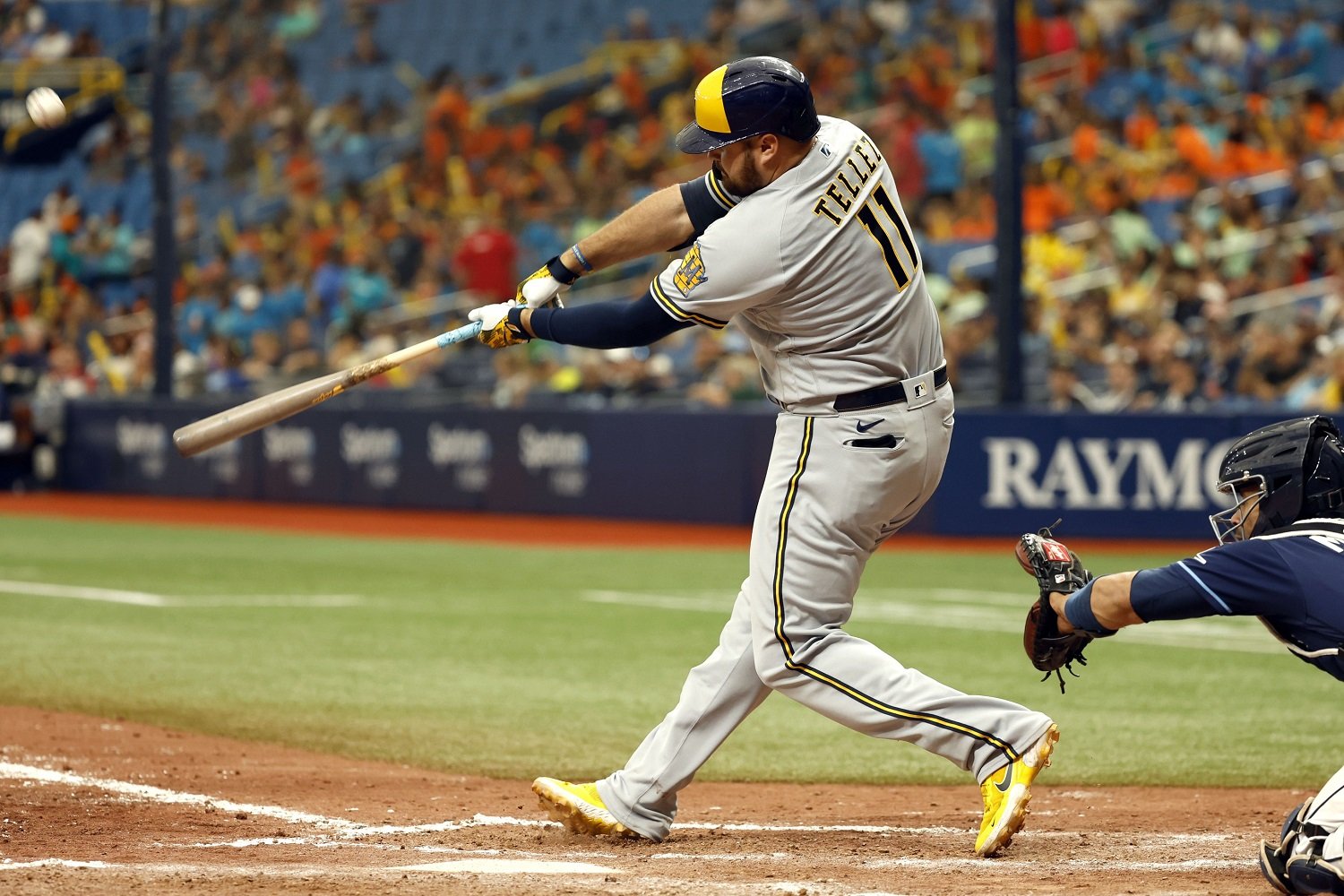 Image courtesy of © Kim Klement-USA TODAY Sports
A year ago today the Brewers acquired Rowdy Tellez for a prospect named Bowden Francis and an expendable journeyman reliever in Trevor Richards. In one full season in a Brewers uniform, Tellez has endeared himself to Brewers faithful. More than comfortable, the affably nicknamed Rowdy has been clutch on more than occasion. A walk-off against the Giants, a number of tie-breaking home runs, and a grand slam against the Reds that made up half of his franchise record eight RBI's in a game. 
But that sentimentality glosses over some harder numbers. Tellez has been worth less than half a win using Wins Above Replacement (WAR). It's the halfway point of the season and if Tellez isn't even on pace to amass one WAR over the course of the season, what is all the sentimentality about? With half as many at bats, Keston Hiura has accomplished more.
It isn't like Tellez is a bad player. He joined the Crew after Daniel Vogelbach went down with a hamstring injury, and since arriving Brewers fans have no reason to feel anything but grateful for the paunchy lefty. Clutchness and reliability are difficult to wrap a metric around, but the painful truth is that if you do look at the metrics, Tellez may not be good enough yet to legitimize an every day presence on a team that should be trying to fix an inconsistent offense and win now.
Centerfielders don't usually fix offenses. First basemen do.
For instance, look to the East and you'll see a Washington team that has no earthly reason to be hoarding an elite first baseman in 2022, but they're equipped with one nonetheless. Former Pirates product Josh Bell has been solid for the Nationals since being traded there in 2020, but is having himself a career year in our nation's capital just before he hits free agency. With a batting line of .318/.399/.514, Bell is responsible for a lot of headlines that read something like "Josh Bell's bat shines in blow out loss". 
But beyond Bell's pop, he breaks the mold of what a first baseman does at the plate. His Expected Batting Average (XBA) stands at .309, and his Weighted On-base Average (WOBA) is an astounding .392. He's putting the bat on the ball and not striking out. He has a 3.5 WAR already.
These numbers aren't good; they are elite, revelatory, and quite possibly suggestive of a player who's quietly putting himself in the company of players like Paul Goldschmidt. The Brewers having a bat that can match the intimidation St. Louis brings to the park would make a powerful statement to fans and rival teams alike.
To be sure, there would be obstacles. The most obvious would be what the Brewers would need to give in return. It's worth noting that the package could involve somebody like Tellez. Besides competence and potential, Tellez offers two more years of control. 
Or maybe Tellez is kept and the designated hitter spot is used to find at-bats. We can debate the details of a satisfactory deal in the comments, but the Stearns administration has been savvy enough to not hoard prospects when the right player is available. The right player is available.
There would also surely be a backlash from a portion of the fan base. But assuming the strategy is to get a ring, fan outrage should pretty much never be considered because fans aren't experts. Tellez is loved in the same way Milwaukee fans love anyone wearing a Milwaukee uniform, but it's all ephemera. 
When Jonathan Lucroy was traded, the Brewers acquired a mammoth haul, many fans complained - and Lucroy fell apart. Everyone stopped talking about Lucroy, especially considering the family tree of prospects that eventually helped net Christian Yelich. 
Baseball is a game but it's also a business. and being emotionally sterile in the strategy of winning is vital to actually getting those rings. If the Brewers' offense continues to struggle, tough choices will need to be made, even if they involve fan favorites.
Think you could write a story like this? Brewer Fanatic wants you to develop your voice, find an audience, and we'll pay you to do it. Just fill out this form.
MORE FROM BREWER FANATIC
— Latest Brewers coverage from our writers
— Recent Brewers discussion in our forums
— Follow Brewer Fanatic via Twitter, Facebook or email
1