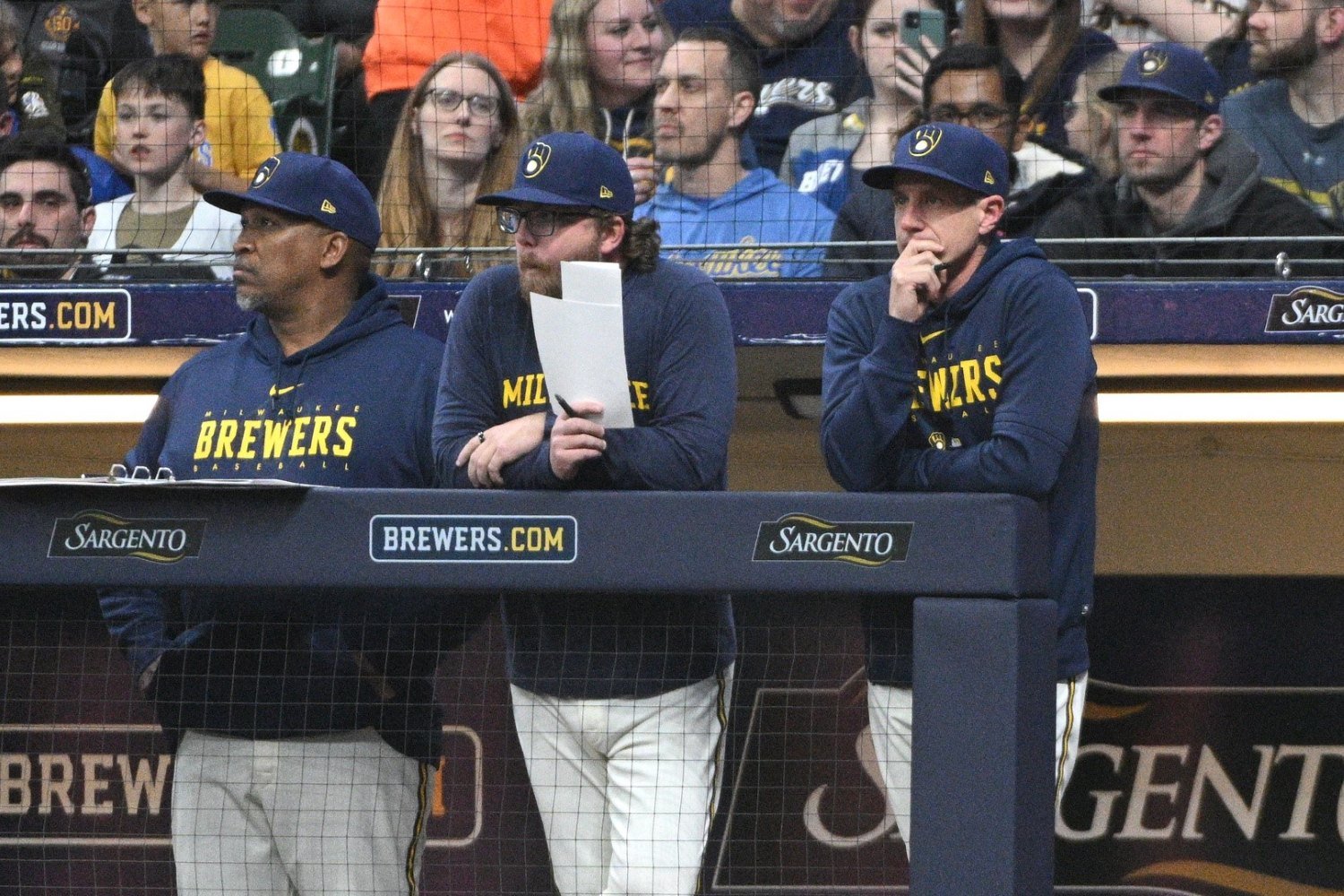 Image courtesy of © Michael McLoone-USA TODAY Sports
Notably, the Cubs did not request permission to talk to Craig Counsell before his contract expired on Halloween. They entered the sweepstakes for his services only within the last week. Thus, in addition to discerning who should take over, we have to try to suss out why Counsell and the Crew couldn't find common ground on a new deal long before this could happen.
Who Takes Over?
Mark Attanasio, while clearly stung and shocked by the final decision, was asked about a new manager and said:
Quote

"Interestingly, this morning, one of the things I did is I started talking to some of our team leaders, players, about what do they like about what we have and what could we be better at, which we'll be looking for. I started those conversations, and I expect to have other direct conversations. We have a really good thing. I give Craig credit for helping to build that, and for adding all these coaches, all of whom have stayed. So we're going to look for a manager who can continue having a terrific clubhouse culture and that can help us keep winning and hopefully get over the hump in the playoffs."
One criticism of Counsell is his playoff record since 2018, and in particular, how poorly managed the team was in key situations during the Wild Card Series against the Arizona Diamondbacks. The Brewers will be looking to keep as much in place as possible, and hope that with fresh impetus and energy, they can get over that "hump". Retaining a lot of the staff behind Counsell will be absolutely key to ensuring a smooth transition, potentially avoiding the type of pitfalls endured by David Ross and Oli Marmol.
Carlos Villanueva
Villanueva has been in the role Counsell held right before moving into the dugout--that is, special assistant to the front office. He's headed up the player development segment of the organization, giving him a real feel for the baseball club at all levels. He's bilingual, which helps a lot of managers in this multicultural sport. However the Brewers recently announced his promotion into a broader role that encompasses baseball operations as well, signifying (perhaps) that he is out of the running for the managerial vacancy, and is more likely to be groomed for high-level front office positions.
Victor Estevez
Estevez has just finished his eighth season as a minor-league manager in the Brewers organization, capped by winning Carolina League Manager of the Year in 2023. With the current rookie crop coming through, hiring from within (with a manager who knows and has worked with Sal Frelick, Joey Wiemer, Garrett Mitchell, Jackson Chourio) and, again, the bilingual ability is just invaluable in the major leagues in this day and age. However, there may be a concern with a lower minor-league manager, whose role is more centered around getting players game time than how best to win each individual game. To him, managing a bullpen effectively may be new. The Brewers analytical staff will no doubt be a big help in this, and Estevez is definitely a dark horse for the vacant position.
Clayton McCullough
The Dodger's first-base coach, McCullough has been interviewed for openings with the Mets and Royals in recent years, as well as with the Guardians in October. Players such as James Outman and Mookie Betts have spoken incredibly highly of him, and he's been a popular name of late in managerial discussions. Rumors are that he may fit other current vacancies neatly as well, so there could be competition here. He comes from a perennial winning club culture, and seems more than ready for the job.
Other potentials include current bench coach Pat Murphy, Astros bench coach Joe Espada, ousted ex-Giants manager Gabe Kapler, Padres skipper candidate Mike Shildt, the just-replaced David Ross, Brewers pitching, strategy and catching coach Walker McKinven, and A's manager Mark Kotsay, whom the team has allowed to interview elsewhere amid their rebuild and pending relocation.
Ken Rosenthal just shared this nugget, containing a truly wild candidate:
Why Did Counsell Feel the Need to Leave?
Primarily, it's financial. The Brewers had an offer on the table for the biggest managerial contract in the current market, rumored at around $5.5 million in annual value, but the Cubs blew way past that with their $40-million contract. It's close enough that Counsell won't have to uproot his entire family, and he can still be in the vicinity for his children who are at university in Minnesota and Michigan. It all made sense for him, from that point of view. With such a big upgrade in salary and a relatively small amount of inconvenience forced on him, it's tough to begrudge him the change, even if he could have chosen literally any other team to go to.
He also could have seen a reset coming with the Brewers, particularly with Brandon Woodruff's injury, whereas the Cubs are coming out of their own downcycle and are looking to become a true force again. Combined with a potential stagnancy arising from being in one place for too long, it could benefit both parties to have fresh faces and fresh challenges to drive them forward.
Craig Counsell was the best manager the Milwaukee Brewers have ever had. He may be sorely missed, and should be hailed for bringing a winning mentality to an organization that was largely bereft of playoff opportunities prior to him. He can't be given all the credit for it, but he definitely played a part, and for that he deserves gratitude.
Who's your favorite potential Counsell replacement? Is it one of those I listed, or do you envision someone else? Should the Brewers have foreseen this major pay raise and gotten more proactive with Counsell? Let us know what you think.
1