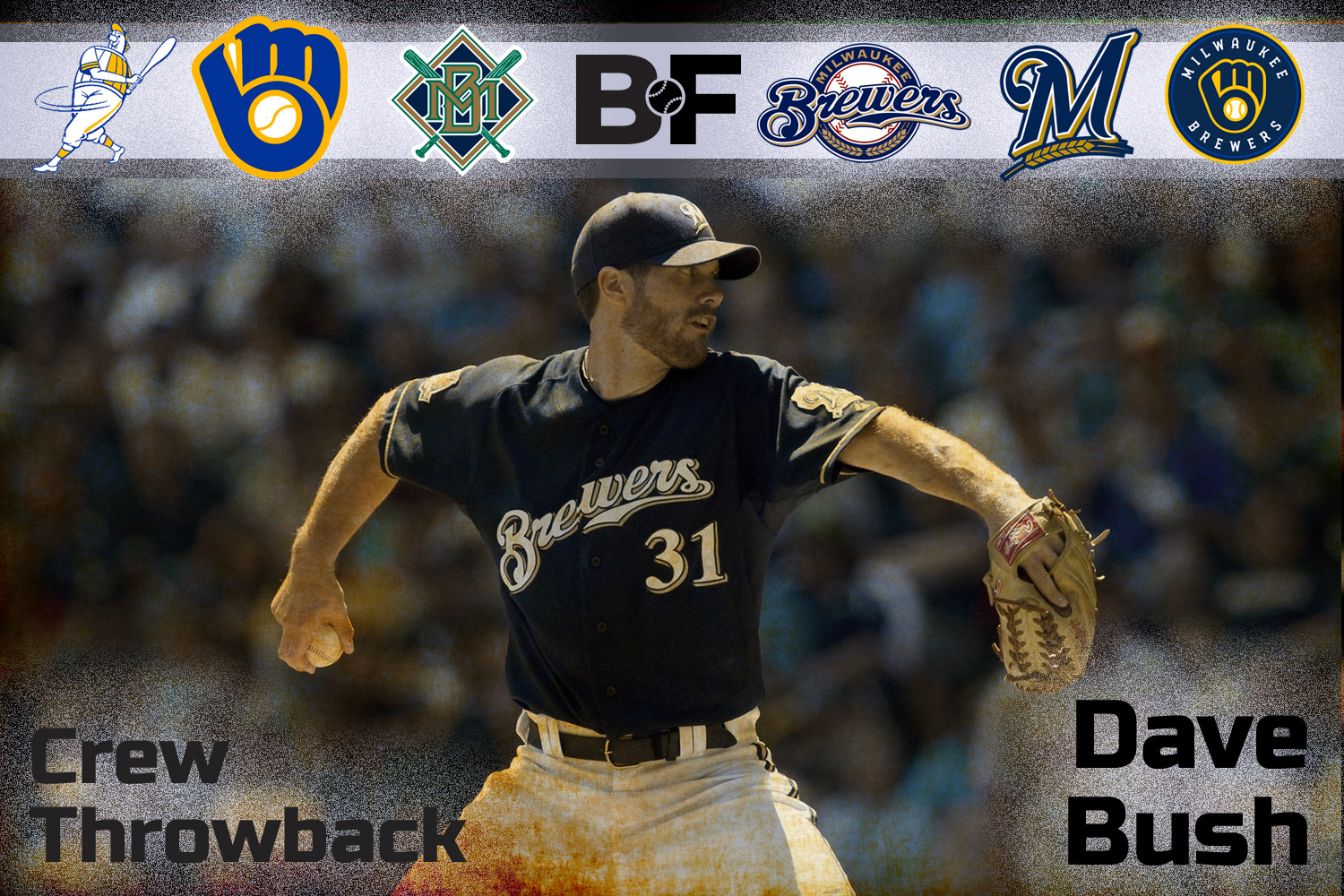 Image courtesy of Brewer Fanatic
It was Dave Bush at his finest. Sadly, Bush's career was filled with more disappointments than successes, but he was an important member of the resurgent franchise for five seasons.
David Thomas Bush was born in 1979 in Pittsburgh, Pennsylvania. He attended Wake Forest University, where he was a relief pitcher. Bush was drafted by Tampa Bay in the fourth round of the 2001 draft but elected to stay in school for another year. He was selected by Toronto in the second round the following summer.
Bush, a right-handed pitcher, was moved to a starting role in his second year as a pro. His numbers were impressive, showing excellent command while striking out a batter per inning. As a college arm, Bush progressed quickly through the Blue Jays' system, reaching the majors in 2004. That season, he started 16 games and acquitted himself nicely, producing an ERA of 3.61 in 97.2 innings. 
The following season was a mixed bag for Bush. He struggled at times in the big leagues and spent time at AAA. His propensity to serve the gopher ball didn't win him any fans and it was an issue that plagued him throughout his career. 
In the off-season, the Brewers wanted to open up a spot in the lineup for young slugger Prince Fielder. Thus, on December 7, 2005, Bush was traded along with Gabe Gross and Zach Jackson for first baseman Lyle Overbay and minor league pitcher Ty Taubenheim.
For the Brewers, the trade was an opportunity to get a couple of promising young arms in Bush and Jackson. And while many felt Jackson was the prize of the deal, Bush went on to have a longer career.
In need of pitching, the Brewers handed the 26-year-old Bush the ball, and he responded with the finest season of his career. He tossed 212 innings, won 12 games, struck out 166, walked only 38, and produced a 4.41 ERA. 
Those are hardly all-star-level numbers, but they were welcome on a team that struggled to stop their opponents from scoring. With a solid season under his belt, many hoped that Bush would continue to improve as a pitcher. They were, sadly, (mostly) disappointed. 
Bush's 2007 numbers went backward in almost every way. Despite throwing 24 fewer innings, his hits allowed increased, as did his walks and home runs. His strikeout rate dropped as well. This meant his ERA rose to an unsightly 5.12 but 2008 saw a rebound of sorts for Bush as his ERA dropped back down to 4.18. That improvement couldn't hide weakening peripheral statistics but he still notched a win in the 2008 NLDS - as described in the introduction of this story.
In 2009, Bush's performance cratered when, in early June, a line drive struck him in the arm, tearing his triceps muscle. After a Disabled List stint, he tried to come back, but it was awful. He ended up with an ERA of 6.38 for the season. 
Healthy in 2010, Bush started 31 games but had a mediocre campaign. And so, after five years together, the Brewers decided it was time to let Bush go as he approached free agency. He was 30 and had not improved as a pitcher since the team had acquired him. He gave up too many homers, and his walk and strikeout numbers only worsened. 
Bush signed with Texas in the spring of 2011, but the end was closer than he realized. After 17 games - only three as a starter - the Rangers released him. He caught on with the Cubs AAA team for a month before opting out of his contract and finishing the year with the Phillies AAA club.
In 2012, Bush spent part of the year in the Phillies' minor league system before heading to Korea for half a season. The following year, Bush signed with Toronto. The Blue Jays called him up on April 6 (designating Jeremy Jeffress for assignment at the time). He lasted only one game - getting shelled for five runs (on four home runs) in just three innings of work. He spent the rest of the season at AAA - putting up poor numbers. 
And with that, Bush's career as a player was done. He was 33 years old. 
Dave Bush played five years in Milwaukee. His finest season was in 2006 when he produced 2.2 WAR. The postseason victory in the NLDS for the Brewers was his career highlight with the club. 
At his best, Dave Bush was a competent back-of-the-rotation arm. While he showed good control at times (his 2.40 walks per 9 innings is tenth best in Brewer history), he also gave up too many hits and home runs. 
For his career, Bush won 46 games in Milwaukee against 53 losses. He showed flashes of being something better on occasion, including taking no-hitters into the 7th inning three times in his career. These fleeting displays of brilliance only frustrated fans, who had hoped for much more in the man's career. 
Dave Bush does hold one record in the history of the Brewers. Never afraid to pitch inside, he hit 58 batters during his time (including 15 in 2009, which led the league).
After retiring from baseball, Bush stayed involved with the game, working as a coach at the high school and international levels. He joined the Boston Red Sox organization in 2016 and has been the Red Sox's pitching coach since 2019. 
Please share your memories of former Brewer Dave Bush.
Think you could write a story like this? Brewer Fanatic wants you to develop your voice, find an audience, and we'll pay you to do it. Just fill out this form.
MORE FROM BREWER FANATIC
— Latest Brewers coverage from our writers
— Recent Brewers discussion in our forums
— Follow Brewer Fanatic via Twitter, Facebook or email