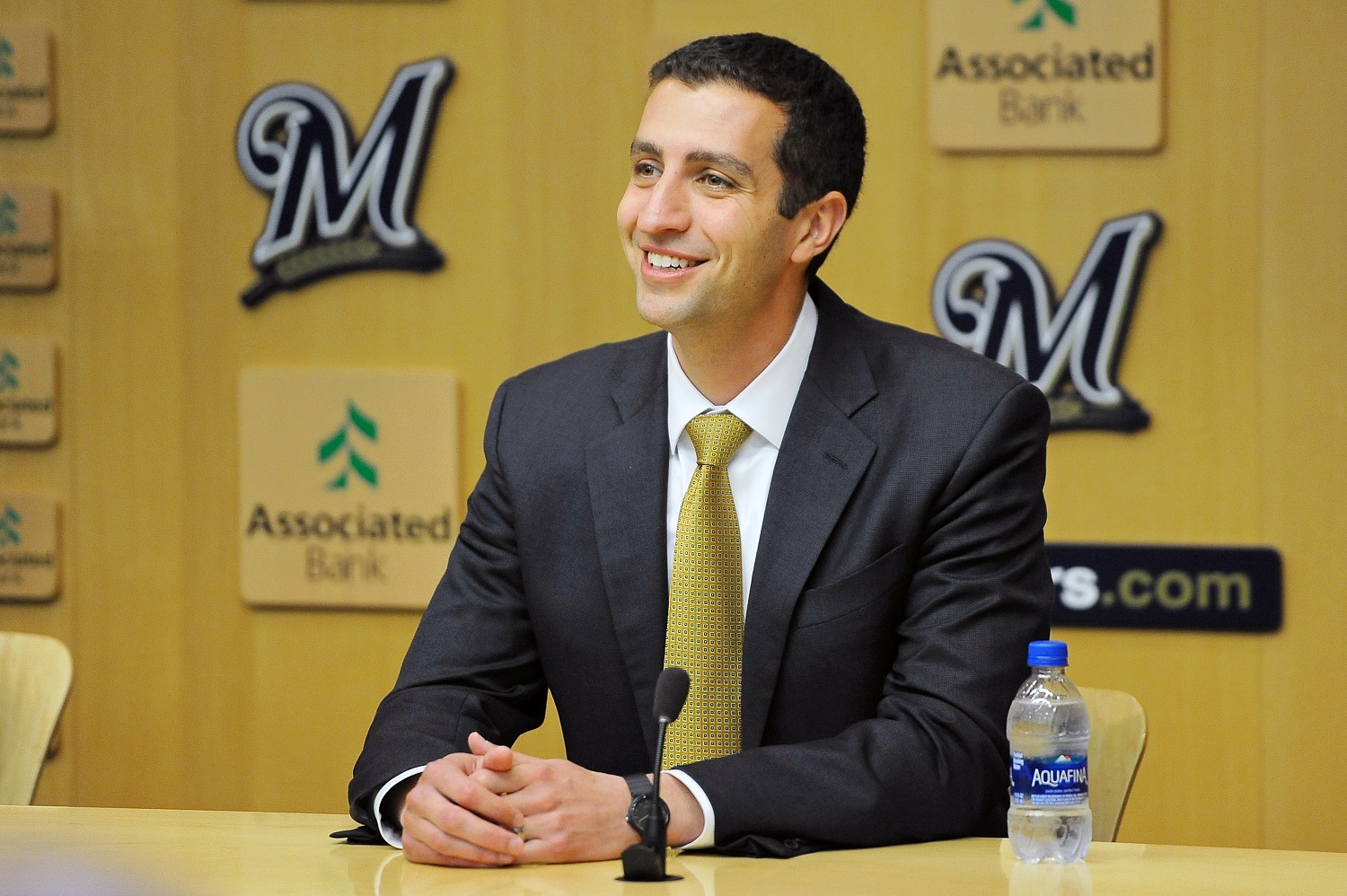 Image courtesy of Michael McLoone-USA TODAY Sports
Everything is relative, including how one measures team success in baseball. Depending on your goals and how you determine "winning" as a franchise, you can argue various levels of success or failure with David Stearns in charge of player personnel. Some feel he never truly tried to push the team "over the top" to win a title. Instead, the focus was on getting as many "bites of the apple," which they choked on this season. Now Stearns moves on and GM Matt Arnold takes over the department (full press conference at the bottom of the article).
Matt Arnold joined the Brewers in 2015 before being elevated to senior VP and GM in 2019.

He is "more than ready" to take the next step, according to David Stearns. pic.twitter.com/ZlhGYHCX1M

— Milwaukee Brewers (@Brewers) October 27, 2022
There has been plenty of discussion this postseason about the value of winning in the regular season versus taking home the World Series trophy. Ultimately, most players and fans want to win a championship, even if some view the baseball playoffs as full of randomness and not indicative of how good a club is that season.
The Brewers have never won the World Series and appeared in just one Fall Classic in 1982. If you evaluate Stearns' seven seasons that way in Milwaukee, then he went 0-for-7 with zero National League pennants. Conversely, Stearns led the franchise to a club-record four consecutive playoff appearances from 2018-2021. That accounts for half of the Brewers' entire postseason years since their inception in 1969 as the Seattle Pilots. Two of those appearances were thanks to division championships (2018, 2021), 40 percent of the club's division titles.
One fair argument is that reaching the playoffs has been much easier during Stearns' time in Milwaukee than it was for most of the franchise's existence. As the years have gone by, the amount of playoff-eligible teams in each league went from two to four, then five, and now six. Many talented Brewers' teams from the 1970s and 1980s would have made the playoffs with the more modern postseason formats. So that could diminish the accomplishment some.
How about looking at total wins during the regular season? That gives a snapshot of success over an extended period, not manipulated by an administrative structure allowing "inferior" teams to reach an arbitrary point of entry for the playoffs. Since 2017, the Brewers are seventh in MLB with 481 wins (.552 win percentage) and third in the National League behind the Los Angeles Dodgers and Atlanta Braves. In 2018, Milwaukee tied a franchise record with 96 wins and came up one victory shy of that mark in 2021, too. The run since 2017 shows how good the club has been for over half a decade. However, that also lends more fuel to the struggles in the playoffs.
Critics will say that, despite being the third-best NL club in wins, Milwaukee has one postseason series victory in that span and zero after 2018. How much of that falls on Stearns is up for debate.
Baseball executives like Stearns are also judged on the moves they make. His most significant and worst transaction may involve the same player: Christian Yelich. Acquiring Yelich and watching him put up two MVP-worthy seasons is what GMs and presidents dream about at night. Most people saw Yelich as a good, not great, ballplayer that would help the Brewers but needed more punch. Whether or not Stearns saw his 2018-19 level of performance coming is unlikely, but he swung the trade that put Milwaukee over the top. On the flip side, the nine-year, $215 million contract Stearns gave Yelich could hurt the club for years.
For whatever reason (or multiple reasons), Yelich has not been the same player after his 2019 season ended with a fractured right kneecap. While Yelich has provided value and improved his overall numbers in 2022. However, he is paid to be MVP caliber at roughly $26 million per season. Yelich has not come close to earning that so far. For a club like Milwaukee, where it might pinch pennies more than larger markets, a massive contract with average output can hold them back.
Stearns also proved savvy in acquiring undervalued players, getting a solid season or two out of castoffs, and trading from areas of strength to shore up a weakness (e.g., Willy Adames). He also had his share of misses in recent years, including the negative impact of the Josh Hader trade, deadline deals for relief pitchers who faltered (or were hurt), and the building of a frustrating offense that never quite felt right. Now it's GM Matt Arnold's turn to put his stamp on the Brewers' franchise.
Matt Arnold says the organizational philosophy and how to remain competitive over the next several years is a "real conversation" that he will be having with ownership going forward.

"We need to be opportunistic and ultimately I think that will lead us to a World Series."

— Curt Hogg (@CyrtHogg) October 27, 2022
He will likely follow a similar style as Stearns, but perhaps with his own wrinkles. He has a lot of decisions to make, with 18 guys in arbitration and a few major players nearing the end of club control. Of course, Arnold shouldn't be judged on this upcoming season alone, and if he were to bring Milwaukee a World Series, fans would love him - even if some poor years follow.
So as the David Stearns era ends in Milwaukee, how would you evaluate his performance? It's always been a lively debate, mostly centered on the positives of regular season wins and playoff appearances, but lacking the ultimate prize. You can watch the full press conference below.
Think you could write a story like this? Brewer Fanatic wants you to develop your voice, find an audience, and we'll pay you to do it. Just fill out this form.
MORE FROM BREWER FANATIC
— Latest Brewers coverage from our writers
— Recent Brewers discussion in our forums
— Follow Brewer Fanatic via Twitter, Facebook or email