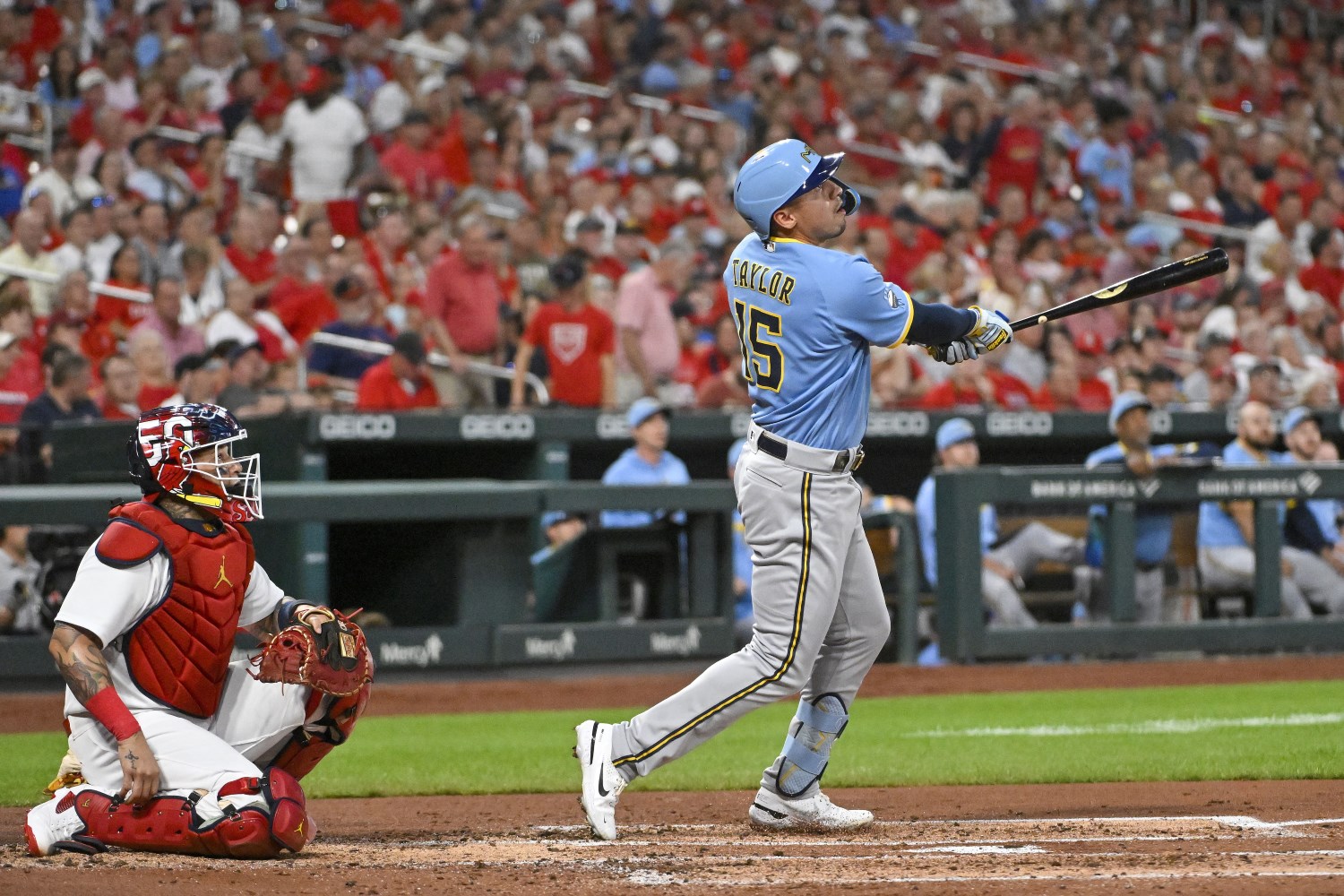 Image courtesy of © Jeff Curry-USA TODAY Sports
His name is everywhere, even though his real form is suddenly nowhere. Tyrone Taylor's absence from the outfield mix will be a conspicuous one as the season gets going. Without him, the Milwaukee outfield leans heavily toward left-handed hitters, and there's a risk of some serious defensive deficiency. Still, thanks to Sal Frelick, there's also an appealing upside.
The Starter
The new Collective Bargaining Agreement gives the Brewers an easier path to keeping Frelick on the Opening Day roster. It's not the kind of comprehensive or wholly rational incentive for which we might have hoped, but it's there. Because the relevant top prospect lists this winter included Frelick as one of the game's top 100, the Crew could get a bonus draft pick in 2024 if they carry Frelick all season and he gets sufficient support for the National League Rookie of the Year. 
There's a bit of a trap there. Every team who monkeys around with their top youngsters' service time and keeps them in the minor leagues to claim an extra year of team control does so at the risk of hurting their team during whatever period of time they go without a qualified big-leaguer. Under the new rule, the Brewers have a chance to chase a reward, but they risk losing the year of team control (in 2029) and getting nothing in return for it, if he's merely solid.
In that case, though, and in this specific circumstance, the team would have a few ways to walk back their aggressive choice. If Frelick doesn't burst out of the gate, he'd be easy to send back to Triple-A Nashville when Taylor comes off the injured list. If he struggles mightily in an early look at big-league pitching, he could even be demoted in favor of more playing time for Tyler Naquin, Brian Anderson, or Owen Miller.
Let's think more positively, though. The Brewers should carry Frelick all season, because it's unlikely that they'll find a better player to slot in consistently in right field until Taylor returns, and it's equally unlikely that they'll have a better, more well-rounded player to rotate through all three outfield spots and the designated hitter role once Taylor does come back.
In 19 plate appearances with Team Italy in the World Baseball Classic's pool play, Frelick had seven hits (including three doubles), a walk, and zero strikeouts. In 11 trips to the plate in the Cactus League before that, he had five hits, including a double, and just one punchout. That only continues (and increases the impressiveness of) the trend he established last year, as he strikes out less and less as the level of his competition increases.
Bravo, Signore Sal Frelick!

🇮🇹🇮🇹🇮🇹

The @Brewers' No. 2 prospect (MLB No. 30) put together a 3-hit game to help send Italy to the #WorldBaseballClassic quarterfinals in Tokyo. pic.twitter.com/PTU0AWtfxO

— MLB Pipeline (@MLBPipeline) March 12, 2023
That, surely, can't last, and Frelick's lack of significant power gives him little margin for error. To be a first-division regular, one who is pushing the Brewers materially closer to the playoffs, he probably needs to keep his strikeout rate south of 15 percent. In the modern game, where the average hitter fans 23 percent of the time and only the most elite contact guys get down near 10 percent, that's a tough limbo bar under which to duck. 
If anyone is up to that challenge, though, it might be Frelick. The Brewers should give him that chance, knowing that they have good fallback plans if he proves not to be ready to play above-average baseball right away.
The Backups
We talked plenty about Brian Anderson in the third base preview last week, but it's worth mentioning that he could easily be the primary right fielder against left-handed pitchers for the first month or so. He has a strong arm, and his power looks good enough this spring to make him a creditable corner outfielder. When Anderson is at third base, though, or at other times when he and Frelick are both unavailable, the duty is likely to fall to Naquin. Though he's never demonstrated the consistency or completeness of skill set to be an everyday star, Naquin has the power and baseline athleticism to be a fine fourth outfielder and platoon weapon. As ever, Craig Counsell will be asked to mix and match to some extent, and he's great at eliciting production in those situations.
Summary and Projected Value
The only thing that feels truly safe to say about right field for the Brewers this year is that they won't have any one player start there 130 or 140 times. Frelick, Taylor, Anderson, Naquin, and Wiemer will divvy up the playing time somehow, but whether it's Taylor and 70 starts or Frelick and 110 who leads the way can't be predicted well from here.
FanGraphs sees all that volatility, and projects the team to fit into the lowest tercile of the league in WAR at the position. Baseball Prospectus is even more tepid, because PECOTA is lower on Frelick than are other projection systems. This is the second or third spot in the lineup, though, where the Brewers have the ability to far outdistance their statistical expectations, because they have such depth. Doing so will be a matter of playing the hot hand, without exposing themselves to the vagaries of guys who have clear areas of uncertainty and inconsistency.
Think you could write a story like this? Brewer Fanatic wants you to develop your voice, find an audience, and we'll pay you to do it. Just fill out this form.
MORE FROM BREWER FANATIC
— Latest Brewers coverage from our writers
— Recent Brewers discussion in our forums
— Follow Brewer Fanatic via Twitter, Facebook or email