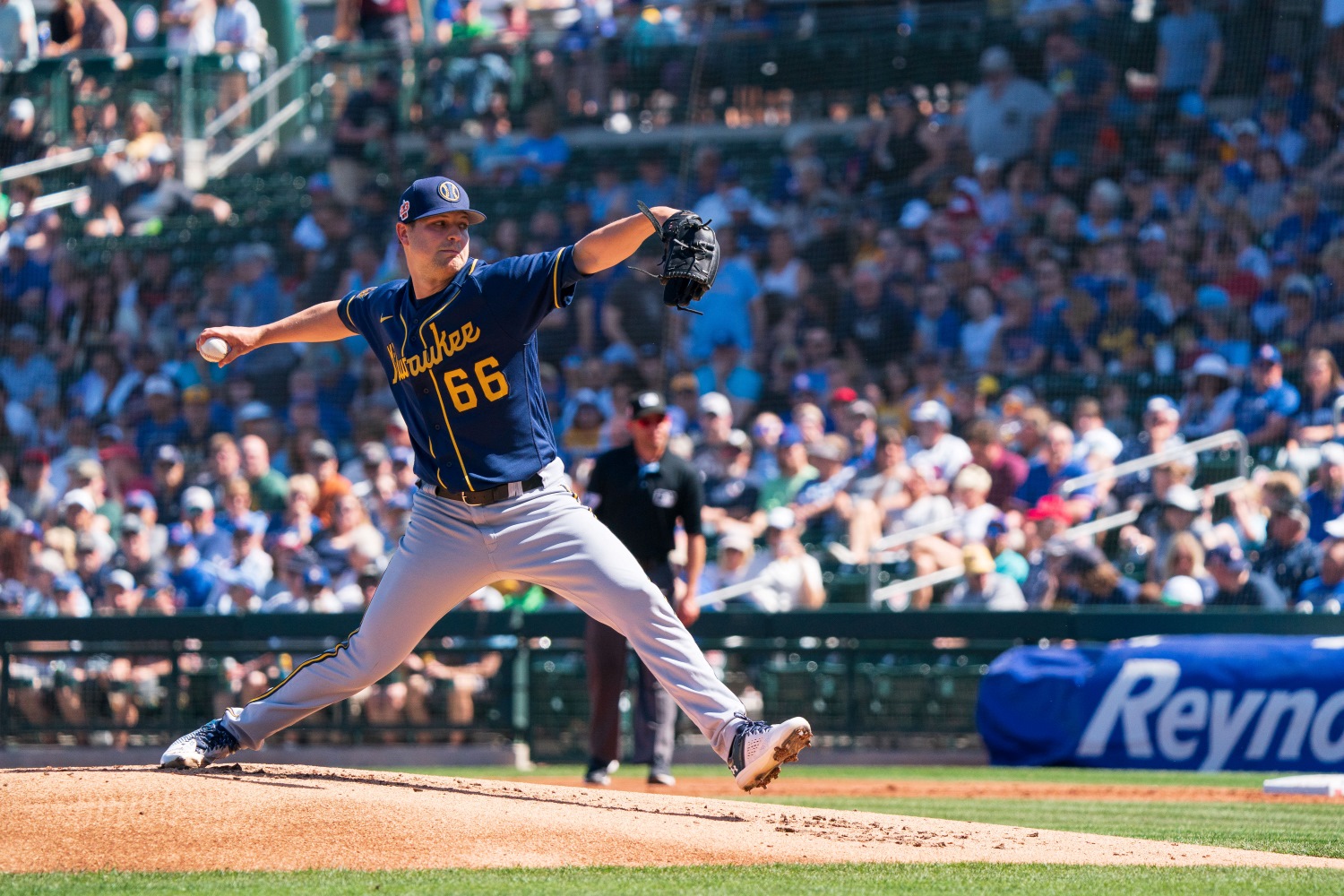 Image courtesy of © Allan Henry-USA TODAY Sports
We had better start by clarifying something. In Part One of this three-part starting pitching preview, we discussed Corbin Burnes and Brandon Woodruff, where there's hardly anything but good news and good feeling. In Part Two, we discussed the next two men on the rotation depth chart, Freddy Peralta and Eric Lauer, and admitted much more unease, but still, those two were slotted into the third and fourth spots. Here, though, we'll tackle not only the fifth spot in the rotation, but how secure is Lauer's hold on the fourth one, and even whether or not a sixth place is there to be filled, be it right away or later in the campaign.
Wade Miley: Good When Healthy, Hurt When Hurt
It's been a half-decade since Miley arrived in Milwaukee for the first time, honed the cutter that has defined the second half of his career, and found consistent success. Since then, he's been either very good or injured every year. Unfortunately, the split between those two outcomes has been an even one. He was available for less than $5 million in guaranteed money precisely because he's not someone the team can count on to stay healthy.
Frequent injuries haven't prevented him from working to evolve as a pitcher, though, which is how he has stayed ahead of the aging and adjustment curves despite his lack of overpowering stuff. As recently as 2019, he was throwing the kitchen sink at right-handers, because he could only count on his changeup as a complementary offering. He tweaked its spin axis in 2020, though, achieving an extra couple inches of sink, and ever since, his usage of that offering has increased. In 2022, he used the cutter and the changeup in almost equal proportions against righties, and needed little else. (The box on the right in the image below is the reengineered changeup.)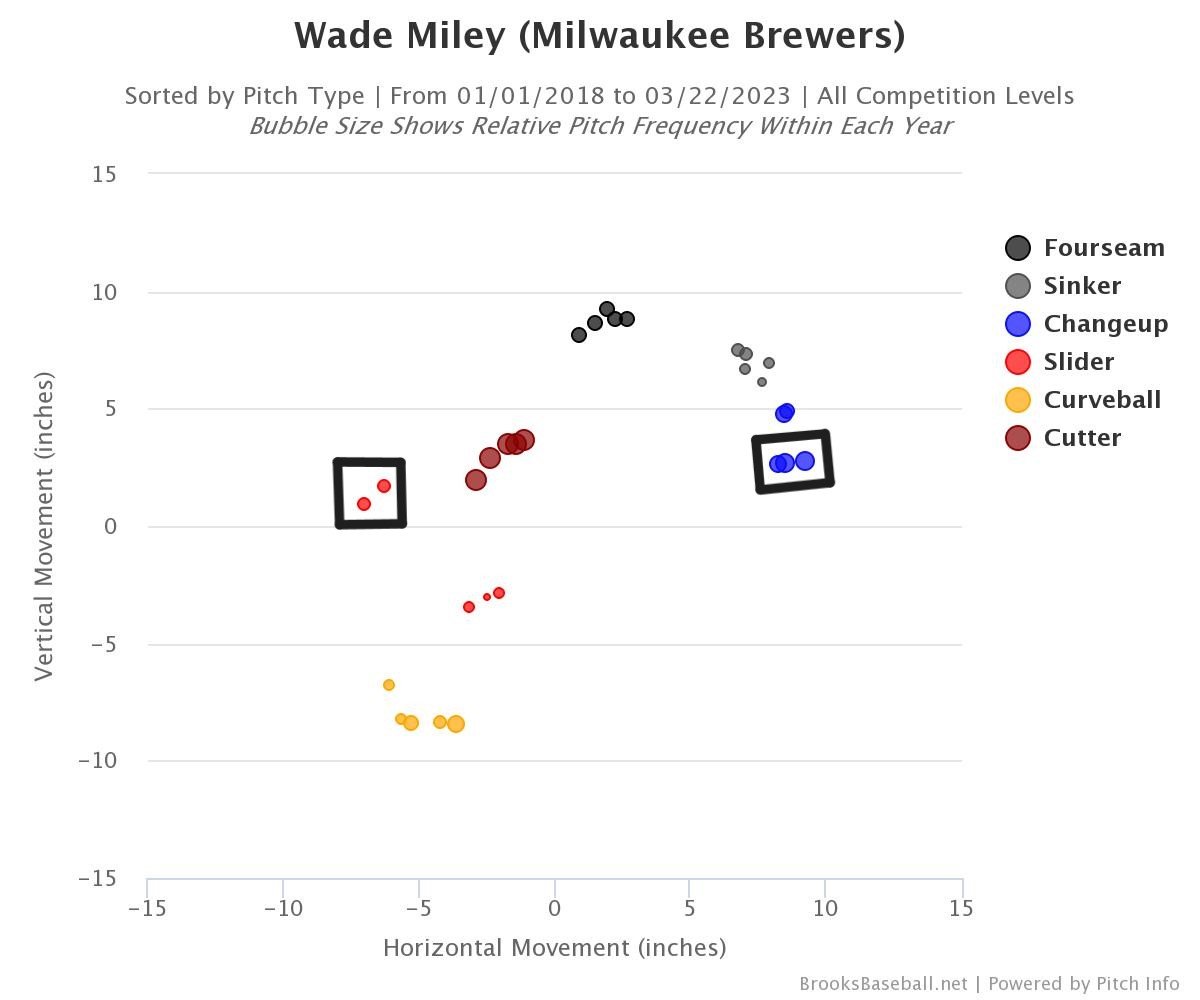 In 2021, Miley had a similar breakthrough for his arsenal against lefties. He turned his slider from almost a firmer version of his curveball into a pitch with more lateral and less vertical movement. (The new version of the slider is in the box on the left, above.) The altered weapon pairs beautifully with his cutter, and he's ratcheted up its usage dramatically against lefties over the last two years. He still has a four-seamer, a sinker, and a curve, but he's been able to rely on them much less as he's found the best patterns and interactions involving the cutter and one complementary pitch for each handedness of hitter.
By all accounts, Miley is healthy to begin 2023. He's looked fine in limited Cactus League time. The Brewers can't count on him for many innings this season, but in his two healthy seasons out of the last four, he's averaged 165 innings pitched. There's a chance that he's a stellar, stabilizing force at the back end of the rotation, and even if he breaks down at some point, the team should get solid outings from him in the meantime.
The Mysterious and Unexpected Sixth Starter!
In theory, that should round out our starting pitching preview. In practice, we have some more to discuss. Eric Lauer pitched in a B game on Tuesday, in an effort to get his work in with less interruption and less outside scrutiny. Sometimes, that's a non-story, the kind of thing teams just do to manage the grind of spring training and help a pitcher for whom there's no special value in the semi-competitive atmosphere of official games. In this case, it feels a little more ominous, because the interruptions that had so compromised Lauer's Cactus League outings so far weren't incidental nonsense–they were loud hits and frustrating walks.
On Wednesday, Bryse Wilson pitches for the Brewers in Maryvale, as they host the Padres. It's a final audition for Wilson, who has looked good this spring, but finally found a stress point in his last outing. Asked to stretch to the fourth and fifth innings for the first time, he got rocked by those same Padres, allowing five runs (including two homers) in the middle innings. Still, he's going to make the team, and increasingly, it seems plausible that he could step into a complementary role with Lauer. 
Nothing Lauer has done this spring has evinced an ability to work deep into games, but he should be able to get the Brewers through the order once and then some most of the time. After that, Wilson would make a good piggyback for him: he throws with the opposite hand, and their arsenals are dissimilar. This is how he can still be a major X-factor for this team in 2023, and why the work he and the pitching team have put in this spring will bear watching. 
Meanwhile, Adrian Houser has lost the battle for any rotation position, but he could still figure into the rotation picture as the season unfolds. He's always hungry for that opportunity, even this spring, as he's tentatively embracing a relief role. Lauer's apparent untrustworthiness poses a problem for the team, because we already knew that Freddy Peralta and Miley would face persistent injury concerns. Without Lauer locking things down, there might be more starts to backfill than the team had hoped.
Into that breach, alongside Wilson and Houser, will step Janson Junk, Robert Gasser, and Ethan Small, and if his recovery stays on track, Aaron Ashby could seize a job by June. Much of the Brewers' season (more, perhaps, than they might have hoped a month ago) will depend on the success of at least one of those young hurlers. In fact, depending on how the team elects to navigate the season, much could depend on two of them.
Recall that in 2021, the Brewers used a six-man rotation virtually the entire year. That was a special circumstance, coming off of the COVID-shortened 2020, but it might still be a tool to which Craig Counsell, Chris Hook and the rest of the team's key decision makers turn. In the modern game, 25 years past the last expansion and with so many tools available to help pitchers develop and improve, finding six credible starters is not as difficult as it once was. 
We've discussed six players in considerable depth during this three-part preview, not counting Houser, whom we broke down as part of the preview of the battle for the back end of the rotation last month. Ashby, Gasser, Junk, and Small are all at least nominally viable starters. If the team feels that Corbin Burnes will hold up better into October as part of a six-man staff; if Gasser goes to Nashville and learns to consistently get his breaking ball down; or if the team thinks Miley could stay healthy longer with the extra rest, we could see the six-man rotation again. It might really be the highest use of available talent under the current constraints of pitcher usage, and the Brewers have the depth and the familiarity with that system to turn to it. In any case, they have the strongest rotation in the NL Central, and if they win the division this season, it will be thanks largely to this corps.
Think you could write a story like this? Brewer Fanatic wants you to develop your voice, find an audience, and we'll pay you to do it. Just fill out this form.
MORE FROM BREWER FANATIC
— Latest Brewers coverage from our writers
— Recent Brewers discussion in our forums
— Follow Brewer Fanatic via Twitter, Facebook or email