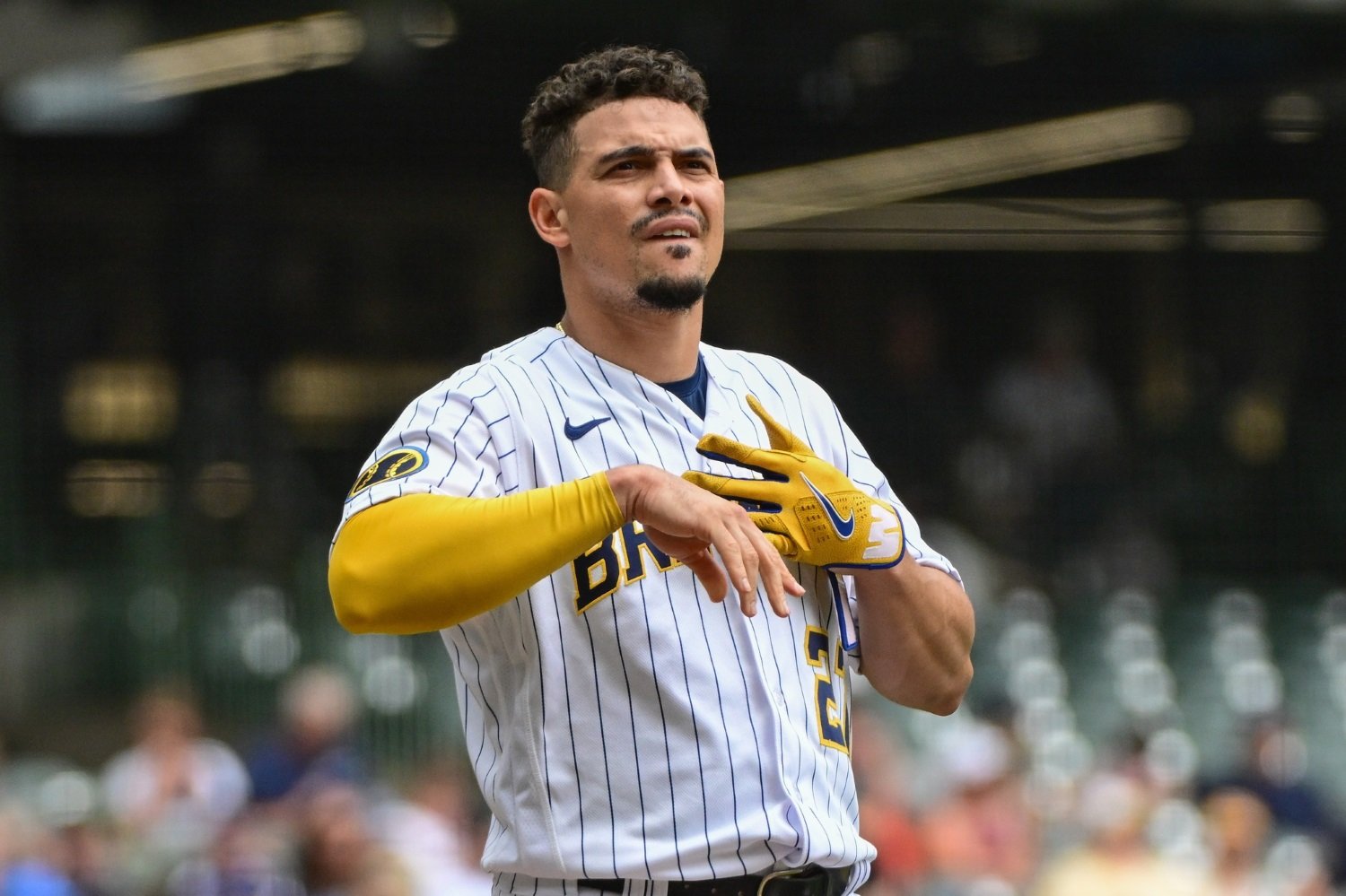 Image courtesy of © Benny Sieu-USA TODAY Sports
In an effort to start a mental reset for struggling shortstop Willy Adames, Craig Counsell started Brice Turang at short on Monday night against the Rockies. The coaching staff also issued strict orders for Adames to arrive later than usual to the park; he was given a partial mental health day. It was a drastic measure, but Adames is hitting just .201/.286/.376 overall and .188/.262/.358 since May 1, so these are drastic times.
While they're at it, though, the Brewers might attempt what is becoming a formulaic move for them, and add a couple of days to this furlough for a specific mechanical adjustment. To see what I'm talking about, travel back in time with me, to last September.
From June through August 2022, Tyrone Taylor steadily got more lost at the plate. Over that span, he batted .198/.255/.367, with 55 strikeouts, 15 extra-base hits, and 11 walks in 192 plate appearances. By the Crew's home stand in the final week of August, Taylor was only a tactical piece, being subbed in and out to maximize the value of his glove but shielded from tough matchups at bat. 
Here's what Taylor's setup and swing looked like in the last game of that home stand.
To begin September, the team went to Arizona for a series against the Diamondbacks. In the first of those contests, Taylor played half the game, and continued to look lost.
 After that, though, he sat out a game, and when he returned the lineup on September 3, he had the breakout game that set off his scorching final month. Here's what he looked like doing that.
Spot the differences, though they be subtle. Earlier in the season, Taylor abandoned the relatively extreme setup he and the team had created over the offseason, where he would stand ramrod straight and even lean backward at the plate, the way Luis Urias and Adames both notably did, too. His early movements--what hitting gurus call the load phase of the swing--were quieter, but they weren't especially rhythmic, and he wasn't maximizing the energy actually flowing into the baseball.
After being held out of the game for a quick installation of new stuff, though, Taylor exploded. How? He started with his hands higher, and in sharply bringing them down as part of his load, he leaned forward, engaging his core and generating better power. He was better set up to cover the plate. He was naturally timing the ball better and seeing it slightly longer. Armed with those tweaks, he batted .299/.343/.597 from that game through the end of the season.
Now, flash forward to last month, when Atlanta came to Milwaukee for a three-game series. Joey Wiemer entered that series struggling mightily. Through two plate appearances in the first game of that series, he had a .165/.281/.311 line over a stretch of 121 trips to the plate, with just seven extra-base hits and 38 strikeouts. Here's what he looked like at the plate at that point in time, during the series the Brewers played in Cincinnati just after the All-Star break.
By contrast, here's how he looked against the Reds (again) just after his weekend off.
With Wiemer, it's always dangerous to extrapolate too much from a few swings, because he's not as mechanically consistent as most hitters are--sometimes, by design. Still, we can note a couple of key things. Mostly, it's his hands. Wiemer does best when he brings his hands way down to his belt after his awkward-looking high set, deepening his load and lengthening his timing phase, but not lengthening his actual swing. Although both of the above are lineouts, he hit the second one harder and on a lower trajectory. The liner to left is a hit 29 percent of the time; the fly out to center is a hit less than 10 percent of the time.
Wiemer hasn't had results as eye-popping as those Taylor enjoyed last year, but he's looked much better, with his strikeout rate significantly down and his hard-hit rate up. The Brewers know how to sit a player down for a couple of days, tweak their setup and their initializing movements at the plate, and bring them back in better shape to do damage and make consistent contact. 
Adames is a natural candidate for precisely this kind of adjustment. Here he is at his best, back in early April, teeing off to the opposite field.
Note that posture, so upright that he actually leans backward, then clenches forward as he triggers his hands to start his swing, all in rhythm. Here's what he looked like during the seventh-inning strikeout Sunday that left him so livid with himself as to prompt his day off.
That lean is gone. So is his rhythm. He's striding longer and rushing to the ball, but it's his hips that are earlier. His bat drags through the zone. Adames needs to get his timing back, and given the way he gets his swing started when he's going well, he could do so by taking a couple of days to rediscover the full-body dance that was his swing before he fell into this funk.
Whether that works or not, though, we've now seen the danger in Adames. His upside has always been tantalizing, and he delivered on it for much of his first two seasons with the Crew, but his downside has been on full display for three months. At the same time, fascinatingly, Brice Turang is doing an excellent job of announcing himself as a serious alternative to Adames for the long term. He homered in Adames's absence Monday night, and since his own reset (a few weeks, not a few days, and in Nashville rather than on the bench with the parent club, but a reset is a reset), he's batting .257/.361/.406. In 119 plate appearances, he's struck out 17 times and walked 17 times. 
Even all of that understates Turang's value. He's reached on three errors during that short span, and he's stolen five bases in six tries. As he constantly reminds viewers, he's also a plus defender, even on the far side of second base. It's no sure thing, but we might be witnessing a change in The Plan. Perhaps it was never that likely that Adames would sign an extension with the Brewers, but the chances that he's traded this winter to make room for Turang have to have risen significantly over the past several weeks, given the performances of each player.
All of that can wait until the winter, though. For now, the Brewers certainly could benefit from getting Adames right, and they have the tools and the experience to do so. Turang's emergence, the versatility of Andruw Monasterio, and the fact that the lowly Rockies are in town make it easy to take a day or two to make an important change. In a few days, we might have a better sense of how much Adames can contribute to what remains a promising run toward the NL Central title and a home series to open the postseason.
Think you could write a story like this? Brewer Fanatic wants you to develop your voice, find an audience, and we'll pay you to do it. Just fill out this form.
MORE FROM BREWER FANATIC
— Latest Brewers coverage from our writers
— Recent Brewers discussion in our forums
— Follow Brewer Fanatic via Twitter, Facebook or email
1