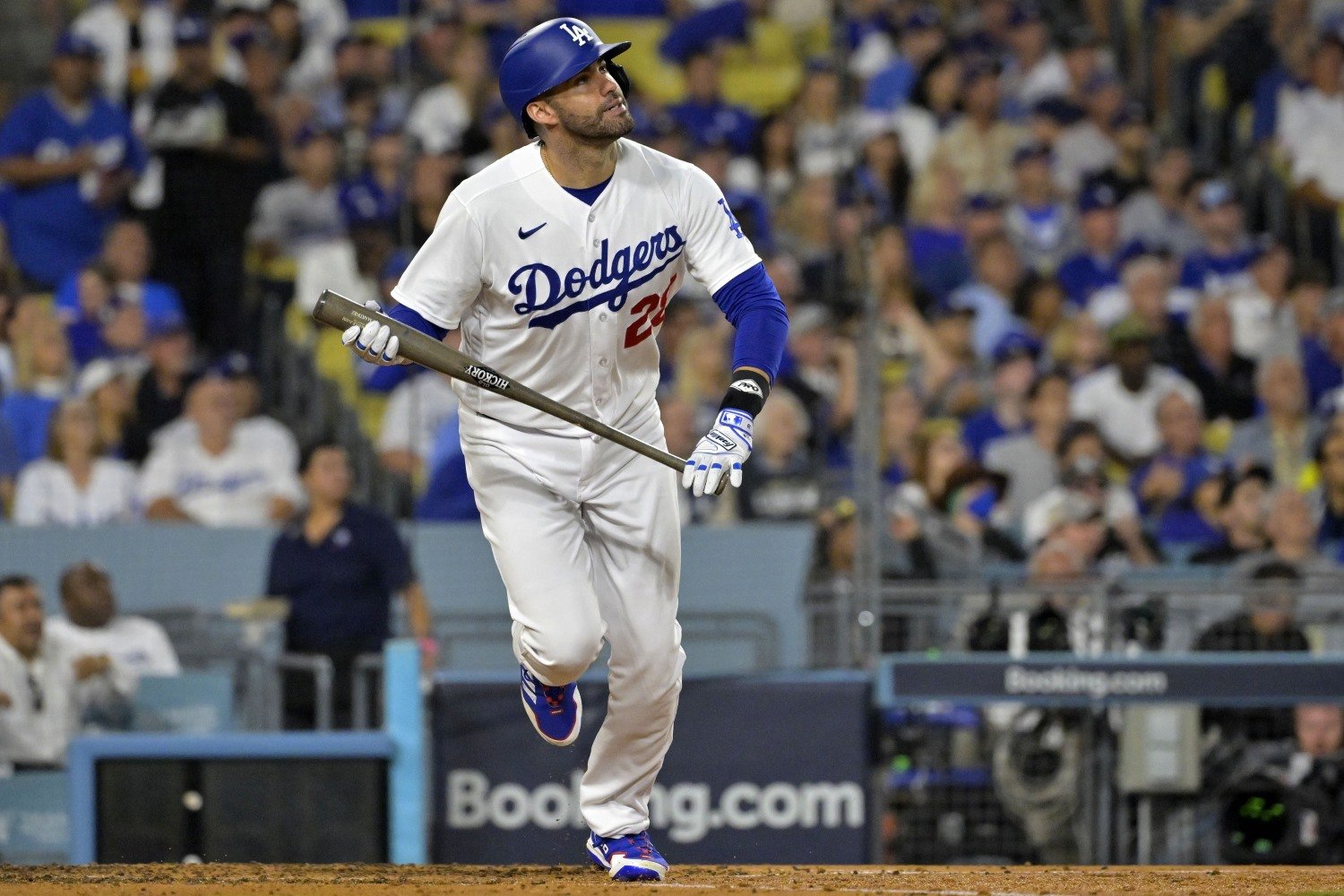 Image courtesy of © Jayne Kamin-Oncea-USA TODAY Sports
For those just joining us, consult the first two posts in this series for more details about what distinguishes this project from a typical free-agent ranking. In fact, if you've missed any of the previous posts, feel free to go back and peruse them, to see which players have already been rounded up and counted down.
Nos. 41-50
Nos. 31-40
Nos. 21-30
Nos. 11-20
Now, let's tackle the top 10.
10. Brandon Belt, 1B/DH
Over a career as lovably workmanlike as his name, Belt has methodically built a skillset that is still letting him hammer big-league pitching as he wends his way into his late 30s. Few hitters in baseball more systematically or effectively elevate the ball, and few draw walks more frequently. You have to protect Belt from left-handed pitchers, and you have to protect him from injuries by keeping him out of the field most of the time. After the Crew acquired Jake Bauers Friday, they have a warm body for first base, anyway. 
Belt would be a superb addition to this lineup, though. He's the fly-ball counterbalance to the ground-ball tendencies of Christian Yelich and William Contreras. He hits for power to parts of the park and with launch angles that would play well at Miller Park. Bringing him in on a short-term deal wouldn't make the Brewers one of the best lineups in baseball overnight, but he could diversify their portfolio of ways to score runs and galvanize the clubhouse during what threatens to be a tricky transitional time.
9. Mitch Garver, C/DH
If there's such a thing as a right-handed Brandon Belt at the plate, it's Mitch Garver. He sits on certain pitches, trying to find something he can turn on and pull in the air. When he doesn't get it, he's extremely patient. That can drive up his strikeout rate, but he walks often and gets plenty of hits even when he doesn't clear the fences. Garver doesn't need Charlie Greene's witchcraft; he's already undergone his catching reinvention. While he was with the Twins, and before he established himself as a full-time player, Garver learned the art of pitch framing from that organization.
He could do with a refresher course, now. He's not going to be an elite defensive backstop. In fact, Garver is better as a DH than he is catching with any frequency, not least because he struggles to stay healthy when he catches a lot. William Contreras is durable enough to cover him, though. Garver would allow the Crew to go into 2024 with Contreras and Garver penciled in for a huge share of playing time, including almost all the catcher at-bats and plenty of those at DH. They'd also be two of the top five hitters in the lineup on a regular basis, and all of that can be had at a reasonable price, because of the limitations in Garver's game that would affect his utility to other teams more than it affects the same for the Brewers.
8. Teoscar Hernández, RF
Look, the genius of the Domingo Santana Era with the Brewers was that they had gotten Santana cheaply and were enjoying him in his youthful prime. The risk with Hernández, a slightly more athletic version of Santana and a one-time colleague as Astros farmhands with him, is that he's already exiting that prime. If the Brewers are among the teams who worry about that, he won't sign with Milwaukee, because there's a major payday out there for Hernández. 
Ranking him here is me averring that this guy is materially better and will have more staying power than Santana. He swings and misses a lot, and he walks relatively rarely, but Hernández has a legitimate hit tool to go with his impressive power. His raw production probably understates his talent, especially looking strictly at 2023. His stopover home park in Seattle was not a good fit for his skillset. Hernández can and will hit 30 home runs in a season again, if he finds the right home. Milwaukee could be that home.
A good runner with a strong arm, Hernández is a perfectly adequate right fielder. He's not going to win Fielding Bible Awards out there, but he would be fine alongside Sal Frelick, Garrett Mitchell, Joey Wiemer, or Jackson Chourio in the short run, and he could play DH increasingly often over the life of what would need to be a deal of three or four years. Again, no one player can transform this lineup, but Hernández could substantially bolster it.
7. J.D. Martinez, DH
With every move the Brewers make this November, it feels less like they're in the kind of mindset that would lead to signing an aged but proven veteran slugger to a short-term deal. Martinez probably isn't an exception to that, but maybe he should be. He just slugged .572 at age 35, and while he requires some physical maintenance and light protection from tough right-handed pitching, we're talking about a man who has made the last five All-Star teams as a DH. 
To be sure, there are reasons to pause and think twice here. By and large, Martinez is well-liked and respected, but he's occasionally been viewed as an energy drain in clubhouses that start to turn sour. Last season, his strikeout rate shot up to 31 percent, after typically riding close to 25 percent. That's an orange flag, if not a red one. He also walked less and used the big part of the field more than in the past, which implies some well-hidden but real slowing of his bat. Still, the fit is tantalizing. Martinez's batted-ball profile is a great fit for Milwaukee. His power is what was missing almost all year from the Brewers batting order.
It's likely that Martinez will command a two-year deal. That's fine. The Brewers should take the leap and try to get their version of Nelson Cruz, who came to the Twins at the same juncture in his wonderful, late-blooming career and helped them become an elite offense. That's the catalytic impact Martinez could have.
6. Michael Wacha, RHP
The Crew did keep Adrian Houser, who now figures to get some work in their starting rotation in 2024. Add him to Corbin Burnes (for the moment), Freddy Peralta, and the immortal Colin Rea, and the Crew have the bones of another good starting staff, despite the miserable loss of Brandon Woodruff.
Wacha would be the perfect guy to stick right in behind Peralta in the pecking order, whether Burnes is traded or not. He's coming off a very strong season in San Diego, and after a peripatetic career pockmarked with injuries and tinkering, he seems to have found a pitch mix that really works for him. This is a more stable, more complete Wacha than the changeup guy who came up with the Cardinals several years ago and failed to evolve for half a decade.
The way Wacha throws makes him especially appealing. His over-the-top arm slot is perfect for his stuff, and it's also a nice fit for some of the things Chris Hook seems to implement most smoothly and effectively. The Padres turned down a two-year option on him worth $32 million, and that annual salary does feel a little bit steep, but Wacha isn't a bad candidate for the kind of deal Zach Eflin signed with the Rays last winter (three years, $40 million). If the Brewers get a chance to lock him in at that kind of price, they should leap at it. Despite his age, there's a half-step of progress left to make in the right situation, and even if he gets no better, Wacha could help the 2024 Crew defend their division title.
What options above strike you as worthwhile? With just five names left on my countdown, who's missing, in your opinion? Let's keep the hot stove lit. 
Think you could write a story like this? Brewer Fanatic wants you to develop your voice, find an audience, and we'll pay you to do it. Just fill out this form.
MORE FROM BREWER FANATIC
— Latest Brewers coverage from our writers
— Recent Brewers discussion in our forums
— Follow Brewer Fanatic via Twitter, Facebook or email