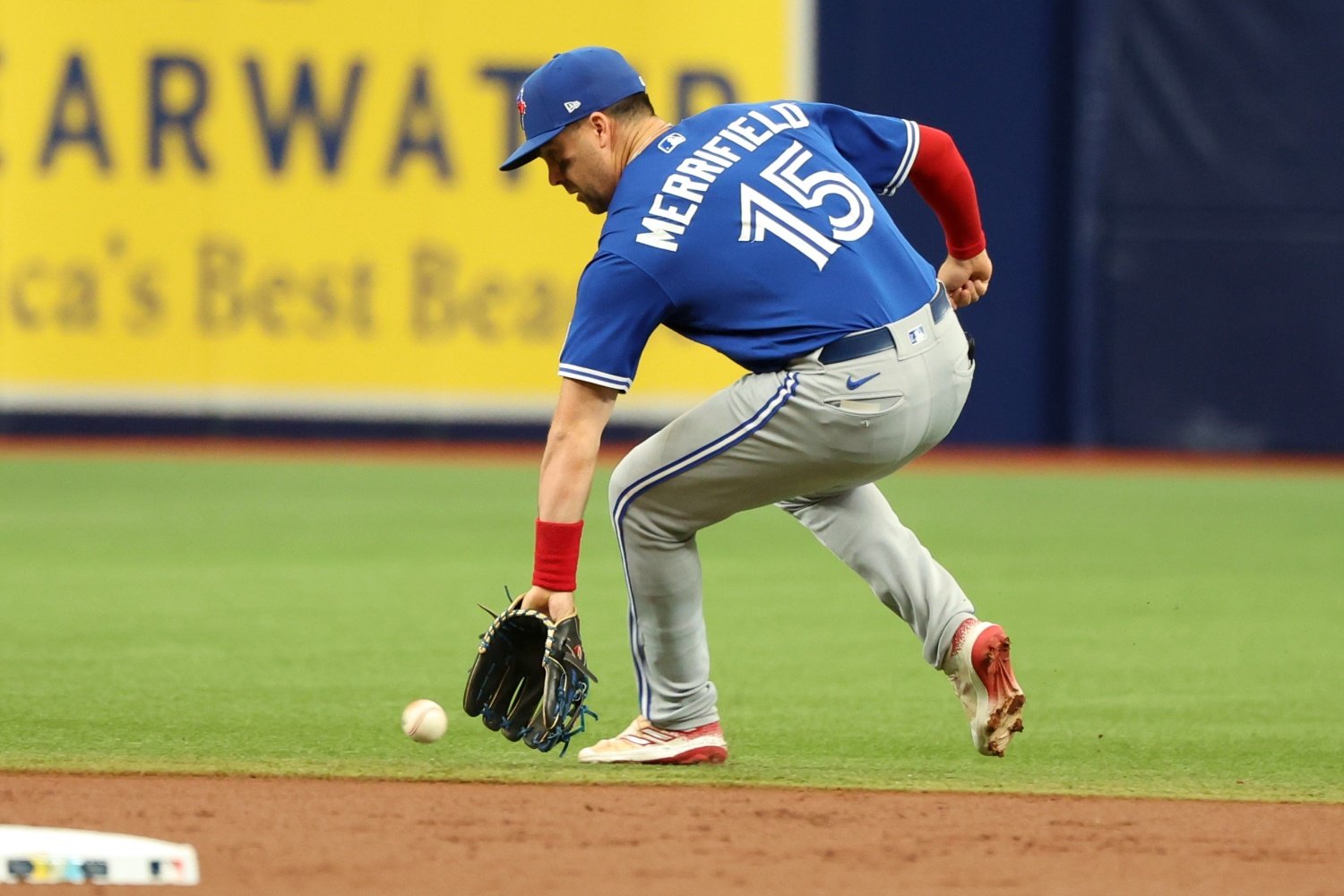 Image courtesy of © Kim Klement Neitzel-USA TODAY Sports
We'll jump right in, more or less. By now, if you've kept up, you understand the idiosyncrasies of this exercise. If you haven't kept up, though, here's your chance to review the first three pieces in the series.
Nos. 41-50
Nos. 31-40
Nos. 21-30

And away we go.
20. Sean Manaea, LHP
Like fellow southpaw Wade Miley, Manaea opted for free agency instead of taking a sure eight-figure payday. That was a peculiar choice, coming off a season in which he had a 4.44 ERA and spent significant time in the bullpen for the Giants. It's possible he just didn't like that usage, but it also seems as though he tapped into some new things that he'll try to shop around on the free market. Manaea had both the highest strikeout rate and the lowest hard-hit rate on opponents' batted balls of his career in 2023. His curveball had always had an unusually horizontal shape to it, thanks (in part) to his delivery, so he milled that pitch into a sweeper this year--almost the same movement, and the same spin axis, but an extra two miles per hour. He's a nice candidate to have a late-career breakout, and as long as he's looking for more years (rather than more money) than he left in San Francisco, he should be affordable for the Crew.
19. Jack Flaherty, RHP
If ever a pitcher were a perfect candidate to be molded into something new and wonderful by Chris Hook and Walker McKinven, it's Flaherty. He's lost a bit of the heat on his fastball over the last few years, and that's an important factor in his regression over that period. At the same time, it's pretty clear that he's better than his recent numbers suggest. He needs someone to give him a clear theory of usage for each of his distinct breakig balls, a consistent zone to target with his fastball, and an idea of how to attack hitters that goes further than "throw something nasty." Hook excels with pitchers like this. If Flaherty is open to a make-good deal that would let him hit the market again as a more desirable free agent and earn a huge payday next winter, he's a fantastic potential fit.
18. Tommy Pham, OF/DH
A little volatility can be a good thing. Pham's personality can be abrasive, and it's going to have to be a consideration for every team who wants to add his bat to their lineup for 2024. Pat Murphy might be a rookie manager, but he's no neophyte when it comes to managing a clubhouse or dealing with personnel who have conviction in their own way of doing things. He's been the guy in the big chair plenty of times at lower levels, and managers for whom he's worked as a coach have trusted him as a delegate to players with whom they've had conflict. Pham knows his strike zone, and he knows his swing. He knows his body. He's a professional, with fierce professional pride. He would be a valuable bat for the Brewers batting order. It would just put a little extra pressure on Murphy.
17. Victor Caratini, C
He's much less impactful than most of the other players in this region of the countdown, but Caratini has been Corbin Burnes's personal catcher for long stretches of the last two years. He's been a durable and capable backup catcher, and both his talent and his familiarity with the organization make him a great fit in a small but vital role for any ballclub. He's unlikely to find anyone offering him a starting job, so there's no reason why the Crew shouldn't be able to sell him on a return. It'll be a matter of whether they want to match the offers he gets elsewhere, financially, or whether they feel pressed to put that money to different uses.
16. Tim Anderson, SS/2B
As far as I'm concerned, the upside here is still substantial. Anderson just had about as bad a season as a full-time player can have at the plate, and it's probably time to move him across the second-base bag and make him a second baseman. That's why the White Sox turned down a $14-million option for his services for 2024. Ranking him here is an expression of my belief that the White Sox are the primary problem there, not Anderson. He's never had good hitting instruction--not once, during his decade in that organization. Some personal turbulence coincided with the outbreak of the worst kind of chaos within the Sox franchise to leave Anderson reeling and unsupported last year. He can bounce back in a big way, and the Brewers could grab him much cheaper than they'll be able to get any similarly talented player. 
15. Kenta Maeda, RHP
Getting by more on guile and his splitter than on power or whiffs these days, Maeda has become a back-of-the-rotation starter. You can send him out there to start a playoff game, but it needs to be Game 3 or Game 4 of a series, and you need to have a plan for getting 12 or 15 outs from your bullpen that night. Before the playoffs comes a 162-game marathon, though, and Maeda can help a team get through that race. He's not likely to make 30 starts, but when he does go out there, he can still get outs and show up consistently. At this late stage of his career, Maeda could sign for just one year, but if the Brewers need to give him two or even three (at a relatively modest annual salary) to get something done, they should do it.
14. Justin Turner, 3B/1B/DH
He's still technically a third baseman, but you don't want him playing there much. In fact, you want him spending almost all his time holding a bat, not wearing a glove. Nonetheless, Turner could be an excellent fit for the Brewers lineup. He hits for power, even as he nears 40. He knows the strike zone. Whereas many hitters give up contact to produce power, Turner doesn't whiff much at all and still gets it in the air with authority. He'd come far short of solving all the team's problems, but few available hitters can be as confidently projected to hit well for 2024 as Turner. We know there has been mutual interest between the team and the player at least once in the past. Maybe that could be rekindled.
13. Joc Pederson, DH/LF
Two summers spent on the shore of McCovey Cove have done a fine job of hiding the fact, but Pederson just crushes the ball. He obliterates it. His surface-level numbers don't show it, because of his home park, but Pederson is a fearsome slugger. Although he doesn't have any defensive value (and certainly wouldn't on the Brewers, since Christian Yelich has left field sewn up), and although he doesn't hit lefties, few hitters balance this kind of power with such good control of the strike zone against right-handed hurlers. Pederson is likely to sign a two-year deal, and the Brewers could afford to do that without foreclosing other moves.
12. Whit Merrifield, 2B/LF
His power has virtually dried up. Of the 404 batters with 150 or more plate appearances in 2023, only seven had a lower 75th-percentile exit velocity than Merrifield. Yet, he managed 11 home runs and 27 doubles. Hitting lots of line drives and fly balls goes some of the way to making up for what has become a slider-speed bat. Merrifield also makes contact at a high rate, and he still has good speed. He'd be a fit primarily as a second baseman, with his right-handed bat either supplanting or supplementing the left-handed one of Brice Turang. At that spot, he's rated out well as a defender, even as his numbers in the outfield have plunged. 
11. Jeimer Candelario, 3B/1B
For a team that needs help at both corners of the infield and from both sides of the plate, it's hard to think of a more natural fit than Candelario--a switch-hitter who has divided his time between the hot and cold corners over the course of his career. He has good plate discipline, and unlike many switch-hitters, he hits for both average and power from both sides of the plate. If he did it all more consistently, or just had a higher ceiling when going well, he'd be a true star. As it is, he would need to be a complementary piece, but he'd be an extraordinarily good one. If the Brewers could sign him to a three-year deal for money similar to what they would have paid Brandon Woodruff (before he got hurt), they should eagerly do so. It might not be that simple, but it's certainly possible.
Think you could write a story like this? Brewer Fanatic wants you to develop your voice, find an audience, and we'll pay you to do it. Just fill out this form.
MORE FROM BREWER FANATIC
— Latest Brewers coverage from our writers
— Recent Brewers discussion in our forums
— Follow Brewer Fanatic via Twitter, Facebook or email