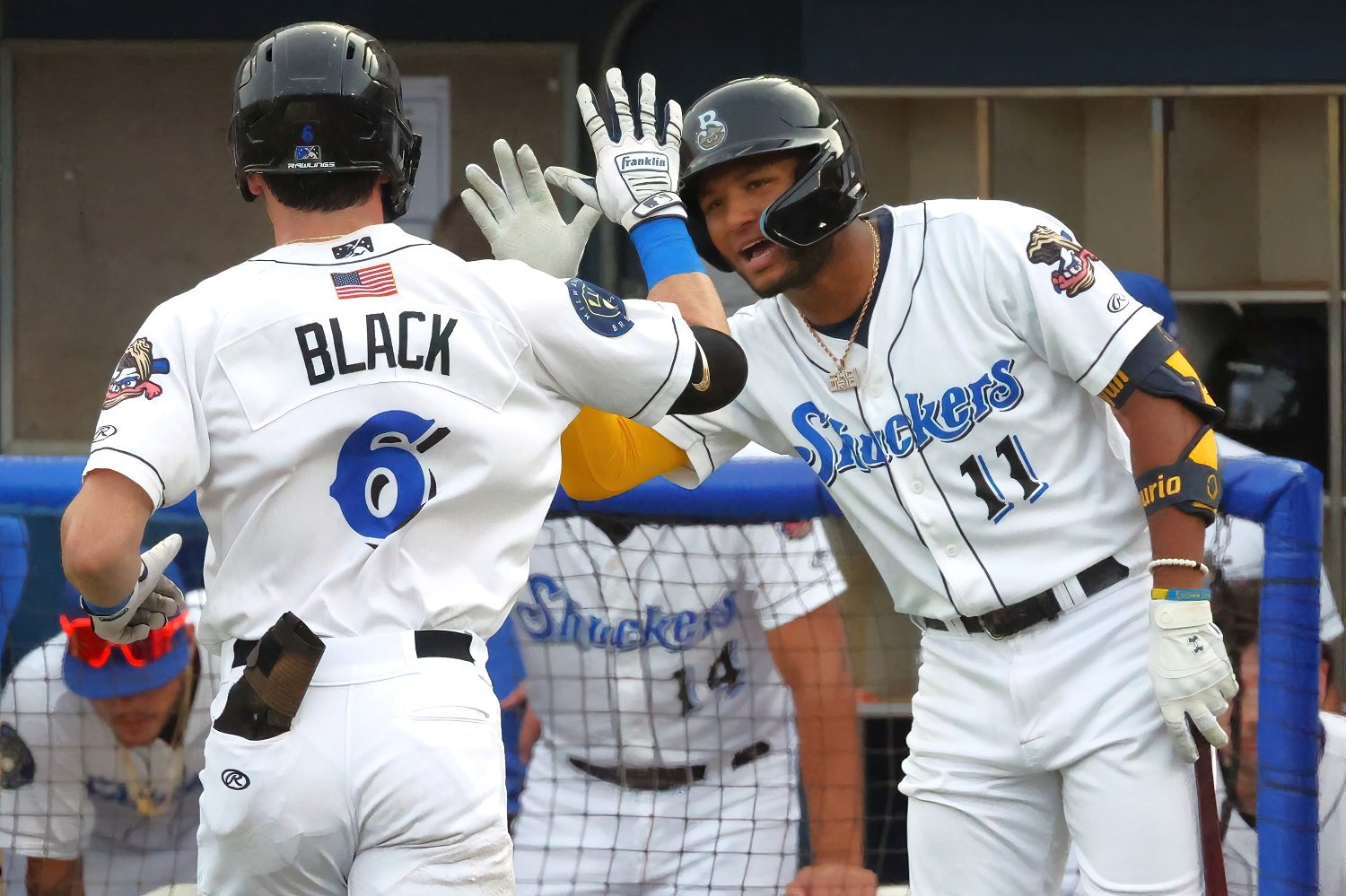 Image courtesy of Mike Krebs, Biloxi Shuckers
Assuming Craig Counsell will be adding one pitcher and one hitter when the schedule rolls into September, there are a plethora of options available to him. Below we will consider the players battling for a spot, but also include a few long-shot bets as well. Certainly, much strategy will be used to determine which players can add a dimension for the team that it needs. 
Hitters
IF Abraham Toro
One thing Counsell values is versatility, and for that reason, as well as several positive experiences so far with the big league club, Toro should be the frontrunner to get the call. Having hit two home runs in his 18 at-bats so far with the Brewers, while performing above expectations at first base, and the ability to adequately play at second or third base, he fits the usual profile of a Brewers late-season callup. He isn't a quality defender at either of the latter positions, but he is passable, on top of which he's a switch hitter which opens up a myriad of opportunities in late-game situations to use his bat off the bench. 
The Brewers roster currently features a lot of outfielders, so it makes sense that an infielder is the likely addition, and Toro's versatility, on top of his torrid run of form in July where he hit .386/.443/.700, should give him the nod. It may not be the most exciting of picks, but it does just… fit.
Tyler Black
Tyler Black was only recently promoted to Triple-A Nashville, but he is one of the most exciting hitters in the Brewers system. He has demonstrated outstanding plate discipline and quality bat-to-ball skills. That can be shown in his results. He has a 19.7% strikeout rate and a 15.9% walk rate. The 2021 top pick has also displayed a notable increase in his power production. At the same time, he has maintained his great speed. He had eight triples and a massive 47 stolen bases at Double-A Biloxi prior to his promotion.
Coming into the season, he was very raw at the hot corner, but throughout the year, has improved to the point that he is now making difficult plays look routine. He may never be a plus-defender, but he can definitely handle himself just fine at third base. He has spent some time at first base as well. He has shown good range and hands so far in his limited action there.
For Black to get the nod, he will have to show his above-average bat translates easily and quickly to Triple-A pitching. His plate discipline should provide a good floor for his production, but it is his power potential that could make the difference between him and Toro. He'll have a month or so to show he can make a difference at the plate in Nashville. That is where the Brewers need the most help. If his bat plays, he'll play.
Out-of-Left-Field Options
Patrick Dorrian
Dorrian is unlikely to be the first name on many people's lists, but he provides something the others may not: Raw Power. He has been hot of late. He hit .286/.391/.571 in July with the Sounds and gone bananas to start August with five home runs so far, hitting .393/.433/1.036 for a monstrous OPS. When he hits balls, they stay hit, and the Brewers could really do with some middle-of-the-order punch to help them put up crooked numbers.
Jackson Chourio
As mentioned previously, the outfield is filled to the brim in the current roster makeup. However, if he gets a promotion to Triple-A, the organization's top prospect has the ability to be a true difference-maker. He'll have less time at the top level of the minors compared to Tyler Black, and the power has cooled off a little bit in August, but he could be the type of player that carries the team. He's that good.
Keston Hiura
I'd be remiss not to at least mention Hiura, although with Canha, Santana and soon, Rowdy Tellez covering first base, and the outfield sorted, it may be tough to get playing time without the aforementioned players getting DFA'd. His bat has been very different since his return from injury, lacking the power he had to start the season. However, his strikeout rate has stayed low while hitting .278/.394/.442. Of note, that OBP is fueled by a lot of hit by pitches. If he finds the timing he had in April and May, he can carry an offense. If not, it'll be next year for dear Keston.
Are there other hitters that you think warrant consideration for a September call-up? Which of the above names do you think could make the biggest difference to a struggling lineup in September?
Think you could write a story like this? Brewer Fanatic wants you to develop your voice, find an audience, and we'll pay you to do it. Just fill out this form.
MORE FROM BREWER FANATIC
— Latest Brewers coverage from our writers
— Recent Brewers discussion in our forums
— Follow Brewer Fanatic via Twitter, Facebook or email