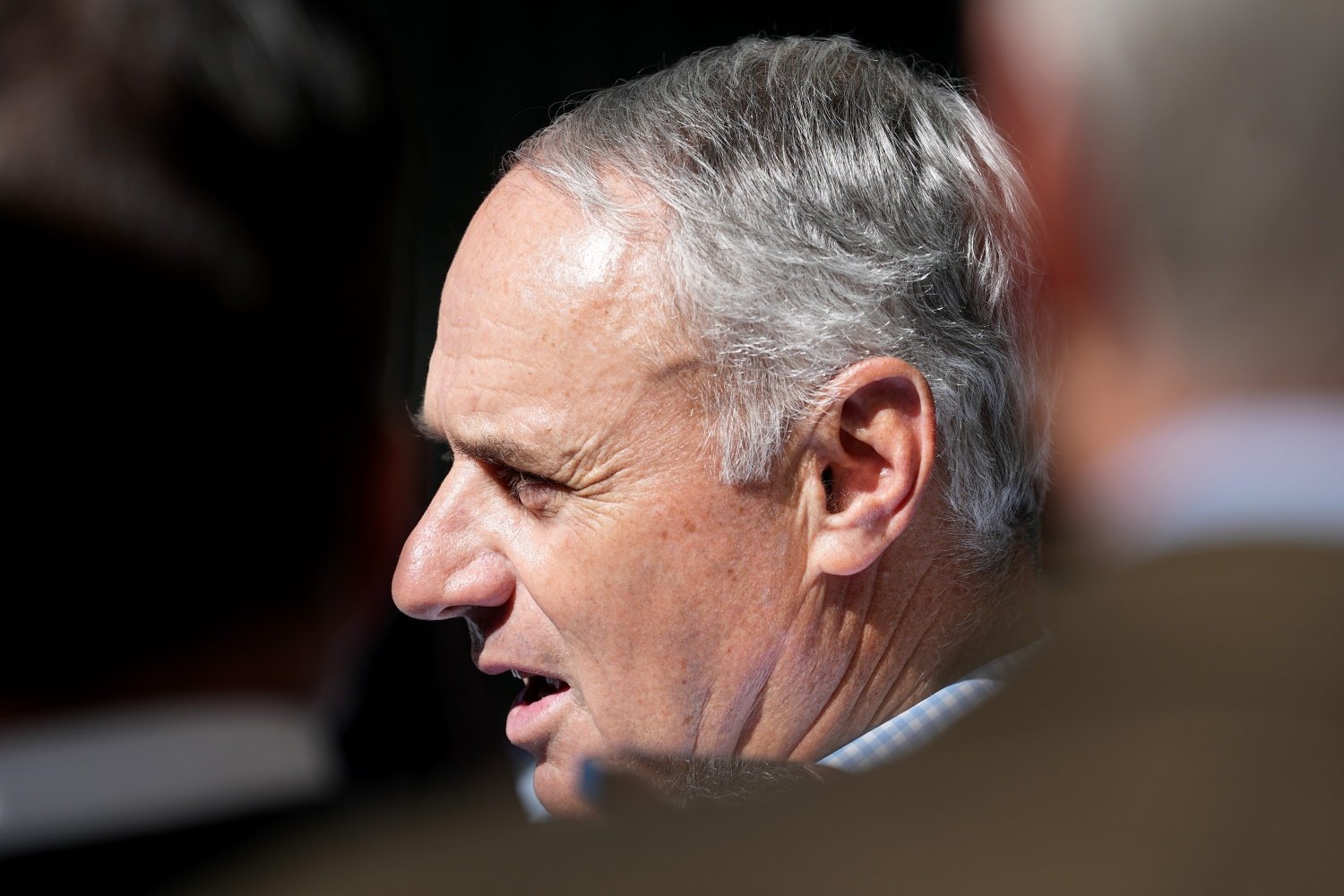 Image courtesy of © MARK HOFFMAN/MILWAUKEE JOURNAL SENTINEL / USA TODAY NETWORK
Ballpark financing is a tricky business. For one thing, the slate is never blank. There are always relevant comparison points--other ballparks built and upgraded and repaired and renovated recently. There are nearly always preexisting agreements that narrow the spectrum of options when the subject of doing any of those things with a ballpark comes up. In this case, the comps are especially timely and cogent, and the preexisting agreements--ones that require a fairly high degree of upkeep by the specially-created Southeast Wisconsin Professional Baseball Park District, for instance--loom especially large.
That said, when Manfred swept into town this week talking about the urgency and import of the state allocating nearly half a billion dollars to the long-term improvement of Miller Park, it was pretty transparently toothless. Manfred, and the cartel he represents, has very little leverage over Wisconsin, other than in the sense that everyone has leverage over the hopelessly fractured and persistently chaotic state government apparatus in Madison. Whatever one thinks of the machinations Bud Selig performed to keep the Brewers from facing any threat of relocation or contraction during the darkest period of his miserable rule over the business side of the game, they created a platform for Milwaukee to prove itself as a long-term, viable, even vital market for MLB. The city, the state, and Attanasio have made good on that inheritance, and at this point, moving away from Milwaukee is unthinkable for the league. 
Manfred is hoping you won't notice that. He's hoping you'll look at the radically stupid, self-defeating decisions made by municipal bodies in Texas and Georgia, who have recently replaced perfectly good stadia built less than 30 years ago with expensive new ones, at huge costs to the communities they should have served more honestly. He's hoping you'll look at Oakland, once a market as strong as Milwaukee has become. He's hoping you'll refuse to call a lousy bluff, because he won't have a better moment (right on the heels of this Oakland fiasco, and with expansion coming soon) to try one for years.
Fans, governments, and even Attanasio (in some ways, a client and a patron of Manfred) should tell the league and its chief representative to go sit on a cactus in Nevada somewhere. The Brewers aren't going anywhere. Miller Park does not need hundreds of millions of dollars in immediate improvements, and the residents of the city and state do need that money to go more productive and valuable places.
This is the one last tricky thing about ballpark financing: having a team is usually worth it. When they have a legitimate alternative to staying home and playing in their present park, it's sometimes acceptable to help fund a new park, because having a professional baseball team in town is good. It's good for business. It's good for families. It's good for civic pride. The poor can't eat civic pride, though. Governments have a responsibility to keep their priorities straight, and that means paying as little to big corporations like MLB teams as possible, as late as possible, rather than eagerly signing up to give them what they ask for, right on time. Now is an easy and exciting time for Wisconsin to tell Manfred that he needs to take a number and get in line. There's nothing wrong with the Brewers' home park, and any threats that they might depart from it are calculated deception. 
Think you could write a story like this? Brewer Fanatic wants you to develop your voice, find an audience, and we'll pay you to do it. Just fill out this form.
MORE FROM BREWER FANATIC
— Latest Brewers coverage from our writers
— Recent Brewers discussion in our forums
— Follow Brewer Fanatic via Twitter, Facebook or email
1