Based on many recent comments about Steven Kwan being similar to Sal Frelick and him being a five WAR player last year, I decided to look into how comparable the two are as prospects.
Steven Kwan's 2022 Season
The most obvious reason for this comparison is that Frelick and Kwan are exceptionally good at avoiding the strikeout. Kwan was in the 100th percentile for both whiff rate and strikeout rate in the majors last year and the 96th percentile for chase rate. His whiff rate on two strikes is 6% against fastballs, 4.9% against off-speed pitches, and a "whopping" 13% against breaking balls, an expert level of contact. That being said, he is also in the first percentile for barrel rate, hard-hit rate, and the third percentile for average exit velocity, with his spray chart showing a lot of balls dropping in the shallow outfield. His power output mostly came from pulling pitches on the inner part of the plate, with four of his six home runs from this region of the strike zone. Despite this, he produced 25 doubles and seven triples last season, using awkwardly placed balls in play and his 60-grade speed to make the most of his hits and stealing 19 bases last season.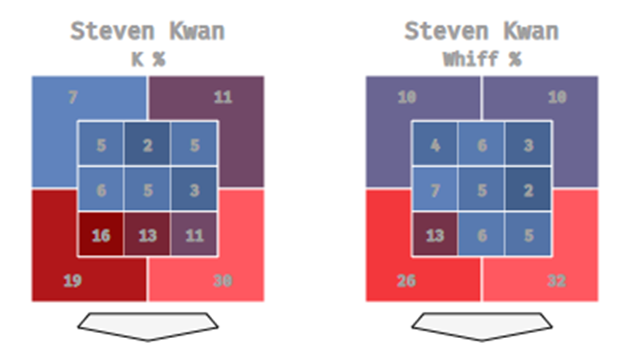 Kwan was also a recipient of a Gold Glove in his rookie season, with 96th percentile outs above average in left field, mostly from his quality jump rather than explosive speed. All in all, this is exactly the type of player the Brewers missed last year. The Brewers hit just .207 as a team in the first inning in 2022, so to have a player like Kwan leading off with a tough AB, getting on base, and setting the tone for the game could make a noticeable difference to the team.
Frelick vs. Kwan in the minor leagues
Kwan spent much more time than Frelick on his way through the Guardians system, and it's important to note the progression made by Frelick even as he moved up each level in 2022. He hit .291/.391/.456 in High A Wisconsin over 21 games with a 15.2% strikeout rate at the start of the year, only to finish in AAA hitting .365/.435/.508 with a 7.4% strikeout rate over 46 games. Due to it being such a small sample size, his limited time in college baseball due to ill-timed injuries and bad luck, and allowing for him to develop as a hitter in his first full professional season, I'm going to focus more on his statistical output at the end of the season.
Frelick was also a player who won defensive player of the year honors at Boston College for his work in CF (in his first season playing the outfield); he is a 60-grade runner, capable of flashing his speed both in the field and on the base paths, with nine stolen bases in 46 games at AAA and potentially more to come if the Brewers can develop his instincts when on base a little more (again similar to Kwan). You could expect someone with his speed, on the base paths at the clip he was in 2022, to steal more than 24 bases in the minors across all levels and be caught stealing eight times (a 75% success rate). Scouts also say he has a bit of work to do in terms of his defensive reads and routes if he is to stay in center field, hopefully working on these areas throughout the offseason and the beginning of this season.
Frelick accesses much more of his power on the pull side but has demonstrated an ability in the minors to hit one out to the opposite field. He did have a higher BABIP than at previous levels. Still, his hit tool, ability to cover the shadow area around the strike zone, and the scouting reviews around the regularity with which he barrelled the ball should stand him in good stead. In other words, Frelick didn't just make contact; he made quality contact regularly. In college, he was recorded as having an exit velocity of 108mph, surpassing anything Kwan produced in the majors last year. 
In his last season between AA and AAA, Steven Kwan hit .328/.407/.527 with a 9.1% strikeout rate but an ISO of .200, roughly .50 points higher than Frelick produced. However, as mentioned in the first section, higher quality pitching can easily subjugate his power. His previous seasons loitered in the ISO range of .83 - .102, and he embraced pulling the ball more and improved his launch angle in 2021, hence the sudden development in his game.
Kwan stole just six bases in his final season in the minors, caught stealing twice; not a great return for someone also given 60-grade speed, clearly developing on this when he reached the majors. Defensively he was said to have "the speed and ability to stay in CF, or play plus defense in the corner OF spots," which bore fruit by his performance in left field last year. His hitting ability involves more grinding than Frelick, with slightly more pitches per plate appearance, and he swung and missed at just 2.6% of pitches in the minors in 2021. That is, quite frankly, outrageous. 
Frelick has a better hit tool than Kwan by a small margin. Both have a very strong command of their strike zone with a willingness to grind out ABs (both approached four pitches per plate appearance in the minors), but maybe have a little work to do in terms of maximizing his approach on the base paths and his value in defense, both of which can likely be developed simply through more playing time and experience. It could be more optimistic to predict further progress from Frelick, given how little professional baseball he has played and the extent of the improvements he made in his first full season.
Kwan would have the edge on Frelick regarding his plate coverage, though as one of the toughest outs in baseball, that's not derogatory in any way for the Brewers prospect. Also, when Kwan reached the majors, he reverted to an ISO of .100, seeming to lose the power differential he found in his final season of the minors. You can't project Frelick to be as tough to strike out as Kwan, but he will likely maintain his low strikeout rate and stronger power output. Keith Law was asked about the comparison, to which he responded, "No, Frelick's faster, a better defender, and I think he's going to make harder contact too."
What do the Brewer fanatics think?
1