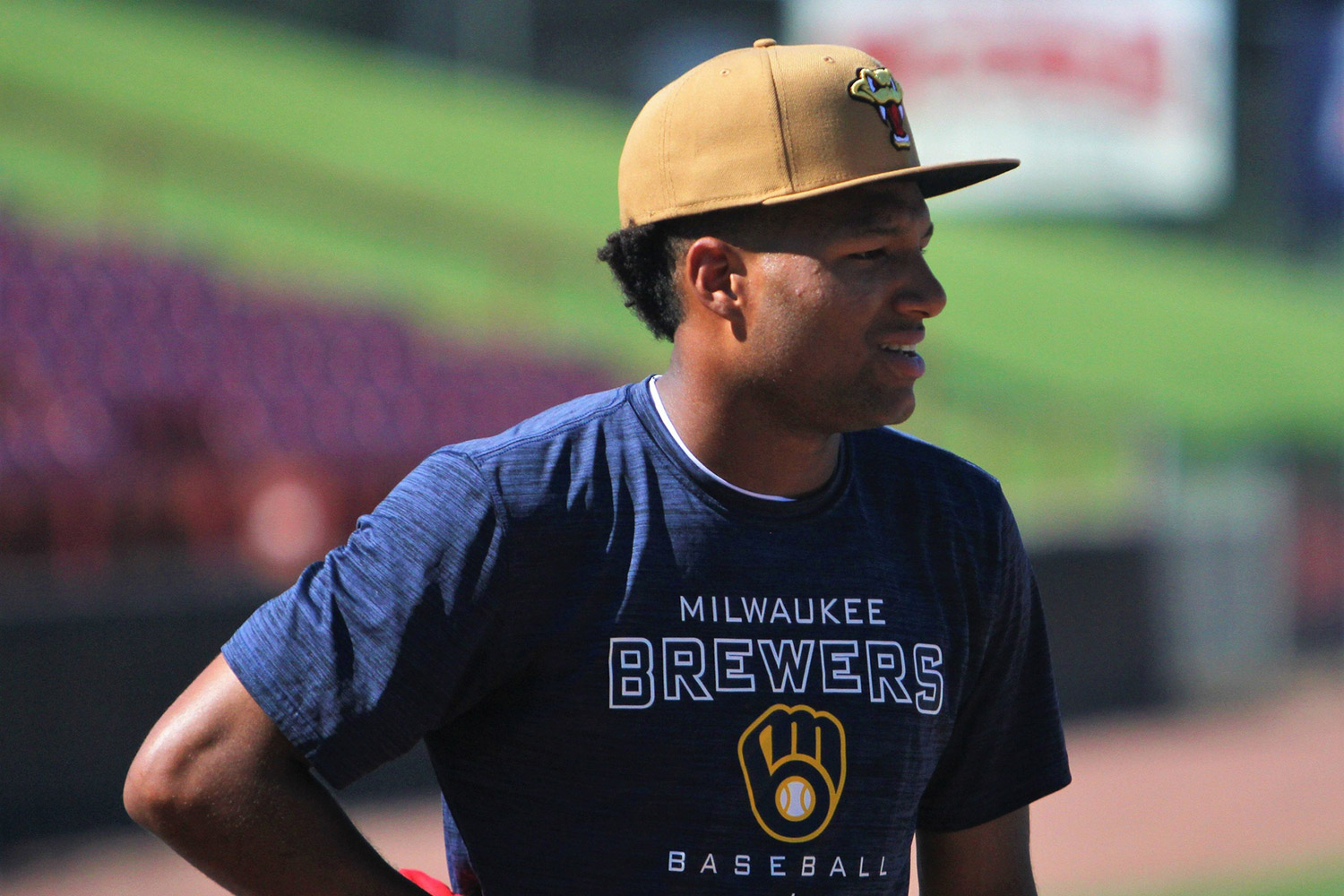 Image courtesy of © Curt Hogg / Milwaukee Journal Sentinel / USA TODAY NETWORK
Over the last nine months, Brewers fans have likely heard as much about Jackson Chourio as any prospect this decade, and rightfully so. Chourio received the Brewers' largest bonus in the 2020-21 International class, signing for $1.8 million. He put up good numbers in the Dominican Summer League as a 17-year-old, posting a 131 wRC+ with five home runs in 189 PAs. Despite the excellent output, he played with peers his age in the DSL. This past season was set up to be his first action stateside and his first time playing against full-blown adults. This would be his first real test, and Chourio went out and aced it, including the extra credit points. Chourio appeared to be headed for the Arizona Complex League after spring training, remaining in "Extended Spring Training" out of camp. At least, that's where he remained for one month. On May 3rd, Chourio was summoned to Low-A Carolina, immediately becoming the youngest baseball player in full-season ball. Chourio was considered a fringe top-10 prospect in the Brewers system at the call-up. By June, he was already being talked about as a potential top-10 prospect in baseball. Nobody in baseball had the helium that Chourio had in 2022.
What To Like
Chourio doesn't get cheated on his swings at the plate but still looks to be in total control of his bat. Many have described him as having a "toe tap," but in reality, it's more of a "heel tap" as he doesn't lift his foot off the ground. He does a great job of being direct to the ball with his swing while still getting the loft needed to elevate the ball and get to his raw power in games. Twenty home runs in 439 plate appearances, as the youngest player at each of the three levels he played at, is very rare. He can drive pitches in every area of the strike zone. While in Appleton, Chourio turned around a 100 MPH fastball at the top of the zone for a home run. He also drove sliders on the outer half out to right for home runs and extra-base hits throughout the year. His hit tool has the potential to be above average, with plus power and good bat-to-ball skills.
Defensively, Chourio is still new to the outfield after being signed as a shortstop. He uses his plus speed to cover a lot of ground but has some room for refinement in his routes and jumps. This is not unexpected from a player of Chourio's age, especially one that hasn't spent much time out there. He projects to be an above-average center fielder once he has gained more experience, though as a teenager, his size could impact defense as he ages into his twenties. His plus speed also factors in on the basepaths, stolen bases, and batted balls. With the attention Chourio was receiving last season, it would have been understandable for him to have some lazy moments on the field. He never did. Chourio was not taking plays off, whether it was a routine ground ball to an infielder or an opportunity to go first to third on a single; his motor was extremely high all season. In fact, it's fair to wonder if the Brewers won't ask him to rein it in a bit to maintain his health. 
What to Work On
No, Chourio is not perfect. No matter how exciting he is, there are some reasons to hold off on the MVP trophy engravings. For one, Chourio is still 18 years old. He will be 19 at the start of the season. Young players come with some inherent risks due to a lack of experience. He hasn't faced much adversity in his career yet. How players respond to a prolonged slump can tell us a lot about their future.
Another thing you might find with a young player is an inability to adjust once the "book is out on them," which Brewers fans have seen with a Keston Hiura, for example. Hiura was never at a level long enough to have pitchers find the holes in his swing, but that showed up eventually. Chourio hasn't given reason to worry about either of those situations, but they are a few things to watch.
In terms of non-hypothetical concerns for Chourio, only one stands out. Chourio did strike out quite a bit in Low-A, and scouts did note that he does have some swing-and-miss in his profile. The good news is that in his promotion to High-A, Chourio cut the strikeout rate from 28% to 21% and cut the chase rate and whiff rate a bit simultaneously. Pitch selection/ recognition is the biggest contributor to these issues, more than his ability to get the bat on the ball.  However, if Chourio can't limit the strikeouts, his hit tool will likely be more average than above average. As mentioned earlier, he should be able to handle center field defensively; the one knock on him will likely be his arm, which is fringe-average. It will hold up well enough in center field; it's the only tool without the potential to be above average or plus.
What's Next
With the way, Chourio burst onto the scene last year as an 18-year-old, it would be fair to assume that his body has matured faster than most his age. It doesn't appear that this is the case. He still has a pretty thin frame that should allow him to add quite a bit of good weight to his body over the next couple of years. In other words, he's already showing his abilities in games, but he still has the projectability to dream of too. Chourio will likely start in 2023 in Double-A in Biloxi. A 2023 MLB debut isn't something Brewers fans should expect, but it would seem somewhat foolish to rule it out entirely.
Thank you for reading Brewer Fanatic's 2023 top Brewers prospects ranking! Use the links below to navigate to any previous write-ups and leave a comment below!
Previous Installments
Brewers Top 16-20 Prospects
Brewers Top 11-15 Prospects
Brewers Top 6-10 Prospects
Brewers #5 Prospect: Jeferson Quero
Brewers #4 Prospect: Brice Turang
Brewers #3 Prospect: Joey Wiemer
Brewers #2 Prospect: Sal Frelick
Brewers #1 Prospect: Jackson Chourio
Think you could write a story like this? Brewer Fanatic wants you to develop your voice, find an audience, and we'll pay you to do it. Just fill out this form.
MORE FROM BREWER FANATIC
— Latest Brewers coverage from our writers
— Recent Brewers discussion in our forums
— Follow Brewer Fanatic via Twitter, Facebook or email
1