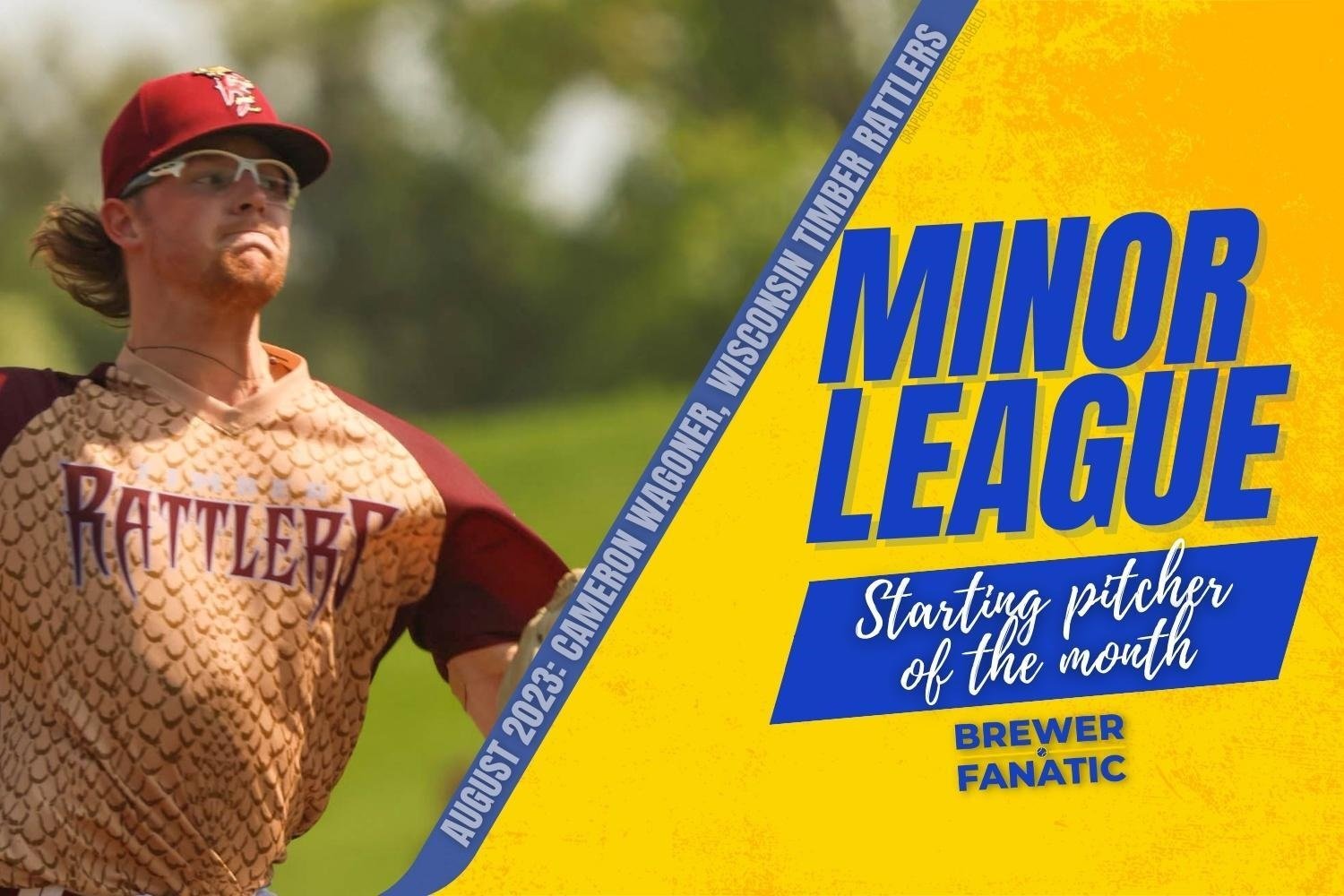 Image courtesy of Wisconsin Timber Rattlers
The starting pitching wasn't as exciting as it's been in prior months, but there were some big performances from some of the top pitching prospects in the system. We will take a look at the top five starters in the month of August, but first we begin with our lone honorable mention.
Honorable Mention
RHP - Carlos F Rodriguez - Biloxi Shuckers - 4 G, 4 GS, 20.0 IP, 1-2, 3.15 ERA, 4.01 FIP, 1.00 WHIP, 12 H , 8 BB,  19 K.
If you'd like to read more about Rodriguez, he has made a number of these lists in the past. Including taking the overall top spot in the July article.
TOP FIVE STARTING PITCHERS OF APRIL
#5 RHP - Yorman Galindez - ACL Brewers & Carolina Mudcats - 4 G, 2 GS, 22.0 IP, 3-0, 2.45 ERA, 4.95 FIP, 1.18 WHIP, 15 H , 11 BB,  18 K.
Unranked by all publications
Signed by the Brewers in the 2022 international signing class out of Venezuela, Galindez was 19 at the time of his signing and is 20 now. His promotion to Carolina was most likely based more on his pure stuff than his production early on, and he rewarded the Brewers by getting off to a strong start at the full season level. Galindez comes at hitters with what appears to be mainly a two pitch mix. His fastball sits in the low 90's and has touched 94. It appears to have some run on it, but it still plays well at the top of the zone. His best pitch though, is his hammer of a curveball. He seems comfortable throwing it in any count and can land it for strikes or use it as his out pitch to generate chases.
In August, Galindez did have some struggles with the free pass, but his overall surface numbers ended up being quite strong and his stuff is worthy of a mention. His lack of a third pitch that he can trust means that he will likely move to the bullpen long term, but for now they will likely continue to stretch him out and attempt to add to his repertoire. If he can, he could see his stock rise quite a bit, as the curveball is a legitimate plus pitch for him. 
https://x.com/brewerspd/status/1680962130135367681?s=46&t=SKmvvOvpW97ZHJEZeJBiMg
#4 LHP - Brian Fitzpatrick - Carolina Mudcats - 5 G, 3 GS, 18.2 IP, 0-0, 1.93 ERA, 3.56 FIP, 1.07 WHIP, 12 H , 8 BB,  15 K.
Unranked by all publications
Fitzpatrick was the Brewers 10th round selection in 2022 out of Rutgers. A lefty who had put up decent numbers his senior year of college, but really showed some potential in the Cape Cod League where he threw 19 scoreless innings with a 19 to 2 K:BB ratio. Despite an imposing 6'7 frame, Fitzpatrick is more of a finesse pitcher than a flamethrower. He throws his fastball in the 89-92 range, though he can get up a little higher than that at times; it also appears to have some cut action on it at times. His slider has been better in pro ball and is a really good swing and miss pitch against lefties. He has done a better job of using it against right handed hitters as well in pro ball, but his go-to secondary against righties is his changeup, which might be his best pitch. He is able to kill the spin on the changeup and it generates a lot of his swings and misses.
Fitzpatrick is more of a "pitch to contact" type of pitcher, and that held true in August as he only struck out around seven per nine innings. What he did really well was limit hits and especially extra base hits. He only allowed four doubles in August, no triples and also no home runs. While his eight walks are a bit high, it's still hard to allow big innings when you limit the offense to singles.
Fitzpatrick's best outing of the month came on August 16th when he went four hitless and scoreless innings while only walking one batter. He struck out five in that outing as well. The White Sox affiliate was really struggling to square him up and he had all three of his pitches working very well that evening.
 
At 23 years old, Fitzpatrick will likely see High-A next year as he continues to adjust to pro ball. A bit of a bump in his velocity would go a long way, but there are the makings of an interesting long reliever or swing starter if he can continue to rein in his command.
#3 RHP - Logan Henderson - Carolina Mudcats - 4 G, 4 GS, 22.0 IP, 1-1, 2.86 ERA, 3.52 FIP, 1.05 WHIP, 17 H, 6 BB, 29 K.
Henderson was the Brewers fourth round selection in 2021, out of McLennan Community College in Texas. He was committed to Texas A&M at that point but chose to sign with the Brewers. His first year and a half after signing, he was extremely injury plagued. He had only thrown 15 2/3 professional innings before this season. He's had good results the majority of this season, but his innings have continued to rise and he has now placed in the top three on both the July and August lists.
Equipped with a low 90's fastball coming out of McLennan, he has raised his average velocity to a little closer to 93 and has even reached 97 MPH a few times. The fastball plays well up in the zone due to high spin and high spin efficiency. He spins his slider at near 3000 RPM's but at times it seems that he loses the angle/tilt on the pitch and it doesn't actually move much. His best pitch though, is his changeup. You would be hard pressed to find a better changeup in the Brewers system. There are some airbender qualities to it when he's got it going. Much like with Devin Williams, the changeup allows his fastball to play up above the velocity readings. He used all three pitches in unison during the month of July to have his most productive month in professional baseball.
Henderson tossed 22 innings this month in only four starts for an average of 5 ½ per start and went five or more innings in all four of his starts. He posted strikeout totals of 9, 8, 5 and 7 in his four starts. His nine strikeout game matched a career high (though he just surpassed it in his first start of September). This was his first start of the month of August and also happened to be his best start of the month. He went six innings and only allowed one earned run to go along with those nine strikeouts. He also completely avoided the free pass, with no walks and no hit by pitches. 
Henderson's efforts would seem to have been good enough to reward him with a promotion to High-A Wisconsin by now, so one has to wonder if the Brewers are keeping him in Carolina to help with their playoff push and get him valuable experience as the ace of a team in a playoff hunt. Even if he doesn't see High-A this year, it would not be a complete shock to see him begin 2024 with the Biloxi team, as he will be rule 5 eligible following next season's completion and is pretty advanced for either of the Single A levels.
#2 Robert Gasser  LHP - Nashville Sounds - 4 G, 4 GS, 24.0 IP, 4-0, 2.63 ERA, 3.33 FIP, 0.96 WHIP, 18 H, 5 BB, 33 K.
Gasser was acquired as part of the prospect return in the infamous Josh Hader trade with San Diego. He throws four above-average pitches in his fastball, slider, changeup, and cutter. The regular fastball probably being the worst of the four, closest to average. His slider is best described as a sweeper, and is a pitch he can throw in any count or situation. His changeup is a bit firmer than you would want, but it has good action and is a good counter to right-handed hitters. He mixed his cutter in more with the Brewers than he had with the Padres, and while it wasn't always perfect, it showed some flashes of being a really good pitch for missing barrels and as another counter to right-handed hitters. He did not throw many curves for the Brewers, and that will likely continue as it lags behind his other offerings. 
After struggling with his command early on this season (you can read more about those struggles in the June version of this article, in which he took home the number one spot), Gasser has really locked in his command the last few months and his results have backed that up.
In August, Gasser had a ridiculous 6.6 K:BB ratio and struck out over 12 batters per nine. He went exactly six innings in all four of his starts and had two starts with ten strikeouts in each. While he didn't have any bad starts in the month, his best was definitely on August 4th, when he threw six innings of shutout ball and struck out ten. He only allowed two hits, though it was his worst outing in terms of walks with three free passes allowed. 
Gasser is ready for a shot at the MLB level. Unfortunately for him, the circumstances may not allow that to happen this year, but he is most likely going to have a chance to win a rotation spot with the big league club in spring next year.
#1 RHP Cameron Wagoner - Wisconsin Timber Rattlers - 5 G, 4 GS, 26.1 IP, 4-0, 1.37 ERA, 3.19 FIP, 0.95 WHIP, 16 H , 9 BB, 27 K.
Unranked by all publications
The Brewers 11th round selection in the 2022 draft, Wagoner opened some eyes with his short stint in the Arizona League, as well as a couple of appearances in Low-A Carolina last season. Getting his fastball up to 97 MPH and flashing a nasty slider in the mid-upper 80's as well. Due to academic ineligibility, Wagoner had not pitched his senior season at Eastern Michigan, and the early returns were looking like the Brewers may have found a major steal. He was sent to the Australian Winter League with a number of other Brewers farmhands, where he didn't quite have the same results as he had in his pro debut. His ERA came out a solid 3.46, but he walked four per nine and only struck out 8 per nine. Unfortunately those walk issues and the lack of strikeouts followed Wagoner into the 2023 season. 
In 2022 Wagoner had seemed to be throwing mainly a four seam fastball that was able to blow by hitters at the top of the zone with his mid-90's heat. In 2023 Wagoner has been throwing a lot of sinkers, which he sat more in the 92-93 range with. It has had a propensity to flatten out early on and was getting hit quite well. He still uses the four seam as well, which sits around 92-95. His slider has been in the low to mid-80's and he also uses a pretty good looking curveball that sits in the mid 70's but has been as low as 72 MPH at times. It's hard to tell if he's mixing in an upper 80's changeup or if those are just sinkers that are coming out a bit softer, but he may be using a five pitch mix if they are changeups. The repertoire seems too good for him to have been hit as well as he has all season, so one has to wonder if the pitch mix was causing some of the problems.
Prior to August, Wagoner had a 7.53 ERA on the season. He had fallen victim to the "big inning" in almost all of his starts, and the ERA was representative of that issue. He avoided the big inning in August and the ERA followed suit. Wagoner allowed exactly one run in all of his appearances, though in his August 30th start the run was unearned. He also struck out at least five hitters in all of his appearances. Including in his 3 2/3 innings out of the bullpen in his lone appearance that wasn't a start. One thing Wagoner has done a good job of all season is limiting the home run ball and that continued, as he only allowed one home run in August.
You could pick any of his outings as his best this month, but he started his month off on a very high note on August 2nd. In that start he threw 6 2/3 IP with seven strikeouts, only one walk and only one earned run. It set the tone for what will hopefully be a month we can look back on and say, "that was when Wagoner figured it all out".   
If Wagoner has a strong September, it's possible he will start the 2024 season in Biloxi, but a return to High-A could also be beneficial. Hopefully this month will be used as a jumping off point for a pitcher who clearly has the talent and the repertoire to be successful. 
Please share your opinions! Who should have made it that didn't? Who made it, but should not have?
Think you could write a story like this? Brewer Fanatic wants you to develop your voice, find an audience, and we'll pay you to do it. Just fill out this form.
MORE FROM BREWER FANATIC
— Latest Brewers coverage from our writers
— Recent Brewers discussion in our forums
— Follow Brewer Fanatic via Twitter, Facebook or email
2