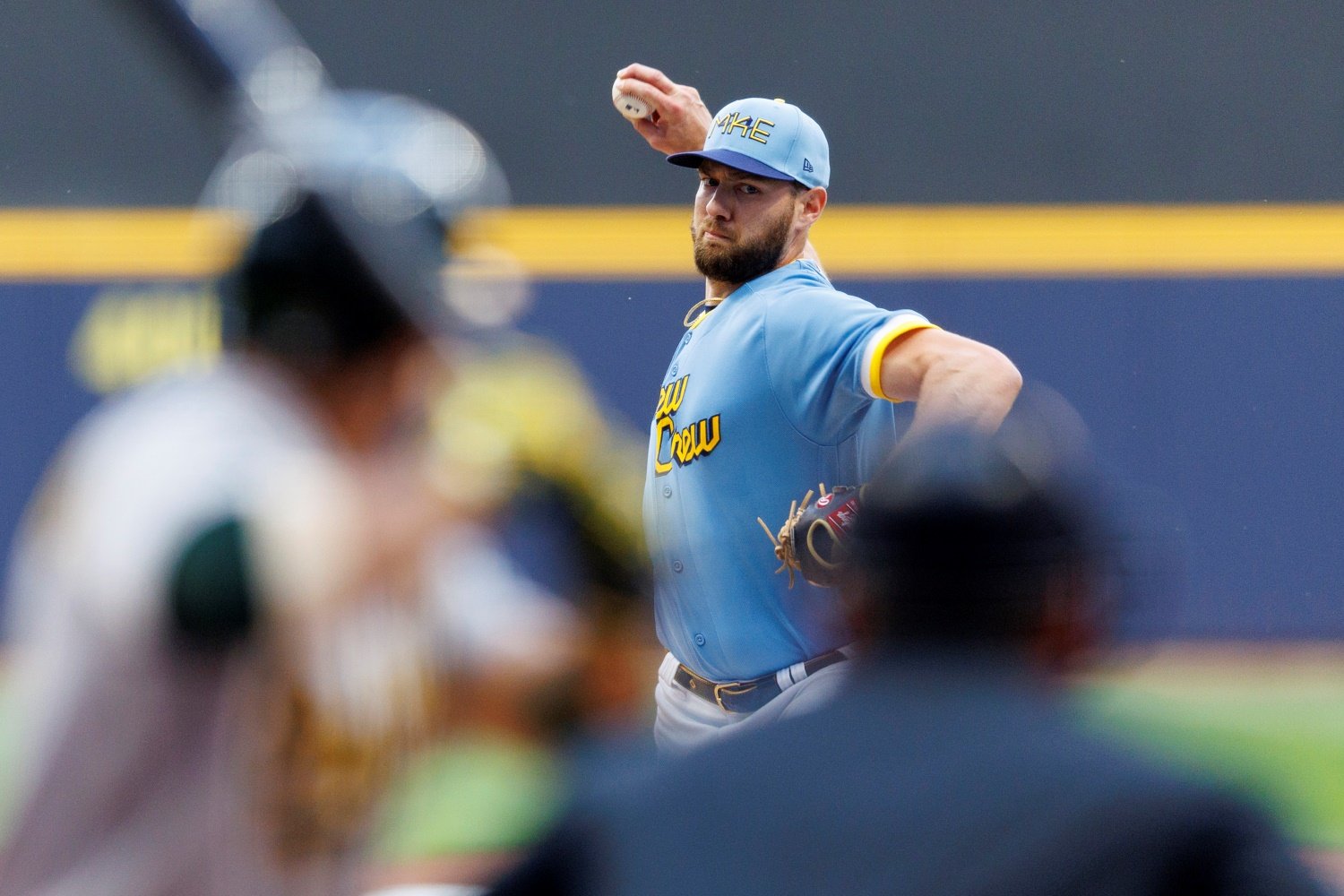 Image courtesy of © Jeff Hanisch-USA TODAY Sports
Colin Rea has been a serviceable pitcher for the Milwaukee Brewers during their time of need, usually keeping things close enough that a decent offensive performance can grab the win. However, his statcast page is beginning to resemble Jason Alexander's, with minimal chase rates, minimal whiffs, minimal curveball movement or fastball velocity. He has avoided barrels well enough to limit the damage, but he feels like a bomb waiting to explode, and he certainly can't be credited with actively winning the Brewers games. 
Compare this to Adrian Houser, who was moved to the bullpen upon Wade Miley's return. Since his last start on June 9, he's made just two appearances, throwing four innings of relief in a game that had gotten away from the Brewers on June 19 and mopping up an inning against the Guardians Friday night.
Houser has brought down his career-high line drive rate of 2022 (26.1% down to 21.3%) and increased his groundball rate back to 52.5%--not quite as effective as in his prime, but still able to generate a lot of weak grounders and cheap outs to a strong defense. He is in the 64th percentile for expected opponent slugging and walk rate, and 88th percentile for barrels, all key to his performance.
When he himself returned from the injured list, Houser was using his four-seam fastball to left-handers with great effect, but it seems hitters have caught up to it now. They're posting an average exit velocity of 97 miles per hour on it. However, Houser does still generate whiffs when he ties that heater in with his sinker. His changeup and slider have generated consistently weak contact, and his sinker has an average launch angle of 0 degrees, exactly what he would be hoping for.
Have a look at the quality of contact against each of these pitchers:
 
Houser

Rea

The most immediately noticeable stat is that Houser has a 2.8% solid contact rate, and 4.3% barrel rate, compared to Rea with 7% for each of those. Houser has limited hard and damaging contact much more effectively. Out of this alone, I cannot understand why Rea is getting more innings, with higher average leverage.
Rea has gone through six innings just twice, and while he has the occasional gem, such as his eight-strikeout, five-inning shutdown of the Orioles earlier this month, he has also conceded at least three runs through five innings in his other three starts this month, for an ERA that is only rising as the league gets a good look at him.
Houser did have a blowup start against the A's, due mostly to walking hitters, something he hadn't done much of so far this season. However, he has a track record of producing quality starts and being able to get on top of a lineup in a way that Rea just can't.
Houser does still struggle to corral left-handed batters, in particular with his command. He tries to use his sinker less against them, resulting in a strikeout-to-walk ratio of 1:1, but given the lack of barrels and hard-hit balls against him, even walking the occasional lefty isn't going to harm him often.
Is Adrian Houser a perfect pitcher? No. Is he likely, over a five-game stretch, to give you better starts than Colin Rea? Unquestionably.