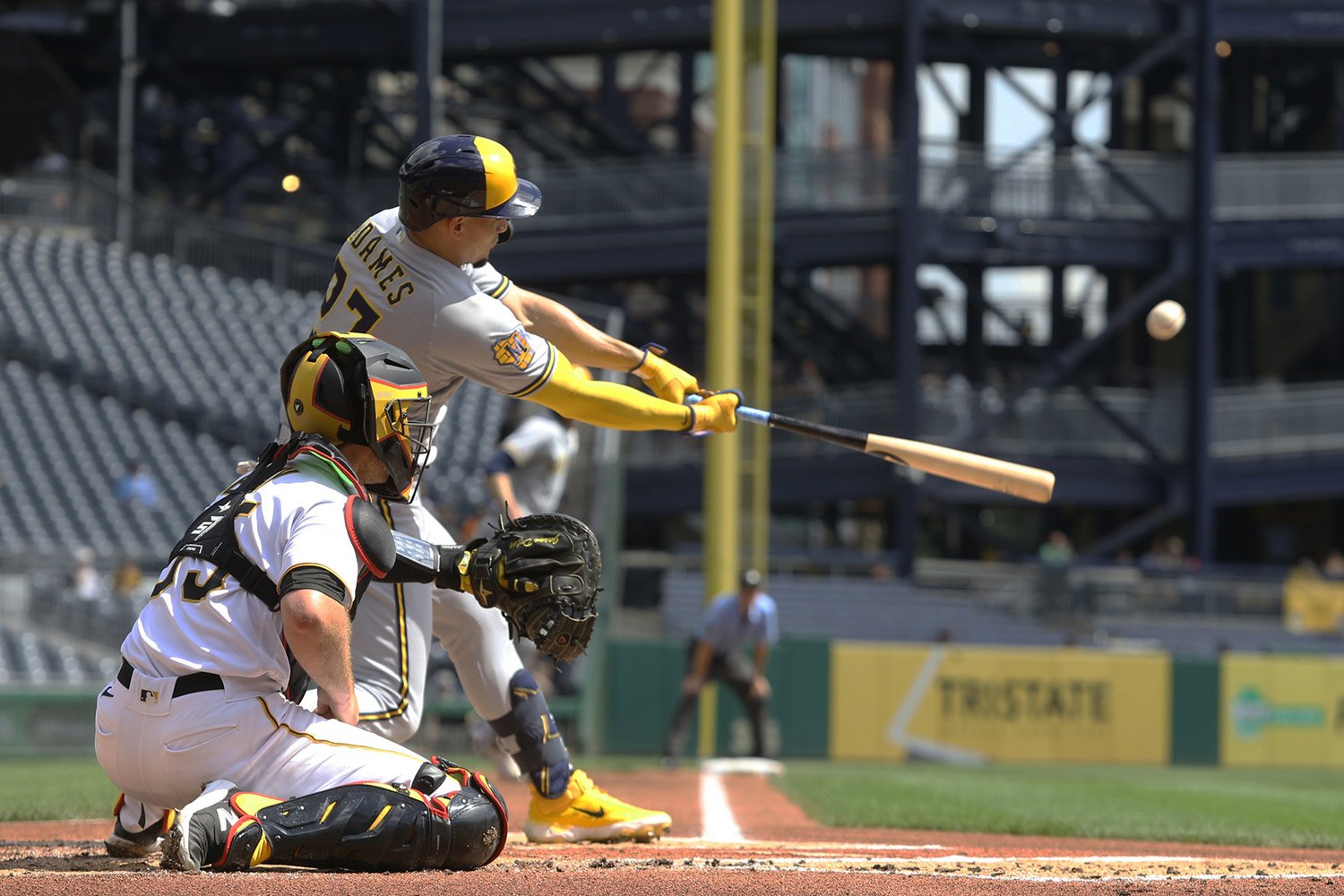 Image courtesy of © Charles LeClaire-USA TODAY Sports
Every game is vital at this point in the season, with the Brewers leading the Chicago Cubs by just 2.5 games entering play Wednesday. It's especially essential to win a series against clearly inferior opponents and not throw away games with bad decision-making. With Milwaukee leading the Pittsburgh Pirates 3-1 in the sixth inning of the rubber match, the game was set up for a Counsell masterclass. Instead, he made multiple confusing decisions that directly led to the Brewers' fifth loss in their last eight contests.
Freddy Peralta pitched well into the sixth inning, continuing his string of excellent starts. But with the Brewers clinging to a two-run edge, he allowed a one-out single before pitching too carefully to Ke'Bryan Hayes, resulting in a walk. Though Peralta was at just 89 pitches, on a hot day after two straight runners reached base, a day off on Thursday, and a pair of lefties due up representing the go-ahead run, a call to southpaw Hoby Milner seemed obvious. One problem: Milner wasn't warming up, and Counsell stuck with Peralta to face power-hitting left-hander Jack Suwinski. After falling behind 2-1 in the count, Peralta left a changeup up in the zone, and Suwinski hammered a double to right-center.
Now leading 3-2, Counsell did go to the bullpen, but it was right-hander Trevor Megill to face another left-handed hitter. Megill would give up an RBI single to center to tie the game up as the teams headed to the seventh frame. Would the Pirates have countered with right-handed hitters if Milner came in? It's likely since that scenario played out later. However, the 2018-2019 version of Counsell would have had Milner ready and been more aggressive with his bullpen usage, forcing the other manager's hand. Instead, the win probability flipped quickly.





After the Brewers failed to score in the top of the seventh, Counsell's next questionable move reared its ugly head. For some reason, he has been almost automatic in selecting Elvis Peguero to handle the seventh inning when tied or in the lead. The problem is that Peguero pitched the night before, and he's been highly ineffective pitching back-to-back days this season.
Zero days rest: 5.68 ERA, .768 OPS against

One day rest: 1.02 ERA, .311 OPS against
Not surprising to most, Peguero would give up a single and a triple as the Pirates took a 4-3 lead. Then Milner would allow a base hit for Pittsburgh's fifth run of the game, also charged to Peguero's line. It's incredibly confusing that Counsell would make this move again, which has blown up on him other times this season. 
Why not go to Abner Uribe, who hadn't pitched in a few days? The young fireballer has proven he can handle high leverage just fine. Well, Counsell saved Uribe for the eighth inning when he promptly struck out the side. Too bad the Brewers were still trailing by a run at that point instead of being tied. There are mind-boggling choices with the pitching recently, but particularly today.
Before Uribe came into the game, the Brewers had their chance in the top of the eighth to tie the game at five apiece. With runners at first and third, down by a run, Brice Turang was due to face a right-handed hurler with only one out. Instead, Counsell chose to go with Rowdy Tellez as the pinch-hitter. It's difficult to understand the thinking.
First, it did not change any platoon advantage, as Tellez and Turang are both lefties.

Second, the Brewers didn't need a home run where Tellez would give them a better chance to strike.

Third, the worst-case scenario is to ground into a double play, which is less likely with Turang's speed versus Tellez's lack thereof.
Let's examine that last point. Tellez has a career 39.4 percent ground ball percentage. Turang, albeit in a much smaller sample size, owns a 39.7 percent grounder rate. There is no real advantage to using Tellez by that standard. So again, who is less likely to get doubled up? The much faster Turang. Additionally, the Brewers could have toyed with Turang dropping a bunt down to bring home the run from third. That's not an option with Tellez. Instead, Tellez bounced into a tailor-made double play to kill the rally.
The Brewers would ultimately come up short, losing the game 5-4 and their first series to the Pirates this season. This game is tough to swallow, with the Cubs on the verge of sweeping the San Francisco Giants and cutting Milwaukee's NL Central lead to just 1.5 games. Now is not the time for the Brewers to lose the one significant advantage they have over the Cubs - the manager.
Counsell has been one of the best managers in baseball since taking over full-time in 2016. His terrific September record over the years has earned him some benefit of the doubt. Unfortunately, many have fairly questioned several decisions in recent weeks (e.g., keeping Wade Miley in for the seventh inning against the Philadelphia Phillies on Sunday when he lost the lead). The laser-focused, fine-tuned September calls from the past have yet to be there. Wednesday's choices were among the worst. Maybe, like players, a manager can find himself in a slump, too. Let's hope Counsell snaps out of it quickly, for the Brewers' (and their fans) sake.
Think you could write a story like this? Brewer Fanatic wants you to develop your voice, find an audience, and we'll pay you to do it. Just fill out this form.
MORE FROM BREWER FANATIC
— Latest Brewers coverage from our writers
— Recent Brewers discussion in our forums
— Follow Brewer Fanatic via Twitter, Facebook or email