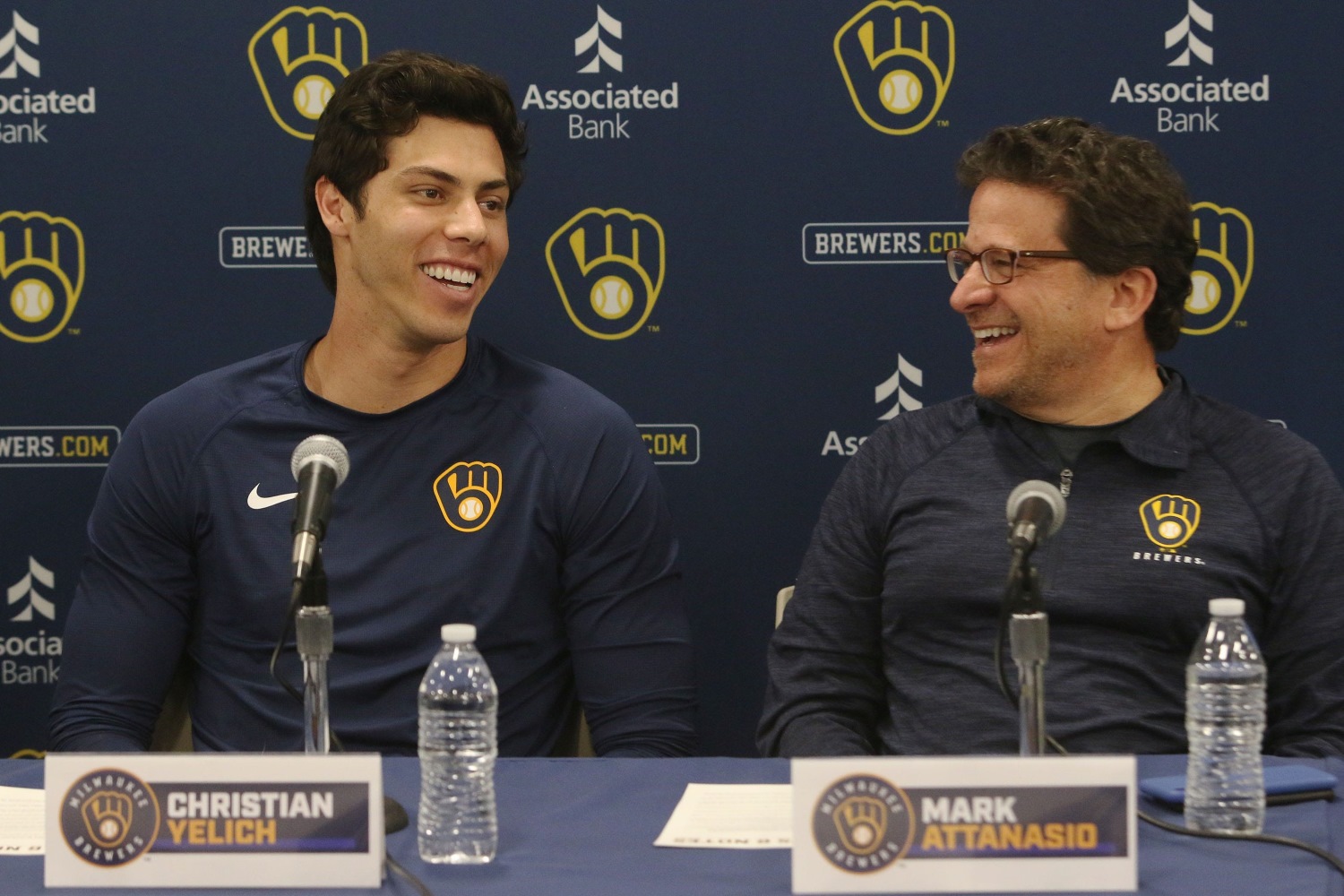 Image courtesy of © Roy Dabner, for the Milwaukee Journal Sentinel, Milwaukee Journal Sentinel via Imagn Content Services, LLC
Obviously, the MLB Players Association will fiercely resist any effort to implement a cap. If that weren't self-evident, MLBPA executive director Tony Clark said as much in the wake of the news of the committee's inception. By now, most fans realize that if the fight really is to be one between millionaires and billionaires, then the right side to take is that of the millionaires–the players. That would incline many fans to mistrust advocates of a cap, and there are good reasons to do so. 
In truth, though, we need to avoid oversimplifying complex issues like this one as a matter of owners and players in direct and dual confrontation. There are more constituencies to consider. The owners are far from monolithic in their interests or their preferences. Small- and mid-market teams will always push for a cap if they have an opportunity to do so, but deep-pocketed, aggressive owners like the Mets' Steve Cohen, San Diego's Peter Seidler, and Philadelphia's John Middleton are much less likely to support one.
More importantly, fans have a right to think of themselves as a party to these deliberations, and not to merely align themselves with one of the two more powerful blocs at the bargaining table. We should all demand that players receive a fair share of the revenue generated by the game, and we should all want to ensure things like player safety and the eradication of human trafficking or the exploitation of children. 
When it comes to something like a cap on major-league payrolls, though, the absolutes of right and wrong fall away. In fact, even the financial and economic impact of a cap is less clear than some of its more fervid opponents would have you believe. Any cap system would also involve setting a salary floor, likely in excess of 50 percent of the cap. Right now, six or seven teams spend less than any likely floor would compel them to spend each year. Moreover, putting a cap in place would require clear definitions of baseball revenue and a fixed percentage of that revenue being distributed to players. Under the current system, owners have found more and more ways of making money they can semi-credibly declare not to be related to their teams, and thus, the share of revenues and profits that players receive has steadily shrunk.
Finally, and perhaps most urgent of all to Brewers fans, there's this: a salary cap inevitably lessens the impact of market size on perennial competitiveness. As many have observed, the major American sports leagues that do employ a cap hardly have perfect parity. Nor does the lack of a cap prevent teams from spending competitively or winning often even in smaller markets, as the Padres, A's, Rays, Brewers, and others have proven in various ways and at various times over the last quarter-century. Still, the correlation between payroll and competitiveness is stronger when the gap between high and low payrolls is wider, and as long as there's no cap in place, those wide spreads (and the resultant advantages for teams in bigger markets) will persist.
If there were a salary cap in MLB, the Brewers would still face tough choices. They might still need to spend less than most of their rivals, since their revenues are relatively small–albethey ample, especially when combined with the enormous personal fortunes of their owners. The cap probably wouldn't permit teams to retain more than two or three players on the kind of market-rate, high-dollar deal to which the Brewers already have Christian Yelich signed, and for which Corbin Burnes, Brandon Woodruff, and Willy Adames will be looking over the next two years. With those limitations working to tamp down the potential value of seeking their paydays elsewhere, though, it would probably be easier for the team to sign at least one of the three to a long-term deal. 
The strength of the club's scouting and player development infrastructures would also be more valuable, since every constraint on on-field spending makes the advantages teams derive from non-player expenditures more pivotal. Many of the things we love about baseball would only become more indispensable in a capped league.
Again, that doesn't mean the cap is a panacea. There are plenty of reasons to worry about abuses or cheating by owners, because baseball owners have abused and cheated every set of rules to which they have ever agreed. A cap would slow the growth of player salaries, especially at the higher end of the market, and could result mostly in billionaires sitting on larger piles of cash. If taking the risk of that could yield a better, fairer game, however it might be worth rolling the dice.
---
Where do you fall in this debate? Would a cap have enough of a moderating impact on the importance of market size and revenue to make up for whatever evils would come with it? Would it be the cataclysm Clark describes? Let us know what you think in the comments.
Think you could write a story like this? Brewer Fanatic wants you to develop your voice, find an audience, and we'll pay you to do it. Just fill out this form.
MORE FROM BREWER FANATIC
— Latest Brewers coverage from our writers
— Recent Brewers discussion in our forums
— Follow Brewer Fanatic via Twitter, Facebook or email