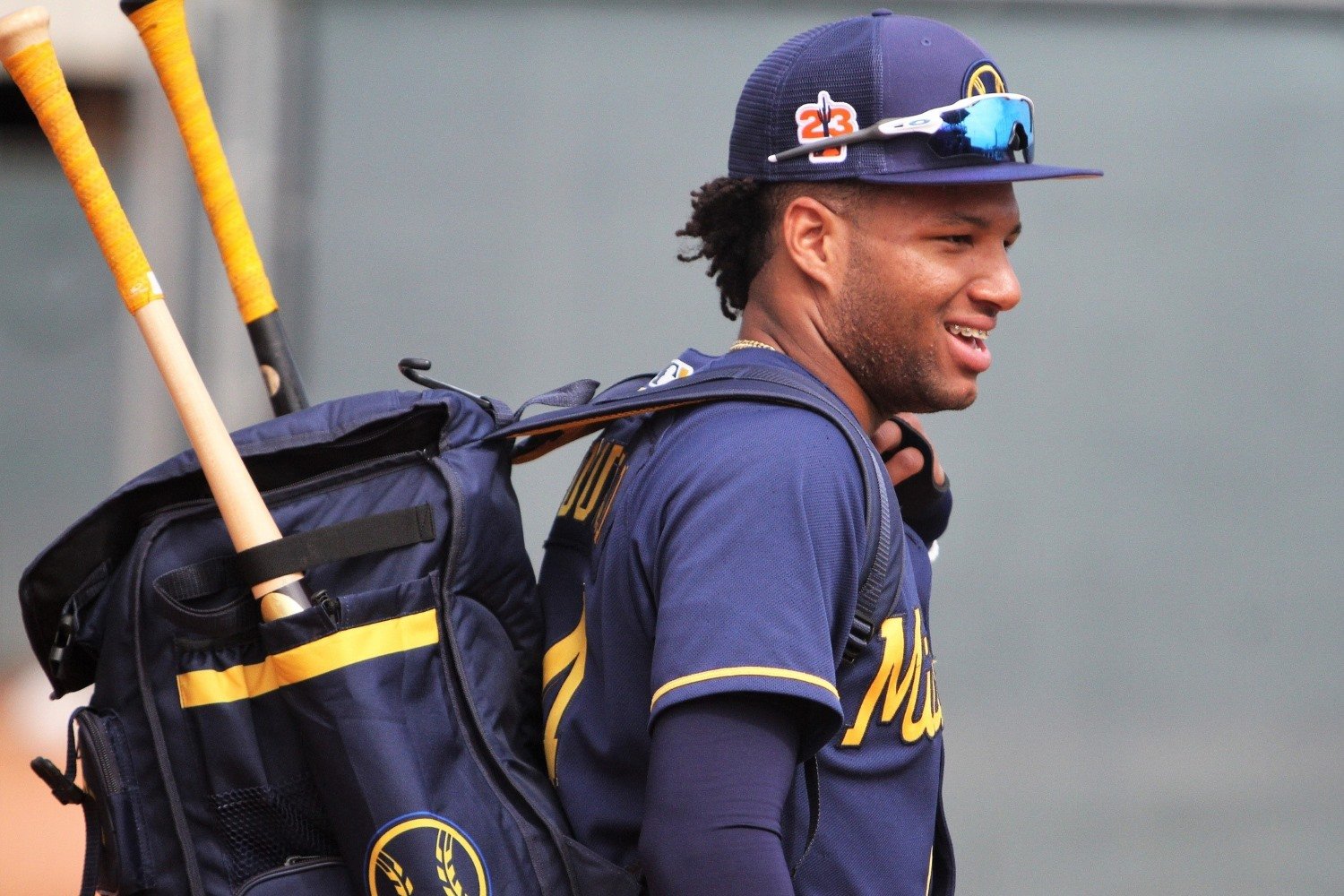 Image courtesy of © Curt Hogg / Milwaukee Journal Sentinel / USA TODAY NETWORK
When rosters expand in September, it isn't uncommon for top prospects to arrive and grab a cup of coffee in the majors. In this case, however, the Milwaukee Brewers are in a tight playoff run, and anyone they promote needs to be ready to contribute immediately. Still, their outfield has struggled to consistently produce outside of Christian Yelich and Sal Frelick, meaning there is a spot open for Jackson Chourio--should the Brewers feel sure that he's ready.
Here are a few reason to believe that he is:.
Chourio's strikeout rate has decreased over the course of the year, beginning to allay the biggest concern most scouting evaluators have had about his future production. Even against the stickier ball the Southern League used in the first half, he was steadily improving, and he really took off in July, recording a strikeout rate of 10% while winning Minor League Player of the Month honors with a 1.164 OPS; more extra-base hits than strikeouts (just nine in all of July); and a whopping nine stolen bases. In other words, he took off. He's hitting .323 in August, as well, so the hit tool seems to be seriously improved.
He also checks a box the Brewers consider non-negotiable, in that he plays premium defense in center field, or any part of the outfield for that matter. He's produced an array of highlight-reel catches, and he's developed his arm to the point that he's recorded four outfield assists from center so far this year. His speed and his excellent routes have been a huge plus, giving him a high floor as a defender. That, along with a 17.1% strikeout rate over the last 90 days, gives an idea of the minimum impact he could have.
His ceiling, however, is Sistinesque. He recently set the record for home runs by a teenager in Double A (previously owned by star sluggers Giancarlo Stanton and Fernando Tatis Jr., and has been pummeling balls all season to all parts of the ballpark. It's truly astonishing the number of line drive home runs he's hit to the opposite field, and just how hard he hits the ball.
Here are his splits over the year:

The question, then, becomes how he would handle himself at Triple-A Nashville, where a spot may just have opened up with the trade of Tyler Naquin to the Chicago White Sox. With a ball that was being tested, resulting in MLB-caliber movement on pitches (fastballs were recording almost 20 percent extra induced vertical break), you could say Chourio faced his toughest challenge yet, but it's also fair to say that while he improved against these tacky balls, he didn't dominate against them. That brings us to the issues that make it harder to believe in Chourio's instant-impact potential.
His biggest weakness is his pitch recognition, not in terms of getting bat to ball, but in terms of making weak contact with pitches that he should be laying off of. He sometimes neglects to work for a pitch on which his terrific bat speed can do more serious damage. This issue was highlighted against the tacky ball, where pitchers got more movement but less control than they were used to, resulting in players like Tyler Black and Jeferson Quero taking a lot of walks, something Chourio didn't do. Elly de la Cruz spoke of a similar process he underwent at Triple A this year, and it's probably the perfect spot for Chourio to develop this side of his game, against pitchers with more nous and better control than you'd find at Double A. He has 32 walks and 77 strikeouts so far on the year, good for just a 7.5% walk rate. This has continued in August, with just one walk in 43 plate appearances, compared to seven strikeouts.
At the beginning of the year, several teams took the unusual step of promoting prospects straight from Double A, including the Yankees' Anthony Volpe and the Cardinals' Jordan Walker--neither of whom really succeeded in their first turns. Walker got some extreme BABIP luck early on, but was demoted later, before returning as a better hitter. Volpe has struggled most of the season, en route to a .660 OPS. Chourio's issues with chasing pitches he shouldn't will be tested and best developed against Triple-A pitchers, and with such a prized asset, it's unlikely the Brewers will promote him unless he's in a position where no challenges remain in the minor leagues. With all of this, it's likely he'll spend at least a month or so in Triple A, and any promotion thereafter would depend on the results he's getting at that level.
While Chourio is a uniquely exciting prospect, it's important to remember that there are holes in his approach at the plate that the likes of Tyler Black simply don't have. That's a big reason why Black has been promoted ahead of him. Black's bat and control of the strike zone is next level, and perhaps he looks better poised for a September callup. Chourio's remaining developmental needs are substantial enough that he would likely be exposed to some extent against the cream of the crop pitchers, and while it may help his development in the long run to get that failure under his belt early, it may not help the Brewers in the short term to let him do so.
Much will depend on how he does at Nashville. If he spits on pitches on the edges of the strike zone early in the count, then he could provide the same boost Randy Arozarena gave the Rays in 2020, especially in October. As was true of Arozarena, the power in Chourio's bat is truly astonishing. He's scorching line drives, rather than fly balls, out of the park, and his bat-to-ball skills and defense render him a true star in the making. Let's face it: With this pitching staff, an on-fire Chourio can be the difference-maker the lineup needs.
If he has a walk rate of over 10% when his promotion comes, then a further promotion is very much in play, but it's unlikely he'll be able to make this adjustment overnight. He's already doing that so quickly for a 19-year-old, and it's important to remember his age in this context.
The Brewers front office won't unleash Chourio until he's ready to take the league by storm. Do you think he'll be ready by the middle of September?
1