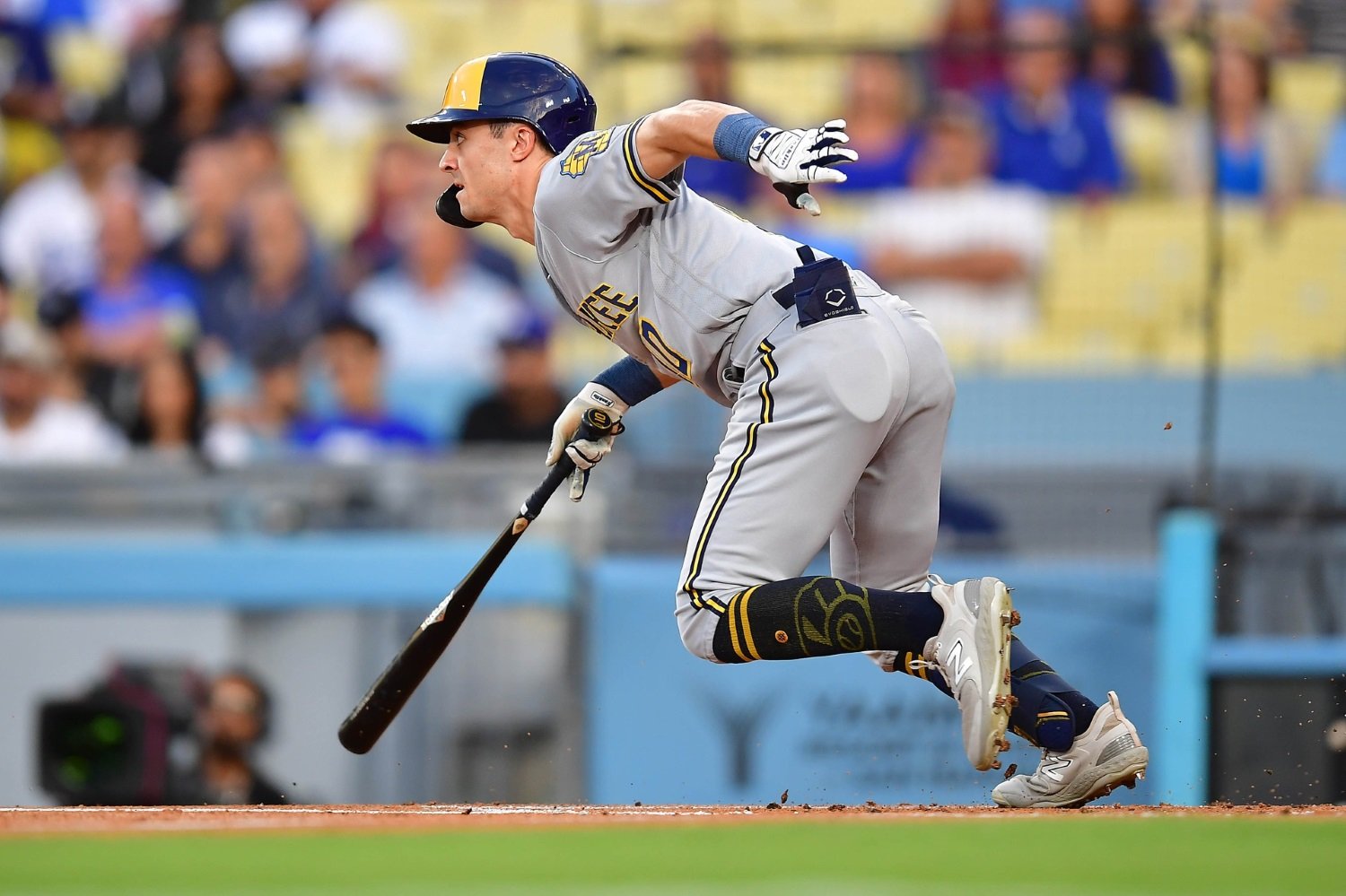 Image courtesy of © Gary A. Vasquez-USA TODAY Sports
Sal Frelick couldn't have hit the ground running much more smoothly. His famous debut was only part of the story. For a bit, he looked like the savior of an underperforming Brewers lineup. He hit .273/.436/.546 in his first 16 games, and although none of his three home runs were moonshots, he seemed to be answering the questions everyone had previously had about his upside. Craig Counsell showed his confidence in the new guy by installing him as the cleanup hitter.
Since then, Frelick has hit a rough patch. He's batted just .191/.261/.238 over his last six games, comprising 23 plate appearances. That sample, alone, is so tiny as to be meaningless, and anyway, he's walked twice and struck out only three times in that brief span. Dig in on a more granular level, though, and there are reasons to raise an eyebrow and wonder about that offensive upside, after all.
Frelick has yet to hit a ball even 106 miles per hour in the big leagues. That isn't great. The median maximum exit velocity for qualifying hitters this year is 111 MPH, and if Frelick qualified, he'd rank in the bottom 10 overall. It's a survivable flaw, though. That end of the list is populated by players who share a lot of Frelick's positive traits, like good plate discipline, excellent contact skills, and value on the bases or in the field. Steven Kwan, T.J. Friedl, Luis Arraez, and Alex Bregman are all in the same range. So, for that matter, is Brice Turang.
Those names highlight just how good a pure hitter one has to be to overcome the lack of legitimate power, though. Frelick can be valuable as an individual because of his great defensive skills, but if he wants to serve the team as the kind of major offensive threat they're hoping for down the stretch, his margin for error is pretty thin. He has to either gear up and start attacking the ball more, or get even better at controlling and defending the strike zone.
With wizard-like hands and wrists, Frelick avoids whiffing very much even on breaking balls and off-speed stuff, but it's only against fastballs that he does actual damage. His average exit velocity against everything else is 79.8 miles per hour, which not only ranks 496th of the 508 hitters who have had at least 10 batted balls on soft stuff this year, but actually (if infinitesimally) trails Mike Brosseau. 
Frelick doesn't crush balls in the heart of the strike zone, at least so far.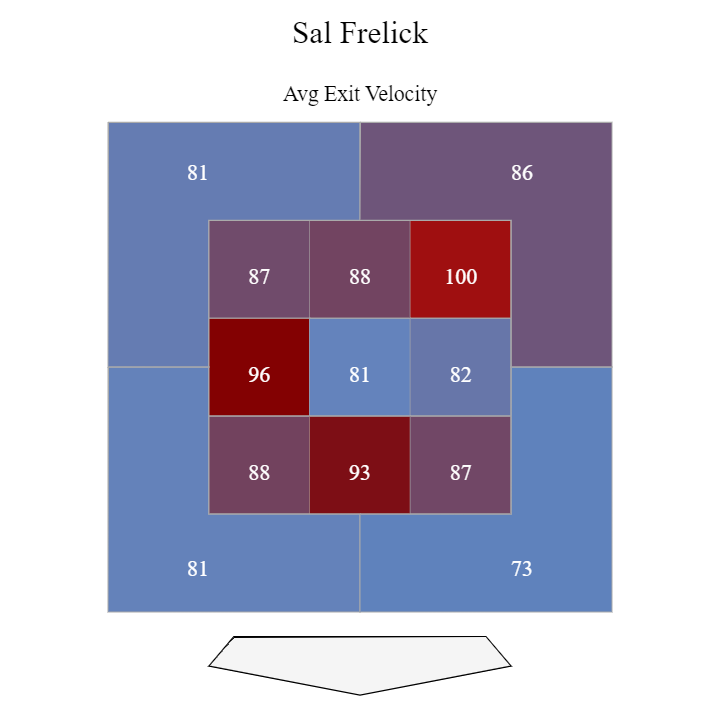 He also doesn't swing the bat very often, relative to the rest of the league, regardless of whether the ball is in the strike zone or not. He's certainly a patient hitter, but he hasn't yet shown that he can manage the line between patience and passivity well. As a result, pitchers get a lot of called strikes against him, as long as they stay out of the middle of the plate. They don't need to generate many whiffs from him if they can continue to pound the zone with strikes at which he doesn't even offer.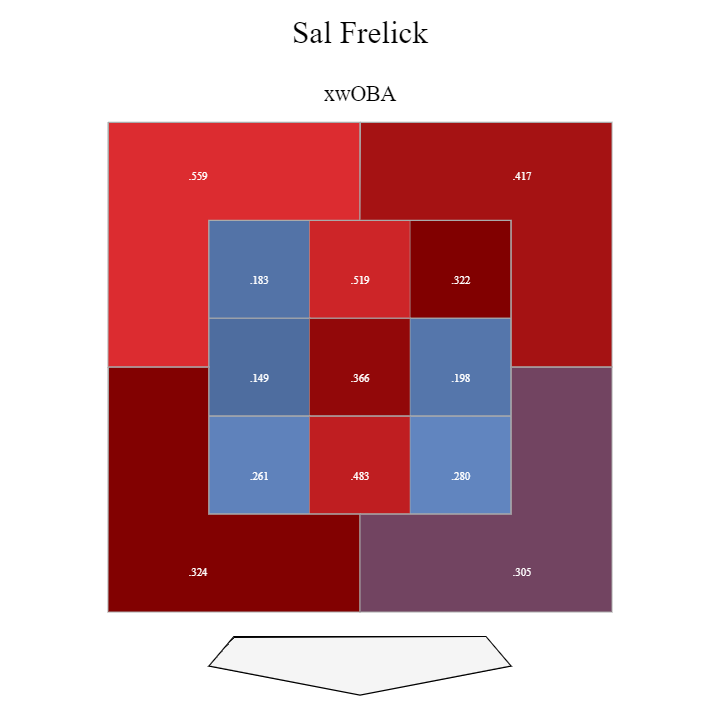 It's impossible to tell, at this early date, whether Frelick can adjust to and alter all of that. He's shown the bat speed to drive the ball out of the park, and to the pull field, but now, he has to show that he can sit on stuff that will be slow and bendy, rather than fast and straight, and still hit it with authority. He has to get more aggressive within the zone, in order to force pitchers to throw him fewer strikes. Again, he's going to put up good overall numbers, in categories like Wins Above Replacement, because he's a good contact hitter, baserunner, and outfielder. To have the impact the Brewers want over the final seven weeks, however, he has to quickly learn and improve upon the work he's already done.
Think you could write a story like this? Brewer Fanatic wants you to develop your voice, find an audience, and we'll pay you to do it. Just fill out this form.
MORE FROM BREWER FANATIC
— Latest Brewers coverage from our writers
— Recent Brewers discussion in our forums
— Follow Brewer Fanatic via Twitter, Facebook or email