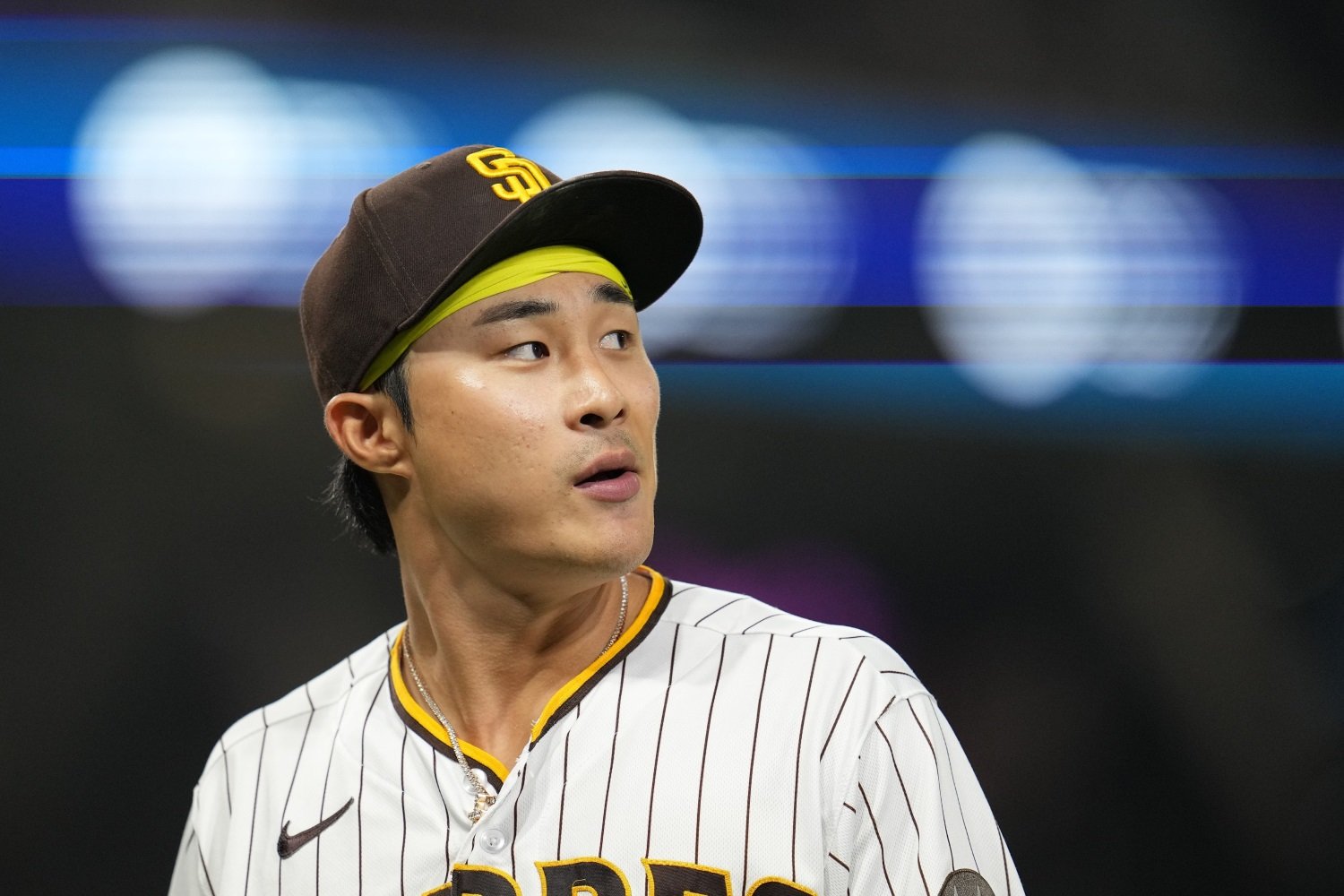 Image courtesy of © Ray Acevedo-USA TODAY Sports
It's functionally impossible, at the moment, to predict what the San Diego Padres are about to do. They&# trades by frenetic head honcho A.J. Preller. Most pundits predict that they will stand pat, or even make small improvements in pursuit of a Wild Card berth.
The Brewers could change their minds, if the price is right. With Brice Turang and Willy Adames, the team has stout defense up the middle, but they're getting lousy offensive production. At third base, Brian Anderson's injury setback means at least another fortnight of Andruw Monasterio, who has been perfectly cromulent but doesn't seem like a long-term answer, and who could even collapse down the stretch if his luck turns. The Brewers might just be eager enough to pull the trigger on a big infielder trade with Preller.
Let us talk, then, about Ha-Seong Kim. 
At 27 years old and on a team-friendly contract, Kim is a bargain. Even if he declines his side of a mutual option ion 2025, he can't become a free agent until after 2026. That's just the tip of the iceberg of his value, though. After a rough rookie campaign when he came over from the Korean Baseball Organization, Kim figured things out in 2022, and he's exploded into one of the most valuable and exciting players in baseball in 2023. He's batting .279/.374/.447 this year, with 14 homers and 21 stolen bases. He plays second base, third base, and shortstop, all with nearly equal aplomb. 
According to Baseball Reference, only Shohei Ohtani and Ronald Acuna Jr. have been more valuable than Kim this year. FanGraphs is way down on him, ranking him only 11th in WAR. He is 46th in WARP at Baseball Prospectus, which takes his batted-ball data and granular level of competition into account more carefully, but even so, he's one of the better young players in baseball. 
Why on Earth would the Padres trade him, then? It's pretty simple. Firstly, they're not good enough right now. That should be obvious, given their 52-54 record. Secondly, they're already running as high a payroll as they can afford to run, so their improvements have to come either completely from within, or via trades that deepen their farm system. Thirdly, they have Manny Machado, Xander Bogaerts, and Fernando Tatis Jr. all on long-term, huge-dollar deals, and none of those contracts would be movable right now, even if that were what the team wanted to do. Fourthly, with Machado and Bogaerts locked in on the left side of the infield, either Tatis or Jake Cronenworth (who's also playing on a long-term extension, signed this winter) could slide to second base if the team traded Kim, leaving a relatively easy offensive position to fill--be it right field or first base.
Thus, getting a massive haul in exchange for Kim could be the next way out of trouble for Preller, whose back will be to the wall if he doesn't rapidly recover from this misstep of a season. He can do it without torpedoing his team's chances to sneak into the playoffs in 2023. It's worth exploring, from his end.
For the Brewers, Kim couldn't be a more perfect potential addition. He could spell the struggling Adames, and get Turang out of the lineup against lefties, while being the primary third baseman for the next year and a half. Then, if Adames departed as a free agent, Kim could slide over to shortstop, creating a seamless transition. All along, he'd add some thump and some much-needed contact skills to the heart of the lineup, and he'd fit in with the running game the Brewers have already cultivated this season.
There's just one catch: the massive cost. To make this the right button for San Diego to push, the Brewers would have to pay through the nose. We're talking about a package that starts with either Jackson Chourio or Sal Frelick, and includes Jacob Misiorowski, and it might not stop there. For three and a half cost-controlled seasons of one of the best infielders in baseball, that's a fair price. Sometimes, fair prices are excruciating. It will be understandable if, ultimately, Matt Arnold is unwilling to take that much pain, even in exchange for the massive gain Kim could offer.
Eventually, though, the Brewers have to go for it. It's not just Adames on whom a ticking countdown clock toward free agency is getting louder by the second. Corbin Burnes and Brandon Woodruff are also just a year and a half from reaching that opportunity. Kim would be a short-term addition with the potential to put this team over the top, and he'd double as a flexible long-term option that would give them many avenues to perpetual contention. It might be a pipedream, but it's the pipedream worth studying seriously, because the circumstances that could force the Padres to consider it won't last forever, and neither will the Brewers' core.
Think you could write a story like this? Brewer Fanatic wants you to develop your voice, find an audience, and we'll pay you to do it. Just fill out this form.
MORE FROM BREWER FANATIC
— Latest Brewers coverage from our writers
— Recent Brewers discussion in our forums
— Follow Brewer Fanatic via Twitter, Facebook or email