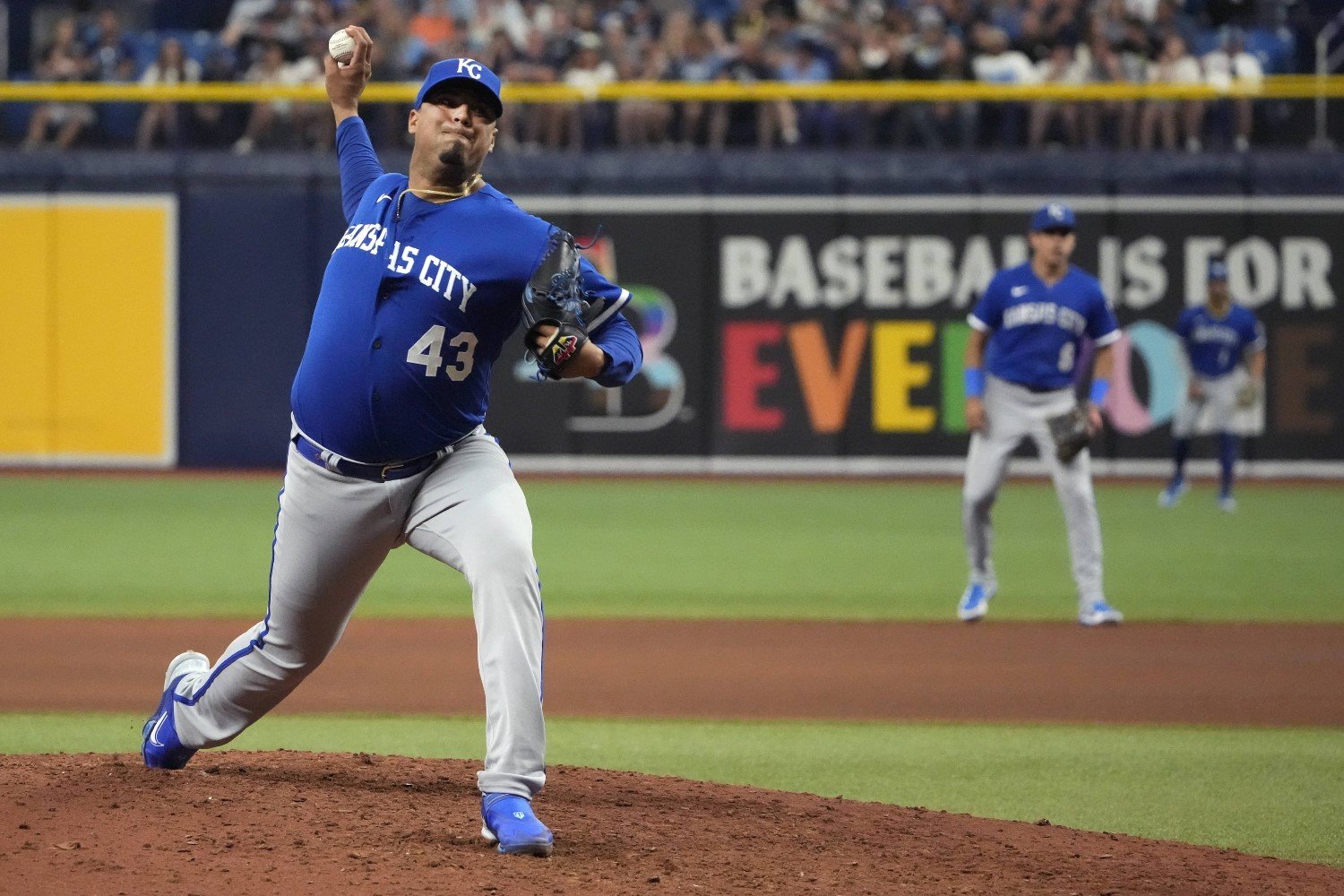 Image courtesy of © Dave Nelson-USA TODAY Sports
That the Brewers need to go shopping in the relief pitcher market this month is certainly no indictment of Devin Williams, Joel Payamps, or Elvis Peguero. Even after Peguero gave up a game-losing home run Sunday, that trio has led a supernal bullpen this year, and the Brewers' 19-8 record in one-run games is the biggest reason why they lead the NL Central (however precariously) entering this week's momentous series against the Reds. 
No one ever talks about a team's record in two-run games, but for what it's worth, the Brewers are 5-12 in them this year. That's as much on their offense as on their bullpen, but it illustrates the fact that their relief corps is not bulletproof. Nor will they look as good two months from now, if the team continues to need them as much as they have this month, unless the front office supplements the bullpen ahead of the deadline on August 1.
Thus, we should take a quick look at some available relievers who would deepen that unit and lessen the burden on the guys whom Craig Counsell has come to trust the most this year.
Carlos Hernandez, RHP, Royals
Right off the bat, let's look past rental relievers and talk about what a more exciting acquisition could look like. After a conversion from starting to relieving, Hernandez has found two extra miles per hour and some added life on his fastball, plus some extra zip on his slider. He's used those two pitches and a modestly effective splitter to strike out nearly 30 percent of opposing batters this season, while walking a very tolerable 7 percent. He's a flamethrower already, and it's likely that the Brewers could tap into even more upon landing him. He also has four years of team control remaining beyond 2023.
Because of that last fact, he'd be an unusually expensive trade piece, relative to the relievers who get swapped at most deadlines. He's similar to late-blooming reliever Scott Effross, whom the Cubs traded (with five years of club control left) to the Yankees last July for starter Hayden Wesneski. It was a steep price for New York, and Effross has now undergone Tommy John surgery, but the thought process at the time was that Effross might cement the team's status as favorites to charge through the American League playoffs. Wesneski had spent considerable time in the upper levels, but has shown his warts since getting his chance with the Cubs. The equivalent move for the Brewers would be to trade Robert Gasser for Hernandez, which sounds like a high price. However, Hernandez could find even greater utility for his stuff under the better tutelage of Brewers pitching coaches, and he would provide insurance against the regression or fatigue that might afflict Payamps, Peguero, or Williams late this season. He would also make it more possible to envision the long-term bullpen picture.
David Robertson, RHP, Mets
Apparently ageless, though not quite bionic, Robertson is having an even better season than he had last year, when he started the year with the Cubs and ended it as a linchpin of the Phillies' bullpen. He's eliminated the control problems that plagued him at times in 2022, and remains extremely effective with his unconventional mix of cutters and sharp curveballs. The Mets are stuck in the doldrums and are likely to move pieces just like Robertson, who's nearing 40 years of age and will be a free agent at year's end. He's a bit expensive monetarily, but that should only serve to keep the acquisition cost down. Failing that, the Mets might pay down his salary to facilitate the small-market Brewers taking him. Last year, he commanded a rising starting prospect in Double A. The equivalent in the Brewers farm would be someone like Carlos F. Rodriguez. 
Jose Cisnero, RHP, Tigers
A lower-cost alternative to either of the above pitchers could be Cisnero, who is 34 and will be a free agent at season's end. He's a rare creature, a reliever with five pitches, and the Brewers would immediately clean up his pitch mix. (Gone, for instance, would be most of the sinkers he throws to lefties, and he'd follow in the steps of Payamps by becoming a sinker-slider guy to righties and a four-seam/changeup guy against lefties. Like Bryse Wilson, though, he'd also be likely to stick with and even emphasize the cutter, which seems to come out of his hand very naturally.)
Cisnero won't be one of the five or six most talked-about right-handed relievers this deadline, but he's an obvious candidate to go somewhere, and the Brewers seem like an ideal destination. Any of these three, though, would lighten the loads of the team's existing triumvirate, and make it easier for them to both sew up the NL Central and push through the playoffs toward the World Series. Which one appeals most is about what you value most in a reliever; how much you want to plan for the future in that volatile area of the roster; and what appetite you have for giving up prospects to improve this flawed roster's chance to make a deep October run.
Think you could write a story like this? Brewer Fanatic wants you to develop your voice, find an audience, and we'll pay you to do it. Just fill out this form.
MORE FROM BREWER FANATIC
— Latest Brewers coverage from our writers
— Recent Brewers discussion in our forums
— Follow Brewer Fanatic via Twitter, Facebook or email