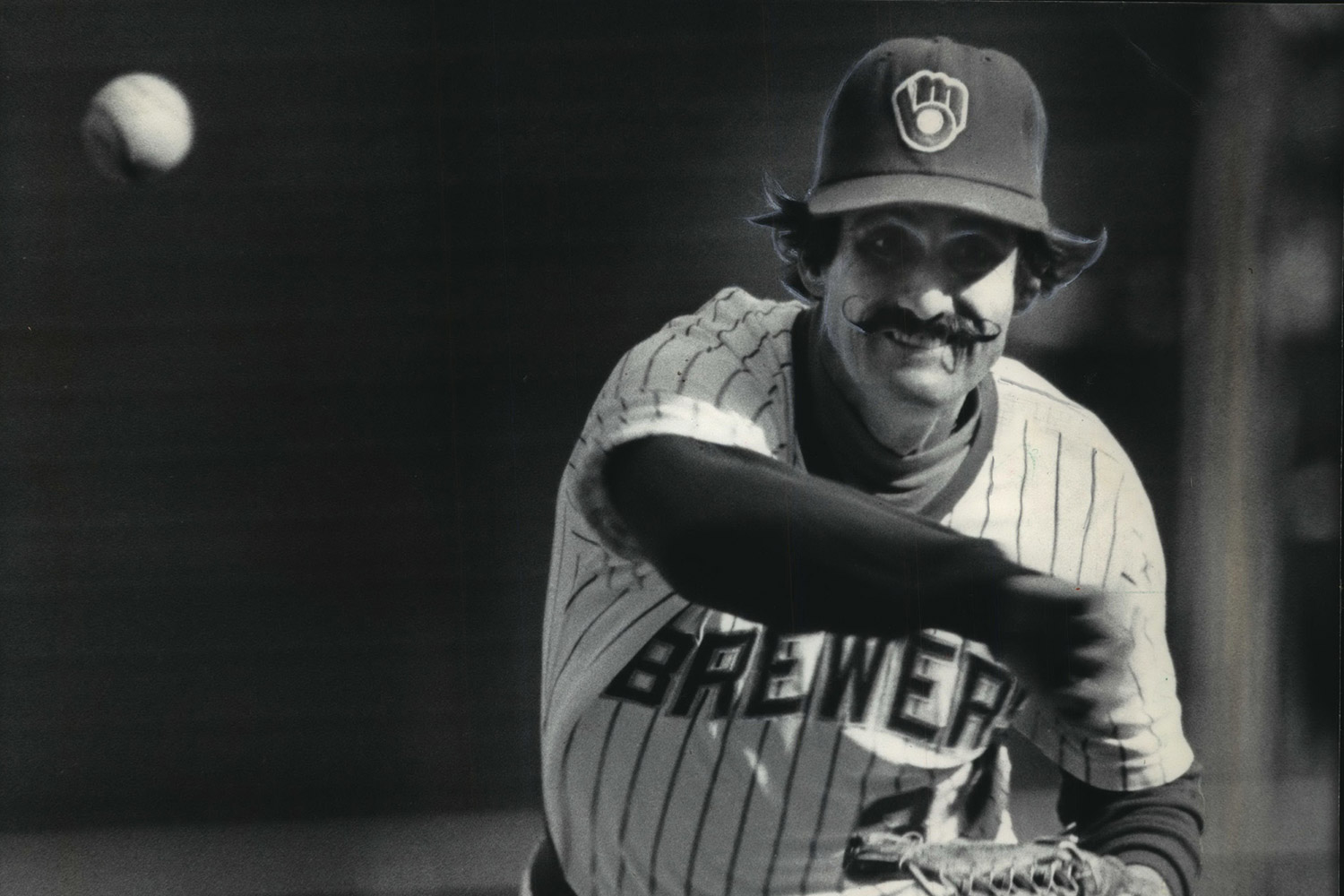 Image courtesy of © Rick Wood, Milwaukee Journal Sentinel
Baseball has evolved over the years, with the relief pitcher's role climbing in importance since the 1970s. Where once, the bullpen was where fringe arms were left to follow a struggling starter; nowadays, some of the most dominant arms in the game only come out to protect a small lead. Which Brewers pitchers were the best closers? Who deserves the coffee?
5. Ken Sanders
14-23, 2.21 ERA, 61 saves in 321 IP over three seasons.
Ken Sanders was the first Brewers closer to lock games down. His best season, 1971, saw him save 31 of the Brewers' 69 wins. It was a great performance in the days when the team struggled as it was establishing itself. He secured 16th place in MVP voting that year. After 1972, he was part of the trade that brought Don Money to the Brewers.
---
4. Rollie Fingers
13-17, 2.54 ERA, 97 saves in 259 IP over four seasons
Rollie Fingers and Bruce Sutter defined the modern closer, and for four seasons, Fingers held the spot down. An injury cost him the 1982 postseason (leaving Brewers fans to wonder if the `82 series would have been different) and the entire 1983 season. It was the tail end of a Hall of Fame career.
---
3. John Axford
21-19, 3.54 ERA, 106 saves in 263.2 IP over six seasons, three as the closer
Axford was a crucial part of the 2011 Brewers team that made it to the NLCS, saving 46 games that season. He locked down the ninth inning for three seasons and was a solid contributor in another, plus two cups of coffee with the team, one in 2009 and one in 2021. Axford left in a deal with the Cardinals for Michael Blazek.
---
2. Dan Plesac
29-37, 3.21 ERA, 133 saves in 524.1 IP over seven seasons, four as the closer, one as co-closer
Dan Plesac held down the closer's role for four seasons and was, for all intents and purposes, a co-closer in his rookie season with Mark Clear. His 133 saves still serve as the career mark for the Brewers, in one sense a reflection of how good he was, but also as a heartbreaking reminder of the cold realities of baseball's economics. Most notable was that after he left the Brewers following the 1992 season, he was an effective reliever for 11 more seasons.
---
1. Josh Hader
17-17, 2.48 ERA, 125 saves in 316.1 IP over six seasons, four as the closer, one as co-closer
Hader first appeared in 2017 but announced his arrival as part of a "Nasty Boys" trio with Corey Knebel and Jeremy Jeffress in 2018. From 2019 until the infamous mid-season 2022 trade, he held down the ninth inning, giving teams some Haderade as they were eased into an L for the day. While the mid-season trade, forced yet again by the cold economics of baseball, left a bitter taste in some fans' mouths, Hader's prominent role in four consecutive postseason appearances for the Crew cannot be understated.
---
Honorable Mentions
Francisco Rodriguez held down the closer's role for two seasons and was eventually flipped for Manny Pina, a key contributor to the Brewers' 2018-2021 playoff runs. Bob Wickman was not only a solid closer for the Crew in the late 1990s but also brought Richie Sexson to Milwaukee. Derrick Turnbow brought a wild fastball as he shut down opponents as the closer for two seasons. Mike Fetters held down the role for three seasons and brought Marquis Grissom to Milwaukee. Doug Henry also closed for three seasons, succeeding Plesac, then was traded to the Mets for a package than included Fernando Vina.
Think you could write a story like this? Brewer Fanatic wants you to develop your voice, find an audience, and we'll pay you to do it. Just fill out this form.
MORE FROM BREWER FANATIC
— Latest Brewers coverage from our writers
— Recent Brewers discussion in our forums
— Follow Brewer Fanatic via Twitter, Facebook or email