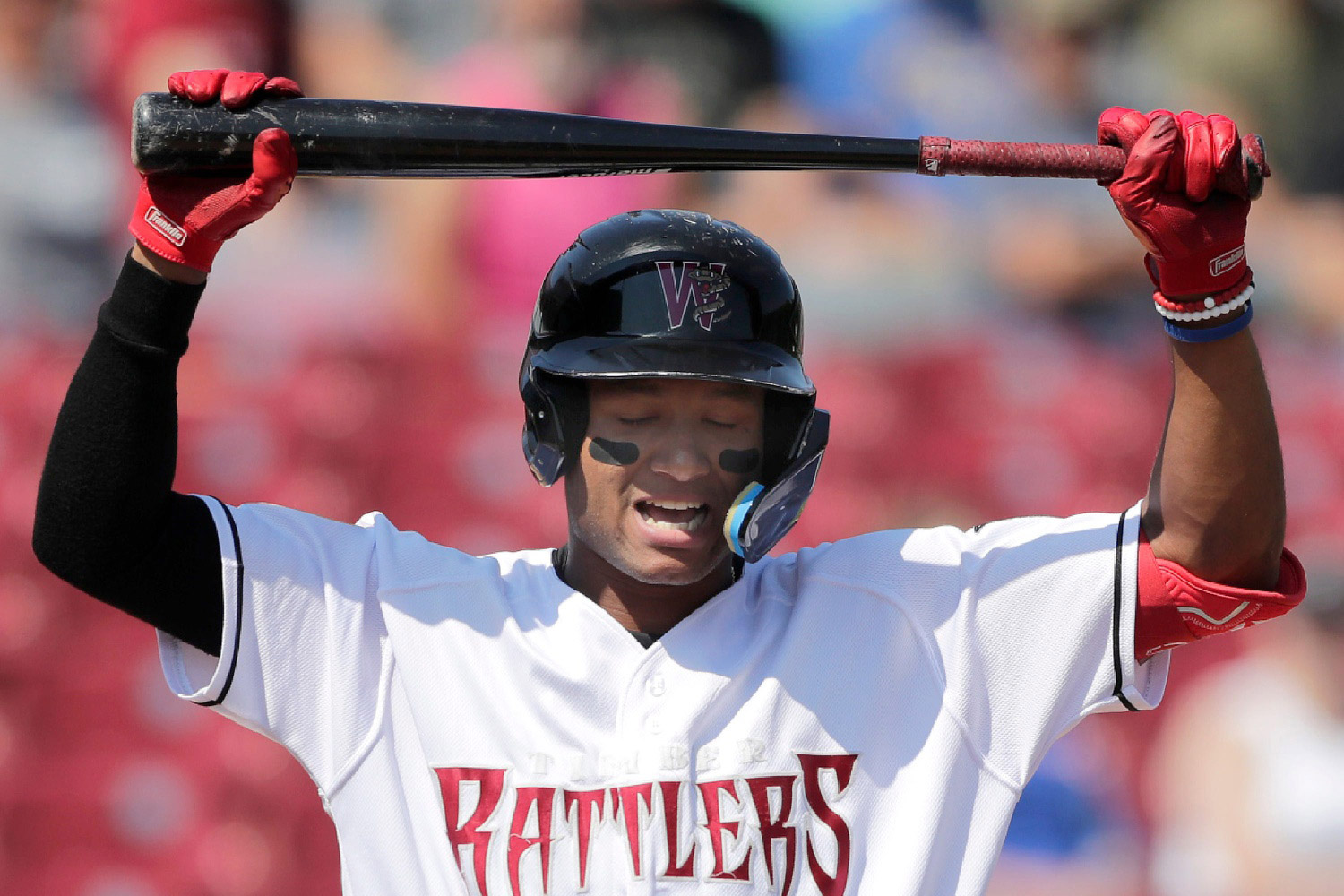 Image courtesy of © Wm. Glasheen/USA TODAY NETWORK-Wisconsin / USA TODAY NETWORK
The rankings below are a relative view of Brewers players and prospects based on the answer to one question: How valuable is this player to the Milwaukee Brewers organization?
We've done our best to account for all things a baseball player can provide in value, including age, contract, controllability, potential, etc. The rankings do not directly correlate with trade value. Instead, the list better represents how valuable a player is to the organization.
With that setup, here are my picks for the 6th through 10th most valuable assets in the Milwaukee Brewers organization heading into the 2023 season.
The Top 10 Brewers Assets for 2023: 6 through 10
Honorable Mention. Christian Yelich, OF
Conventionally, Christain Yelich's contract single-handedly ruins his monetary value. There's no denying that, but Yelich can be worth more than his contract with the Brewers. 
For whatever reason, the MVP form of Christian Yelich has disappeared over the last three years. Still, Yelich is now one of the longest-tenured Brewers and still possesses a high offensive ceiling with a relatively low floor. By giving him an honorable mention nod, I'm betting Yelich will take steps towards returning to being the player he was in 2018-2019, which can come with improved health and some minor adjustments.
A fully healthy Yelich is still capable of playing 140+ games, hitting 20 home runs, and getting on base at a high clip. Will he play at a $26 million level? Probably not, but there's no denying Yelich will be a key contributor if the Brewers are successful.
10. Rowdy Tellez, 1B
With two more years of inexpensive control left, Tellez has a shot at breaking out this year. The first base job is his to lose, and with changes to the shift coming, Tellez's already plus bat could see an uptick in production. If Tellez can find a way to have a few more hits fall, he has the potential to be one of the better-hitting first basemen in the league. 
If Rowdy Tellez puts it all together, there's a world where the Brewers keep him around for a long time. Already a key clubhouse member, Rowdy is a larger-than-life personality who also swings a pretty good bat.
9. Jesse Winker, OF/DH
Coming into a contract year, Jesse Winker could be a huge contributor for the Brewers offensively. His checkered bill of health is concerning, as is his poor performance last year, but there's plenty of reason to believe Winker can be the player the Brewers saw back when he was a member of the Cincinnati Reds. 
There's also a possibility that Winker will be moved near the trade deadline. I see two scenarios where this is possible: one where the Brewers are out of the race early or a world where Garrett Mitchell, Sal Frelick, and Joey Wiemer can comfortably fill a vacant spot should Winker be moved. It may seem unlikely now, but it's worth mentioning. 
A healthy Jesse Winker can quickly become an offensive nucleus for the Brewers. Even though Winker likely won't be in a Brewer past 2023, I expect him to be an important bat in a competitive season, even if it's only for a single season.
8. Luis Urías, 2B
Luis Urías is still only 25 years old. He has three years of control and has already proven he can be valuable with the glove and bat.
His power is what makes Urías such a pleasant surprise. Coming through the minor leagues with the Padres, Urías wasn't given a friendly grade regarding his power but has shown he can slug over .400 while popping 20 homers. 
Throughout his young career, Urías has been able to stay relatively healthy, showing he can play multiple infield positions. Urias may not be the most exciting player, but he'll generate 3-4 WAR for a low price.
7. Devin Williams, RP
The only thing hurting Devin Williams' overall value is that he's a relief pitcher. Williams made his first all-star game in 2022 and took over the closer role following the Josh Hader trade. His season numbers were excellent, posting a 1.93 ERA, a WHIP of 1.005, and FIP of just 2.01. 
There's no doubt Williams will be able to replicate his dominance on the mound in the future, but as a closer, the Brewers need to win late for him to get into games. The more that happens, the more valuable Williams will become.
The Brewers will lean on Williams to navigate them in and out of trouble in 2022 and beyond and there's no reasonable doubt he can't do it.
6.  Jackson Chourio, OF
You could very well argue that Jackson Chourio is the most valuable player in the Brewers organization right now, and in many ways, you'd be right.
At just 18 years of age, Chourio is not only the Brewers' top prospect but also one of the top prospects in all of baseball. He had a fantastic season throughout the minor leagues in 2022, including being named the Carolina League Most Valuable Player, winning a MILB gold glove, and slashing .288/.342/.538 between three teams.
There's no doubt that Chourio, traditionally speaking, is the most valuable asset the Brewers have. However, there's one thing holding him back on my list. Jackson Chourio's impact likely won't be felt in 2023. It might not even be felt in 2024. He's too valuable to be traded and too young to impact the big-league club. With only a handful of AA games under his belt, Chourio still has a ways to go before he's ready to contribute to the big league club. Because of that, Chourio needs time, so for as valuable and talented as he is, there's nothing we can do but wait.
Think you could write a story like this? Brewer Fanatic wants you to develop your voice, find an audience, and we'll pay you to do it. Just fill out this form.
MORE FROM BREWER FANATIC
— Latest Brewers coverage from our writers
— Recent Brewers discussion in our forums
— Follow Brewer Fanatic via Twitter, Facebook or email
1