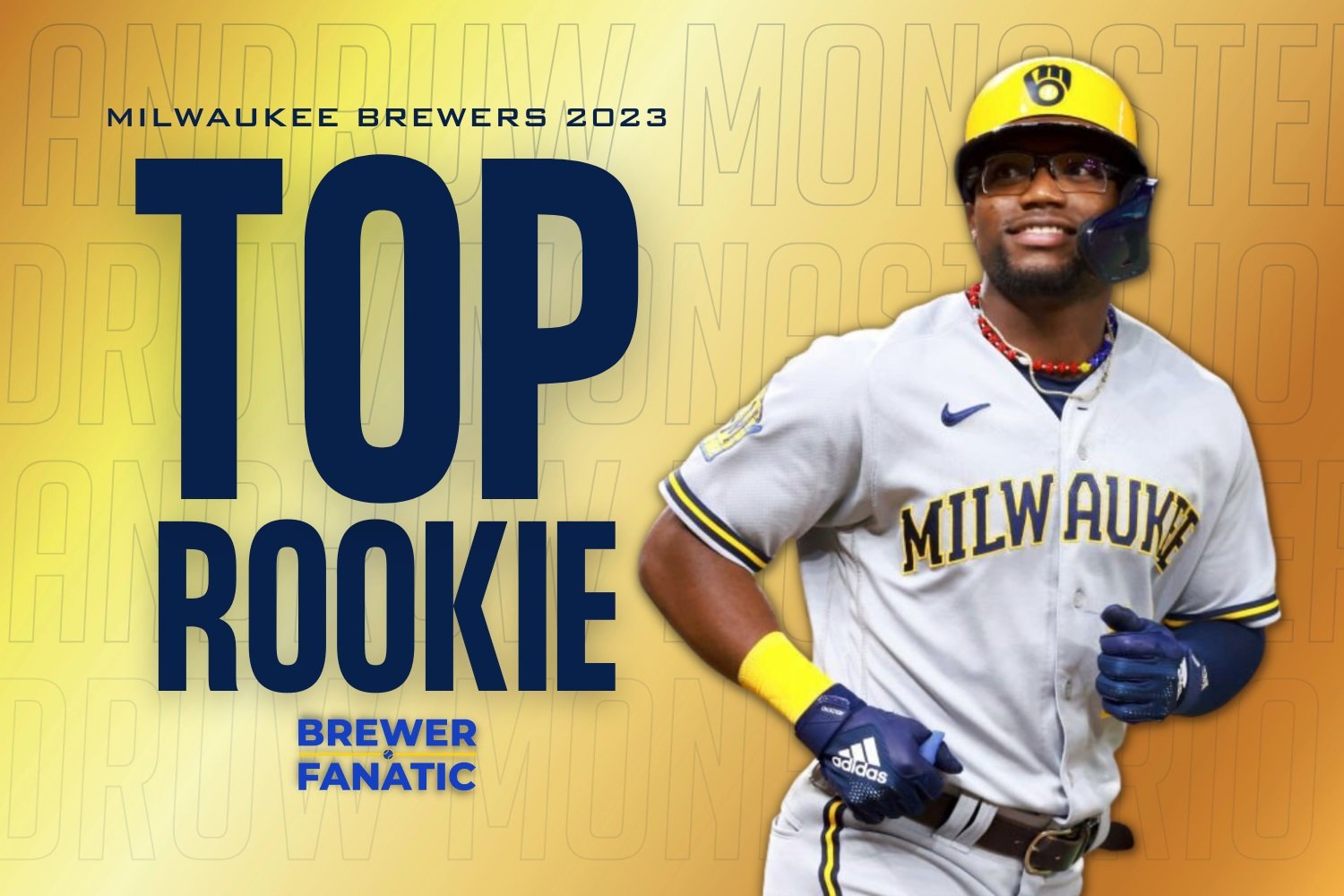 In one sense, the Brewers were expecting to see a few rookies contribute at some point during this season. However, injuries to Tyrone Taylor and Luis Urias resulted in rookies getting a lot of playing time very early. Six rookies saw extensive playing time for the Brewers, filling crucial roles that helped the team nail down the division title and make the playoffs. Ten writers from Brewer Fanatic voted for the team's top rookie. Let's see who got the votes.
Others Receiving Votes
Outfielders Joey Wiemer and Blake Perkins
When Urias injured his hamstring on Opening Day, forcing Brian Anderson to play third base, Wiemer got the call to handle right field. He soon moved to center, when Garrett Mitchell was injured. While he flashed power and speed, his biggest contribution was defense. Blake Perkins also came up (after being signed to the 40-man roster as a minor-league free agent) and provided some decent offense and defense.
4. RHP Abner Uribe
1-0, 1.76 ERA, 1.17 WHIP, 16 hits, 20 walks, 39 strikeouts in 30 2/3 innings pitched.
Uribe was a top relief prospect on the MLB Pipeline top 30 and Brewer Fanatic Top 20 lists who dominated in Biloxi and Nashville before he got the call-up to Milwaukee in July. After his July 8 debut, he became part of a shutdown relief corps (alongside Devin Williams, Hoby Milner, and Joel Payamps) that rarely blew a lead. Uribe's stabilization of the bullpen helped take the sting out of the not-so-good results posted by trade acquisition Andrew Chafin and Elvis Peguero's cooldown from a superb start.
3. SS/2B Brice Turang
.220/.288/.303 in 400 at-bats, 9 doubles, 3 triples, 6 home runs, 46 runs, 34 RBI, 26 stolen bases
Turang was the Brewers' Opening day second baseman, and while his 62 OPS+ over the full season didn't seem like much, his contributions on the field defensively were outstanding. He still notched 1.6 Wins Above Replacement, and his 26 stolen bases added a certain form of dynamism at the bottom of the order. His offense  improved in the second half, and he looks to be a contributor for the Brewers for a while to come.
2. OF Sal Frelick
.246/.338/.351 in 191 at-bats, with 9 doubles, 1 triple, 3 home runs, 29 runs, 24 RBI, 7 stolen bases
Frelick (controversially) didn't make the Opening Day roster after a very hot spring training and an outstanding performance at the World Baseball Classic. He then started slow in AAA before suffering a hand injury. He returned to Nashville later in the season, and then got the call-up to Milwaukee in late July. Since July 22, he not only spelled Wiemer in center field, but held down right field until Taylor returned. In addition to being something of a sparkplug, he also provided excellent defense, although Brewers fans would like to see a little more caution on some plays.
1. IF Andruw Monasterio
.260/.332/.350 in 277 at-bats, with 14 doubles, 1 triple, 3 home runs, 37 runs, 27 RBI, 7 stolen bases
Monasterio was called up to Milwaukee after a very scary line drive into the dugout in late May concussed and shelved Willy Adames. He never went back down, providing stability at third base, then splitting time at second base with Turang. Monasterio became a surprising hero for the Crew. Interestingly enough, he was not on either the Brewer Fanatic Top 20 or the MLB.com Pipeline Top 30, making him an overlooked prospect.
Congratulations to Andruw Monasterio, the top Brewers rookie of 2023! Share your thoughts on Monasterio, the others mentioned, and even how your vote might look.